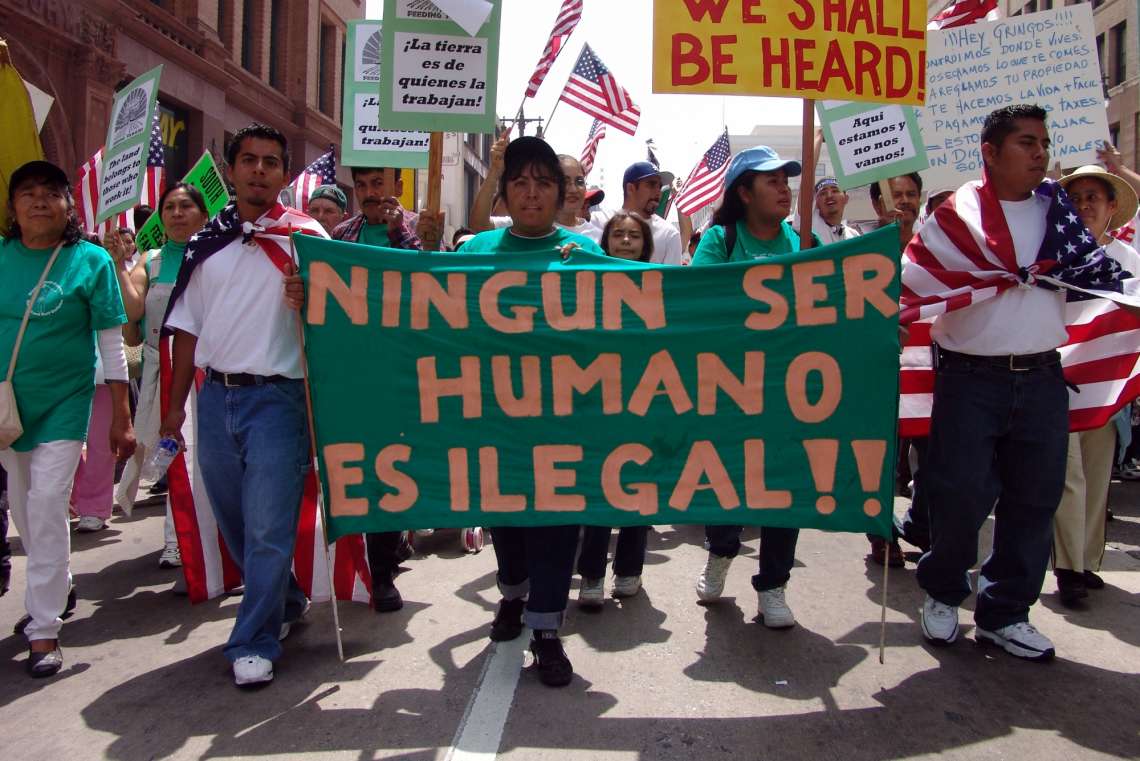 Following the 2016 elections, universities sought to calm the anxieties of immigrant students. At the University of North Texas (UNT), hundreds of students gathered at the center of campus to share their outrage at the outcome of the election and to publicly support Muslims, immigrants, LGBTQI people, and people of color. These unity rallies continued for days. As bold reclamations of public space, the rallies were met with caution by administrators who responded to students' calls to action with a wait-and-see approach. In this post, we ask: What if universities were moved to act by engaging students' fears instead of calming their worries? How would our work as educators and researchers be transformed if we accompanied undocumented students in their fear? And, when university leadership fails to protect students, how might we enact sanctuary?
Around the country, college students are engaging fear when they urge universities to become sanctuary campuses. In the immediate aftermath of the presidential election, there were over 150 "sanctuary campus" petitions; 10 institutions declared themselves sanctuaries; and 49 expressed their commitment and support without adopting a "sanctuary campus" designation. In the conservative state of Texas, eleven petitions were circulated at various colleges and universities, including UNT and Texas Woman's University (TWU) in Denton.
The UNT sanctuary campus petition sought protections for undocumented and international students, faculty, staff, and families. It invoked the university's core values and the goals from UNT's recent strategic plan to justify a list of ten demands for action. After the petition secured more than seven hundred signatures within only a few days, UNT received it with caution. Administrators maintained that the university was already enacting some of its measures. However, the threat of funding cuts by Texas governor Greg Abbott thwarted a more proactive response. The university ultimately failed to implement programs to protect its students, fearing restrictive federal and state mandates under the Trump and Abbott administrations.
Despite good intentions, university administrators succumbed to political threats rather than prioritizing students' fears of deportation, police persecution, and racism. Undeterred, students continued to publicly denounce hate "until the campus is safe for us and people like us," as one Mexican student declared.
Acompañamiento as a Response to Fear
Creating safe spaces for undocumented students, as Elliot Young reminds us, is an aspiration of the sanctuary campus movement. In the face of university inaction, students drew on acompañamiento (accompaniment) as a practice to create and occupy safe spaces. Acompañamiento shares with sanctuary an emphasis on being-with as a means of creating safety through mutual protection. Acompañamiento is a direct response to fear and lack of trust in law enforcement and university authorities who are presumably responsible for protecting students.
UNT students accompanied their fear with defiance, standing up to fellow students' trolling and intimidation of those who searched for their voice. These brave students refused to be silenced. Immediately after the election, UNT students organized "Love Trumps Hate" demonstrations. Latinx students flooded Latinx organizations, creating supportive spaces where they could process the perceived betrayal of white voters. Through the practice of acompañamiento, students insisted that the university uphold its mission as a student-centered institution.
Sanctuary UNT emerged out of these spaces of enacted sanctuary. Informed by radical writings like Robin D. G. Kelley's "After Trump," this student-led group additionally rooted its demands in petitions for sanctuary campuses circulating around the country. Sanctuary UNT promoted national days of action, collaborations with Latinx student organizations, a sanctuary taskforce, and the immigrant-led Movimiento Cosecha. Over four hundred students from TWU and UNT marched together in a rally that culminated in historic Denton Square, a city landmark. These efforts garnered both media attention and another one thousand signatures for sanctuary campus petitions.
Following a rally held outside the office of UNT's president, discussions began about the university's response to student demands. Such accomplishments were met with white supremacist posters calling for the reporting of "illegal aliens"—posters that had appeared during legislative debates on an anti-sanctuary bill known as Senate Bill (SB) 4.
Acompañamiento as a Practice
Harnessing their fear, students in the sanctuary campus movement at UNT enacted sanctuary through the practice of acompañamiento, a necessary and urgent practice especially as SB 4 became law. Scholars, educators, and universities can benefit from this practice as we aim to work toward transformative, student-centered methodologies, pedagogies, and institutional programs and policies. To transform sanctuary from aspiration to reality, we must engage fear and practice acompañamiento. In so doing, we can blur boundaries separating students, educators, activists, researchers, campuses, and communities. By learning from undocumented students' fears, we may understand and act against injustice on our campuses and in our communities. As public universities in Texas brace for the impact of SB 4, acompañamiento as a guiding practice enables us to proactively protect our campus communities and to act in ways that honor the educational and inclusive values of institutions of higher education.
Creando Santuario: Practicando Acompañamiento
Después de las elecciones del 2016, universidades estadounidenses trataron de calmar con las ansiedades de los estudiantes inmigrantes. En la University of North Texas (UNT), cientos de estudiantes se reunieron en el corazón de la universidad para denunciar su indignidad y apoyar de forma pública a los musulmanes, inmigrantes, LGBTQ, y gente de color. Estas llamadas a la unidad continuaron por dias. Como forma de reclamar el espacio público, los administradores reaccionaron de manera incredula respondiendo a las llamadas de acción por parte de los estudiantes con la respuesta ya veremos o hay que esperar. En nuestro post preguntamos: ¿Qué ocurriría si las universidades actuaran tomando en serio el temor de los estudiantes en vez de simplemente calmando sus preocupaciones? ¿De qué forma se trasformaría nuestro trabajo como educadores e investigadores si acompañaramos a los estudiantes en su temor? Y, ¿cuando el liderazgo universitario no protege a los estudiantes, cómo podemos ofrecer santuario?
Alrededor de los Estados Unidos, estudiantes universitarios estan enfrentando el miedo cuando urgen a que las universidades se conviertan en santuario. Después de la elección presidencial mas de 150 peticiones de santuario circularon; 10 universidades se declararon como santuario; y 49 comunicaron su apoyo sin adoptar la designación de santuario. En el estado politicamente conservador de Texas, once peticiones circularon en varias universidades, incluyendo UNT y Texas Woman's University (TWU) en Denton.
La petición de UNT pidió medidas especificas hacia la designación de santuario para UNT. Buscó protecciones para los estudiantes indocumentados e internacionales, profesores, empleados y familias. Este plan fué justificado siguendo los valores de la universidad y sus cuatro objetivos programaticos incluyendo una lista de 10 demandas requiriendo acción. Con más de 700 firmas aseguradas en pocos dias, UNT y TWU reaccionaron a la petición con cautela. Administradores de UNT y TWU afirmaron que sus universidades ya estaban cumpliendo con varias de las demandas incluidas en la petición. Sin embargo, bajo la amenaza de cortar fondos por el gobernador de Tejas Greg Abbott, respuestas más proactivas fueron frustradas. Universidades, no pudieron crear o reforzar programas y practicas para sus estudiantes temiendo restricciones federales y mandatos estatales bajo el liderazgo de Trump y Abbott.
A pesar de las mejores intenciones, los administradores universitarios sucumbieron a las amenazas politicas en vez de darle prioridad al temor de los estudiantes de ser deportados, a la persecución de la policía, y al racismo. Sin darse por vencidos, los estudiantes continuaron sus mobilizaciones públicas contra el odio "hasta que nuestra universidad sea segura para estudiantes y gente como nosotors," como lo declaró una estudiante Mexicana.
Acompañamiento como respuesta al miedo
El crear espacios seguros para los estudiantes indocumentados, como Elliot Young comenta, es una aspiración del movimiento santuario. En torno a la parálisis universitaria, estudiantes se resguardaron en el acompañamiento como una práctica de crear y ocupar espacios seguros. El acompañamiento comparte con el santuario el enfoque en el "estar con" para crear seguridad por medio de la protección mutúa. Acompañamiento es una respuesta directa al miedo y a la carencia de confianza en las autoridades universitarias y los que ejercen la ley los cuales son presuntamente responsables por la protección de los estudiantes.
Los estudiantes de UNT acompañaron el miedo desafiando, dando la cara frente a las intenciones de otros estudiantes de trollear e intimidar a los que trataban de encontrar su voz. Ellos se negaron a ser callados. Después de la elección presidencial los estudiantes organizaron demonstraciones enfocadas en "Love Trumps Hate"/"El amor sobrepasa el odio." Estudiantes Latinxs crearon espacios de apoyo mutuo participando de manera masiva en organizaciones estudiantiles para Latinxs donde pudieron hablar con libertad y fuera del la traición que percivian de los estudantes blancos. Practicando el acompañamiento, los estudiantes insistieron en que la universidad actuara en base a su misión de poner a los estudiantes en el centro de enfoque de la institución.
El grupo Sanctuary UNT se desarrolló dentro de estos espacios de santuario. Basados en ideas académicas e intelectuales como las de Robin D.G. Kelly's "After Trump" este grupo de estudiantes tambien desarrolló sus demandas en base a las peticiones que ya estaban circulando alrededor del país. Sanctuary UNT enfocó la urgencia de actuar por medio de dias nacionales de acción y colaboraciones con grupos estudiantiles Latinxs, un group de acción sobre santuario, y el Movimiento Cosecha, dirijido por inmigrantes. Más de 400 estudiantes de TWU y UNT marcharon en una demonstración que culminó en la plaza histórica de Denton, un símbolo de la ciudad. Esto ayudó a capturar la atención de los medios de comunicación y más de 1000 firmas de apoyo.
En respuesta a una demonstración frente a la oficina del rector de UNT, este acordó discutir las demandas de los estudiantes. Estos logros coincidieron con pancartas de grupos de supremacía blanca los cuales hacian un llamado a reportar a todos los ilegales—estas mismas pancartas aparecieron durante los debates de la legislación estatal sobre una propuesta de ley anti-santuario conocida como la SB4.
Acompañamiento como práctica
Empleando su miedo, los estudiantes que formaron parte del movimiento santuario en UNT practicaron el acompañamiento como acción necesaria e urgente, especialmente mientras que la SB4 fue aprobada como ley. Académicos, educadores, y las universidades pueden beneficiarse de esta práctica en el cultivo de metodologías, pedagogías, programas y políticas institucionales que le dan prioridad a los estudiantes con la meta de transformar. Para transformar al santuario de aspiración a práctica, debemos de engranar el miedo y practicar el acompañamiento. Al hacerlo, podremos borrar las barreras que separan a los estudiantes, educadores, activistas, investigadores, universidades y comunidades. Si aprendemos del miedo de los estudaintes indocumenados, puede que etendamos y actuemos en contra de la injusticia en nuestras universidades y comunidades. Mientras las universidades públicas de Texas se preparan para el impacto de la SB 4, el acompañamiento como práctica proactiva crea la oportunidad de proteger a la comunidad universitaria y proporciona una herramienta para actuar honorando los valores educativos y equitativos de nuestras universidades.
Nota
Traducido por Mariela Nuñez-Janes.