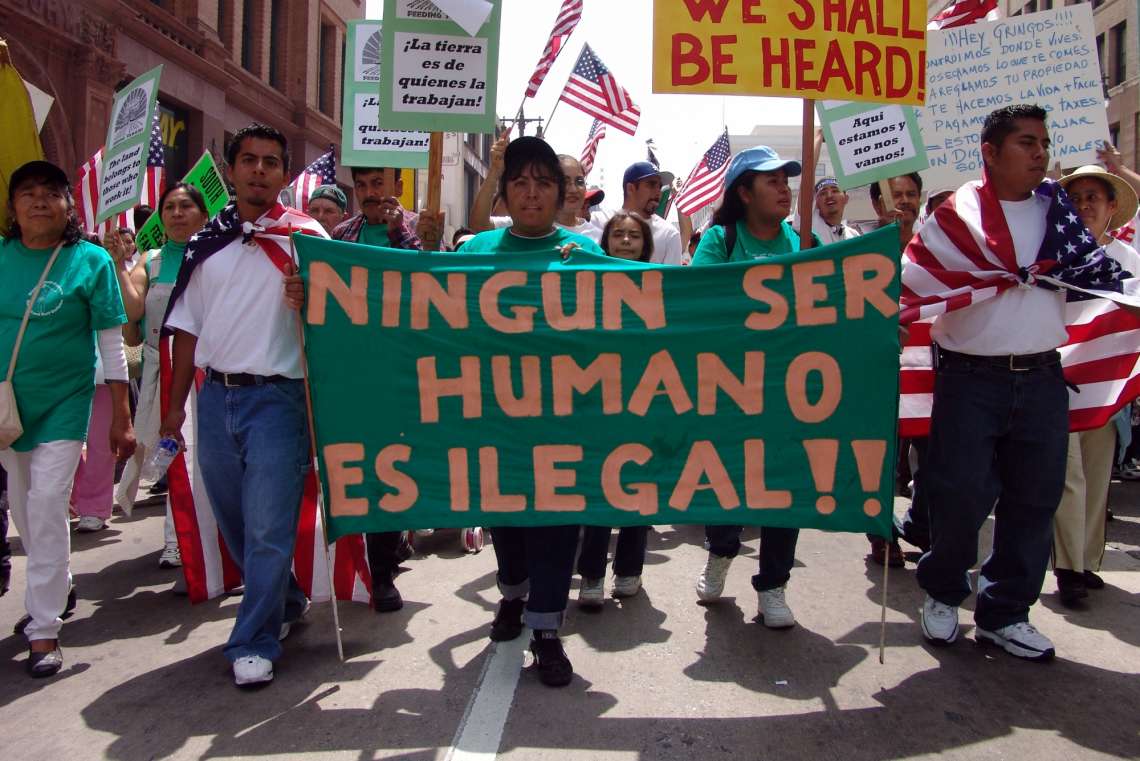 The U.S. government's restrictionist immigration policies, both before the election of Donald Trump and currently, affect access to education in unexpected ways. DREAMers—undocumented childhood arrivals—become socially and culturally embedded in the fabric of local communities and the nation, yet are often denied political and legal recognition and blocked from accessing public goods such as postsecondary education. But what of childhood arrivals who become long-time U.S. residents under another name, so-called criminal aliens? After incarceration in U.S. prisons and deportation, they also are among those whose hopes for additional schooling become stymied.
In the age of Trump and of reinvigorated xenophobic, racist, and nativist tropes—of bad hombres, Mexican rapists, and "illegals" who murder and traffic drugs—symbols of social identity and achievement, including education, are at heightened risk of becoming weaponized in media and political discourse. The Trumpian conjuring of criminal aliens, threatening figures creeping northward through hostile U.S.–Mexico borderlands, reinforces misguided notions of the menace these figures pose while ignoring the fullness of their personhood.
The Trump effect on noncitizens of the United States is marked not only by disruption, as with Muslim bans and the expansion of expedited removal, but also by intensification and continuity. Steadily built up over decades, the government's robust deportation machinery continues to grind along. But the rise of Trump should animate us as scholars to ask novel questions and make unanticipated connections. What are the consequences of deporting longtime resident criminal aliens, for example, with respect to opportunities for formal study? And what might deportees' experiences suggest about punitive immigration enforcement, social belonging, and the valuation of noncitizens' lives?
Nogales is one of five Mexican border cities that received at least 20,000 deportees in 2016. Many of the deported criminal aliens I work with there through long-term ethnographic engagement have antinormative identities—as drug users, gang members, and former prison inmates—that marginalized them in the United States and now in Mexico. In Nogales, they navigate unfamiliar social and spatial geographies, become separated from family and, as ostracized pochos ("Americanized" Mexicans), face interpersonal violence, difficulty finding work, and extortion by corrupt police. The incitements of life in this liminal place often take precedence over continued education.
Yet despite this precariousness, as they reconceptualize their selfhood after displacement from home in the United States, some deportees express an interest in further study. Most did not complete high school in the United States, but many took courses in prison and for some, now in their twenties, thirties, forties, and fifties, high-school equivalency or other schooling is an aspiration. The difficulties they counter are not for want of institutions. Nogales is home to multiple preparatorias abiertas and a colegio de bachilleres, which offer high-school equivalency self-study and test-taking as well as classes on weeknights and weekends. Diplomas earned in institutions like these, which are backed by Mexico's Department of Education, are often a prerequisite for white- and pink-collar jobs and even some kinds of vocational employment. Nogales also has five options for postsecondary education: two private technological institutes, a public liberal arts and sciences university, a nursing school, and an elite private college.
Still, deportees' criminalized, working-class U.S. Latino identities demarcate them as peculiar, if not unfit, students within Mexican adult-education systems, compounding the difficulties they face at the level of fees for matriculation and course materials. Even when access is granted, their success may be confounded by an unfamiliarity with the ideological bent of curricula and pedagogical practices or by the requirements for testing and completion. The greatest obstacle, however, may be language. While some deported childhood arrivals have advanced competency as heritage speakers of Spanish, the majority do not. And very few have the Spanish proficiency to keep up with the rigors of coursework at the secondary or postsecondary level.
The ways that deportation curbs educational possibilities include not just the stifling of personal growth and limiting of job prospects in Mexico, but also a symbolic exclusion from U.S. society's vital educational institutions. In this regard, the deportation regime, perhaps unwittingly, succeeds at prolonging a legacy of attempts to disrupt education: the Lemon Grove Incident that sought to segregate Mexican-American students in the 1930s; California's Proposition 187, which aimed to bar undocumented students from public schools in the 1990s; and Arizona's House Bill 2281, which banned ethnic studies courses in the 2010s.
A Mexican border with increasing numbers of longtime U.S. residents seeking to scrape by—some of whom seek educational attainment as an intellectual challenge, a gateway to self-actualization, and a means to occupational mobility—is not the one portrayed by the Trump administration. Its border delusion evokes a treacherous badlands with criminal aliens as its outlaws. In April 2017, Attorney General Jeff Sessions visited Nogales's homonymous sister city on the Arizona border, a famously safe, low-crime community, taking this caricature of the borderlands to an extreme. Sessions talked about criminal organizations "that turn cities and suburbs into war zones, that rape and kill innocent civilians and who profit by smuggling poison and other human beings across our borders." On this border, Sessions proclaimed, "we first take our stand against this filth."
Certainly, white nationalist and xenophobic discourses have circulated in the United States since long before Trump's rise. Yet his legitimation of such discourses as chief executive and a major party standard-bearer should reinvigorate our commitment as anthropologists to destabilizing assumptions about those who are maligned. Moreover, we would do well to elucidate the unanticipated effects of the Trump administration's bumbling in crafting exclusionary immigration policies. Meticulous ethnographic practice enables us to contest fantastical caricatures of the U.S.–Mexico borderlands and the disparagement of noncitizens with grounded representations of the places in which people, even so-called criminal aliens, actually live and learn.
Deportaciones de Extranjeros Criminales: La Educación y los Imaginarios de la Frontera Entre México y Estados Unidos
Las rígidas políticas migratorias del gobierno estadounidense, de antes y después de la elección de Donald Trump, afectan el acceso a la educación de manera inesperada. Los DREAMers—inmigrantes indocumentados que llegaron a Estados Unidos siendo menores—se integran social y culturalmente en el tejido de comunidades locales y de la nación, sin embargo se les niega reconocimiento legal y político, dificultando su acceso a recursos públicos, así como a la educación media y superior. Pero, ¿qué ocurre con aquellos que también llegaron como jóvenes indocumentados e igual han vivido muchos años en Estados Unidos pero que reciban otra denominación, los que no llevan la designación DREAMers, sino la de "extranjeros criminales," por alguna condena criminal? Luego de su encarcelación en penales estadounidenses, también se impiden sus esperanzas de cursar estudios de nivel medio o superior.
En la época de Trump y el aumento de tropos xenófobos, racistas y nativistas—de "bad hombres," violadores mexicanos, e "ilegales" que asesinan y trafican estupefacientes—los símbolos de identidad social y de éxito personal, como lo son los estudios formales, están en peligro de convertirse en armas en el discurso político y mediático. La evocación trumpista de "extranjeros criminales", figuras amenazantes en la frontera hostil entre México y Estados Unidos, refuerza las nociones equivocadas de la amenaza que representan dichos personajes, mientras que su cualidad humana pasa desapercibida.
El efecto Trump para los no ciudadanos de los Estados Unidos se caracteriza no sólo por las rupturas, como la exclusión musulmana y la expulsión expedita, sino también por la intensificación y la continuidad. A paso constante y a lo largo de varias décadas, la robusta maquinaria deportadora del gobierno de Estados Unidos sigue caminando. Sin embargo, el momento trumpista debería animarnos como investigadores a proponer interrogantes novedosas y a realizar conexiones inesperadas. ¿Cuáles son las consecuencias de expulsar a los extranjeros criminales que vivieron durante décadas en Estados Unidos, por ejemplo con respecto a los estudios formales? ¿Y qué nos podrían enseñar sus experiencias sobre la aplicación punitiva de la ley migratoria, la inclusión social y la valuación de la vida de los no ciudadanos?
Nogales, Sonora es una de cinco ciudades en la frontera norte de México que recibió por lo menos a unos 20,000 deportados en el 2016. Muchos de los deportados con los que un servidor realiza su trabajo, mediante un compromiso etnográfico de 18 meses, expresan identidades anti-normativas—como drogadictos, pandilleros y otrora reos de penales estadounidenses—que los marginaban en Estados Unidos y ahora en México. En Nogales, les corresponde navegar geografías socio-espaciales desconocidas, lidiar con la separación familiar y, como pochos estigmatizados, encarar la violencia interpersonal, encontrar empleo y evitar la extorsión de policías corruptos. Las tareas diarias de la vida muchas veces predominan por encima de los estudios formales.
A pesar de su precariedad, en los intentos de orientarse luego de su expulsión, algunos deportados expresan su interés en reanudar alguna educación formal. La mayoría no terminó sus estudios de preparatoria, sin embargo muchos tomaron cursos en penales estadounidenses y aspiran obtener el grado de preparatoria u otros estudios. Y las dificultades que enfrentan no son por falta de instituciones, puesto que en Nogales hay varias preparatorias abiertas y seis opciones de estudios superiores.
Sin embargo, sus identidades México-americanas criminalizadas de clase obrera los demarcan como candidatos peculiares, si no descalificados, para ser estudiantes en los sistemas mexicanos de educación para adultos. Aun cuando logran acceder a la educación, puede haber dificultad dadas las diferencias de ideología del currículo, prácticas pedagógicas o estructura de evaluaciones. El obstáculo más formidable, sin embargo, puede ser el idioma español. La mayoría no cuenta con una competencia lingüística avanzada. Y muy pocos son lo suficientemente proficientes así para poder con las tareas rigurosas del nivel secundario o superior.
Las formas en que la deportación limita las posibilidades educativas no sólo son las restricciones en el crecimiento personal, sino también la exclusión simbólica de las instituciones vitales de la sociedad norteamericana. En este sentido el sistema de deportación logra prolongar un legado de restricciones a la educación: por ejemplo, el incidente Lemon Grove buscó segregar a niños México-americanos en la década de 1930, la Proposición 187 de California quiso restringir el acceso a mexicanos indocumentados a escuelas públicas en los 1990s, y el Proyecto de Ley 2281 de Arizona prohibió los cursos de estudios étnicos en los 2010s.
Una frontera mexicana, con cada vez más residentes de largo plazo de Estados Unidos que buscan sobrellevar la vida—algunos de los cuales buscan estudiar para el desafío intelectual, la actualización personal o un medio para lograr la movilidad laboral—no es la frontera que pinta la administración de Trump. Su delirio fronterizo más bien evoca páramos solitarios en donde reinan los "extranjeros criminales". En abril de 2017, el Fiscal General de Estados Unidos, Jeff Sessions, hizo visita oficial a la ciudad gemela (y epónima) de Nogales, Arizona, comunidad conocida por sus muy bajas tasas criminales, y llevó a un extremo esta caricatura. Sessions habló de organizaciones criminales que "convierten las ciudades y los suburbios en zonas de guerra, que violan y asesinan a civiles inocentes y que hacen negocio de contrabandear veneno y a seres humanos por nuestra frontera." En esta frontera, según Sessions, "nos paramos para oponernos a esta porquería."
Sin duda, los discursos xenófobos motivados por el nacionalismo racial, vienen circulando en Estados Unidos desde mucho antes del auge de Trump. Sin embargo, su legitimación de tales discursos como primer mandatario y líder de su partido debería de revitalizar nuestro compromiso como antropólogos a cuestionar las premisas que se dan por sentadas sobre los que salen difamados. Además, haríamos bien al elucidar los efectos inesperados de las políticas migratorias dañinas de la administración trumpista. La meticulosa práctica etnográfica nos permite disputar las caricaturas fantásticas de la región fronteriza México-Estados Unidos así como la denigración de los no ciudadanos con representaciones bien fundadas de los lugares y las actividades de la gente, aun los que son descalificados de extranjeros criminales.
Nota
Traducido por Tobin Hansen.