During a visit to Dharamsala, Himachal Pradesh, in the northwestern Indian Himalayas in early February 2020, Tibetan medical initiatives for prevention of Covid-19 were underway in the Tibetan community. At the time, only three positive cases were reported in South India, but news from China spread via social media and sensitized Tibetans to what could soon become a reality in India.
On March 15, Article 144, which stipulates that "any gathering of four or more persons at one place becomes illegal" was imposed in the Kangra district, to which many Tibetan settlements around Dharamsala belong. Since March 23, India has been on lockdown to prevent the spread of Covid-19 across the country. All Tibetan medical institutes and clinics were closed the following day.
The main response to this pandemic has led to government-imposed strict physical isolation measures. They also reveal a hegemony of epidemic epistemes that speak of both a hierarchical and contested politics of knowledge, lacking organized platforms for traditional medical responses to Covid-19 (see Banerjee, this series). This is influenced by the ways in which some of the medical systems registered under the ministry of AYUSH (Ayurveda, Yoga, Unani, Siddha, Sowa Rigpa, Homeopathy) responded in the early phase of the pandemic, which was critiqued by public health officials. Recent "Government sponsored misinformation" on preventive measures released by the AYUSH ministry and spouted by politicians of the ruling nationalist BJP party, have accelerated the criticism (see Tomar, this series). Overall, these tensions reveal a long-term political dissonance between AYUSH and biomedical public health professionals (see Payyappallimana, this series). The clash of epidemic epistemes that came to the fore in Dharamsala, laid out below, can better be interpreted within the larger context of AYUSH–public health dichotomies in order to understand why Sowa Rigpa has not been utilized in India during the current crisis.
In comparison, in China, Sowa Rigpa practitioners have specific platforms from which to contribute their treatment strategies (see Cuomu, Tidwell, this series). Using Traditional Chinese Medicine (TCM) during an epidemic was already an established practice during the SARS outbreak in 2003 (Hanson 2010). The Chinese government has encouraged TCM formulas to treat Covid-19 (see Sun and Hsu, this series). Recently, TCM formulas that showed good results on Covid-19 patients in Wuhan have been adopted by TCM practitioners in Europe (see Ploberger, this series).
When I visited Dharamsala in early February, "social distancing" and "self-isolation" were unused terms. The almost daily long queues of around a hundred people in front of Tibetan medical clinics that were selling or giving out rimsung pills, to be worn as amulets and smelled for protection from Covid-19, caused a stir between local public health officials and Tibetan medical institutions.
Rimsung are "infection protective" pills, which are made from medicinal ingredients (e.g., garlic, sulfur, aconite, and myrrh), wrapped in black cloth, and worn as amulets around one's neck (Figure 1). These black rimsung pills are not ingested but are said to protect through their strong odor. Other types of rimsung draw on a combination of medico-ritual potencies of protective deities, mantras, and substances. Their various formulations have appeared in Tibetan medical as well as Buddhist texts since at least the thirteenth century. Rimsung pills are based on established Sowa Rigpa formulas and began to be widely used in the PRC during the SARS outbreak in 2003 (Craig and Adams 2008), and have also been circulating in China during this pandemic (see Tidwell, this series). In India, they are made by several Tibetan pharmacies. I discuss them in more detail elsewhere (Gerke 2020).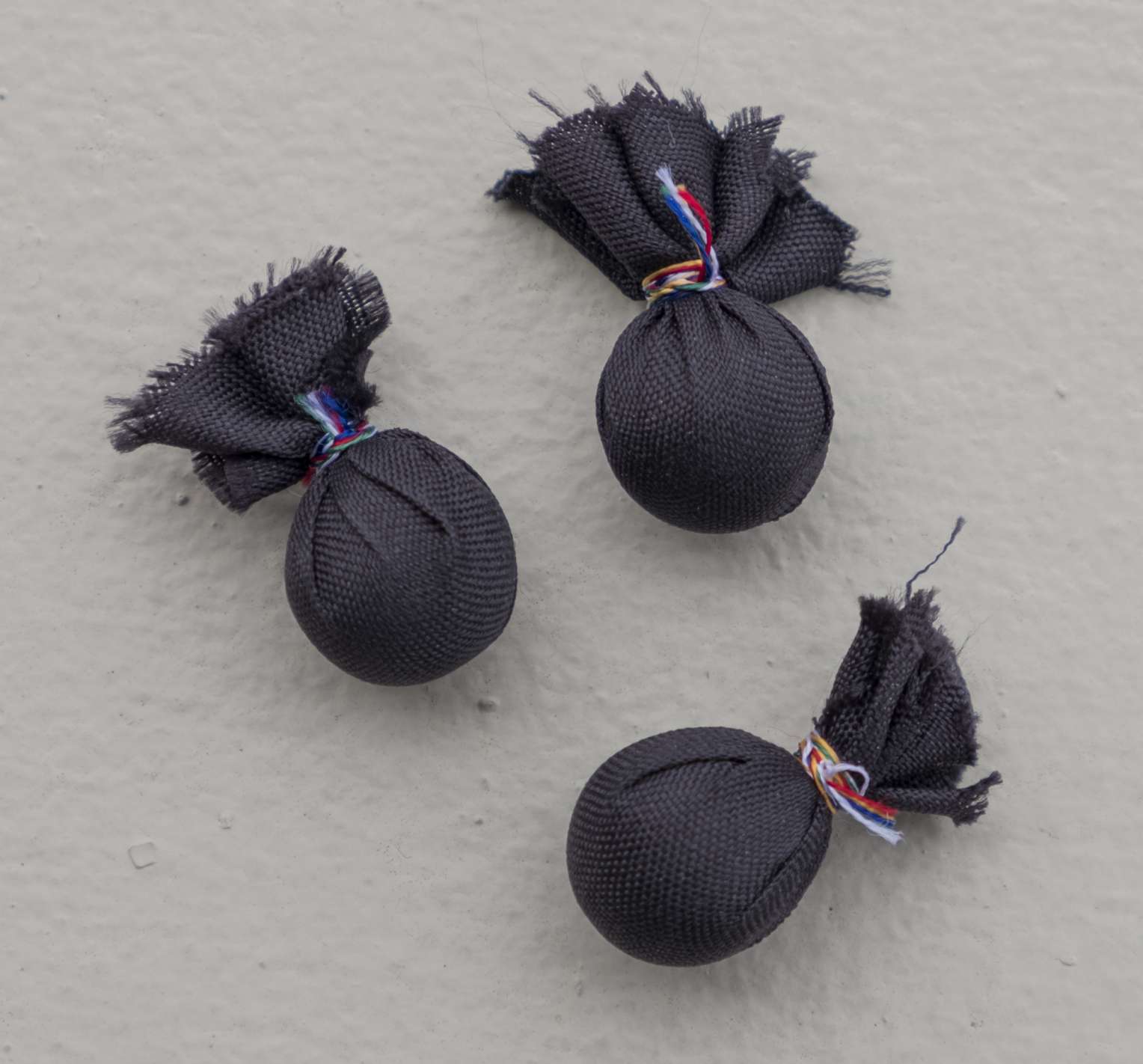 In February 2020, rimsung were in high demand in India, Nepal, and China, and at the Men-Tsee-Khang (MTK), the largest Tibetan medical institute in India. The MTK had already produced and sold 150,000 of them within six weeks. The MTK also made protective astrological amulets (containing mantras and potent substances in a cloth sachet) as well as an oil-based "protective liquid balm" used against flu symptoms (Gerke 2020). None of these products was meant for ingestion, nor presented explicitly as treating Covid-19.
In mid-February, Dr. Kalsang Dhonden's clinic began giving out rimsung pills for free. Radio Free Tibet showed substantial numbers of Tibetans and Indians waiting in line to receive them. I was told by a Tibetan living next to the clinic that on the second day of this free distribution, Indian local health authorities and a policeman appeared and forbade the clinic to give out rimsung pills. They also took some pill samples.
The Chief Medical Officer (CMO) of Kangra district visited the MTK and ordered them to stop their distribution of rimsung pills, which had caused long and highly visible queues in front of MTK clinics for about two weeks. This led to "reports of public disturbance and commotion created by public demand for the pill." According to a Tibet Times news article, the CMO's argument was that selling rimsung pills caused anxiety and panic among the people at a time when there were no positive Covid-19 cases in the state. The Tibetan newspaper Phayul reported that, if non-compliant, the MTK was threatened with a fine (up to 1,000,000 Indian rupees, approximately US$13,100) and even clinic closure; the authorities were "demanding conclusive scientific study that supports claims that it prevents contagious diseases." The MTK director, Tashi Tsering Phuri, complied and circulated a public notice that read: "By the order of the CMO, Kangra District, Rimsung Rilbu, will not be sold at our clinics in the Kangra District." He also stated that the MTK "has not advertised or made claims regarding the pill as it is formulated from the ancient texts and has been around for centuries. Moreover," he argued, "since the pill is not for oral consumption and is to be administered only through smell, does the issue come under the purview of concerned authority?"
This encounter raises questions of who holds power over epidemic responses in India, and whether traditional medicines should be used in times of crisis. What public health officials perceived as causing panic and anxiety is the opposite of what rimsung pills are purported to do within the Tibetan cultural context—namely, to make people feel protected. For Tibetans, receiving and wearing such a pill reduces fear in culturally appropriate and meaningful ways. This is clearly of benefit during epidemic times, as long as it does not lead to carelessness in implementing public health efforts. In Dharamsala, Tibetan traditional and biomedical health institutions have attempted to integrate both approaches (Gerke 2020).
How to conduct scientific studies that would "prove" the effect of such combined potencies on body and mind, in the midst of a crisis? The ministry of AYUSH has since asked AYUSH practitioners to submit Covid-19 treatment suggestions for scientific validation on their website (now offline). Apparently, 2,000 proposals were submitted by April 14, mainly from Ayurvedic, Unani, Siddha, and homeopathic practitioners. It remains unclear how and when these suggestions will be "scientifically validated."
These political and public health dynamics in India continue to change quickly. At the time of completing this essay for publication, some Sowa Rigpa clinics have partially reopened. However, the question remains: Why is India missing out on opportunities to draw on their available and recognized AYUSH medical systems, including Sowa Rigpa?
Epidemic emergencies demand broad and inclusive approaches. The answer does not lie in arguments of fear-mongering or causing public disturbance, but in the contested politicized question of if, and how, traditional medical systems are given state-supported platforms to actively and safely contribute their part to public health in times of crisis.
Acknowledgments
The writing of this essay was supported by the FWF Austrian Science Fund (grant 30804) through the University of Vienna.
References
Craig, Sienna, and Vincanne Adams. 2008. "Global Pharma in the Land of Snows: Tibetan Medicine, SARS, and Identity Politics across Nations." Asian Medicine 4, no. 1: 1–28.

Gerke, Barbara. 2020. "Thinking through Complex Webs of Potency: Early Tibetan Medical Responses to the Emerging Coronavirus Epidemic: Notes from a Field Visit to Dharamsala, India." Medical Anthropology Theory 7, no. 1: 188–209.
Hanson, Marta E. 2010. "Conceptual Blind Spots, Media Blindfolds: The Case of SARS and Traditional Chinese Medicine." In Health and Hygiene in Chinese East Asia: Policies and Publics in the Long Twentieth Century, edited by Angela Ki Che Leung and Charlotte Furth, 228–54. Durham, N.C.: Duke University Press.