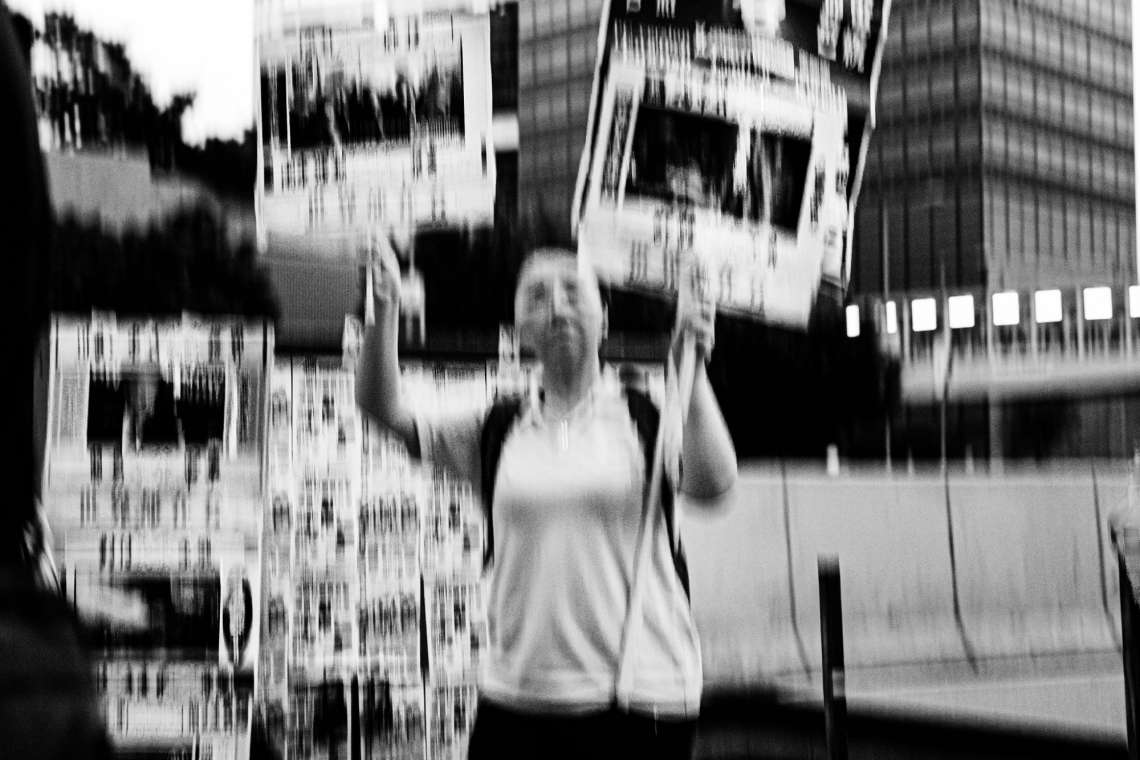 "Care for a visit to the airport now?" My roommate knocked on my bedroom door. It was past midnight. The two of us had just returned from an advocacy group's monthly meeting in the city center, but she came to tell me that a young man was reportedly about to commit suicide in the airport. An online post she had just seen called for fellow citizens to search for him immediately.
Within twenty minutes, we crammed ourselves into a cab waiting at the entrance to my village on the eastern coast of Lantau Island. With us were two middle-aged residents whom we had come to know well through previous community events. Departing from east Lantau, the largest offshore island in Hong Kong, we passed through the remarkable stillness of the mountain road, moving toward one of the busiest airports in the world.
The day was July 5, 2019. The protest movements triggered by the Extradition Law Amendment Bill (Anti-ELAB Movement) had reached into their second month.1 A series of numbers and dates had anchored pro-movement citizens' memory of an intensive month of continuous mobilization. On June 9, more than one million citizens joined the protest march, according to the organizers. On June 12, protesters besieged the Legislative Council to prevent the second reading of the Bill, leading to a violent confrontation with the police. The number of civil protesters had reportedly escalated to two million on the June 16 march, outnumbering a quarter of Hong Kong residents. On June 28, the day of the G20 Summit's opening, advertisements for the protesters' cause were posted in more than twenty major international newspapers and supported by crowdfunding. On July 1, the Establishment Day of Hong Kong Special Alimentative Region, and also the annual day of protest since 2003, seven hundred thousand people marched, and, by midnight, the Legislative Council Building was eventually stormed by a group of protesters.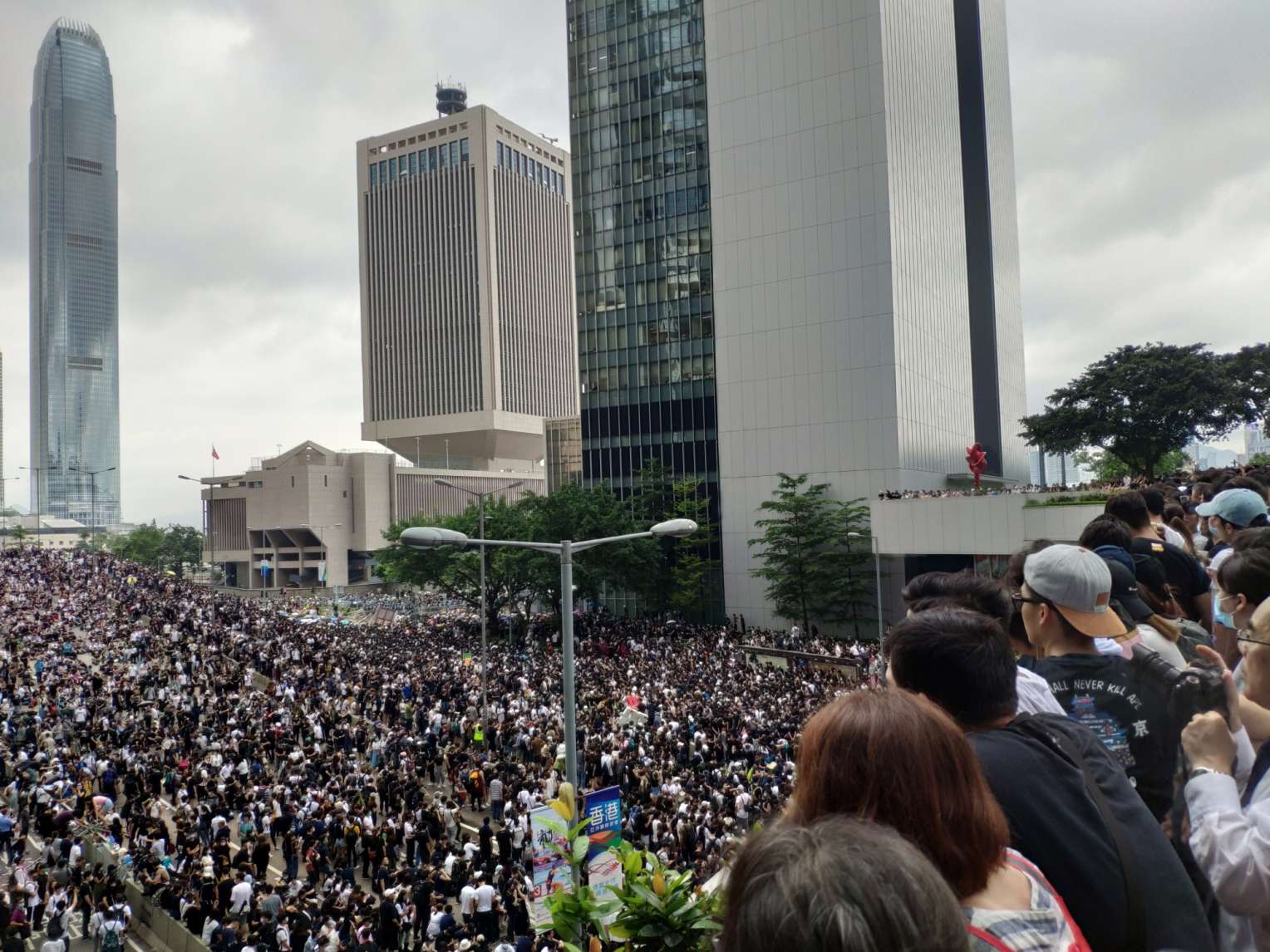 When the Anti-ELAB Movement broke out, I was in the middle of my fieldwork on the tension between "development" and "preservation" in Hong Kong through the lens of grassroots advocacy for democratic land-use planning. Lantau, still considered by most citizens to be a remote area, was my main field site. There, I observed how rural Hong Kong became a critical location for experimenting alternative urban futures. I had not anticipated that the effects of Hong Kong's mass protests, usually limited to a few iconic zones in the city, would reach my neighborhood in the countryside.
Clearly, the dates and numbers mentioned above bore witness to a high-powered "city of protest," which Hong Kong is often labelled (e.g., Dapiran 2017). What also came up constantly in daily conversation, though, was another increasing number that was smaller but no less heavy. On June 15, a few hours after the Chief Executive Carrie Lam announced to suspend—as opposed to the withdraw demanded by protesters—the controversial bill, thirty-five-year-old Mr. Leung Ling-kit fell to his death after a few hours of a one-man protest on the rooftop of a shopping mall near government buildings in the Admiralty. On the eve of June 16, after the protest march joined by two million people, this first death in the protest movement was memorialized in the well-received "2,000,000+1" slogan. Following Leung, another few young people ended their lives, leaving suicidal notes regarding the protest. Fueled with anger and grief, pro-movement citizens continued to participate in various campaigns but could not stand to see more death.
Exploring the city to save a stranger's life, as my sudden involvement in the airport rescue demonstrates, is an unprecedented form of collective action in Hong Kong that emerges amid this public sentiment. At 1:00 AM, we arrived at Chek Lap Kok International Airport to the north of Lantau. About a hundred citizen-volunteers were in the airport, some spontaneously organized like us, but most having come alone. Dispersed across different floors and adjacent construction sites, these amateur rescuers sought to find the person vaguely described as a man in black boots. Information was updated occasionally face-to-face but mostly through LIKHG forum and chat groups on Telegram, two social media infrastructures that served as the "brain / think tank" and "four limbs / executive team" for organizing the movement (see more in F. Lee et al. 2019). We eventually stopped searching and went back home at 4:00 AM. The next morning, the young man was said to be found safe with the assistance of a social worker and a legislator.
How are we to understand the meanings and effects of these voluntary—and spontaneous—efforts to help a stranger out at the airport? In her analysis of the uniqueness of the Anti-ELAB Movement, sociologist Ching Kwan Lee (2019a) notes that in incessant gatherings of citizens across professions, generations, and social classes, as well as the labor of resistance organically divided among pro-movement volunteers, a new Hong Kong political community is formulating through these physical participations, an action-based process distinguishable from Benedict Anderson's (2006) "imagined community." Simultaneously, the growing will to fight and even die for "Hong Kong," has reinforced the embryonic nationalistic sentiments in a city that has never learned how to belong to a nation (Mathews, Ma, and Lui 2007).
In addition to these registers of solidarity found in the experience of fighting, I suggest that the Anti-ELAB Movement has forged a collective identity among pro-movement citizens through the enactment of mutual care for strangers. Through witnessing and undertaking the crisis together, these citizens have become members of a larger moral-emotional community.2 If street protests with clear demands construct peoplehood through a common enemy (be it police brutality, the Hong Kong government, or the Chinese Communist Party), caring for strangers does so by exploring how to live with other vulnerable fellows in pressing times. By and large, this is a new urban experience in Hong Kong, a financial center featured by its cold logic of wealth accumulation, consumerist urban landscape (Lam-Knott 2020), and structural deprivation of care under neoliberal governmentality (S. Huang 2015). While in media coverage, Hong Kong is generically represented as a war zone, equally important are the spaces of care and cordiality that mushroomed in both the arenas of confrontation (e.g., first-aid volunteers and civilians protecting protesters) and spontaneous locales, as is shown in the case of the airport rescue.
Significantly, these spaces are enacted through the urban forms in which Hong Kong is built as a city, which help spatialize the intensity of the Anti-ELAB Movement as a total event that blurs the line between protests and everyday life. Manifested materially as the built environment, these forms also articulate the script of how one is expected to live in the city. In the protest movements, though, they are invented anew with meanings, emotions, and memories that have reshaped how ordinary Hong Kongers relate to their city via such built urban environment. A city built characteristically with advanced public transportation, compact residential areas, and a few business districts where job opportunities are concentrated, Hong Kong has numerous nodes of clustering in its daily massive human flows and stays. Residents are constantly exposed to crowds and can, in theory, reach highly diverse sections of the city easily. Yet, under a regime of urban development that prescribes a spatialized, functionalist work-transport-live script for citizens, it is, in practice, highly unlikely for people to experience the city outside the confines of their routinized mobility. Simultaneously, the hyper-capitalization of urban space has greatly limited the number and quality of public spaces available in residential neighborhoods. It is unusual, in other words, for Hong Kongers to actually experience or even fully imagine the city's urban geography in all its complexity. What is remarkable about the protest movements, then, is the pluralistic political reactivation of the mundane places of passing-by and/or "non-places" like the airport, which are transformed into intimate sites where new forms of peoplehood emerge.
Allow me to raise another example of this new political experience in/of the city. On September 24—street protests now having lasted over one hundred days—I went to visit a friend in Sham Shui Po, an old, working-class district at the northern tip of Kowloon Peninsula's urban settlements. Sham Shui Po's landscape features highly condensed mid-rise residential buildings that open directly onto the street, where one can find low-priced restaurants, open markets for petty goods, and poor seniors selling second-hand products. Neighborhoods here retain strikingly vivid street life and politics, yet hand in hand with this charm is the urban poverty that usually goes unseen in Hong Kong.
As the night went on, I walked out of my friend's apartment to attend a film screening in the nearby Shek Kip Mei neighborhood. Some one hundred participants were seated on the steps in front of a high-rise public housing building. The film we were waiting to watch was 1987: When the Day Comes, a true-story-turned-thriller on how the killing of a student protester during police interrogation triggered South Korea's June Democratic Uprising. The organizer of the event, a young man in his twenties, opened the screening with a newsreel showing Korean citizens' support of the Hong Kong protest. He then played a widespread video clip capturing a dozen of Hong Kong police officers beating an individual in a back alley. The anger triggered by this particular incident, though, was not necessarily about the gratuitous violence per se, but rather the police spokesperson's account that his colleagues were just attacking a "yellow object."
After he urged the audience to continue the fight against such an injustice, the organizer asked the audience to sing "Glory to Hong Kong" together. The protest song, anonymously composed by a few professionals, immediately went viral in early September and soon became a kind of "national anthem." The song was chanted twice, followed by protest slogans cried out into the sky. After the film ended, several people around me were openly sobbing. The screening came to its finale after people sang "Glory to Hong Kong" for a third time.
Over fifty street screenings of the film were organized that night, covering most neighborhoods in Hong Kong. The constant use of this spatial methodology of organizing, dubbed "spring up all over the place" is a central feature of the protest movement. In early July, for the first time in recent years, the route of major protest march was switched from Hong Kong Island to Kowloon. Later, mass gatherings emerged in Tuen Mun, Sheung Shui, and Sha Tin, among other satellite town centers. Meanwhile, Lennon Walls were established and guarded by pro-movement citizens in nearly all major traffic hubs. Shopping malls, another marker of the ultra-consumerist Hong Kong, were turned into public venues where people continually came together to sing protest songs. Numerous "escape maps" were circulated and updated in real time during rallies, informing frontline protesters of evacuation routes and, quite unexpectedly, teaching urban geography as a form of public knowledge. Not to mention the monthly memorial demonstration and mourning on the days of the Yuen Long and Prince Edward MRT Station incidents, which occurred on July 21 and August 31, 2019, respectively.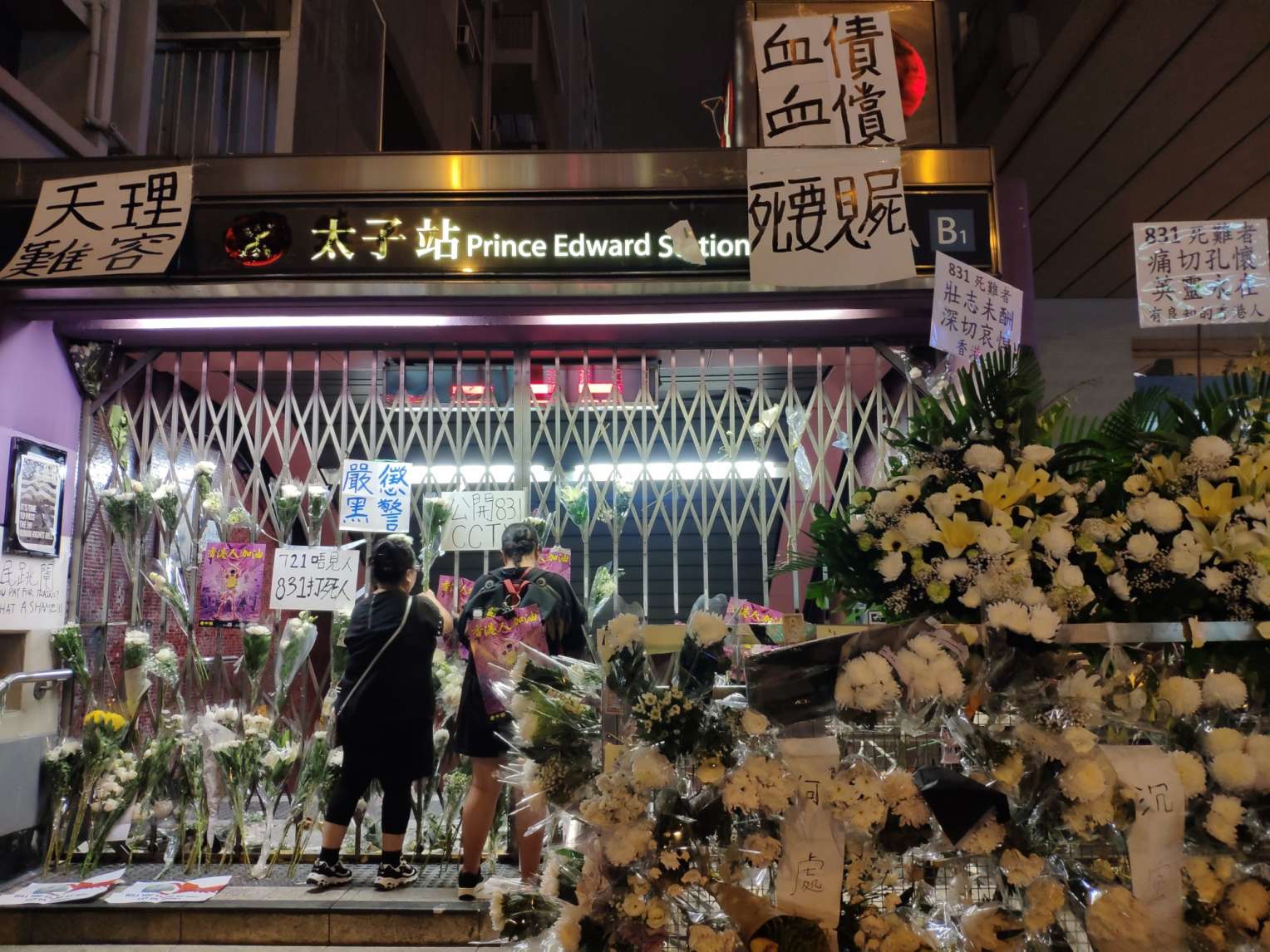 The significance of the use of space in understanding the Anti-ELAB Movement becomes clearer when put in reference to the 2014 Umbrella Movement. In 2014, three occupied zones had location-specific ideologies, identities, and methods of resistance (Yuen 2018), the tension between which is a key to explaining the failure of larger collective mobilization during the seventy-nine-day Occupy period. In contrast, the Anti-ELAB Movement, inspired by the be water slogan, no longer tried to occupy any locale at length. It also articulated consistent demands early on. This is not to suggest location is no longer important, as the widely reported "decentralized tactic" may suggest. As I have demonstrated, the city-wide reappropriation of existent quotidian places scattered sites of resistance across the city and "brought home" political actions that used to be distant from the sites of everyday life. Furthermore, the location-specific demands were always articulated with political agendas regarding Hong Kong as a whole, stitching individual neighborhoods scattered across the city into a larger political entity.
The politicization of neighborhoods, however, may not be to everybody's favor (Choi 2020), but it has nonetheless served as a game-changing accelerator that flipped over the bottom-up scheme of social mobilization adopted by many pro-democracy activists in the post-Umbrella period (2014–2019). In the wake of the failure to win universal suffrage in 2014, a massive political low tide pervaded in Hong Kong. Much discussion was thus devoted to methods of overcoming a sense of powerlessness and keeping alive the waning hope of democratization. For grassroots organizers and enthusiastic youth, in particular, a principal task was to bring the Umbrella spirit to local communities, where they could cultivate sensibilities and habits of democratic participation through seemingly apolitical social projects and moral conducts (X. Huang 2017). Now, a year into the city-wide intensive uprising, the movement's change of political attitudes has been considered durable—one telling example being the pro-democracy camp's landslide victory in district council elections in November 2019. The methodological discussion among activists and community organizers has accordingly shifted to how to radically transform social and political life with unabated disobedience. Burgeoning pro-movement economic initiatives such as the "Yellow Economic Circle," joined by citizens and small businesses, exemplifies this trend.
Two dialectical processes of resistance become observable through close attention to the spatiality of Hong Kong's social movements over the last few years. Watching the protests spread across neighborhoods and into airports and train stations shows how critical politics and the experience of new identities emerge, in an explosive manner, in given places or, more accurately, through the projects of collective place-making (Gupta and Ferguson 1997). In these dynamic moments where strangers begin to fight together and care for one another, it is possible to enact radically egalitarian human relatedness which Victor Turner (1977, 131–32) called communitas, to experiment in public nascent ideas and social relations, which are both the means and goals of critical politics (Arendt 1998),3 and to formulate "events" that disrupt sociopolitical structures (Sewell 2005).4 On the other hand, it is clear that protesters, activists, and citizens are not fully satisfied with these transient moments and possibilities. Instead, they expect to transform—and transplant—them into daily practices that take place elsewhere.
Working closely with our interlocutors in everyday life, anthropologists are well-suited to understand the two-way traffic between the eventful and the mundane in an expanded conception of where and how a "social movement" unfolds. What, on the other hand, as this series asks, can anthropologists learn from protest movements? I suggest that a unique feature of protest scenes is that they expose multiple forms of the limit of the "field" that anthropologists work in. In Hong Kong, this limit could mean the government's exhaustion of strategies of control, which, read in the longer trajectory of the city's postcolonial transformation, suggests the furthest extent to which the post-Handover arrangement can win consensus among citizens. As this essay focuses on more specifically, the limit could point to the varied forms of confrontation and care that protesters and citizens draw upon by creatively making use of the specific urban forms available to them. It is the power of these potentials—and the city's built environment that importantly conditions them—that I learned from and together with protesters (see series conclusion for detailed discussion of "the limit").
Compared to several other cases in this series, protests in Hong Kong lasted considerably longer. It would be unrealistic, though, to project that the street protests will remain high-spirited forever. The massive number of arrests, the sudden arrival of the National Security Law, and the mental health crisis that resulted from year-long protest have resulted in fatigue and fear among citizens. Hong Kong is at an incredibly uncertain juncture characterized by rapidly changing geopolitics and strategies of resistance. Yet precisely because of this unpredictability, it is important to attend to the emergent spaces of care in the city. If there is a difficult temporal-emotional gap between the eventful moments of protests, marked by the urgency to act, and the mundaneness of the everyday in which changes are sometimes made
annoyingly slowly, then the extent to which this gap can be woven together in these spaces may be critical to the shaping of Hong Kong's civil society and political culture in the near future.5
Notes
1. While the bill was proposed by the Hong Kong government as a technical fixation of loopholes in the law enforcement between mainland China and Hong Kong, it received wide criticism as a threat to Hong Kong's legal autonomy by further exposing its citizens to the mainland's legal system. As the public political emotion escalated from the mistrust of the bill itself to the resentment at the government's ignoring of public opinion in its hard sell of the bill and the alleged police brutality, protesters gradually came to lay out "five demands" that profoundly interrogate Hong Kong's political system. The five demands include full withdrawal of the extradition bill, a commission of inquiry into police brutality, retracting the classification of protesters as "rioters," amnesty for arrested protesters, and dual universal suffrage for both the legislative council and the chief executive. For a longer trajectory of the moralist turn in Hong Kong's democracy movement, see Sonia Lam-Knott (2019).
2. For a longer trajectory of the moralist turn in Hong Kong's democracy movement, see Sonia Lam-Knott (2019).
3. For Hong Kong's case in dialogue with this theoretical tradition, see Pang Laikwan's recent analysis of the Umbrella Movement (Pang 2020).
4. See Ching Kwan Lee (2019b) for analyzing the Umbrella Movement through an eventful sociological approach.
5. For extended discussion of temporality in Hong Kong's social movement in recent years, see Iam-chong Ip (2019, 98–116).
References
Anderson, Benedict. 2006. Imagined Communities: Reflections on the Origin and Spread of Nationalism. New York: Verso Books.
Arendt, Hannah. 1998. The Human Condition. Edited by Margaret Canovan. Chicago: University of Chicago Press.
Choi, Susanne YP. 2020. "When Protests and Daily Life Converge: The Spaces and People of Hong Kong's Anti-Extradition Movement." Critique of Anthropology 40, no. 2: 277–82.
Dapiran, Antony. 2017. City of Protest: A Recent History of Dissent in Hong Kong. London: Penguin.
Gupta, Akhil, and James Ferguson. 1997. "Culture, Power, Place: Ethnography at the End of an Era." In Culture, Power, Place: Explorations in Critical Anthropology, edited by Akhil Gupta and James Ferguson, 1–29. Durham, N.C.: Duke University Press.
Huang, Shu-Mei. 2015. Urbanizing Carescapes of Hong Kong: Two Systems, One City. Lanham, Md.: Lexington Books.
Huang, Xiuwei. 2017. "Arguing the Political, Enacting the Moral: Ordinary Citizens' Struggle for Social Change in Contemporary Hong Kong." Master's thesis, The Chinese University of Hong Kong.
Ip, Iam-chong. 2019. Hong Kong's New Identity Politics: Longing for the Local in the Shadow of China. London: Routledge.
Lam-Knott, Sonia. 2019. "Responding to Hong Kong's Political Crisis: Moralist Activism amongst Youth." Inter-Asia Cultural Studies 20, no. 3: 377–96.
———. 2020. "Contesting Brandscapes in Hong Kong: Exploring Youth Activist Experiences of the Contemporary Consumerist Landscape." Urban Studies 57, no. 5: 1087–104.
Lee, Ching Kwan. 2019a. "Sociological Reflections on Hong Kong's Anti-ELAB Protests." Paper presented at the Annual Meeting of Taiwan Sociological Association, Taipei, Taiwan, November 30.
———. 2019b. "Take Back Our Future: An Eventful Sociology of the Hong Kong Umbrella Movement." In Take Back Our Future: An Eventful Sociology of the Hong Kong Umbrella Movement, edited by Ching Kwan Lee and Ming Sing, 1–33. Ithaca, N.Y.: Cornell University Press.
Lee, Francis L. F., Samson Yuen, Gary Tang, and Edmund W. Cheng. 2019. "Hong Kong's Summer of Uprising: From Anti-Extradition to Anti-Authoritarian Protests." China Review 19, no. 4: 1–32.
Mathews, Gordon, Eric Kit-wai Ma, and Tai-lok Lui. 2007. Hong Kong, China: Learning to Belong to a Nation. New York: Routledge.
Pang, Laikwan 2020. The Appearing Demos: Hong Kong during and after the Umbrella Movement. Ann Arbor: University of Michigan Press.
Sewell, William H., Jr. 2005. "Three Temporalities: Toward an Eventful Sociology." In Logics of History: Social Theory and Social Transformation, 81–123. Chicago: University of Chicago Press.
Turner, Victor. 1977. The Ritual Process: Structure and Anti-Structure. Ithaca, N.Y.: Cornell University Press.
Yuen, Samson. 2018. "Contesting Middle-Class Civility: Place-Based Collective Identity in Hong Kong's Occupy Mongkok." Social Movement Studies 17, no. 4: 393–407.