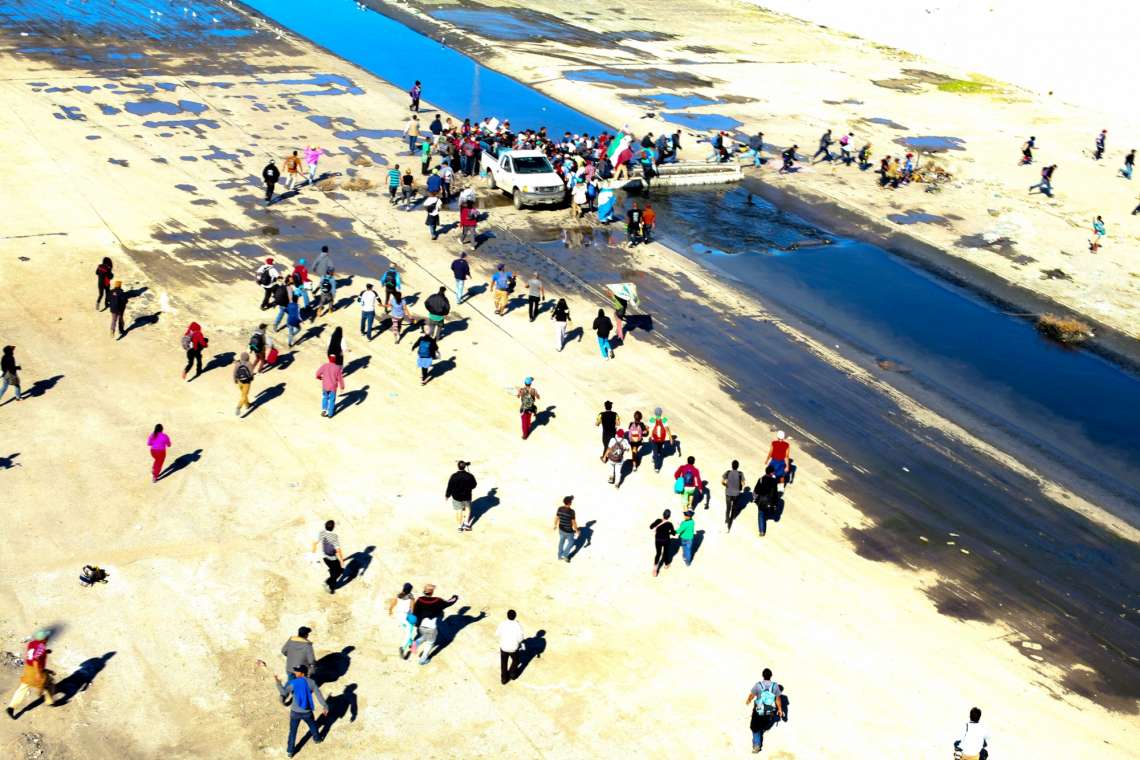 After U.S. Vice President Joseph Biden visited Central America in 2015, he called for Congressional approval of an initiative known as the Alliance for Prosperity, as a response to the thousands of unaccompanied minors then arriving at the U.S.–Mexico border. The Alliance sought $1 billion in aid for the three Central American countries with the highest sending rates of migrants: Guatemala, El Salvador, and Honduras. According to Biden:
Inadequate education, institutional corruption, rampant crime and a lack of investment are holding [Guatemala, El Salvador, and Honduras] back. Six million young Central Americans are to enter the labor force in the next decade. If opportunity isn't there for them, the entire Western Hemisphere will feel the consequences.
He went on to list three solutions to these challenges: security, good governance, and the need for international investment. Yet critics argued that such measures would instead increase inequality, lead to further militarization, and prop up corrupt governments. They also pointed out that Biden's initiatives had been drafted by the governments of these countries with the support of the United States and the Inter-American Development Bank, without the participation of migrants, civil society groups, or indigenous peoples.
Reminiscent of John F. Kennedy's 1960s Alliance for Progress, which sought to enhance economic cooperation between the United States and Latin America while simultaneously promoting counterinsurgency and supporting dictatorships in the name of fighting so-called communists and guerrillas, the Alliance for Prosperity seeks to stimulate economic growth through neoliberal policies and to heighten security to combat gangs and narcotraffickers. This Alliance has been marketed through the use of the militaristic and security-driven term "Northern Triangle," based on an interventionist logic that portrays the three countries as in need of saving by the United States. Consequently, the adoption of the term by academics, journalists, activists, and observers is a wrong turn. The power of terms like these is not lost on the Ixil-Maya, some of whom refused to accept the label "Ixil Triangle," which was used in the context of genocidal counterinsurgency policiesduring Guatemala's long civil war. According to some Ixil-Maya, the term justified intervention with its military overtones and remains a symbol of their repression.
Likewise, the terminology used in blueprints for the Alliance for Prosperity serves to naturalize the United States's military-driven and neoliberal agendas. In 2015, some seventy-five civil society organizations sent a letter to the presidents of the United States, Guatemala, El Salvador, and Honduras to express their concerns:
The militarization of citizen security has contributed to systematic human rights abuses while harmful, private and foreign-investor-led "development" policies continue to dispossess communities of their lands and livelihoods. The result of these policies, among others, is forced migration.
Throughout Central America, so-called development projects and extractivist industries such as those being promoted by the Alliance are characterized by violence, social division, environmental degradation, and the persecution of community leaders and activists (Batz 2018).
The U.S. Congress approved $750 million in aid to support the Alliance in 2016. The text of the legislation provides Congress with the authority to withhold 75 percent of this aid and requires the Secretary of State to certify that these Central American governments are "taking effective steps to meet certain requirements." Aid may be suspended to those that have "not made sufficient progress" in reducing migration and poverty, or in combating corruption and decreasing violence. Importantly, $7.5 million of this budget goes to the United Nations–backed International Commission against Impunity in Guatemala (CICIG), viewed as successful in combating government corruption and investigating high-level officials including former president Otto Pérez Molina, who was forced to resign in 2015.
Although the Trump administration has made a point of undoing Obama-era initiatives, it has continued to support the Alliance, albeit in the context of reduced aid, calls for stricter and harsher border enforcement, and demands for a wall. In 2017, Trump cut the budget request for $750 million in aid to $615 million. At a 2018 meeting attended by the presidents of Guatemala, Honduras, and El Salvador, Vice President Mike Pence reaffirmed support for the Alliance and stressed the importance of Central American countries in increasing border security. Pence, however, never mentioned the corruption investigation being undertaken against Guatemala's President Jimmy Morales. A little over a month before, surrounded by sixty-eight uniformed military personnel, Morales had announced that he would not renew the mandate of CICIG. That same morning, military vehicles conducted ominous drive-bys at the offices of CICIG and of known human-rights defenders, as well as the U.S. embassy. (These vehicles had been donated to Guatemala by the U.S. Defense Department to combat organized crime and drug trafficking.) This demonstration of military support sparked fears that Morales would attempt a coup. These concerns were intensified days later when Morales banned the head of CICIG, Ivan Velazquez, from reentering Guatemala from a trip abroad and ignored a Constitutional Court ruling to lift the ban. Guatemala currently finds itself in a constitutional crisis as Morales tries to shut down CICIG, and many fear that the country will endure more political turmoil and violence.
While the Alliance for Prosperity was created to curb migration to the United States, the crisis continues. The Trump administration's dehumanization and criminalization of migrants is exacerbating an already dire situation as human rights abuses escalate on the U.S.–Mexican border. Meanwhile, the United States has stayed silent on Morales's efforts to eliminate CICIG. Instead, it promotes further neoliberal policies and militarization, which will inevitably lead to further displacement. Despite its nod to curbing migration, the Alliance for Prosperity continues a brutal and violent legacy of U.S. interventionism in Central America.
¿Alianza Para la Prosperidad?
Después que el vicepresidente de los Estados Unidos, Joseph Biden, visitó Centro América en 2015, solicitó el apoyo del Congreso para financiar la iniciativa conocida como la Alianza para la Prosperidad en respuesta a los miles de menores no acompañados que llegaron a la frontera de Estados Unidos y México. La Alianza para la Prosperidad buscó mil millones de dólares en ayuda a los tres países centroamericanos con las tasas más altas de envío de migrantes: Guatemala, El Salvador y Honduras. Según Biden:
Una educación deficiente, la corrupción institucional, la delincuencia descontrolada y la falta de inversión hacen que estos países estén estancados. Seis millones de jóvenes centroamericanos estarán en edad de incursionar en el mercado laboral la próxima década. Si no encuentran oportunidades en este, todo el hemisferio occidental sufrirá las consecuencias.
Él continuó enumerando las tres soluciones a estos retos: la seguridad, la buena gobernanza y la necesidad de inversión internacional. Sin embargo, los críticos han argumentado que estas soluciones aumentarán la desigualdad, llevarán a una mayor militarización y sostendrán a los gobiernos corruptos. Además, estas iniciativas promovidas por Biden fueron redactadas por los gobiernos de Centroamérica, con el apoyo de los Estados Unidos y del Banco Interamericano de Desarrollo, sin la participación de migrantes, grupos de la sociedad civil, o pueblos indígenas.
Parecida a la Alianza para el Progreso del presidente Kennedy en los años sesenta, que buscaba mejorar la cooperación económica entre Estados Unidos y América Latina, promoviendo al mismo tiempo la contrainsurgencia y apoyando a los dictadores militares con la excusa de combatir el supuesto comunismo y las guerrillas, la Alianza para la Prosperidad busca estimular el crecimiento económico a través de políticas neoliberales y aumentar la seguridad para combatir a las pandillas y los narcotraficantes. La Alianza para la Prosperidad se ha comercializado mediante el uso del término militarista "Triángulo del Norte," basado en una lógica intervencionista que retrata a Centroamérica como un lugar que necesita ser salvado por los Estados Unidos. En consecuencia, el uso de este término por parte de académicos, periodistas, activistas y observadores es un paso en la dirección equivocada. El poder del lenguaje en el uso de este tipo de conceptos es evidente entre los Maya-Ixiles, algunos de los cuales se niegan a aceptar el uso del término "Triángulo Ixil," que fue utilizado por los oficiales militares guatemaltecos y estadounidenses en la contrainsurgencia y las políticas genocidas contrainsurgentes durante la prolongada guerra civil en Guatemala. Para algunos Maya-Ixiles, el término justificó la intervención militar y sigue siendo un símbolo de su represión.
De manera similar, la terminología utilizada en la Alianza para la Prosperidad naturaliza las agendas neoliberales y militares de Estados Unidos. En 2015, setenta y cinco organizaciones de la sociedad civil enviaron una carta a los presidentes de Estados Unidos, Guatemala, El Salvador y Honduras para expresar su preocupación por los aspectos de este plan:
La militarización de la seguridad pública ha contribuido a que se den abusos sistemáticos contra los derechos humanos, mientras que políticas dañinas de "desarrollo" lideradas por el sector privado e inversiones extranjeras continúan despojando a comunidades de sus tierras y medios de subsistencia. El resultado de estas acciones, entre otros, es la migración forzada.
En Centroamérica, proyectos de desarrollo neoliberales e industrias extractivistas, como los que promueve la Alianza, se caracterizan por la violencia, la división social, la degradación ambiental y la persecución de líderes y activistas comunitarios (Batz 2018).
El Congreso estadounidense aprobó $750 millones en ayuda para respaldar la Alianza para la Prosperidad en 2016. El texto de la legislación proporciona al Congreso la autoridad para retener el 75 por ciento de esta ayuda y requiere que el Secretario de Estado certifique que estos gobiernos centroamericanos están "tomando medidas efectivas para cumplir con ciertos requisitos" en la reducción de la migración y la pobreza, combatiendo la corrupción y disminuyendo la violencia. Es importante notar que $7.5 millones de este presupuesto se destinarán a la Comisión Internacional Contra la Impunidad en Guatemala (CICIG), que cuenta con el respaldo de la ONU, y que se considera que combate con éxito la corrupción e investiga a funcionarios gubernamentales de alto nivel, incluido el ex presidente Otto Pérez Molina, que fue obligado a renunciar en 2015.
Si bien se sabe que la administración Trump deshace las iniciativas creadas bajo la administración Obama, ha continuado apoyando a la Alianza para la Prosperidad, si bien reduciendo la ayuda y exigiendo que las fronteras deben de ser más estrictas y duras, y construyendo un muro para impedir la migración. En 2017, Trump redujo la solicitud de presupuesto de $750 millones en ayuda a $615 millones. En una reunión regional en octubre de 2018 a la que asistieron los presidentes de Guatemala, Honduras y El Salvador, el vicepresidente Mike Pence reafirmó el apoyo a la Alianza para la Prosperidad y destacó la importancia de los países centroamericanos para aumentar la seguridad de las fronteras. Sin embargo, Pence nunca mencionó en su discurso la investigación de corrupción en contra del presidente de Guatemala, Jimmy Morales. Apenas poco más de un mes antes, Morales anunció, rodeado de sesenta y ocho militares uniformados, que no renovaría el mandato de la CICIG. Esa misma mañana, los vehículos militares equipados con artilleros pasaron varias veces por las oficinas de la CICIG y por las oficinas de defensores de los derechos humanos e incluso llegaron a la embajada de los Estados Unidos. Resulta que estos vehículos fueron donados a Guatemala por el Departamento de Defensa de Estados Unidos para combatir el crimen organizado y el narcotráfico. Esta demostración del ejército causó temores de que Morales intentara un golpe de estado. Estas preocupaciones aumentaron días más tarde, cuando Morales prohibió el reingreso del Comisionado de la CICIG, Iván Velásquez, a Guatemala, y se negó a adherirse a un fallo de la Corte Constitucional que ordenaba el levantamiento de la prohibición. Actualmente, Guatemala se encuentra en una crisis constitucional ya que Morales intenta cerrar la CICIG, y muchos temen que el país va a enfrentar más violencia política.
Si bien la Alianza para la Prosperidad se creó para frenar la migración a los Estados Unidos, la crisis continúa. La deshumanización y criminalización de los migrantes por parte de la administración de Trump solo está gestando una situación grave y contribuye a más abusos a los derechos humanos en la frontera entre Estados Unidos y México. Mientras tanto, los Estados Unidos mantiene silencio sobre los esfuerzos de Morales para eliminar la CICIG. En cambio, promueve nuevas políticas y militarización neoliberales, que inevitablemente conducirán a un mayor desplazamiento. A pesar de su inclinación a frenar la migración, la Alianza para la Prosperidad continúa un legado brutal y violento del intervencionismo estadounidense en Centroamérica.
References
Batz, Giovanni. 2018. "La lucha contra megaproyectos en la región Ixil y la violaciones de los derechos Indígenas." In Pensar Guatemala desde la resistencia: El neoliberalismo enfrentado, edited by Prensa Comunitaria. Guatemala City: F&G Editores.