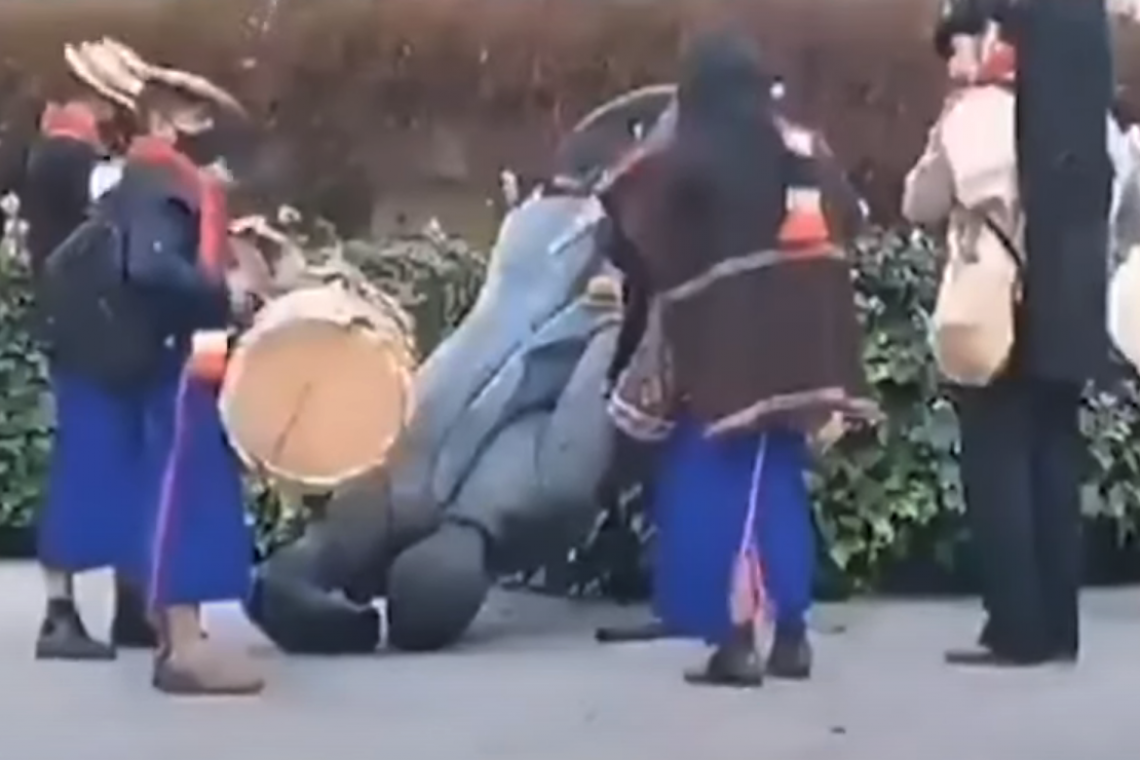 As part of the early social protests in downtown Bogota that began on April 28, 2021, Indigenous people from the Mizak community overthrew the national heritage monument of Spanish conquistador Gonzalo Jimenez de Quesada. Events like this are not new in the national context; two other statues were recently intervened in Colombia, all referring to male icons related to the Spanish conquest. The Misak people, from southwestern Colombia, have a tradition of revindication acts on the land taken from them during the colonial period. One of the most visible interventions was the destruction in 2020 of the statue of the conquistador Sebastian de Belalcázar in the city of Popayán.
Opinions among different sectors are divided. While some political actors and institutions claim the historical value of the monument, others are more interested in re-signifying these kinds of spaces and icons. By defacing statues, more than a mere representation of a certain historical figure is put into question, pointing toward hegemonic ideals of social whitening. Clearly, this type of social intervention aims to wound the mestizo ideals sustained by the establishment. Beyond the disruptive act of defacing a space, ongoing public discussion focuses on the expressive power entailed by these events.
This visual essay represents a timeline surrounding the social life of this monument: the statue's inauguration day in 1960, its recent defacement, the empty space left in its wake, and the intervention that followed. A tribute sculpture of Dylan Cruz, one of the murdered victims of police brutality, emerged overnight. Although public debates on the destiny of this space are telling, it is equally important to pay attention to its material evolution in the coming days.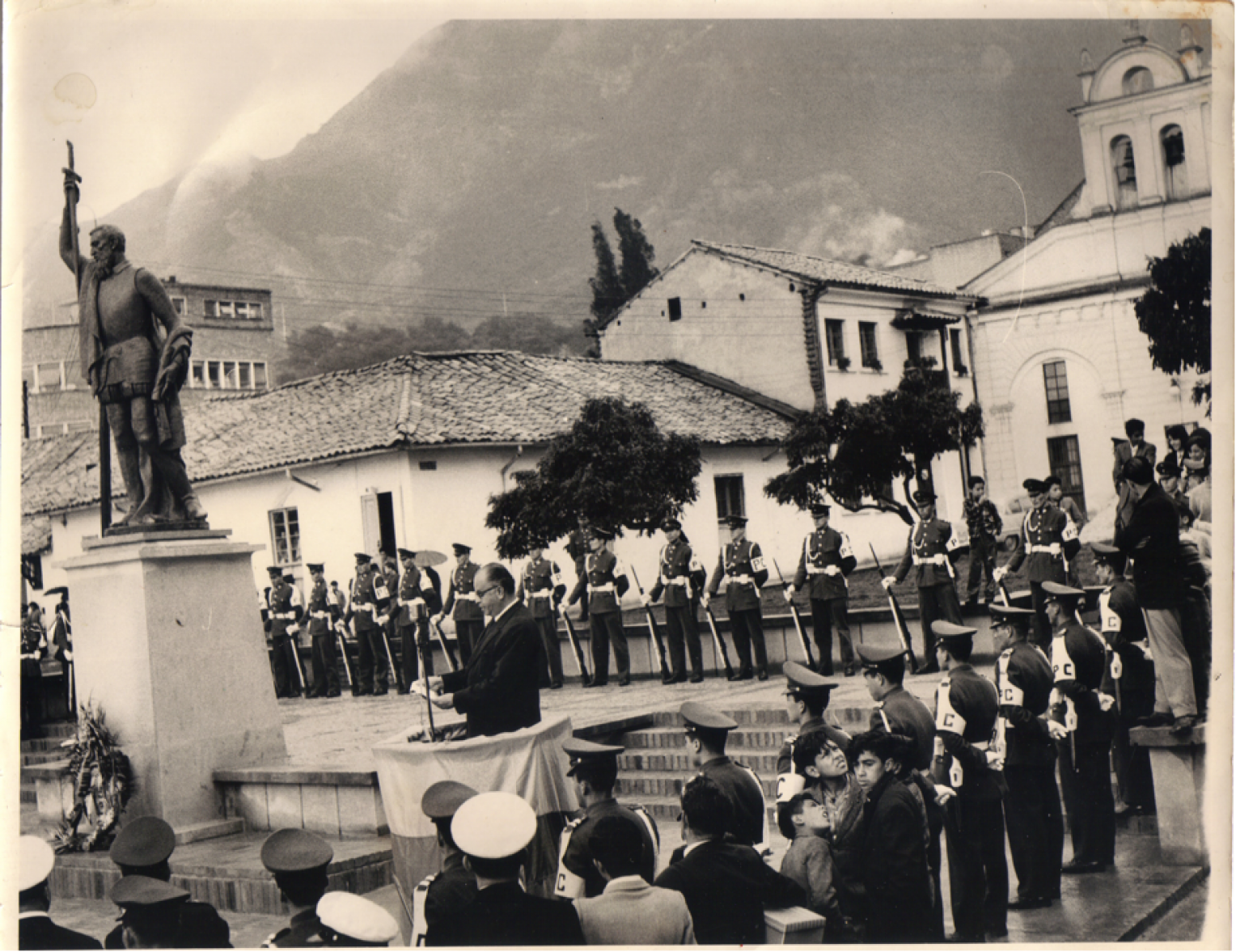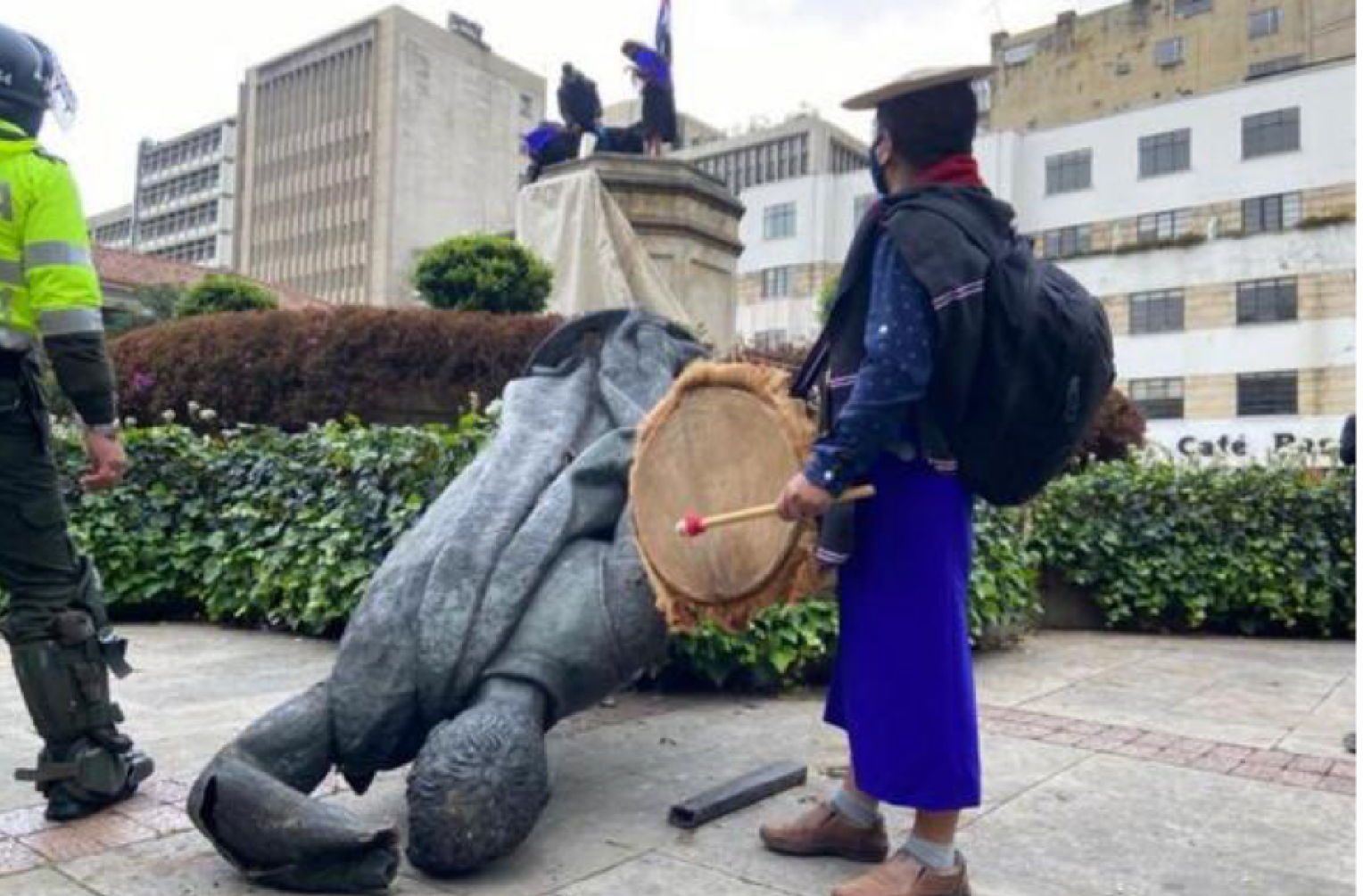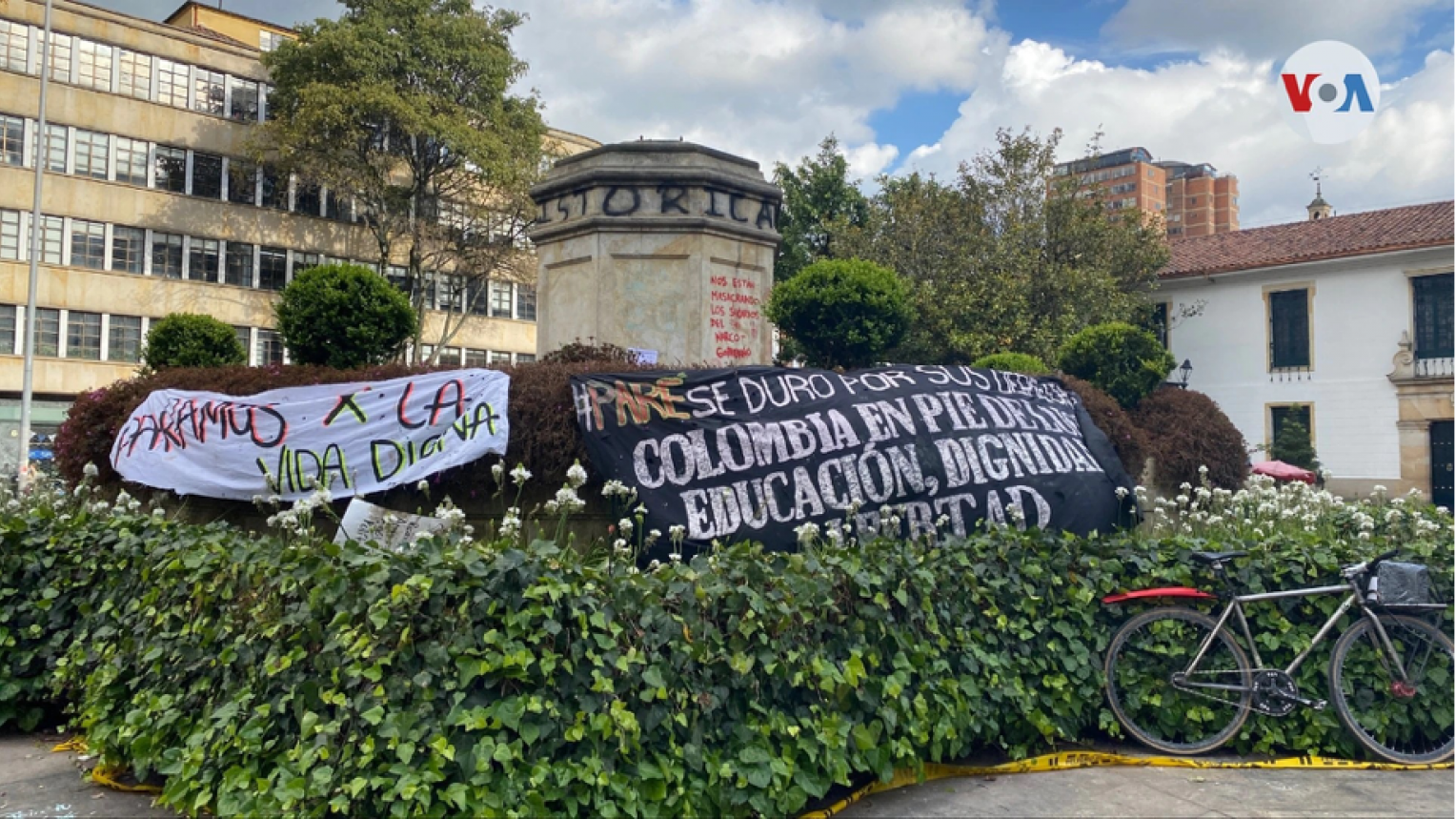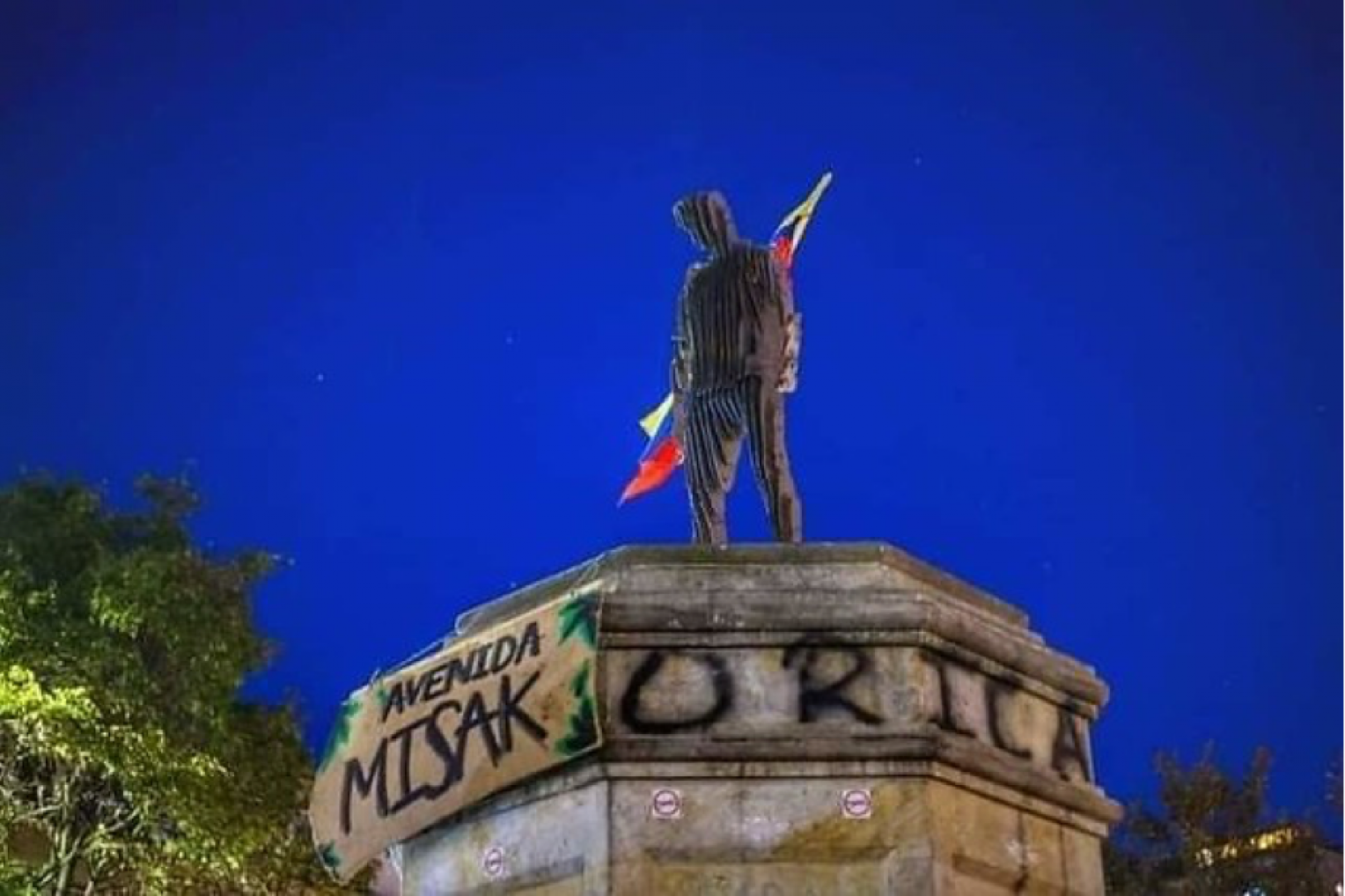 Ídolos desfigurados
En el marco de las movilizaciones en Bogotá que empezaron el 28 de abril, la estatua patrimonial del colonizador español Gonzalo Jiménez de Quesada fue derribada por acción de indígenas de la comunidad Mizak. Eventos como este, no son nuevos en el contexto nacional, otros dos monumentos fueron intervenidos en Colombia recientemente, todos referentes a figuras masculinas de la conquista española. La communidad Misak, del suroccidente de Colombia tienen un tradicion de actos revindicativos en las tierras usurpadas de ellos durante el periodo colonial. Una de las mas visibles intervenciones fue le destrucion en el 2020 de la estatua del conquistador Sebastian de Belalcázar en la cuidad de Popayán.
Las opiniones entre distintos sectores están divididas. Mientras algunos actores políticos e instituciones reclaman el valor histórico de la pieza, existen sectores más interesados en la resignificación de esta clase de espacios y monumentos. Una cosa es cierta, con el derribamiento de estatuas como la de Jiménez de Quezada, más que la figura del hombre, se disrrumpen los ideales de blanqueamiento social que representa. Así, parece que la acción social constituyera una herida a los ideales mestizos del establishment. Por encima del acto disruptivo que representa la alteración del espacio, el eje de la discusión es el poder expresivo de los hechos.
Las imágenes recopiladas constituyen una línea temporal del espacio, desde la inauguración de la estatua en 1960*, el derribamiento, el espacio vacío y una posterior intervención donde actores del estallido social instalan una estatua homenaje a Dylan Cruz una de las víctimas de las movilizaciones en 2019, asesinado por un agente del escuadrón ESMAD. si bien el surgimiento de este espacio, como una discusión es determinante en sí mismo, más importante será su evolución en los próximos días.