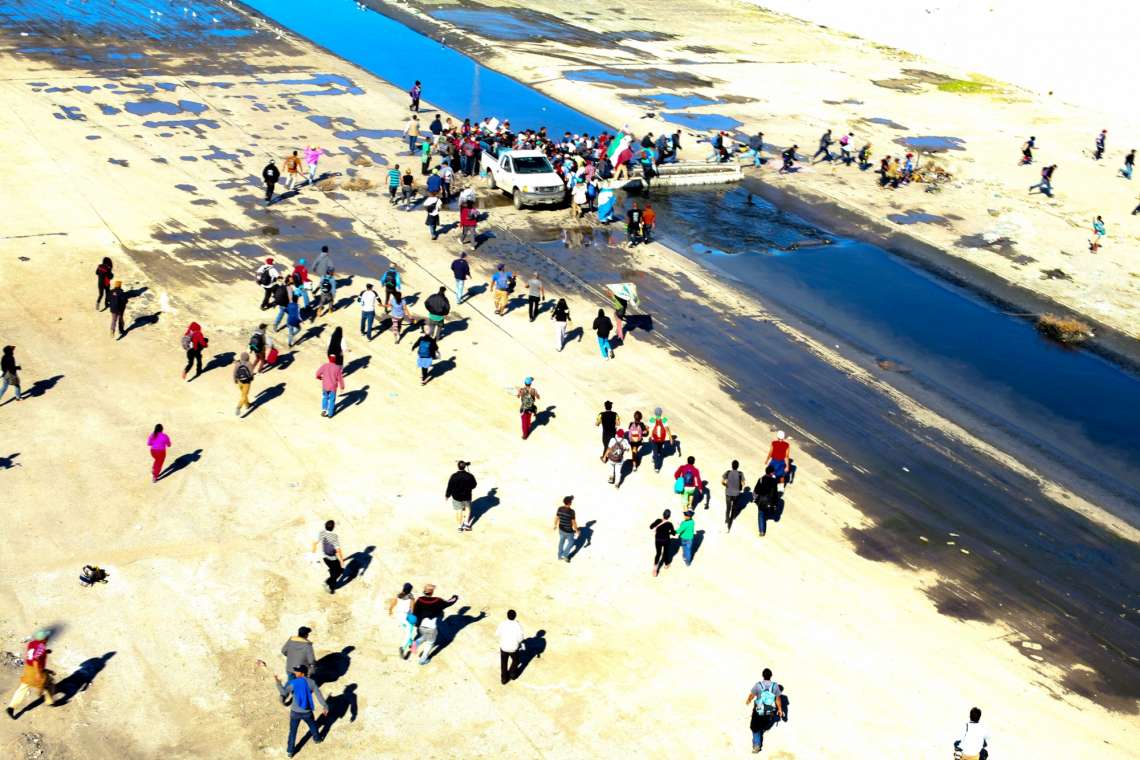 The work that now brings me to the crowded waiting room of a federal immigration court in the United States began in Guatemalan refugee camps in the 1990s. In the room with me, women in indigenous dress, fidgeting young men, and the occasional advocate mingle together with overdressed attorneys towing roller bags stuffed with fat files of white papers. There are too many little girls with sparkles: sparkly cat ears, gleaming silver backpacks, sparkle heart backpacks, and one sparkling "happy" emblazoned on the T-shirt of a six-year-old who is constantly scanning the room while clutching her mother's hand. Armed guards from a private security firm circulate, uselessly asking people to stop blocking the doors to the courtrooms. Worry is palpable in the wringing hands, blank stares, and tired shifting of those who have opted to stand in the middle of the room, hoping for a seat to open on the wooden benches along the walls.
Back in the refugee camps sponsored by the United Nations Human Rights Commission, Mayan women spoke with me about the genocide orchestrated by the Guatemalan armed forces in the early 1980s, but also about how they had built new vibrant communities in preparation for their return to highland villages after ten years in exile. Today, much of my anthropological work is done waiting, accompanying, observing, and giving testimony on what drives women and their children to seek refuge in the United States despite new barriers to their asylum claims. Knowledge of how culture works is fundamental to making the legal claim for asylum. It is key to understanding how femicide and violence against women creates refugees and compels families to leave all that they know to risk their lives on a northward journey, to sit (and sometimes die) in detention out of the earnest hope of having a chance at a life.
Gender violence in Guatemala has become utterly naturalized (see Menjívar 2011). The rate of femicide, the socially supported murder of women, is astounding. Based on figures from the country's National Institute of Statistics, between January 2000 and May 2018 more than eleven thousand women and girls were murdered in Guatemala. Guatemala has one of the highest rates of violent deaths among women worldwide. The prevalence of gender-based violence is not, however, a result of Guatemalans having an inherently violent nature. Countering the tendency to resort to cultural essentialism, anthropology tells us that—in Guatemala and elsewhere—such violence is a result of particular historical processes that have enabled state authority to rest on misogyny.
Wartime practices leveraged and amplified preexisting violence against women. Sexual violence was wielded as a systematic tool of governance, laying a foundation for the mano dura (firm hand or iron fist) forms of authority that sustain politicians today. Throughout the last century, gender-based violence was entrenched by a state that regularly employed sexual violence in the cause of genocide. During the Guatemalan genocide, the armed forces used gang rape in the massacres of entire indigenous communities in the highlands. Concurrently in urban areas, state agents, including police and paramilitary organizations, violated, mutilated, and publicly displayed women's bodies (Carey and Torres 2005), encouraging the participation of the press in a display of sexualized and gendered violence that has now become commonplace in both mainstream newspapers and the yellow press (England 2018).
Women's lives continue to be disposable, as demonstrated by the deaths of forty-one teenaged girls from a state-run orphanage in 2017. Corruption, officially sanctioned sexual assault, and the abandonment of women's and children's rights rendered the state unable and unwilling to safeguard the lives of women and girls, who have limited access to judicial redress. The process of seeking justice for gender-based violence is broken, despite comparatively strong laws against femicide and family violence. Laws are limited in their efficacy because misogyny takes place in everyday life—in which laws are applied and when, in how violence against women is sidelined or exploited, in the acceptance of the social suffering of rape, and in the display of machismo as an emblem of political power.
The misogynist bias of Guatemalan institutions and their agents, today as in the past, has costs. State-supported misogyny underpins the violence enacted by organized crime groups. Transnational gangs and other territorial crime organizations that have arisen amid the postconflict dissolution of local economies and authority structures have embraced the systemic use of sexual violence to exert control and to justify hypermacho authority. Gangs enact public executions, monitor and delimit the mobility of persons and goods through their territories, and demand payments from businesses. According to the United Nations Office on Drugs and Crime, large areas of the country have been deemed ungovernable. All of this begets the tragedy that we see in the groups of starving people maligned and dying while seeking refuge at the U.S. border.
Gender-based violence in a country of origin is part of a continuum of violence faced by refugee populations the world over. Gender-based violence too often continues in the host countries that refugees traverse (Buckley-Zistel and Krause 2017). The current moral panic in the United States with respect to Guatemalans and other Central Americans at the border is adding to migrants' vulnerability. Emergent humanitarian crises of human trafficking and sexual violence in detention centers loom as we engage in a national debate on the discretionary rights of persons. This is what gets decided in the federal immigration court where I began this story, and why the work of anthropology is as important today as it was in the refugee camps where I began this work more than twenty-five years ago.
Violencia de Género y la Crisis de Refugiados Guatemaltecos
El trabajo que hoy me trae a esta sala de espera de una Corte Federal de Migración en los Estados Unidos empezó en los campamentos de refugiados Guatemaltecos en los años noventa. En la sala de espera conmigo hay mujeres vestidas de traje indígena, jóvenes que no paran de moverse y los defensores de ambos mezclándose con abogados ambulantes jalando maletas de ruedas con archivos repletos de páginas blancas. Su vestido parece ser, tanto adecuado como demasiado formal. Hay demasiadas niñas con adornos brillantes: con orejitas de gato brillantes, con mochilas plateadas, otras mochilas de corazones brillantes. Una está aferrada a la mano de su madre y lleva una camiseta que luce la palabra happy en pleno rosado brillante. Guardias armados de una compañía privada también circulan inútilmente pidiéndoles a las personas que paren de bloquear los pasillos que conducen a los cuartos de corte. El temor está en el aire, se percibe en las manos que se mueven nerviosamente, en las miradas sin fondo y en los que se desplazan poco a poco al centro del cuarto a la espera de que se desocupe un asiento en los bancos de madera que se ubican contra la pared.
Cuando entrevisté a mujeres Mayas en campamentos de refugiados manejados por la Comisión de Derechos Humanos de las Naciones Unidas, ellas me hablaron de sus experiencias durante el genocidio que las fuerzas armadas del país efectuaron en los años 80. Pero no solo de esto, también me hablaron de su esmero en la construcción de comunidades dinámicas antes de su retorno a Guatemala. Hoy mi trabajo antropológico esta en esperar, acompañar, observar y dar testimonio de lo que lleva a las mujeres y a sus hijos a buscar refugio en los Estados Unidos a pesar de que, ahora existan nuevas limitaciones para sus peticiones de asilo. El conocimiento de cómo funciona la cultura es ahora fundamental para plantear el argumento legal de asilo. Es, además clave para entender como el femicidio y la violencia en contra de la mujer crea flujos de refugiadosy empuja a familias a dejar todo lo que conocen y arriesgarse en su fuga hacia el norte para después ser detenidos (muriendo a veces en la detención misma) simplemente por buscar una oportunidad de vivir.
La naturalización de la violencia de género ha sido exitosa en Guatemala (Menjivar 2011). La taza de femicidio, el asesinato de mujeres con apoyo social y político, es excesiva. Basada en datos del Instituto Nacional de Estadística, desde el año 2000 hasta mayo del 2018, más de 11, 255 mujeres han sido asesinadas de forma brutal en Guatemala. Guatemala tiene unas de las tasas más altas de muertes violentas para mujeres. La violencia de género que predomina en Guatemala no se debe a que los Guatemaltecos sean violentos por naturaleza. Por lo contrario, la antropología demuestra que este tipo de esencialismo cultural es inepto para llegar a entender que, en Guatemala como en otras partes, esta violencia es resultado de procesos históricos particulares y graduales a través de los cuales se establece la misoginia como base de la autoridad.
Las prácticas de guerra amplificaron y potencializaron la violencia preexistente en contra de las mujeres. La violencia sexual se usó como arma sistemática de Gobierno y la base de la autoridad de mano dura que ha dado tanto éxito a políticos recientes. A través del siglo pasado, la violencia de género se estableció firmemente por un estado que uso la violencia sexual indiscriminadamente durante el genocidio (Carey y Torres 2010). Durante el genocidio Guatemalteco, las fuerzas armadas utilizaron la violación en grupo durante las masacres de comunidades indígenas enteras en el altiplano. A su vez en las áreas urbanas, los agentes del estado, incluyendo la policía y otras organizaciones paramilitares, violaron, mutilaron y exhibieron públicamente los cuerpos de mujeres ladinas alentando a la prensa a que participara en esa exhibición de violencia sexual y de género que es ahora demasiado común en los periódicos y la prensa amarilla (England 2018).
La vida de la mujer continúa siendo desechable como nos enseñó la muerte de cuarenta y una adolescentes de un orfanatorio del estado. La inhabilidad y falta de disposición del estado para salvaguardar las vidas de la mujer y de las niñas se manifiesta en el nivel de corrupción estatal, la sanción oficial del acoso sexual y el abandono de los derechos de las mujeres y de los niñas con poco acceso a la justicia legal. Los mecanismos de justicia para la violencia de género están completamente quebrantados aunque en el país existan leyes contra el femicidio y la violencia domestica que son relativamente fuertes. La ley está limitada en su práctica por que la misoginia se desplaza en lo cotidiano y se manifiesta en: cual ley se aplica y como se aplica, como la violencia en contra de la mujer es ignorada o explotada, así como en aceptar socialmente el sufrimiento del ultraje, y en la exhibición del machismo como emblema de poder político.
El prejuicio misógino de las instituciones Guatemaltecas y sus agentes, tanto hoy como en el pasado, tiene precio. La práctica misoginia del estado ahora es la base de la violencia que desatan los grupos del crimen organizado. Surgiendo en el contexto de destrucción de economías y estructuras de autoridad local del posconflicto, las maras transnacionales y otros grupos de crimen organizado enfocados en el control de territorio han adoptado el uso sistemático de la violencia sexual tanto para ejercer control social como para justificar su propia autoridad localizándola en lo super-macho. Las maras matan, limitan el movimiento de personas y bienes en el territorio que controlan, extorsionan a negocios e individuos y ejercen control efectivo. Según la Oficina de Drogas y Crimen de la ONUáreas extensas del país han sido definidas como ingobernables. Esta es la situación de donde surge a la tragedia que hoy vemos en los grupos de personas hambrientas que son calumniadas y mueren buscando refugio en la frontera estadounidense.
La violencia de género que poblaciones refugiadas viven en su países de origen es parte de un continuum de violencia que estas enfrentan en diferentes partes del mundo. Esta violencia de genero muchas veces continua en los países huéspedes que transitan los refugiados (Buckley-Zistel and Krause 2017). El pánico moral que causa la presencia de guatemaltecos y otros centroamericanos en la frontera de los Estados Unidos ya está añadiendo a las vulnerabilidades del migrantes. En lo que debatimos que derechos civiles son innatos al ser humano, ya están emergiendo crisis humanitarias de tráfico de personas y las incidencias de violaciones dentro de los mismos centros de detención aumentan. En la Corte Federal de Migración donde empecé esta historia son los derechos del ser humano y estas vidas las que se deciden y es por eso que el trabajo de la antropología es tan importante hoy como lo fue en campamentos de refugiados hace ya más de veinticinco años.
References
Buckley-Zistel, Suzanne, and Ulrike Krause, eds. 2017. Gender, Violence, Refugees. New York: Berghahn.
Carey, Jr., David, and M. Gabriela Torres. 2010. "Precursors to Femicide: Guatemalan Women in a Vortex of Violence." Latin American Research Review 45, no. 3: 142–64.
England, Sarah. 2018. Writing Terror on the Bodies of Women: Media Coverage of Violence against Women in Guatemala. Lanham, Md.: Lexington Books.
Menjívar, Cecilia. 2011. Enduring Violence: Ladina Women's Lives in Guatemala. Berkeley: University of California Press.
Rothenberg, Daniel, ed. 2012. Memory of Silence: The Guatemalan Truth Commission Report. New York: Palgrave Macmillan.
Torres, M. Gabriela. 2005. "Bloody Deeds: Reading Guatemala's Record of Political Violence in Cadaver Reports." In When States Kill: Latin America, the U.S., and Technologies of Terror, edited by Cecilia Menjívar and Néstor Rodríguez, 143–69. Austin: University of Texas Press.