Inclusión Prostética / Prosthetic Inclusion
From the Series: Bodies at War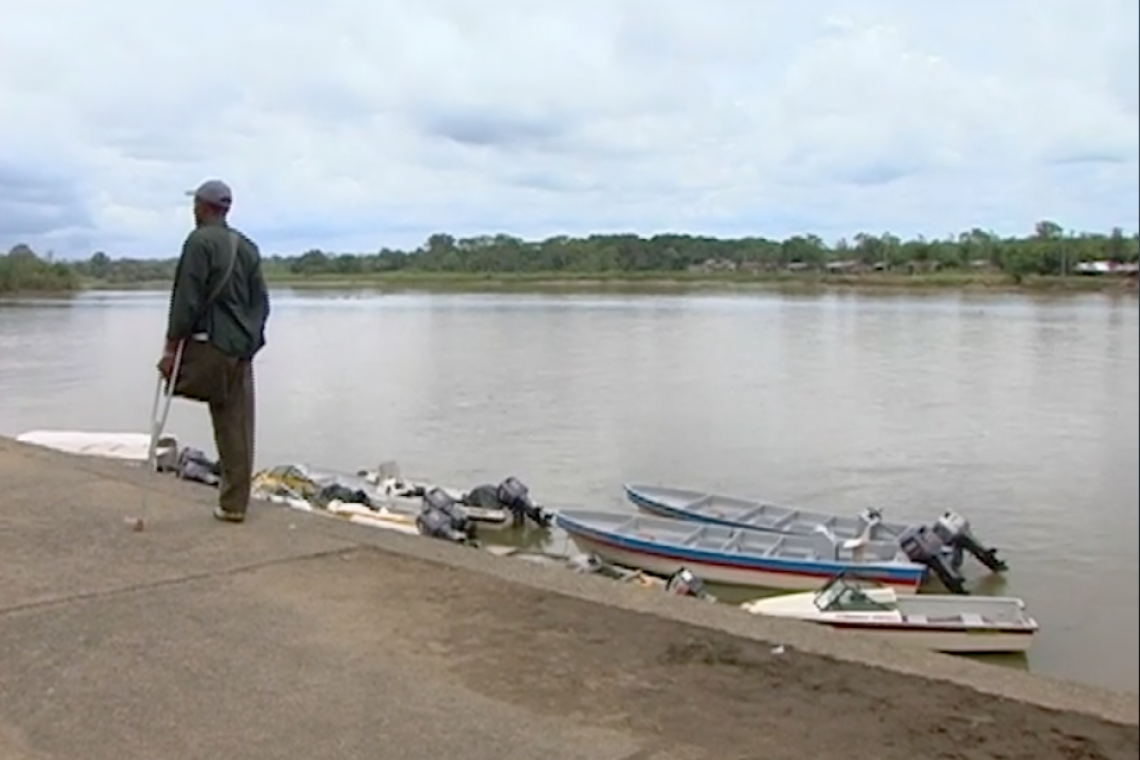 Inclusión Prostética
El presente colombiano está marcado por un conflicto armado de más de cinco décadas que no ha cesado. A pesar de la firma del acuerdo de paz entre la guerrilla de las FARC y el gobierno colombiano en 2016, la violencia continúa, la sociedad permanece militarizada y, en gran medida, el campo sigue estando minado. Por lo tanto, la realidad que Emily Cohen retrata en Bodies At War (2015) no se ha tornado ajena. Por el contrario, prácticas y lógicas de guerra siguen produciendo los cuerpos mutilados que la película lleva a un primer plano.
¿Qué posición ocupan las víctimas de minas antipersonal en Colombia? ¿Qué tipo de ciudadanos eran antes y qué tipo ciudadanos son ahora? ¿Qué regímenes de inclusión y exclusión operan en su paso por procesos médicos y de rehabilitación? ¿De qué manera ha asumido el estado y la sociedad su responsabilidad por todos aquellos que han sobrevivido a la explosión de una mina? En Bodies At War, Emily Cohen insiste en estas preguntas. En particular, su trabajo fílmico señala que ser militar o civil hace una gran diferencia cuando el cuerpo queda permanentemente lesionado por efecto de una mina antipersonal.
La película muestra cómo la imagen del soldado lisiado es usada públicamente para reivindicar la guerra. Lo vemos haciendo parte de un desfile suntuoso que exhibe el aparato militar del Estado para celebrar la independencia de Colombia. También aparece como miembro de un equipo paraolímpico donde la discapacidad representa una oportunidad para afirmar la masculinidad y desafiar los límites de lo que se suele considerar físicamente posible. Bodies At War enfatiza cuán limitada es esta narrativa pública y nos invita a mirar lo que ocurre tras las bambalinas de la guerra. Nos lleva a constatar que acoplar una pierna a una prótesis demanda trabajo médico, técnico, social y afectivo. No se trata solamente de que la víctima militar pueda volver a caminar. La prótesis es el dispositivo que le permite a un Estado ocultar o al menos disimular los legados corporales de la guerra. Así, la prótesis es también una forma de materializar la inclusión parcial del soldado discapacitado a la sociedad que le exigió perder una pierna en su nombre.
Esta forma de "inclusión prostética", sin embargo, no se le garantiza a todas las víctimas de minas. Bodies At War nos acerca a las víctimas civiles y nos muestra cómo sus experiencias están marcadas por múltiples formas de exclusión a lo largo de itinerarios teraupéticos interminables y enrevesados que casi nunca llegan a un final feliz ¿Qué tipo de sociedad es aquella que revictimiza una y otra vez a quienes la guerra ha dejado físicamente afectados? Emily Cohen nos interpela iterativamente con esta pregunta.

Prosthetic Inclusion
Colombia's present is marked by more than five decades of an unresolved armed conflict. Despite the signature of the peace agreement between the FARC guerrilla and the Colombian government in 2016, violence continues, society is still militarized, and rural areas remain mined to a large extent. Thus, the reality Emily Cohen portrays in Bodies At War (2015) has not become unfamiliar. On the contrary, war practices and logics continue to produce the maimed bodies that the film brings to the foreground.
What position do land mine victims occupy in Colombia? What kind of citizens were they before, and what kind of citizens are they now? What inclusion and exclusion regimes operate in their passage through medical and rehabilitation processes? How has the State and society assumed their responsibility for all those who have survived a mine explosion? In Bodies At War, Emily Cohen insists on these questions. In particular, she points out that being military or civilian makes a big difference when the body is permanently injured by a land mine.
The film shows how the image of the disabled soldier is publicly used to vindicate the war. He is part of a sumptuous parade that displays the State's military apparatus to celebrate Colombia's independence. He also appears as a member of a para-Olympic team where disability is made into an opportunity to assert one's masculinity and challenge the limits of what is conventionally regarded as physically possible. Notably, Bodies At War emphasizes how limited this public narrative is and invites us to look behind the scenes of war. It shows us that attaching a leg to a prosthesis demands medical, technical, social, and affective work. It is not just about getting the military victim to walk again. The prosthesis is the device that allows the State to conceal or at least disguise the bodily legacies of war. Thus, the prosthesis is also a way to materialize the partial inclusion of the disabled soldier into the society that demanded him to lose a leg on its behalf.
Yet, this form of "prosthetic inclusion," however, is not guaranteed to all victims of anti-personnel mines. Bodies At War brings us closer to civilian victims. It shows us how their experiences are marked by multiple forms of exclusion along endless and convoluted therapeutic itineraries that almost never reach a happy ending. What kind of society is one that victimizes and re-victimizes the people who have been physically affected by war? Emily Cohen asks us to stay with this question.