Indigenous History
From the Series: Pathways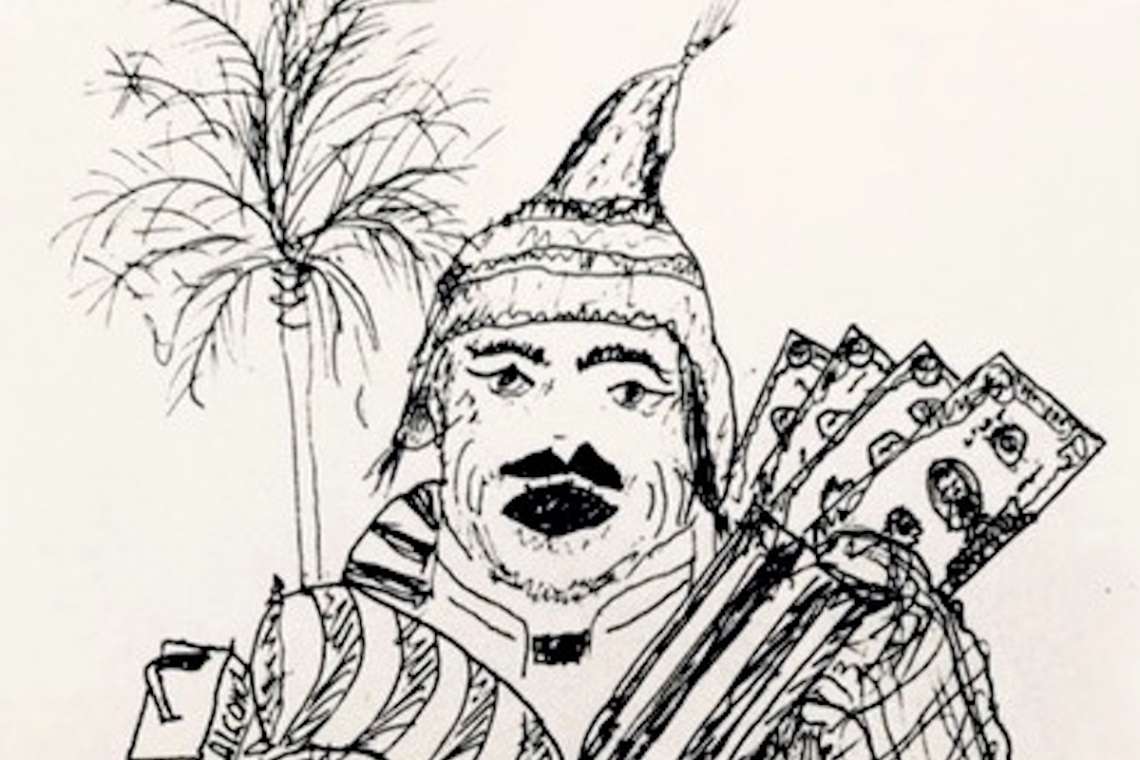 I met Tom Abercrombie in the early 1980s, when he was a graduate student and I'd just finished my PhD. I was excited about getting to know him because I saw many similarities between indigenous Bolivia and indigenous Colombia, particularly the ways that Native people historically accessed colonial-era documentation in the course of their struggles for land and autonomy. In many ways, Tom and I followed the same pathways, shifting between ethnographic fieldwork and the archives, using history to illuminate what we saw in indigenous communities and ethnography to read the historical documentation. Our friendship grew out of these shared paths.
In his first book, Pathways of Memory and Power (Abercrombie 1998), Tom uses the Aymara metaphor of the pathway to comprehend how memory has been harnessed over time by the leadership of the community of K'ulta. The idea of the pathway connects past and present, and is performed in narratives and rituals, as well as embodied in the landscape. The pathway presents an apt vehicle for interpreting the vast corpus of historical evidence Tom collected in numerous archives in Bolivia and Spain. His appropriation of the metaphor as a frame for his own history telling mirrors the narrative strategies of indigenous historical actors, but he does not duplicate Aymara memory and narrative techniques; instead, he reinscribes Aymara historical thought within a broader global history, thereby creating his own pathways that intertwine the indigenous and Spanish accounts into a braided history.
Aymara narrative shifts over time in the face of Spanish efforts to erase local memory, and historically indigenous people have created new narrative and performative forms, which Tom highlights in his work, including legal documents, Christian saints' day celebrations, and the embedding of history in topographic space. I had been looking at some of the same things in my work and I took a cue from Tom to employ indigenous metaphors as conceptual vehicles as opposed to local symbols to be analyzed ethnographically in my collaborative research with the Consejo Regional Indígena del Cauca (Rappaport 2005).
The Andean Oral History Workshop (THOA), an Aymara research collective in La Paz, Bolivia, publishes under the auspices of Ediciones Aruwiyiri ("He who sets fire with his voice"), a name taken from an early twentieth-century indigenous bulletin. By appropriating this name, THOA foregrounds the incorporation of "the written word into the genealogy of ancestral knowledge of our communities"—which they explain on the copyright pages of their publications. The fact of the centrality of the written word in a community that is generally characterized as oral is fundamental to the kind of analysis in which Tom and I have engaged, inserting Native people into the stream of history and recognizing that their forms of literacy do not constitute a departure from cultural traditions, but vehicles through which they could more effectively confront the dominant society. Beth Penry, Tom's wife, whose magnificent new book, The People are King, examines indigenous-authored correspondence and legal briefs during the rebellions of the late eighteenth century (Penry 2019), has shared this conversation over the years.
As we moved beyond our earlier ethnographic experiences to conduct archival research on the colonial period, Tom and I again surprisingly found ourselves traveling similar paths: I, in the archives in Bogotá and Seville, studying the process of mestizaje in the Nuevo Reino de Granada (today, Colombia) in the sixteenth and seventeenth centuries (Rappaport 2014), and Tom, a case of gender-passing in Bolivia at the turn of the nineteenth century (Abercrombie 2018). Both of us were concerned with how passing was understood in the early modern period and both of us decided to use our ethnographic imaginations to study historical cases, this time, without the benefit of ethnographic fieldwork.
Tom looks at María Yta, who self-fashions as a man—Antonio Yta—in the Americas. The book explains how and why Yta's contemporaries continued to identify him as a man, even after a medical examination disputed his assumed identity. Drawing on a rich scholarly corpus about costume, bodily presentation, fictional narrative, and theatrical performance, as much from the historical literature as from literary studies, Tom takes apart Yta's self-presentation, uncovering the choices that he had to make in order to successfully project as a man. Much of what Tom reveals in his book may appear contradictory to modern readers, as it originated in a world view in which notions of gender did not play a part: Yta's behaviors effectively trumped his obvious anatomy in the eyes of colonial observers. One of the major challenges in studying colonial Latin America is comprehending how its social, racial, and gender hierarchies were constructed without recourse to concepts of gender and race, thus complicating our application of gender and critical racial theory to our archival materials. The last chapter of Passing to América presents a sustained reflection on this challenge.
Tom had a great deal to celebrate: his new book, Beth's forthcoming volume, his hoped-for promotion to full professor. There was another projected study of the construction of race and ethnicity over time in Bolivia. I wish he were around to enjoy all of those things.
Historia Indígena
Traducido por Camila Belliard-Quiroga.
Conocí a Tom Abercrombie a principios de la década de los ochenta, cuando él era un estudiante de posgrado, y yo acababa de terminar mi doctorado. Me entusiasmó mucho conocerlo, ya que percibía la existencia de muchas similitudes entre los ámbitos indígenas de Bolivia y Colombia, particularmente las formas en que los pueblos nativos accedían históricamente a documentos del periodo colonial y los usaban para legitimar sus luchas por la tierra y la autonomía. En muchos sentidos Tom y yo seguimos los mismos caminos, oscilando entre el trabajo de campo etnográfico y de archivo, utilizando la historia para esclarecer lo que veíamos en las comunidades indígenas, y a su vez la etnografía para leer documentos históricos. Nuestra amistad se fortaleció de estos caminos compartidos.
En su primer libro, Pathways of Memory and Power (1998), Tom utiliza la metáfora aymara del "camino" para comprender cómo la memoria ha sido movilizada a través del tiempo por las autoridades de la comunidad de K'ulta. De esta forma, la idea del camino conecta el pasado y el presente, y es representada (performed) en narrativas y rituales, así como encarnada (embodied) en el paisaje. El camino representa un medio para interpretar el gran corpus de evidencia histórica que Tom reunió a partir de numerosos archivos en Bolivia y España. Su apropiación de esta metáfora como marco para la propia narración de historia, refleja las mismas estrategias narrativas empleadas históricamente por actores indígenas. Sin embargo, no es que Tom duplique la memoria y formas narrativas aymaras; sino que logra reinscribir el pensamiento histórico aymara en el marco de una historia global más amplia, creando así caminos que entrelazan los recuentos indígenas y españoles en una historia trenzada.
Así, frente a los esfuerzos de los españoles por borrar la memoria local, la narrativa aymara se transforma a lo largo del tiempo, debido a que históricamente los pueblos indígenas han creado nuevas formas narrativas y performativas. En su trabajo, Tom se interesó particularmente por la manifestación de estas nuevas formas en los usos de documentos legales, las celebraciones cristianas de los santos y la integración de la historia a la topografía espacial. Por mi parte, he analizado algunos de estos mismos elementos en mi trabajo, así que tomé el ejemplo de Tom en emplear metáforas indígenas como vehículos conceptuales en lugar de símbolos locales, para así analizarlas etnográficamente en mi investigación colaborativa con el Consejo Regional Indígena del Cauca. (Rappaport 2005).
El Taller Andino de Historia Oral (THOA), un colectivo de investigación aymara en La Paz, Bolivia, pública bajo los auspicios de Ediciones Aruwiyiri ("El que prende fuego con su voz"), un nombre tomado de un boletín indígena de principios del siglo XX. Al apropiarse de este nombre, THOA destaca la incorporación de "la palabra escrita en la genealogía del conocimiento ancestral de nuestras comunidades", lo que explican en las páginas de derechos de autor de sus publicaciones. El hecho de centrar la palabra escrita en una comunidad que generalmente se ha caracterizdo por la oralidad, es fundamental para el tipo de análisis que tanto Tom como yo hemos desempeñado. En un esfuerzo por insertar a los pueblos nativos en la corriente de la historia y reconociendo que sus formas de alfabetización no constituyen un alejamiento de las tradiciones culturales, sino que son vehículos a través de los cuales pueden enfrentar más efectivamente a la sociedad dominante. Beth Penry, la esposa de Tom, cuyo magnífico nuevo libro, The People are King (2019) que explora tanto las correspondencias de autoría indígena y los informes legales de las rebeliones de fines del siglo XVIII, también ha sido parte de esta conversación a lo largo de los años.
A medida que avanzamos más allá de nuestras anteriores experiencias etnográficas hacia la investigación de archivo en el período colonial, Tom y yo nuevamente nos encontramos recorriendo caminos similares: yo, en los archivos de Bogotá y Sevilla, estudiando el proceso de mestizaje en el Nuevo Reino de Granada (hoy Colombia) en los siglos XVI y XVII (Rappaport 2014). Y Tom, estudiando un caso de subversión de identidad transgénero (el concepto en inglés "passing") en Bolivia a principios del siglo XIX (2018). Ambos estábamos interesados en el contexto del período moderno temprano, cómo se entendía el "pasar por" o subvertir identidades, tanto a través del género como de las identidades étnicas. Para esto, ambos decidimos usar nuestra imaginación etnográfica para estudiar casos históricos, esta vez, sin el beneficio del trabajo de campo etnográfico.
Tom estudia a María Yta, quien se auto-identifica como hombre, Antonio Yta, en las Américas. El libro indaga en cómo y por qué los contemporáneos de Yta continuaron identificándolo como hombre, incluso después de que un examen médico cuestionó su identidad de género asumida. A partir de un rico corpus académico sobre usos del vestuario, presentación corporal, narrativas ficcionales, y performatividad teatral, tanto de la literatura histórica como de los estudios literarios, Tom deconstruye la auto-presentación de Yta, dando cuenta de las elecciones que tuvo que tomar para lograr proyectarse como hombre exitosamente. Gran parte de lo que Tom revela en su libro, parece contradictorio para lectores modernos, ya que se origina en una visión del mundo en la que las nociones de género no tenían un papel importante: los comportamientos de Yta superaban su obvia anatomía a los ojos de los observadores coloniales. Precisamente, uno de los desafíos más grandes los estudio de América Latina colonial, es comprender cómo se fueron construyendo jerarquías sociales, raciales y de género, pero sin recurrir a conceptos de género y raza actuales, lo cual complejiza nuestra aplicación de conceptos de género y de teoría crítica racial a los materiales de archivo. El último capítulo de Passing to América presenta una reflexión sostenida en torno a este desafío.
Tom tenía mucho que celebrar: su nuevo libro, el próximo volumen de Beth, su esperado ascenso a Profesor Titular. Tenía además otro estudio proyectado sobre la construcción de la raza y etnicidad a lo largo del tiempo en Bolivia. Desearía que estuviera aún por aquí para disfrutar de todas esas cosas.
References
Abercrombie, Thomas A. 1998. Pathways of Memory and Power: Ethnography and History among an Andean People. Madison: University of Wisconsin Press.
———. 2018. Passing to América: Antonio (Née María) Yta's Transgressive, Transatlantic Life in the Twilight of the Spanish Empire. University Park: Pennsylvania State University Press.
Penry, S. Elizabeth. 2019. The People Are King: The Making of an Indigenous Andean Politics. Oxford: Oxford University Press.
Rappaport, Joanne. 2005. Intercultural Utopias: Public Intellectuals, Cultural Experimentation, and Ethnic Pluralism in Colombia. Durham, N.C.: Duke University Press.
———. 2014. The Disappearing Mestizo: Configuring Difference in the Colonial New Kingdom of Granada. Durham, N.C.: Duke University Press.