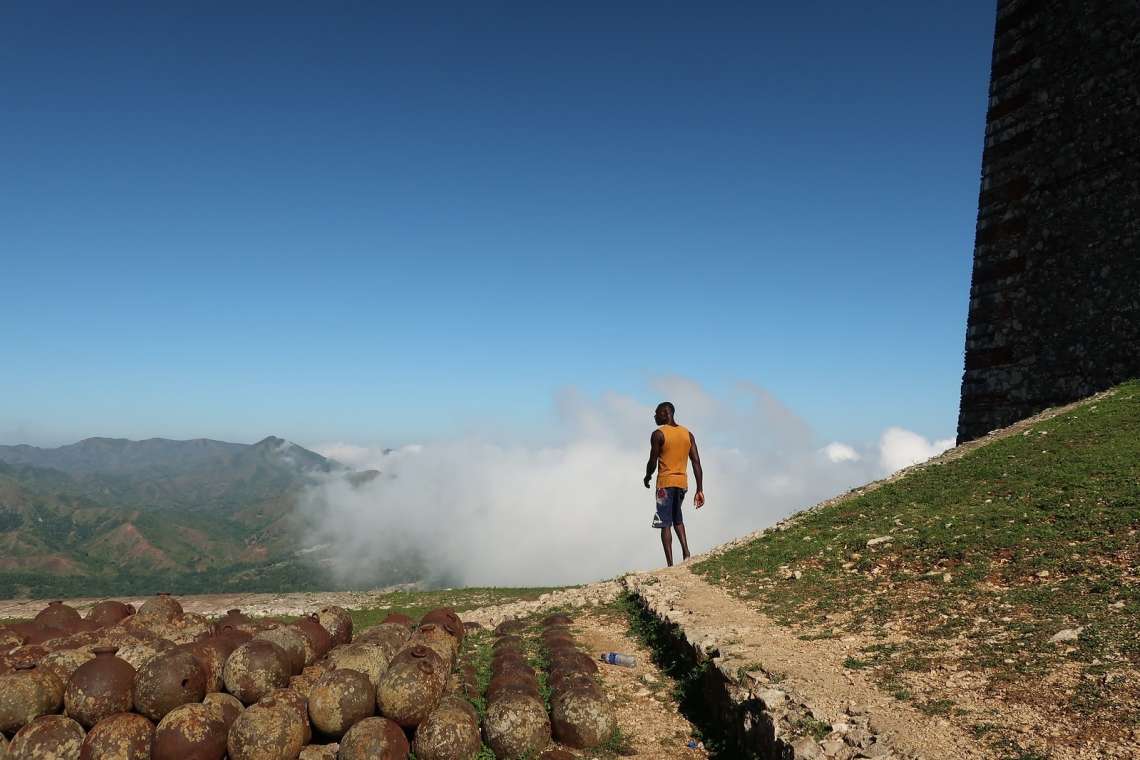 Does the word crisis have any meaning left? Perhaps the most acute effect of the talk of crisis in Haiti is not to give us a name for what is happening but rather to block our understanding, to ossify the idea of crisis as a historical inevitability: inescapable, ineluctable, predetermined. After a series of floods in 2009, and again after the 2010 earthquake, Bill Clinton spoke of the need for Haiti to "escape its history." More recently, a feel-good article about UNESCO's recognition of soup joumou as intangible cultural heritage included a quote from a Brazilian representative: "You cannot leave Haiti to its fate." We refuse that framework—one that imagines Haiti as a once-and-future victim, and history as an unstoppable force rather than an accumulation of human decisions. At the same time, it is important to acknowledge what is happening, and to find a language with which we can understand it. Crisis might be one word for it. It may not be the best word. And so we ask: What do we really talk about when we talk about crisis in Haiti? And more to the point: What do we not talk about when we talk about crisis in Haiti?
What if we wrote about "crisis" in the Global North the way people write about "crisis" in Haiti? In the last year and a half, the United States—which suffers from some of the most pronounced income inequality in the world—has endured political insecurity, contested elections, rising religious extremism, an epidemic of police violence, anti-police demonstrations, an attempted coup d'état, ice storms that killed hundreds of people, worsening hurricanes and wildfires, and nearly 900,000 deaths from the novel coronavirus. Those are only some of the crises to hit the beleaguered North American nation. This exercise, however trite, shows how easily the complexity of life in any nation can be reduced to a bleak inventory of calamity. After all, as Marlene Daut and Kaiama Glover suggest, the last two years have shown, "many of those who previously imagined that their 'race' and their class status would provide an eternally protective shield against disaster, uncertainty, and, yes, insecurity, now find themselves fearful of the future in ways both existential and concrete."
Today, as it has for decades, the endless talk of crisis seems designed to do one thing: provoke and justify foreign intervention. Most in Haiti have argued instead for the international community to support Haitian civil society in finding a Haitian solution to the crisis. They are asking the world to think beyond the narrow frame of military and humanitarian interventions and instead to recognize the hard work of political imagination that has been happening in Haiti for decades and that continues, against all odds, as we speak. To be sure, repressive forces in Haiti use the current crisis to seize power, to destroy, pillage, exploit, and kill. And of course, certain foreign actors want to use the crisis to call, yet again, for Haiti to become more integrated into the global economy through trade liberalization and cheap, flexible, mobile labor—that is, through the very policies that have, over the past 50 years, made Haiti into the "poorest country in the Western hemisphere." Michel-Rolph Trouillot (1995) famously described the Haitian Revolution as being "unthinkable" within the terms of the discursive formations and epistemological foundations of the West. We might extend this to say that a Haiti free from crisis and intervention is unthinkable to many in the West, because they cannot imagine that Haitians can govern themselves, or that Haitians have alternative visions of what a society, an economy, or a polity might look like.
What would it mean, then, to see Haiti otherwise? To look at, listen to, and learn from some of those alternative visions, to see how some Haitians are thinking about—that is, theorizing and critiquing—their own lives? Some of their visions are explicitly political. Some are religious. Some are millenarian, while others are quietly ordinary hopes and aspirations for a decent and reliable job, a safe home, and a healthy family. Some, like our series itself, are an attempt to make a record, to collect and assemble an archive of sorts that can help us in ways we do not yet fully know; an archive that leaves open the possibility of new narratives, new horizons, new futures. What would it mean to imagine and dream with that archive? What would it mean to remember that the unthinkable did, in fact, happen, and—why not?—it can happen again.
Many outside observers (whether parachute journalists, missionaries, humanitarians, or activists) seem unable or unwilling to accept that Haitians could be living in perpetual "crisis" and, at the same time, doing ordinary things and having ordinary concerns. But everyday life exists, notwithstanding a whole calculus designed to deny this fact. If you accept that Haitians have complex interior lives just like anyone else, it becomes harder to justify everything powerful countries and institutions have done, and continue to do, to them. We hope that anthropology can allow us to move beyond the framing of Haitians as poor suffering others and instead amplify the voices of everyday people. To understand what crisis means, we have to begin with the everyday experiences of those who must live with it.
Here is one place where the everyday and crisis meet. In A Paradise Built in Hell: The Extraordinary Communities that Arise in Disaster, Rebecca Solnit (2009) contends that, contrary to common assumptions that people become powerless or anarchic in moments of disaster, "we remain ourselves for the most part, but freed to act on, most often, not the worst but the best within." Even as CNN reported on a "frenzy of looting," Port-au-Prince did not descend into chaos in the aftermath of the 2010 earthquake. Such racist, anti-Black rhetoric has been in play for centuries. More than two hundred years ago, the world repudiated the Haitian Revolution by describing the revolutionaries as intrinsically chaotic and violent. In the aftermath of Hurricane Katrina in 2005, authorities and media exacerbated the catastrophe by treating (largely Black, largely poor) residents of New Orleans as criminal threats requiring military control rather than as members of society in need of assistance. Those who survived did so through solidarity, mutual aid, and existing patterns and practices of human connection, just as people did after the earthquake in Port-au-Prince. "The ruts and routines of ordinary life," Solnit (2009, 70) continues, "hide more beauty than brutality."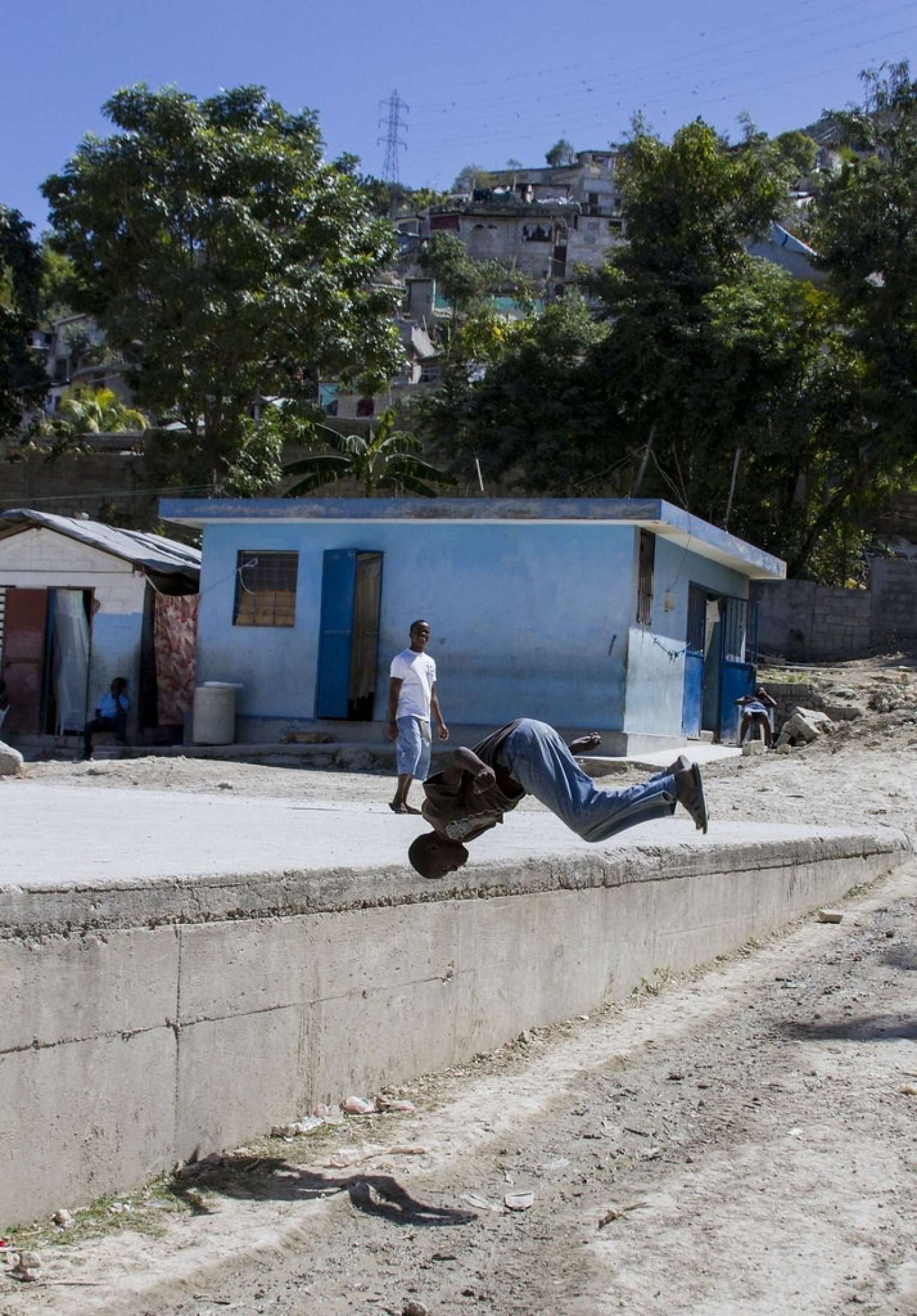 Konklizyon: Yon Ayiti pansab
Laura Wagner ak Greg Beckett; Laura Wagner ki tradui l
Èske mo kriz la nad marinad? Petèt tout pawòl k ap pale sou kriz Ayiti se pa pou ban nou yon jan pou n dekri sa k ap pase a, men pito pou bloke lespri nou, pou redi lide "kriz" la kòm yon bagay ki inevitab—sanrechap, predetèmine. Aprè yon seri inondasyon nan lane 2009, epi ankò aprè tranblemanntè 2010 la, Bill Clinton te deklare Ayiti bezwen "escape its history" (sove anba istwa li). Lòtrejou, yo te pibliye yon atik ki rejwi kè sou UNESCO ki rekonèt soup joumou kòm eritaj kiltirèl imateryèl, kote yon reprezantan brezilyen deklare, "You cannot leave Haiti to its fate" ("Nou pa kapab kite Ayiti nan touman li"). Nou rejte fòmilasyon sa a, ki wè Ayiti kòm yon viktim pèpetyèl, epi ki wè istwa kòm yon fòs san bouchon men pa kòm rezilta yon seri desizyon moun pran k ap anpile youn sou lòt. Nan menm tan, li enpòtan pou nou rekonèt sa k ap fèt an Ayiti, epi jwenn yon vokabilè ki ka pèmèt nou konprann li. Petèt nou ta rele sa "kriz." Petèt se pa mo "kriz" la ki pi bon. Kidonk nou mande: Lè nou pale de kriz Ayiti a, sou kisa n ap pale tout bon? Epi, pou n kite kantik pran lapriyè: Lè nou pale de kriz Ayiti a, sou kisa nou pa pale?
Imajine si nou te ekri sou "kriz" peyi Nò yo menm jan nou ekri sou "kriz" Ayiti a. Nan de zan ki pase yo, peyi Etazini—ki gen youn nan nivo inegalite ki pi estrèm nan lemonn—sibi ensekirite politik, eleksyon konteste, estremis relijye k ap monte, yon epidemi kraze zo lapolis fè, manifestasyon kont lapolis, yon tantativ koudeta, tanpèt glas ki touye dèsantèn moun, siklòn ak dife ki pran nan forè k ap vin pi mal, epi prèske 900.000 moun ki mouri akòz nouvo kowonaviris. Pou site sèlman kèk egzanp kriz ki frape nasyon dezole nan Amerik Dinò a. Egzèsis sa a, menm si li yon ti jan banal, montre kòman konpleksite lavi nan kèlkeswa peyi ka redwi nan yon bat je a yon lis malè sanzespwa. Atò, jan Marlene Daut ak Kaiama Glover konstate, dènye de zan ki pase yo demontre "anpil moun ki te imajine anvan sa 'ras' ak klas yo ta sèvi kòm yon boukliye etènèl kont dezas, ensètitid, ak ensekirite pou yo, kounye a santi yo pè pou lavni, egzistansyèlman ak konkrètman."
Jounen jodiya, menm jan sa ap fèt depi digdantan, tout pawòl kriz sa a sanble li gen yon sèl bi: pwovoke epi jistifye yon entèvansyon etranje. Pi fò moun an Ayiti mande pito pou kominote entènasyonal la kore sosyete sivil Ayiti a pou jwenn yon solisyon ayisyen pou rezoud kriz la. Yo mande pou lemonn panse pi lwen pase entèvansyon militè ak imanitè, e pito pou yo rekonèt tout travay di imajinasyon politik k ap fèt an Ayiti pandan plizyè dizèn lane—epi ki kontinye ap fèt jodiya, malgre tou. Se vre, gen fòs fènwa an Ayiti k ap sèvi avèk kriz aktyèl la pou yo pran pouvwa, kraze-brize, fè piyay, peze-souse, ak voye moun nan peyi san chapo. Se vre, gen sèten etranje ki vle itilize kriz la pou yo lanse yon apèl, yon lòt fwa ankò, pou Ayiti vin pi entegre nan ekonomi mondyal la atravè liberalizasyon komès ak mandèv bon mache, fleksib epi mobil—ki vle, di menm politik ki fè Ayiti tounen "peyi ki pi pòv nan emisfè Lwès la" pandan senkant lane ki pase yo. Michel-Rolph Trouillot te dekri revolisyon ayisyen an kòm yon evènman "enpansab" selon jan Lwès la konprann reyalite lemonn nan. Petèt nou kapab elaji sa pou di yon Ayiti san kriz, yon Ayiti ki pa anba lapat kominote entènasyonal la, se yon bagay ki enpansab pou anpil moun nan Lwès la, paske yo pa ka imajine Ayisyen ka gouvène tèt yo, oswa Ayiti gen yon lòt vizyon sou kisa yon sosyete, yon ekonomi, oswa yon gouvènman kapab ye.
Kisa sa ta vle di, pou wè Ayiti yon lòt jan? Pou gade, tande, epi aprann sou vizyon altènatif sila yo? Pou wè kòman kèk Ayisyen ap panse sou sa, teyorize ak fè kritik pwòp lavi pa yo? Genyen nan vizyon sa yo ki gen pou wè ak politik. Genyen ki gen pou wè ak relijyon. Genyen ki gen pou wè ak milenaris (doktrin ki di Mesi a ap vin reye sou latè pandan mil lane), men gen lòt vizyon ki pa fè bri, ki gen pou wè ak lespwa epi aspirasyon òdinè: yon djòb serye epi korèk, yon kay ki gen sekirite ak yon fanmi ki an sante. Gen vizyon, tankou seri sa a li menm, k ap eseye kreye yon dosye, ranmase ak rasanble yon kalite achiv ki ka ede nou nan fason nou poko fin konnen; yon achiv ki louvri yon chimen ki pèmèt nou wè istwa tou nèf, orizon tou nèf, lavni tou nèf. Kisa sa ta vle di si nou imajine ak reve ansanm avèk achiv sa a? Kisa sa ta vle di si nou sonje sa k te "enpansab" la te fèt tout bon vre, epi—pouki non?—li ka fèt ankò.
Anpil etranje—kit yo se jounalis parachute (ki se jounalis ki pa konn peyi a byen, ki pa menm pale lang nan men ki annik debake lè gen yon gwo dram), misyonè, imanitè, oswa militan—sanble yo pa kapab oswa yo pa vle asepte Ayisyen kapab alafwa viv nan yon "kriz" san fen epi, an menm tan, ap mennen yon lavi òdinè avèk pwoblèm òdinè. Men lavi kotidyen egziste, malgre tout yon sistèm ki an plas pou dezavwe reyalite sa a. Si w asepte Ayisyen gen vi enterye ki konplèks, menm jan ak tout lòt moun, li vin plis an plis difisil pou jistifye tout kalvè peyi ak enstans pisan yo te fè epi kontinye ap fè yo monte. Nou swete antwopoloji kapab pèmèt nou depase fòmilasyon sa a, ki wè Ayisyen kòm "zòt" k ap soufri a, epi pito anplifye vwa pèp la. Si nou vle konprann sa "kriz" vle di, fòk nou kòmanse dabò avèk eksperyans moun ki oblije viv li chak jou.
Men yon kote kotidyen ak kriz rankontre. Nan liv A Paradise Built in Hell: The Extraordinary Communities that Arise in Disaster, Rebecca Solnit (2009) bay agiman ki di, kontrèman ak sipozisyon moun tonbe nan lese grennen oswa yo lage de bra pandye nan moman dezas, "an gwo, nou rete menm moun nou te ye a, men pi souvan dezas la libere n pou nou aji sou sa k pi bon lakay nou men pa sa k pi move a." Menm lè CNN t ap rapòte sou yon "foli piyay," Pòtoprens pa t tonbe nan dezòd total aprè tranblemanntè 2010 la. Menm pawòl rasis konsa, kont moun nwa, ap sikile depi dèsyèk. Sa fè plis pase de san lane, lemonn te dekri revolisyonè yo kòm moun ki vyolan ak dezòd menm pou yo te nye revolisyon ayisyen an. Aprè siklòn Katrina nan lane 2005, otorite yo ansanm avèk plizyè medya agrave katastwòf la lè yo trete moun Nouvèl Oleyan yo (sitou moun nwa yo ak moun pòv yo) kòm menas kriminèl ki egzije kontwòl militè olye yo wè yo kòm manm yon sosyete ki te bezwen èd. Moun ki chape aprè siklòn sa a vivan gras ak solidarite, èd mityèl, ak tèt ansanm ant kretyen vivan ki te deja la, menm jan moun yo te fè aprè tranblemanntè Pòtoprens lan. "Pratik ak woutin lavi òdinè," Solnit kontinye pou l di, "kache plis bote pase britalite" (2009, 70).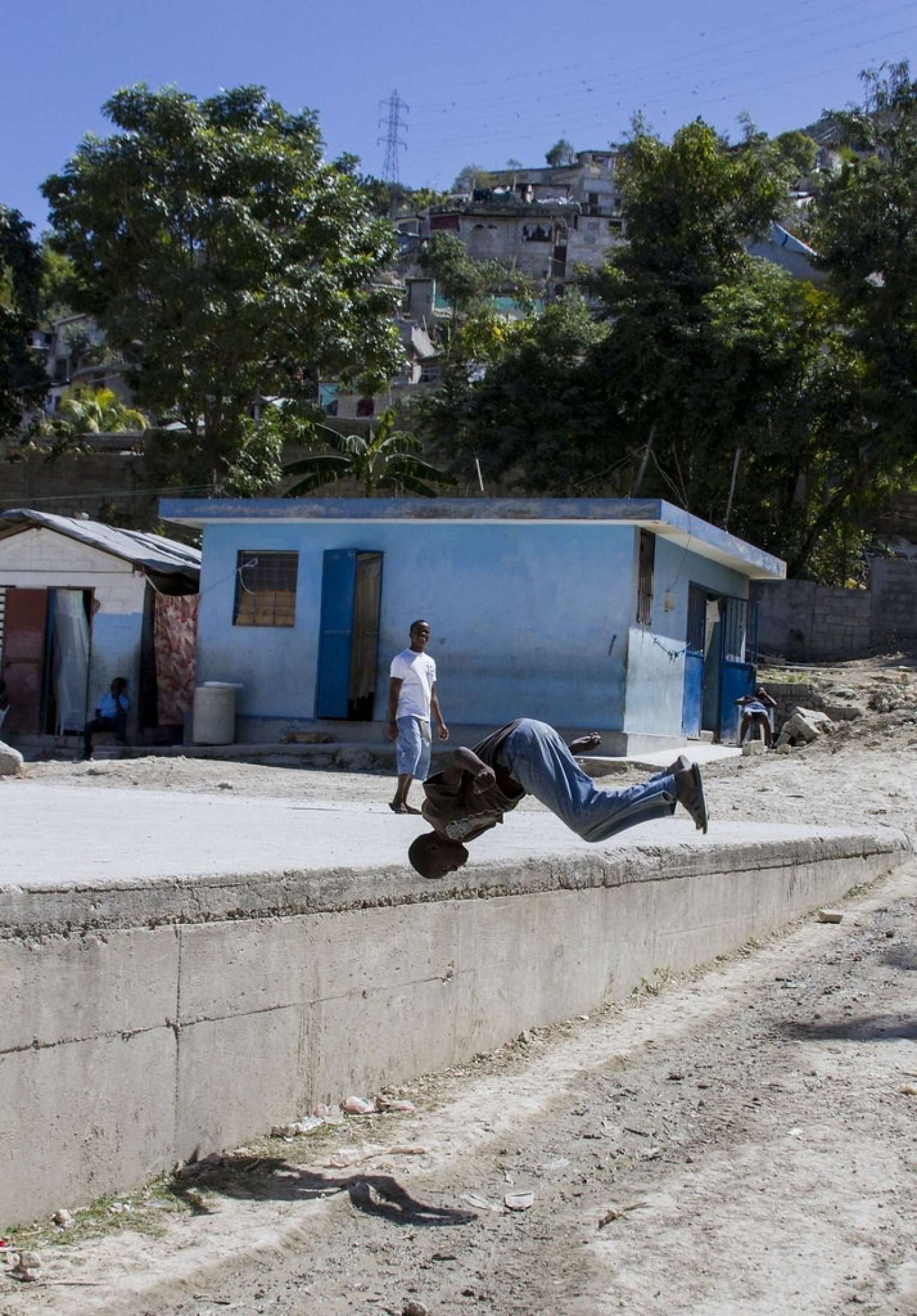 Conclusion : Rendre Haïti pensable
Laura Wagner et Greg Beckett; Traduit par Danielle Josyle
Le mot « crise » a-t-il encore un sens ? L'effet le plus grave de la discussion sur la crise en Haïti n'est peut-être pas de donner un nom à ce qui se passe mais plutôt de bloquer notre compréhension, d'ossifier l'idée de la crise comme une fatalité historique : inévitable, inéluctable, prédéterminée. A la suite d'une série d'inondations en 2009 et encore après le tremblement de terre de 2010, Bill Clinton a évoqué la nécessité pour Haïti « to escape its history [d'échapper à son histoire] ». Plus récemment, un article qui réchauffe le cœur sur la reconnaissance de la soup joumou par UNESCO comme un héritage culturel immatériel comprenait une déclaration d'un représentant brésilien : « You cannot leave Haiti to its fate [Vous ne pouvez pas laisser Haïti à son sort] ». Nous refusons ce cadre, celui qui imagine Haïti comme une victime unique et future et l'histoire comme une force irrépressible plutôt qu'une accumulation des décisions de l'homme. En même temps, il est important de reconnaître ce qui est en train de se produire et de trouver un langage par lequel nous pouvons le comprendre. Crise peut être un terme qui le décrit. Il se peut que ce ne soit pas le mot adéquat. Donc, nous nous demandons : de quoi parlons nous en réalité lorsqu'on parle de crise en Haïti ? Et plus précisément, de quoi ne parlons-nous pas quand on parle de crise en Haïti ?
Et si nous écrivions sur la « crise » présente dans le Nord global comme on écrit sur la « crise » en Haïti ? Au cours des deux dernières années, les États-Unis qui souffrent de l'une des inégalités de revenus les plus prononcées au niveau mondial, ont connu l'insécurité politique, les élections contestées, l'évolution de l'extrémisme religieux et une épidémique de la violence policière, des manifestations anti-police, une tentative de coup d'état, les tempêtes de verglas qui ont tué des centaines de personnes, l'aggravation des ouragans et des feux de forêts et près de 900 000 décès dus au nouveau coronavirus. Ce ne sont là que quelques-unes des crises qui ont frappé la nation assiégée de l'Amérique du Nord. Cet exercice, aussi banal soit-il, montre avec quelle facilité la complexité de la vie dans n'importe quelle nation peut être réduite à un sombre inventaire de calamités. Après tout, comme le suggèrent Marlene Daut et Kaiama Glover, les deux dernières années ont montré « beaucoup d'entre ceux qui, auparavant, imaginaient que leur race et leur statut social leur fourniraient un bouclier de protection éternelle contre les catastrophes, l'incertitude et, oui, l'insécurité, se retrouvent dans la crainte sur l'avenir sous une facette à la fois existentielle et concrète ».
Aujourd'hui, comme depuis des décennies, le discours sans fin sur la crise semble avoir un seul objectif : provoquer et justifier une intervention étrangère. La plupart des Haïtiens plaident plutôt pour que la communauté internationale soutienne la société civile haïtienne en vue de trouver une solution à l'haïtienne à la crise. Elles demandent au monde de penser au-delà du cadre étroit des interventions militaires et humanitaires et de reconnaître le dur travail de l'imagination politique qui se fait en Haïti depuis des décennies et qui se poursuit, contre vents et marées, en ce moment même. Bien sûr, les forces répressives en Haïti se servent de la crise actuelle en Haïti pour prendre le pouvoir, détruire, piller, exploiter et tuer. Et bien sûr, certains acteurs étrangers veulent se servir de la crise pour appeler, une fois de plus, Haïti à s'intégrer davantage dans l'économie mondiale par une libéralisation du commerce et une main-d'œuvre bon marché, flexible et mobile, c'est-à-dire par les mêmes politiques qui, au cours des 50 dernières années, ont fait d'Haïti le « pays le plus pauvre de l'hémisphère occidental ». Michel-Rolph Trouillot (1995) a fameusement décrit la révolution haïtienne comme étant « impensable » dans les termes de formations discursives et de fondations épistémologiques de l'occident. Nous pourrions étendre cela pour dire qu'une Haïti sans crise et sans interventions est impensable pour de nombreux occidentaux parce qu'ils ne peuvent pas imaginer que les Haïtiens peuvent se gouverner eux-mêmes ou que les Haïtiens ont des visions alternatives de ce à quoi une société, une économie ou un gouvernement pourrait ressembler.
Qu'est-ce que cela pourrait signifier de voir Haïti sous un autre œil ? De regarder, d'entendre et d'apprendre de certaines de ces visions alternatives, de voir comment les Haïtiens pensent à propos de leur propre vie, c'est-à-dire comment ils la théorisent et la critiquent ? Certaines de leurs visions sont explicitement politiques. D'autres sont religieuses. D'autres sont millénaristes, tandis que d'autres sont des espoirs et des aspirations tranquillement ordinaires pour un emploi décent et fiable, un foyer sûr et une famille en bonne santé. D'autres, tout comme notre série, sont une tentative d'enregistrement, de collecte et d'assemblage d'une sorte archive de données qui peut nous aider dans des domaines que nous ne connaissons pas encore complètement, une archive qui laisse la possibilité ouverte à de nouveaux récits, de nouveaux horizons, de nouveaux futurs. Qu'est-ce que cela pourrait bien vouloir dire d'imaginer et de rêver avec ces archives ? Qu'est-ce que cela pourrait bien vouloir dire de se rappeler qu'en fait, l'impensable a bel et bien eu lieu et, pourquoi pas ? Qu'il peut encore se reproduire.
De nombreux observateurs externes (qu'il s'agisse de journalistes parachutés qui se ruent dans un pays étranger, de missionnaires, d'humanitaires ou de militants) semblent de ne pas pouvoir ou de ne pas vouloir accepter que les Haïtiens puissent vivre dans une « crise » perpétuelle, et en même temps, faire des choses ordinaires et avoir des préoccupations ordinaires. Et pourtant, la vie quotidienne existe, en dépit de tout un calcul conçu pour nier ce fait. Si vous acceptez que les Haïtiens ont des vies intérieures complexes comme n'importe qui d'autre, il devient plus difficile de justifier tout ce que les pays et les institutions puissants ont fait et continuent de faire à leur égard. Nous espérons que l'anthropologie peut nous permettre d'aller au-delà du cadre de voir les Haïtiens en tant que pauvres souffrants et d'amplifier les voix des gens ordinaires. Pour comprendre ce que signifie la crise, nous devons commencer avec les expériences quotidiennes de ceux qui doivent vivre avec.
Voici un endroit où le quotidien et la crise se rencontrent. Dans A Paradise Built in Hell: The Extraordinary Communities that Arise in Disaster, Rebecca Solnit (2009) affirme que contrairement aux hypothèses reçues selon lesquelles les gens deviennent impuissants ou anarchiques dans les moments de catastrophes, « nous restons nous-mêmes pour la plupart mais libérés pour agir, le plus souvent, non pas sur le pire mais sur le meilleur de nous-mêmes » . Même si CNN a rapporté une « frénésie de pillage », Port-au-Prince n'a pas sombré dans le chaos à la suite du tremblement de terre de 2010. Un telle rhétorique raciste et anti-noire est en vigueur depuis des siècles. Il y a plus de deux cents ans, le monde a répudié la révolution haïtienne en décrivant les révolutionnaires comme intrinsèquement chaotiques et violents. Après l'ouragan Katrina de 2005, les autorités et les médias ont exacerbé la catastrophe en traitant les habitants de la Nouvelle-Orléans (majoritairement noirs et pauvres) comme des menaces criminelles nécessitant un contrôle militaire plutôt que des membres de la société ayant besoin d'aide. Ceux qui ont survécu l'ont fait grâce à la solidarité, à l'aide mutuelle et aux modèles et pratiques existants de liens humains, tout comme les gens l'ont fait après le tremblement de terre de Port-au-Prince. Comme le poursuit Solnit (2009, 70), « Les ornières et les routines de la vie ordinaire cachent plus de beauté que de brutalité ».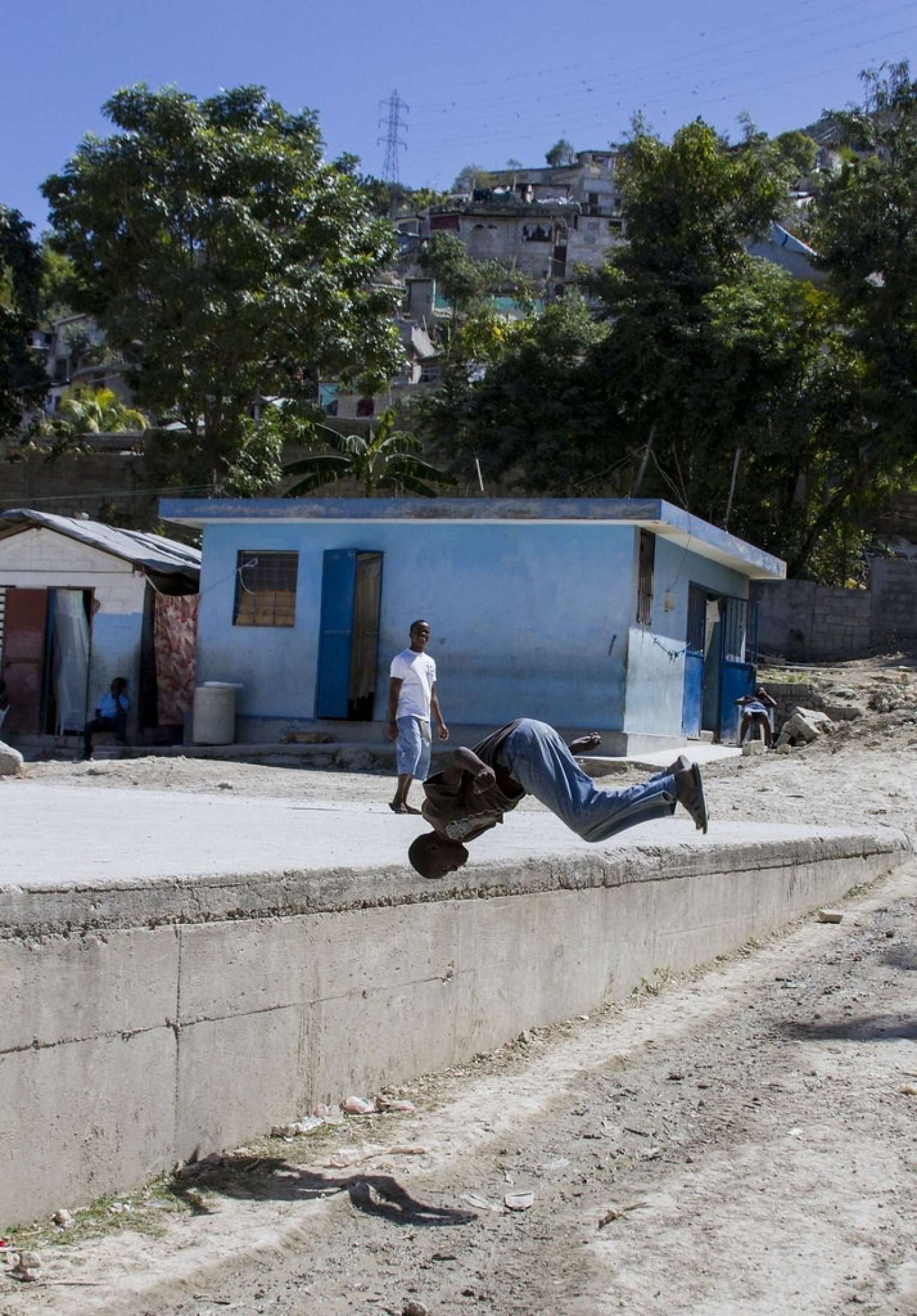 References
Solnit, Rebecca. 2009. A Paradise Built in Hell: The Extraordinary Communities that Arise in Disaster. New York: Viking.
Trouillot, Michel-Rolph. 1995. Silencing the Past: Power and the Production of History. Boston: Beacon.