Martissant : des personnes passent par le morne l'Hôpital pour se rendre au centre-ville
From the Series: Haiti beyond Crisis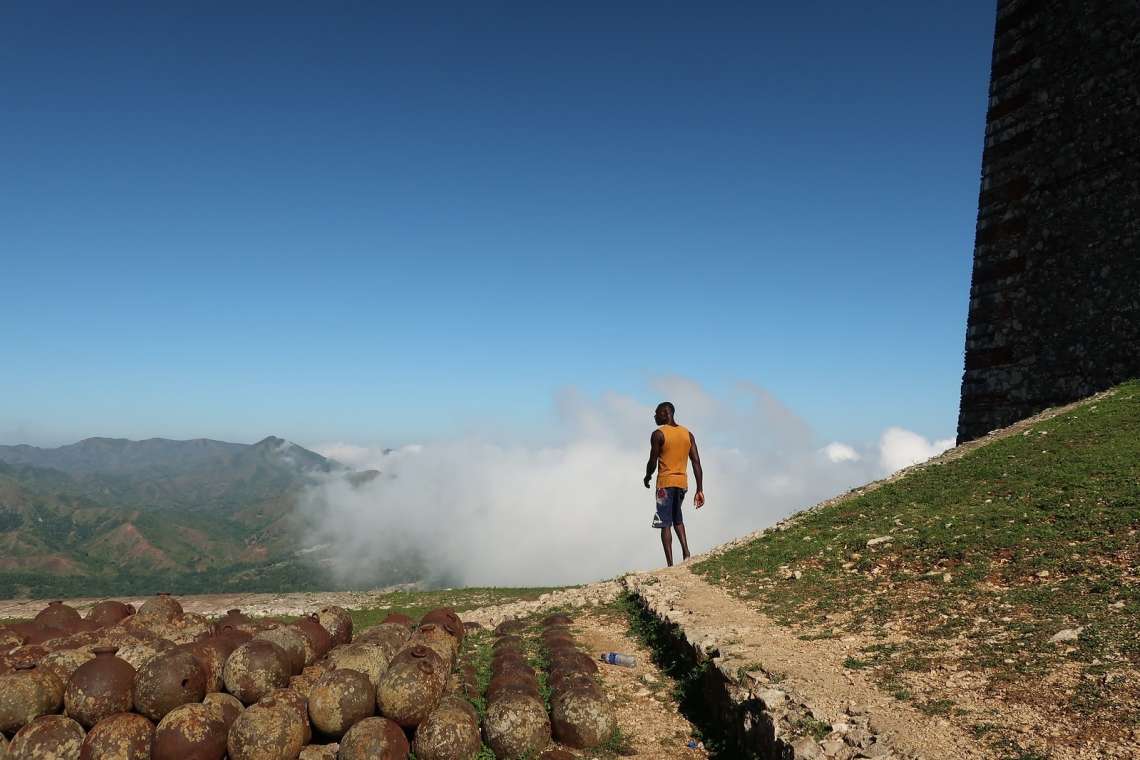 Note des éditeurs: Publié à l'origine dans Le Nouvelliste, le compte rendu du journaliste Ritzamarum Zétrenne sur la logistique des déplacements dans la capitale d'Haïti, Port-au-Prince, offre un aperçu de la manière dont l'« ensekirite » façonne l'expérience et les actions des gens. L'article a été écrit à la fin de l'été 2021, un peu plus d'un mois après l'assassinat de Moïse mais avant le tremblement de terre du 14 août 2021. Martissant, un quartier populaire situé á la limite sud-ouest de Port-au-Prince et un couloir principal d'accès au sud du pays, est désormais en grande partie sous le contrôle de bandes armées. Morne l'Hôpital est un massif de monts qui ceinture la capitale. La rue Monseigneur Guilloux est une rue principale du centre-ville. Delmas est une commune qui s'étend sur de nombreux quartiers différents, des zones urbaines pauvres aux zones de classe moyenne et plus riches, et Pétion-Ville est une banlieue dans les collines au-dessus de Port-au-Prince qui était autrefois considérée comme le quartier de l'élite.

9 août 2021
Il était environ 10 heures du matin quand nous avons pris un moto-taxi à Fontamara 43 pour nous rendre au centre-ville de Port-au-Prince. La route principale qui passe par Martissant étant devenue trop dangereuse, nous prenons les hauteurs pour passer par Saint-Jude, une zone située sur le flanc du morne l'Hôpital. Entre 3 et 5 chauffeurs de moto-taxi entament ce voyage qui va durer entre 30 et 45 minutes avant d'atteindre la rue Monseigneur Guilloux.
Celui qui nous transporte, Gethro (nom d'emprunt), va faire la route pour la première fois. En ce sens, il doit suivre un autre chauffeur qui lui-même fait la route régulièrement depuis que la situation a empiré à Martissant. « Pas question pour moi de passer par Martissant. C'est inadmissible que je mette ma vie en danger », s'écrie l'homme d'environ 35 ans en démarrant sa moto qu'il vient de chercher chez le mécanicien à cause d'un problème de « clutch ». « Tu ne peux pas faire cette route si ton clutch n'est pas à point », conseille-t-il à Gethro qui lui-même n'a pas tari d'éloges sur son véhicule.
Fuir le danger, mais en prenant des risques
C'est un chemin rocailleux et parfois sinueux tracé sur le flanc du morne l'Hôpital dont le seul mérite est d'offrir un passage loin de la route de la mort (Route Nationale 2 en Martissant). Si la moto n'est pas en bon état, elle risque de caler en montant le morne. Notre guide a dû s'arrêter plusieurs fois faisant descendre la femme qu'il transportait en vue de diminuer le poids sur sa moto afin qu'il puisse réussir à gravir la pente. Celle-ci nous a confié avoir déjà fait cette route à plusieurs reprises.
« Je passe ici à chaque fois que mon petit doigt me dit d'éviter Martissant. C'est le cas ce matin. Je repasserai par ici pour rentrer chez moi ce soir », a-t-elle lancé au moment où son chauffeur tentait de faire redémarrer son véhicule dont le moteur a été coupé. Elle connaît bien la zone, nous confie-t-elle, habituée à venir à l'église Saint-Jude, située dans cette zone qui porte le même nom.
Par endroits, l'on se retrouve seul avec la route. Pas de maisons, ni même de passants. Rien que le morne à monter et la route graveleuse et poussiéreuse à affronter. À cette hauteur, Port-au-Prince est livrée au regard dans sa véritable nature. C'est une ville fatiguée et désemparée par le pullulement des constructions anarchiques qui trempe ses pieds dans une baie à peine capable d'émerveiller par sa beauté.
« Pensez-vous que l'État connaît l'existence de cette zone ? » En posant cette question, le chauffeur de moto-taxi semble effrayé par l'aspect archirustique de cette zone située dans les hauteurs de la première ville du pays. À ce moment, l'on peut se demander s'il n'est pas tout aussi dangereux de passer par ce chemin pour se rendre au centre-ville. Qui va nous porter secours si jamais on nous attaque ici ?, se demande-t-on. À notre prochain arrêt, notre guide nous met au parfum. « Sur cette route, il n'y a aucun danger. Tout est calme ici. Vous dominez Grand-Ravine et les autres quartiers de Martissant. Nous sommes très loin », raconte l'homme, qui nous montre néanmoins certains endroits au bord de la route où l'on avait l'habitude d'exécuter des gens. Gethro, notre chauffeur, pense que l'homme fait des exagérations juste pour la jouer fin connaisseur.
Entre-temps, un autre homme qui transporte des pièces automobiles sur sa moto a ralenti près de nous pour échanger quelques mots. Il se rend à Delmas. « C'est vrai, il n'y a pas de trop grands risques ici », nous répond-il. « Mais si vous prenez la route, vous ne remarquerez pas d'autres chauffeurs de moto, il faut rebrousser chemin », conseille-t-il. Nous nous approchons de Savane-Pistache. Notre guide nous demande d'être plus discrets, surtout avec nos téléphones. Dans cette zone, l'on n'a pas besoin de faire de grands efforts pour remarquer des hommes armés jusqu'aux dents faire les cent pas devant certaines maisons. À cet endroit de la route, il y a beaucoup de gens et un dense trafic de motocyclettes.
Le prix du trajet
Quelques mètres plus loin, nous sommes à la rue Monseigneur Guilloux. Le pire est derrière nous, se dit-on. Gethro a fait la course pour 500 gourdes. Selon notre guide, le prix de ce trajet n'est pas défini à l'avance. Tout dépend du moment de la journée et de la situation à Martissant. « Au crépuscule, tu peux payer 750 gourdes. S'il y a des tensions à Martissant, on peut te demander de payer jusqu'à 1 250 gourdes », précise-t-il.
Cette route passant par Fontamara et Saint-Jude qui conduit à la rue Monseigneur Guilloux n'est pas la seule empruntée par les gens qui fuient l'insécurité à Martissant. Selon notre guide, si nous avions voulu nous rendre directement à Pétion-Ville, il aurait pu nous y conduire. Il ajoute également que des gens passent par Diquini et St-Roc, pour se rendre dans la commune de Pétion-Ville. Selon ses dires, beaucoup de gens et même des camions empruntent régulièrement cette dernière route.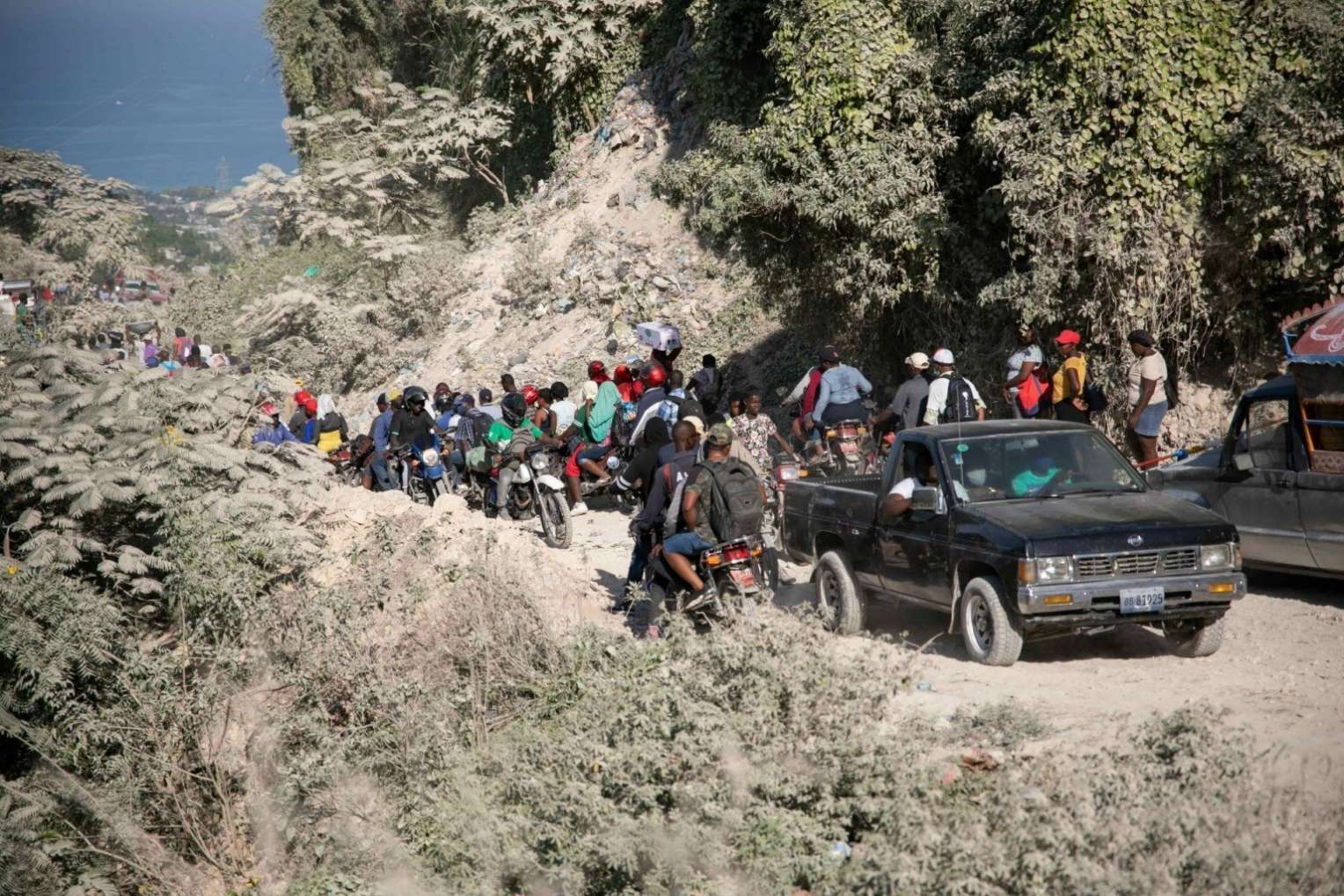 Martissant: Crossing Mountains to Reach the City
By Ritzamarum Zétrenne; Translated by Greg Beckett
Editors' note: Originally published in Le Nouvelliste, Ritzamarum Zétrenne's account of the everyday logistics of moving through Haiti's capital, Port-au-Prince, offers a snapshot of how ensekirite shapes people's experience and actions. The piece was written in late summer 2021, just over a month after Moïse's assassination but before the August 14 earthquake. Martissant, a poor urban neighborhood on the southwest edge of Port-au-Prince and a main corridor for access to the south of the country, is now largely under the control of armed gangs. Morne l'Hôpital is a mountain range that rings the capital city. Rue Monseigneur Guilloux is a main street in the city's downtown core. Delmas is a commune that spans many different neighborhoods, from poor urban areas to middle-class and wealthier ones, and Pétion-Ville is a suburb in the hills above Port-au-Prince that was once considered the home of the elite.

August 9, 2021
It was about 10 a.m. when we took a moto-taxi (motorcycle taxi) from Fontamara 43 to downtown Port-au-Prince. The main road through Martissant had become too dangerous, so we took the high road through Saint-Jude, an area located on the side of Morne l'Hôpital. Between 3 and 5 moto-taxi drivers start the journey, which will last between 30 and 45 minutes before reaching Rue Monseigneur Guilloux.
The one who is carrying us, Gethro (not his real name), is taking the road for the first time, so he has to follow another driver, one who has taken this route regularly since the situation worsened in Martissant. "There is no way for me to go through Martissant. It is unacceptable that I put my life in danger," says the 35-year-old as he starts his moto-taxi, which he has just fetched from the mechanic because of an issue with the clutch. "You can't go down this road if your clutch isn't ready," he advises Gethro, who has had nothing but praise for his own vehicle.
Running away from Danger, but Taking Risks
It's a rocky and sometimes winding path traced on the side of Morne l'Hôpital, whose only merit is that it offers a passage far from the road to death (Route Nationale 2 in Martissant). If your moto is not in good condition, it may stall while climbing the mountain. Our guide had to stop several times and have the woman he was carrying get off his moto so he could climb the slope. She told us she had already taken this route many times.
"I take this route every time a little bird tells me to avoid Martissant. Such was the case this morning. I'll come back this way again to go home tonight," she said as her driver tried to restart his moto-taxi after the engine stalled. She knows the area well, she tells us, as she comes regularly to the church of St. Jude, which shares its name with this zone.
In some places, we find ourselves alone with only the road. No houses, not even passers-by. Nothing ahead but the mountain slope and the gravelly and dusty road. From this height, Port-au-Prince shows its true nature. A city tired and distressed by the proliferation of uncontrolled construction, a city that dips its feet in the bay and yet is barely able to marvel at its beauty.
"Do you think that the state knows this place exists?" In asking this question, the moto-taxi driver seems alarmed by the rugged appearance of this area, just in the hills above the capital. At this point, one may wonder if it is not just as dangerous to go through this road to get to the city center. Who will rescue us if we are attacked here? At our next stop, our guide brings us up to speed. "On this road, there is no danger. Everything is calm here. You overlook Grand-Ravine and the other neighborhoods of Martissant. We are very far away," he says. Still, he then shows us some places along the road where people have been killed. Gethro, our driver, thinks the man is exaggerating just to seem in the know.
In the meantime, another man transporting car parts on his motorcycle has slowed down near us to exchange a few words. He is on his way to Delmas. "It's true, there's not much risk here," he says, "but if you take this road and don't see any other moto drivers, you have to turn back," he advises. We are approaching Savane-Pistache. Our guide asks us to be more discreet, especially with our phones. In this area, it doesn't take much effort to notice men armed to the teeth pacing in front of some houses. There are lots of people along this point of the road and heavy motorcycle traffic.
The Price of the Journey
A few meters farther on and we are at Rue Monseigneur Guilloux. The worst is behind us, we think. Gethro has made the run for 500 gourdes. According to our guide, the price of this trip is not set in advance. It depends on the time of day and the situation in Martissant. "At dusk, you can pay 750 gourdes. If there is trouble in Martissant, you can be asked to pay up to 1,250 gourdes," he says.
This road, which passes through Fontamara and Saint-Jude and leads to Rue Monseigneur Guilloux, is not the only one used by people fleeing the insecurity in Martissant. According to our guide, if we had wanted to go directly to Pétion-Ville, he could have taken us there. He also added that people pass through Diquini and St-Roc to get to Pétion-Ville. According to him, many people and even trucks regularly use that road.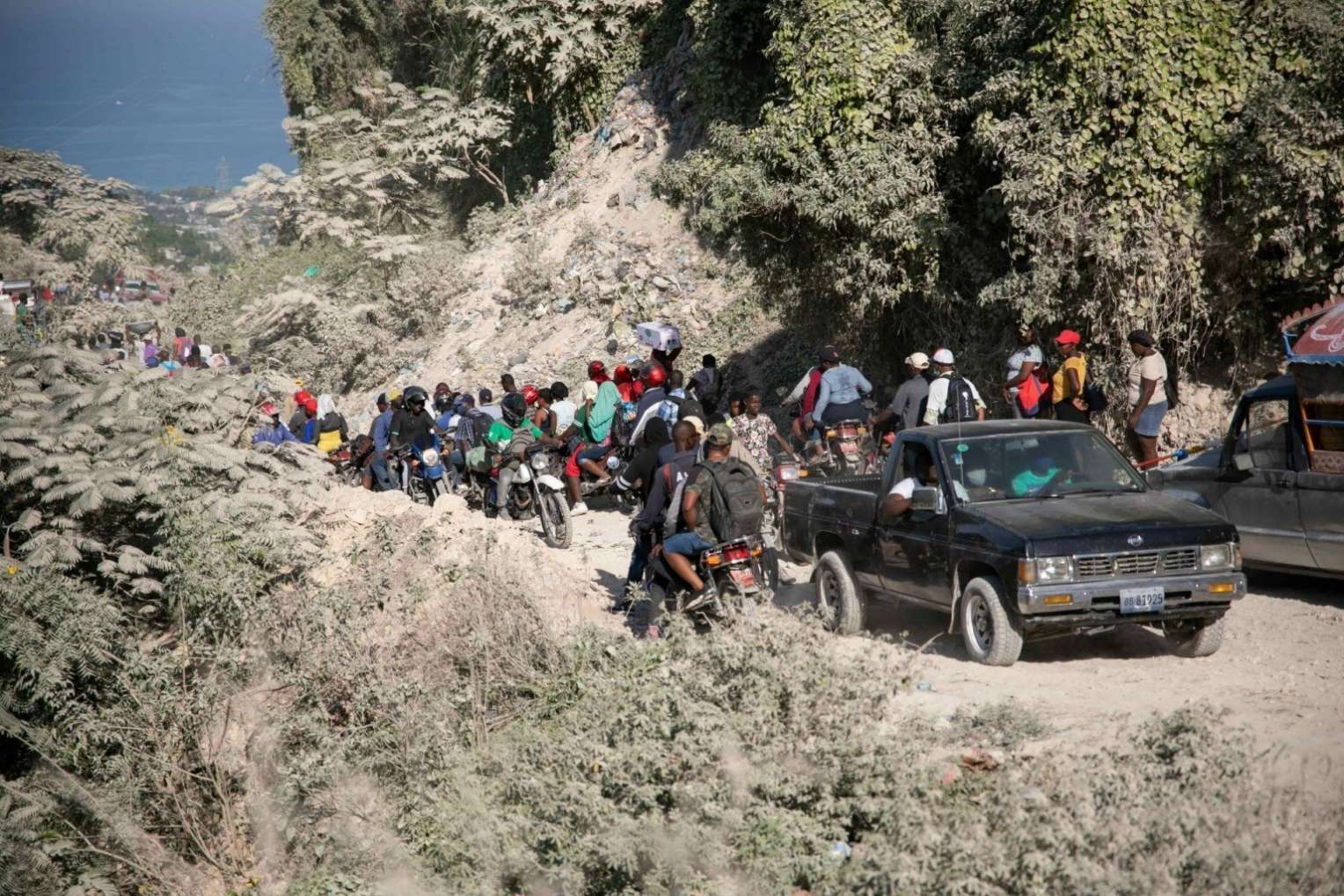 Matisan: moun pase nan mòn Lopital pou ale lavil
Ritzamarum Zétrenne ki ekri l; Danielle Josyle ki tradui l
Nòt editè yo: Yon repòtay jounalis Ritzamarum Zétrenne sou mannyè pou monte desann nan kapital peyi Dayiti, Pòtoprens, yo te pibliye anvan sa nan Le Nouvelliste, pote pou nou yon apèsi sou kijan ensekirite a afekte eksperyans ak aksyon popilasyon an. Li te ekri atik sa nan fen sezon ete 2021 a, yon mwa konsa aprè asasinay Moïse men anvan tranblemanntè 14 dawou a. Matisan ki se yon katye popilè ki nan arebò sidwès la epi se gran koulwa pou ale nan sid peyi a, kounye a gang ak zam mete lapat sou li. Mòn Lopital se yon pil montay ki antoure vil kapital la. Ri Monseyè Giyou se yon gran ri anba lavil la. Dèlma se yon komin ki janbe plizyè kalite zòn, sòti nan katye pòv lavil pou rive nan klas mwayèn ak boujwa yo, epi Petyonvil se yon katye boujwa nan mòn yo anlè Pòtoprens yo te konnen kòm katye lelit yo.

9 dawou 2021
Li te ka dizè nan maten konsa lè nou te pran yon taksi moto nan Fontamara 43 pou ale lavil Pòtoprens. Granri an ki pase nan Matisan te vin twò danjere, nou pran mòn yo pase nan Sen Jid, yon zòn ki sou tèt mòn Lopital. Ant twa ak senk chofè moto kòmanse vwayaj sa k ap pran 30 ak 45 minit pou nou rive nan ri Monseyè Giyou.
Moun k ap pote nou an, Gethro (se pa bon non l) ap fè wout la pou premye fwa. Kidonk, li dwe swiv yon lòt chofè ki gen abitid fè wout la depi lè deblozay la fin pete Matisan. "M pa nan pase Matisan ditou mwen menm. M pa p vin foure tèt mwen nan mera menm," se sa nonm 35 lane a t ap di pandan li t ap estat moto l li te vin chèche kay yon mekanisyen pou pwoblèm klòtch. "Ou pa ka fè wout sa a si klòtch ou pa bon," konsèy li t ap bay Gethro ki li menm t ap pede resevwa ochan pou moto li a.
Kouri pou malè pandan w ap riske lavi w
Se yon wout ki chaje wòch epi gen de kote li fè èsès, wout sa sou arebò mòn Lopital, sèl avantaj wout sa a pote se yon chimen pou chape anba wout lanmò a (Matisan). Si moto ou pa kòdjyòm, motè a ka tenyen bridsoukou pandan w ap monte mòn nan. Chofè gid nou an te oblije kanpe plizyè fwa, fè dam li t ap pote a desann pou l te ka diminye pwa moto a pou l te ka rive monte pant lan. Dam nan di nou li gentan fè wout sa plizyè fwa deja.
Pandan chofè li a t ap eseye restat moto a, motè a te tenyen, li di nou konsa: "M pase la nenpòt lè lide m di m pa pase Matisan. Se sa m te santi maten an. M ap pase la ankò pou m tounen lakay mwen pita." Li di nou konsa: "Li konn zòn nan byen, li abitye vin nan legliz Sen Jid ki nan menm zòn nan ki tou gen menm non an."
Gen kèk kote n ap pase, nou pou kont nou sou wout la. Pa gen kay, ni pa menm gen moun k ap pase. Pa gen lòt bagay ou wè, sèlman mòn chaje wòch, chaje pousyè a ki devan w. Lè w nan wotè sa nan mòn nan, w ap gade Pòtoprens nan eta sa li ye a, san kachepeche. Se yon vil ki bouke, tout kò l fè l mal, li pa kapab ankò ak yon pil batiman mal konstwi, vil la ap tranpe pye l nan dlo, menmsi li bèl wi, li pa menm ka wè sa menm.
"Èske nou panse leta konn zòn sa a?" Lè chofè moto a poze kesyon sa, li sanble pè pou jan zòn nan sanble ak yon zòn andeyò ki twouve l nan tèt mòn anndan premye vil peyi a. Nan moman sa, yon moun kapab mande tèt li si se pa menm malè pandye a lè l fè wout sa a pou l al lavil. N ap mande tèt nou: "Kiyès k ap vin pote nou sekou si yo ta vin atake nou la?" Lè nou rekanpe ankò, chofè gid la mete nou opa. "Sou wout sa, pa gen okenn danje. Tout bagay poze nan zòn sa. W ap kontwole Gran Ravin ak lòt katye ki nan Matisan yo. Nou byen lwen la," poutan l ap montre nou kèk kote sou wout la yo te konn touye moun. Gethro, chofè nou an, panse nonm nan ap voye monte pou montre l konn bagay yo.
Nan menm moman an, yon lòt mesye ki t ap pote pyès machin sou moto l ralanti pou fè yon ti pale ak nou. Li prale Dèlma. Li reponn nou: "Se vre wi, pa gen twòp danje nan zòn sa a." Konsèy li ban nou: "Men si w pran wout la epi w pa wè lòt chofè moto, ou mèt kase tèt tounen." N ap rive Savann Pistach. Chofè gid nou an di nou fè kò nou piti sitou ak telefòn nou yo. Nan zòn sa a, ou pa bezwen fè anpil pou wè ak nèg ak zam blennde ap viwonnen devan kèk kay. Lè w rive nan zòn sa a sou wout la, chaje moun epi chaje motosiklèt.
Pri vwayaj la
Aprè kèk mèt pi lwen, nou rive nan ri Monseyè Giyou. Nou panse gwo dlo a fin pase. Gethro fè nou peye 500 goud. Daprè sa chofè gid la fè nou konnen, yo pa negosye pri ak ou davans. Sa depann de kilè nan jounen an epi kijan bagay yo ye nan Matisan. Li fè nou konnen: "Lè lanjelis, ou kapab peye 750 goud. Si Matisan cho, yo ka menm mande w peye 1250 goud."
Wout sa ki pase nan Fontamara ak Sen Jid epi ki rive nan ri Monseyè Giyou, se pa sèl li menm moun yo fè lè y ap kouri pou ensekirite nan Matisan. Daprè sa chofè gid la di nou, si nou te vle ale Petyonvil dirèk, li t ap ka mennen nou. Li di nou tou gen moun ki pase nan Dikini ak Sen Wòk pou ale nan komin Petyonvil la. Daprè sa l fè nou konnen, yon pakèt moun, menm kamyon tou fè wout sa tout tan.