Narcolombia: Ensamblaje y Colapso Curatorial en un Museo / Narcolombia: Assemblage and Curatorial Collapse in a Museum
From the Series: "Narcolombia"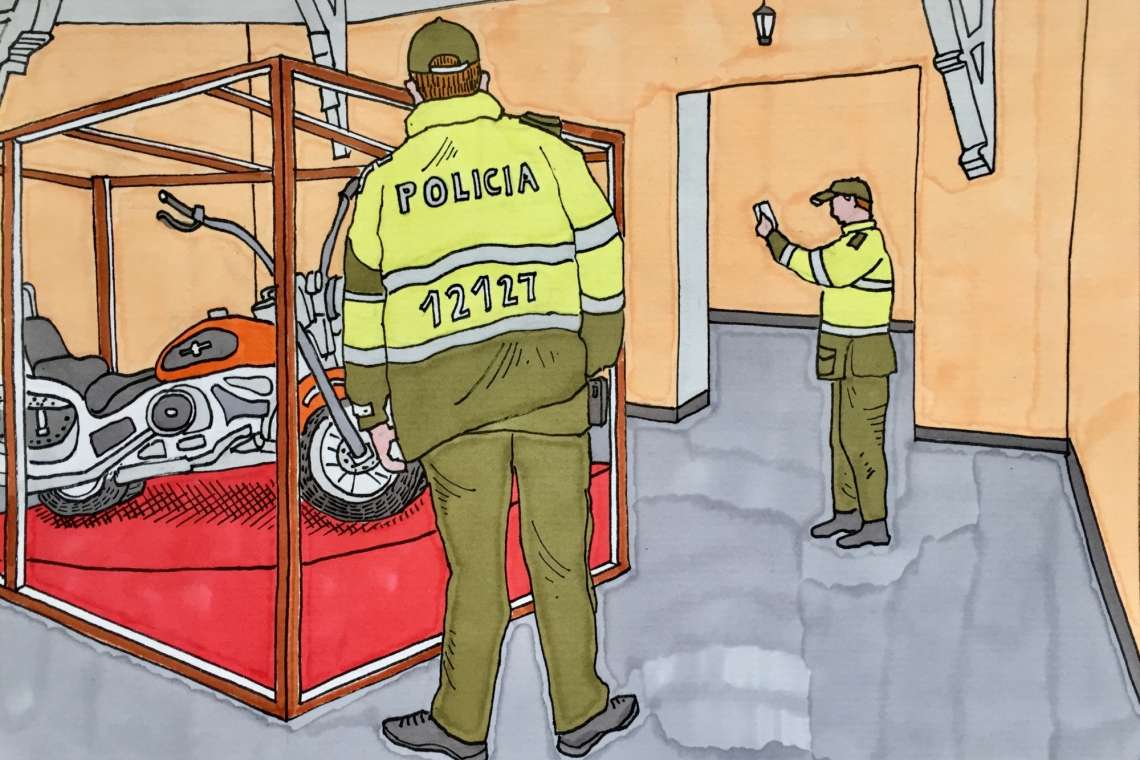 Narcolombia: Ensamblaje y Colapso Curatorial en un Museo
Este ensayo experimenta con dos temporalidades distintas: la de la etnografía y la de la producción de las imágenes que documentan, bajo un lenguaje gráfico, el momento preciso en que el colapso de un guión curatorial ocurre al interior de una institución concreta: el Museo Histórico de la Policía Nacional en Bogotá, Colombia. La etnografía tuvo lugar a lo largo de 2017 como parte del proyecto de investigación/creación Narcolombia: Sobre los Efectos Estéticos de lo Narco, co-dirigido por Andrade. Los dibujos fueron producidos en 2020 en base a observaciones de Borrero.
El museo que sirvió para el trabajo de campo es la máxima expresión de la imagen pública que la Policía Nacional proyecta frente a la sociedad colombiana. Se accede al mismo solamente mediante tours orientados por oficiales que se han capacitado como guías para performar un cuidadoso guion curatorial que fuera conceptualizado por su máxima autoridad, el General Humberto Aparicio, quien dirigiera la institución por más de dos décadas. El guion supone honrar los valores esenciales de la Policía e ilustrar su compromiso con la defensa del orden social. Ubicado en un edificio emblemático, el museo está orientado a contrarrestar las críticas que, periódicamente, emergen en un país caracterizado por décadas de violencia irresoluble.
A pesar de los intentos reiterados por domesticar la mirada de los visitantes hacia la aséptica narrativa curatorial, inevitablemente los tours atestiguan un punto de ruptura: cuando se aproximan a la colección de objetos relacionados al legado del narcotráfico que se encuentran en una sala denominada: "El Crimen No Paga". Una inversión de los deseos de la curaduría ocurre para la mayoría de los espectadores: en lugar de distanciarlos de objetos que intentan ejemplificar a los peores enemigos históricos de la Policía, el efecto es exactamente el contrario. Las reacciones son mejor ejemplificadas en la serie que acompaña este ensayo. Los dibujos retratan el momento preciso en el que diferentes visitantes, emocionados al descubrir una motocicleta Harley Davidson enchapada en plata y oro, proceden a irrumpir en comentarios y tomarse autoretratos. La motocicleta fue originalmente propiedad de Pablo Escobar quien se la regaló a uno de sus sicarios más cercanos, alias "El Arete."Dicho objeto sumariza el glamour y el poder asociado a lo narco. El resultado es el desorden en el museo, la explosión de selfies como mementos de una experiencia que resembla a la de los populares narcotoures que recorren los hitos de la herencia de Pablo Escobar en Medellín, muy a pesar de los intentos oficiales por silenciarla.
El dibujo etnográfico habla elocuentemente de un momento del colapso que caracteriza el ensamblaje emergente entre cosas, arquitectura, dispositivos museográficos y gente. El dibujo evoca las disputas públicas sobre lo narco en el corazón mismo de los intentos normalizantes.


Título: De Pablo para El Arete.
Serie de 12 dibujos, cada uno de 21cm x 14cm.
Tinta y marcador.
Enero de 2020.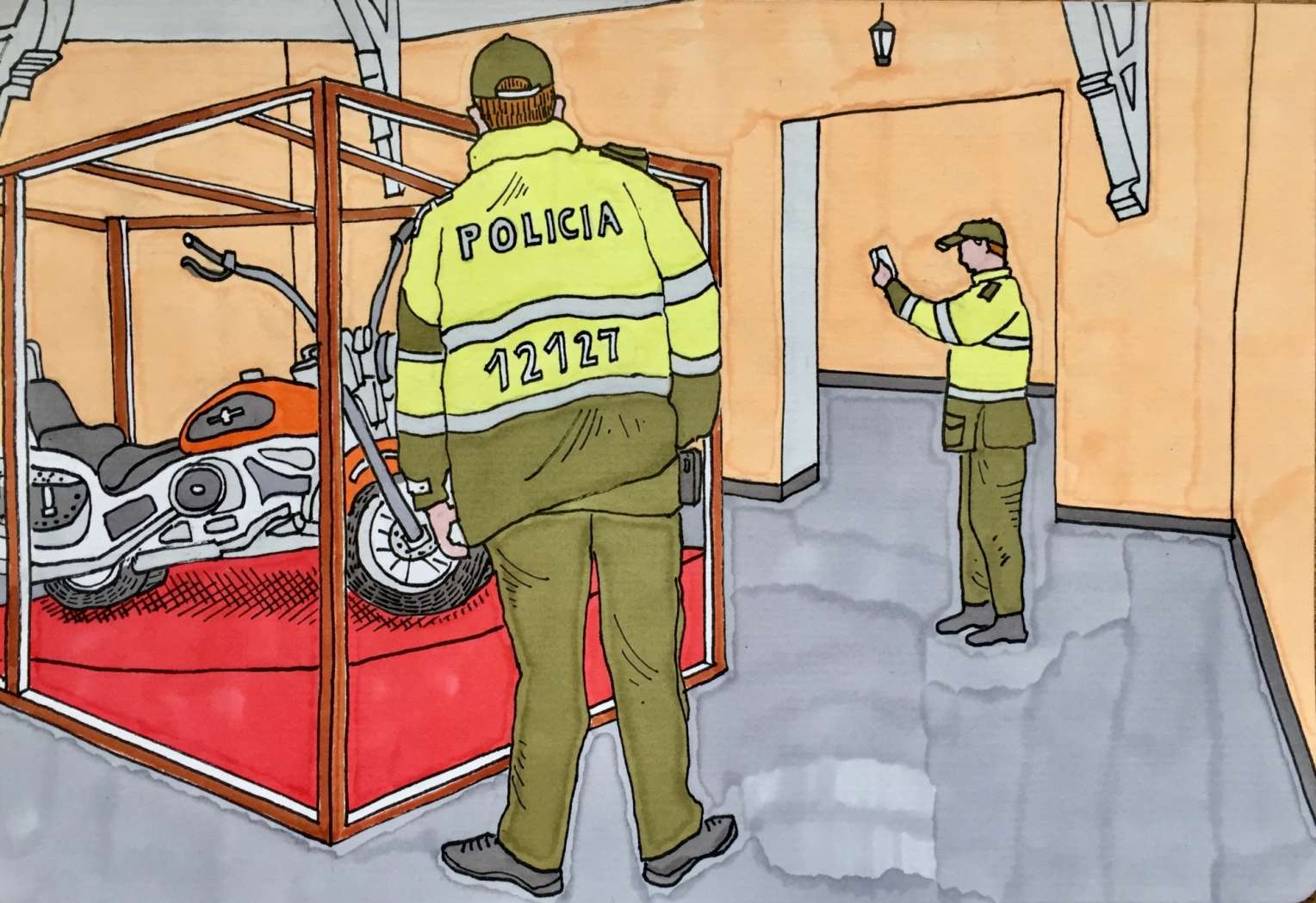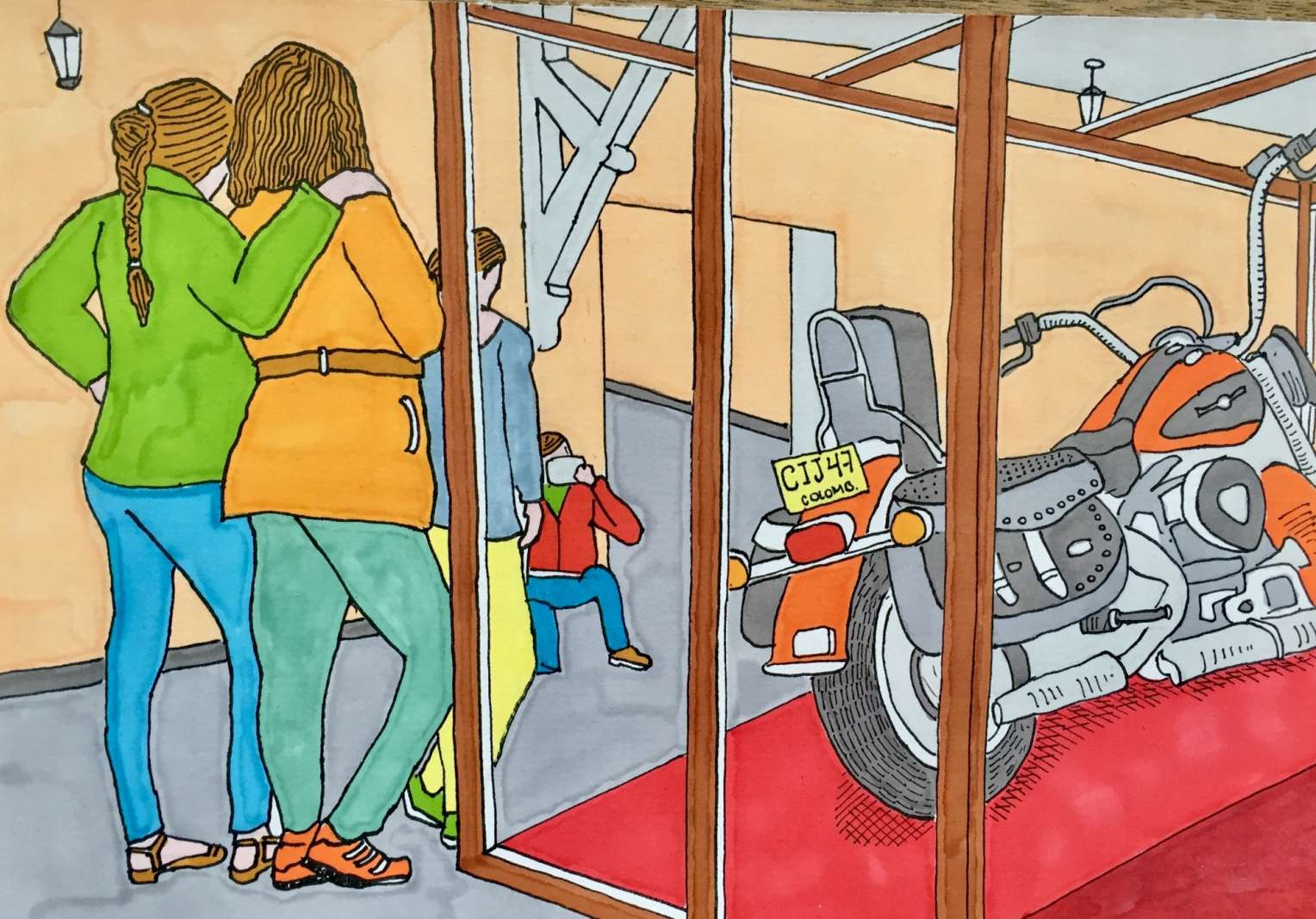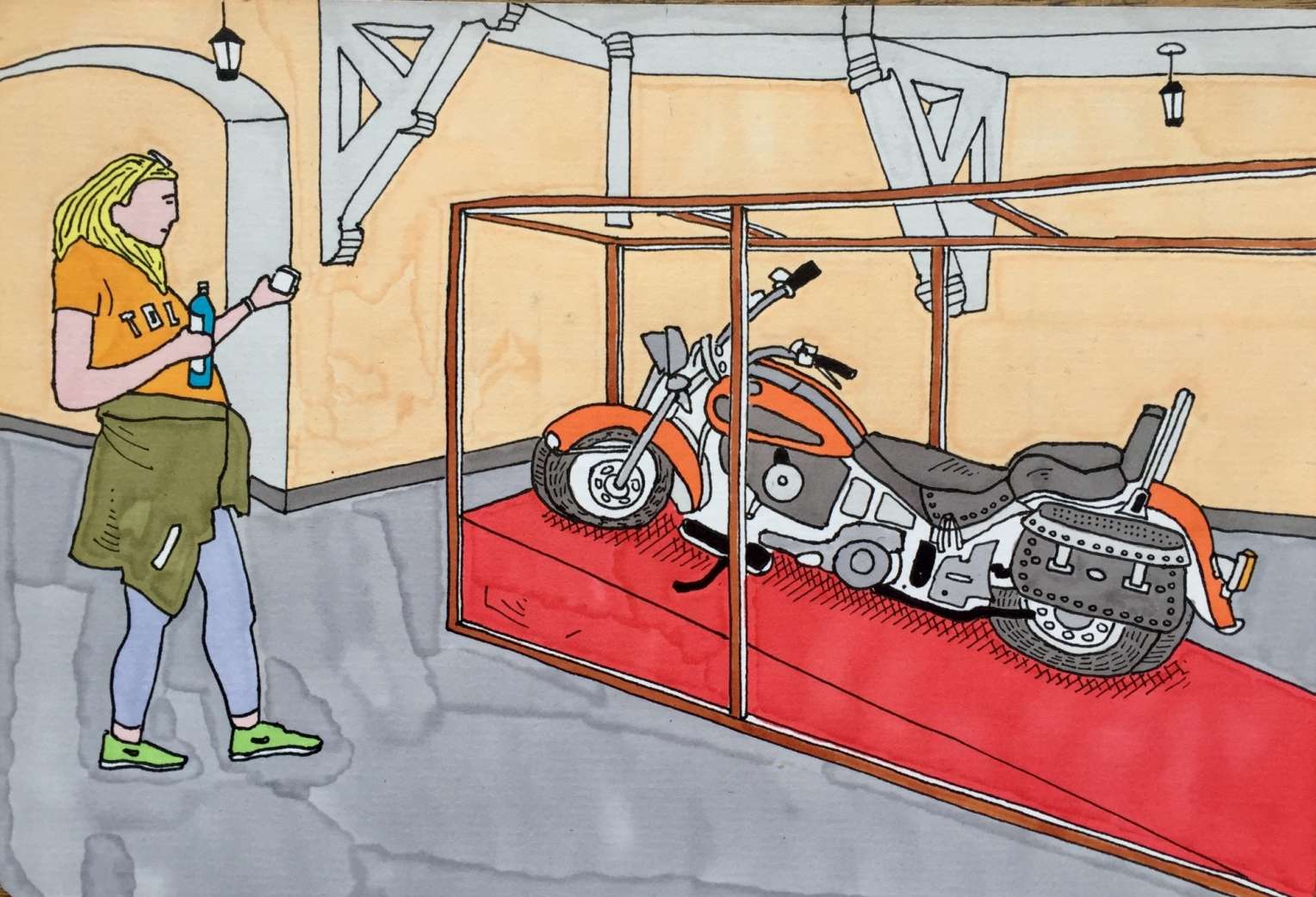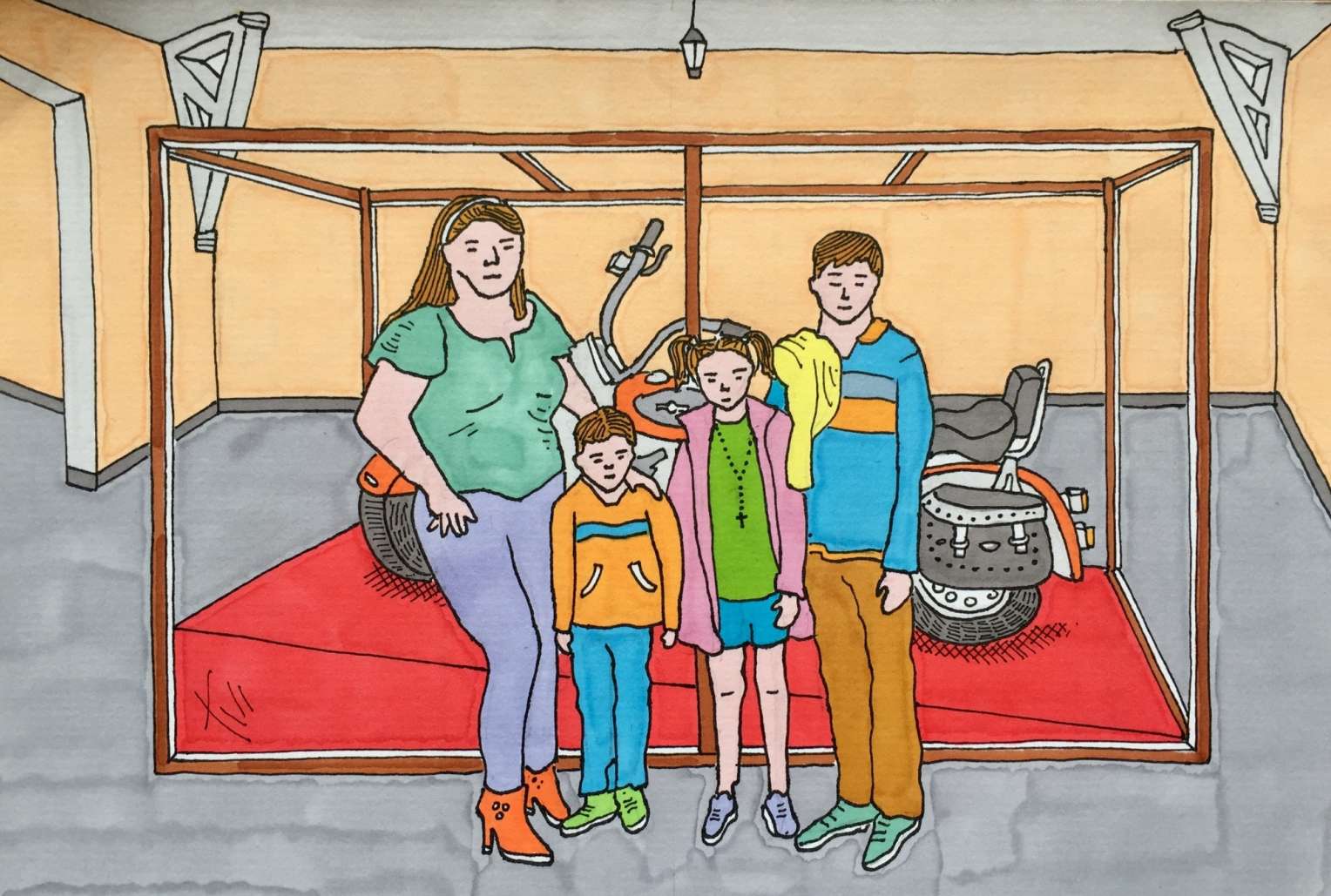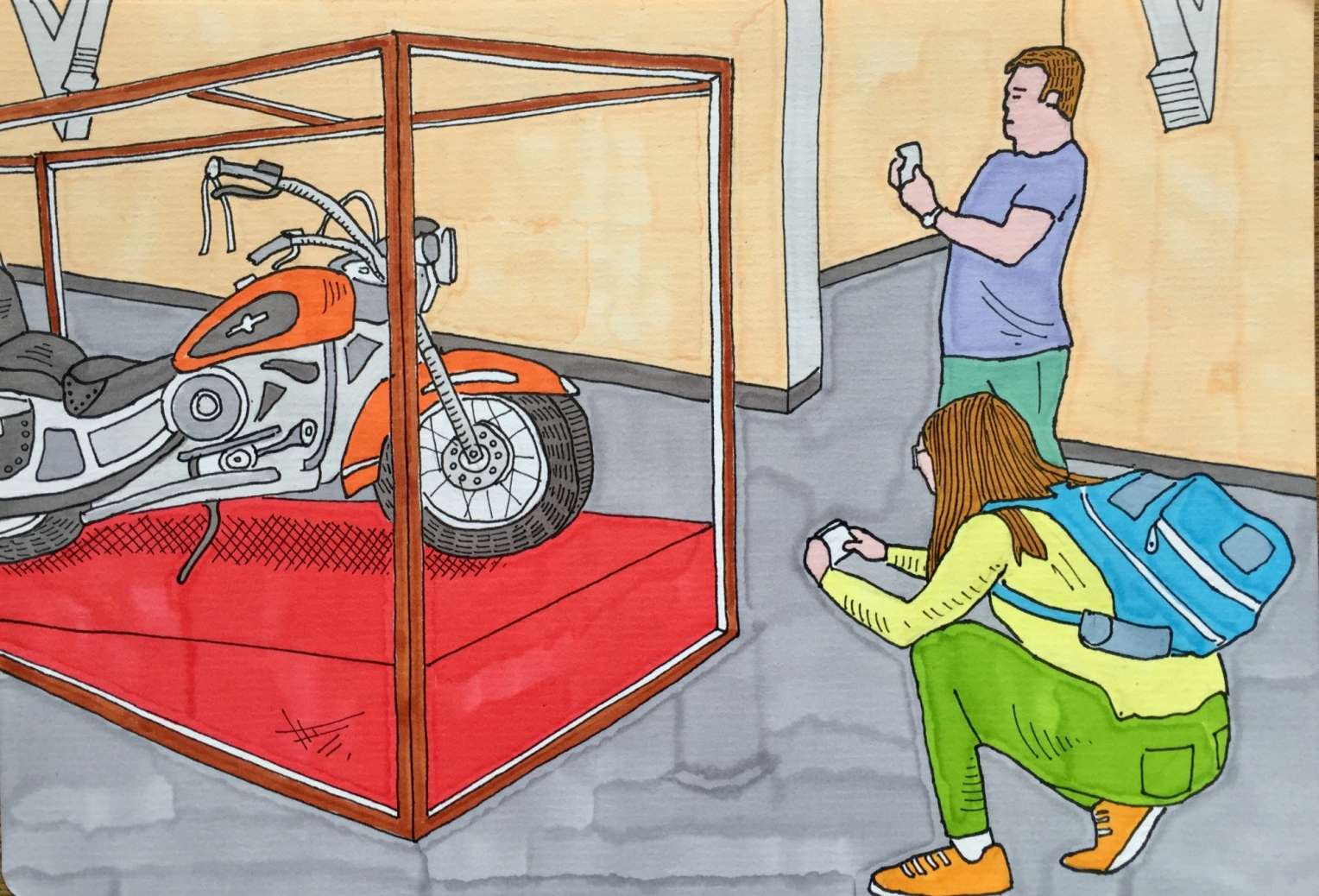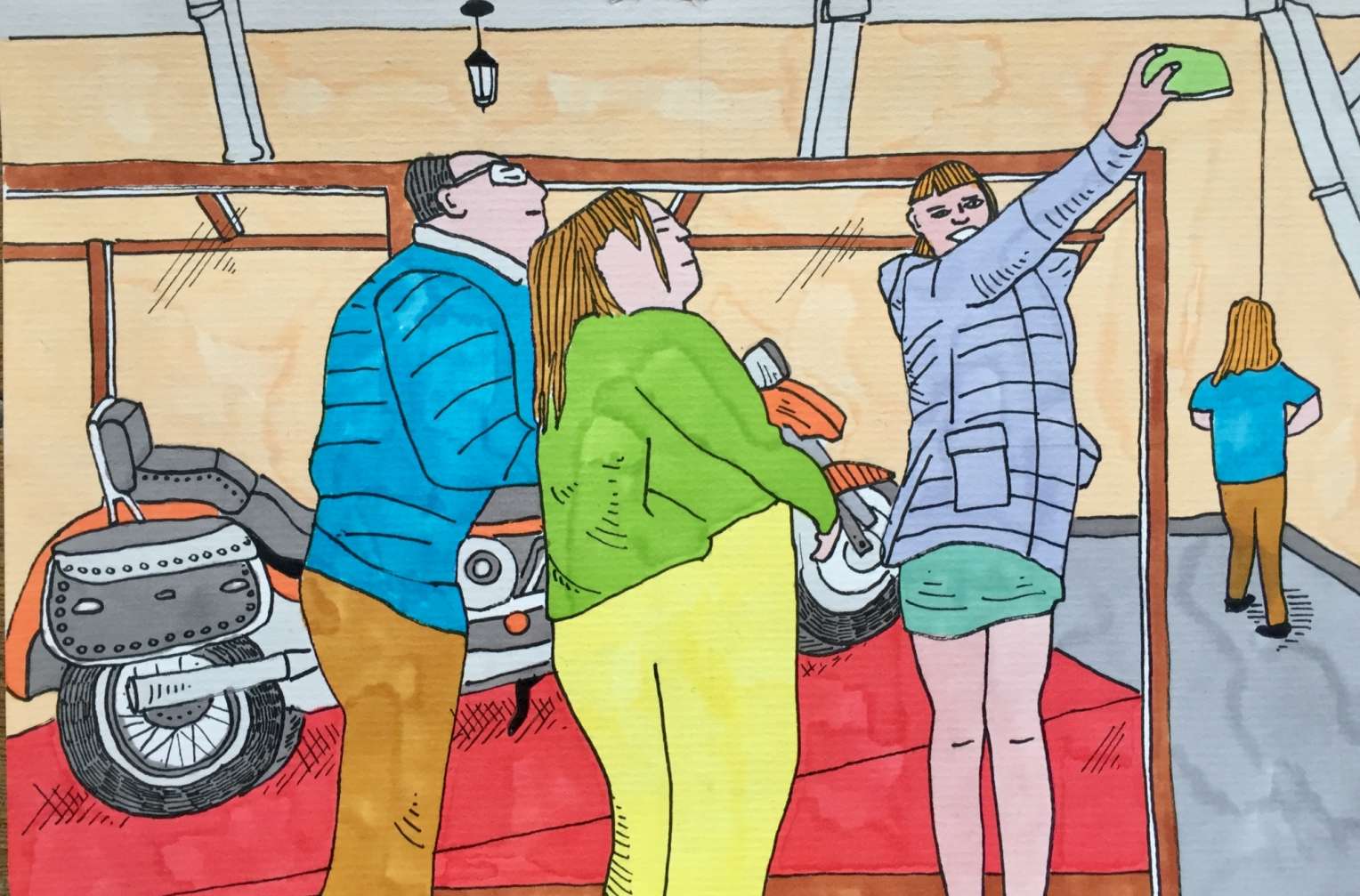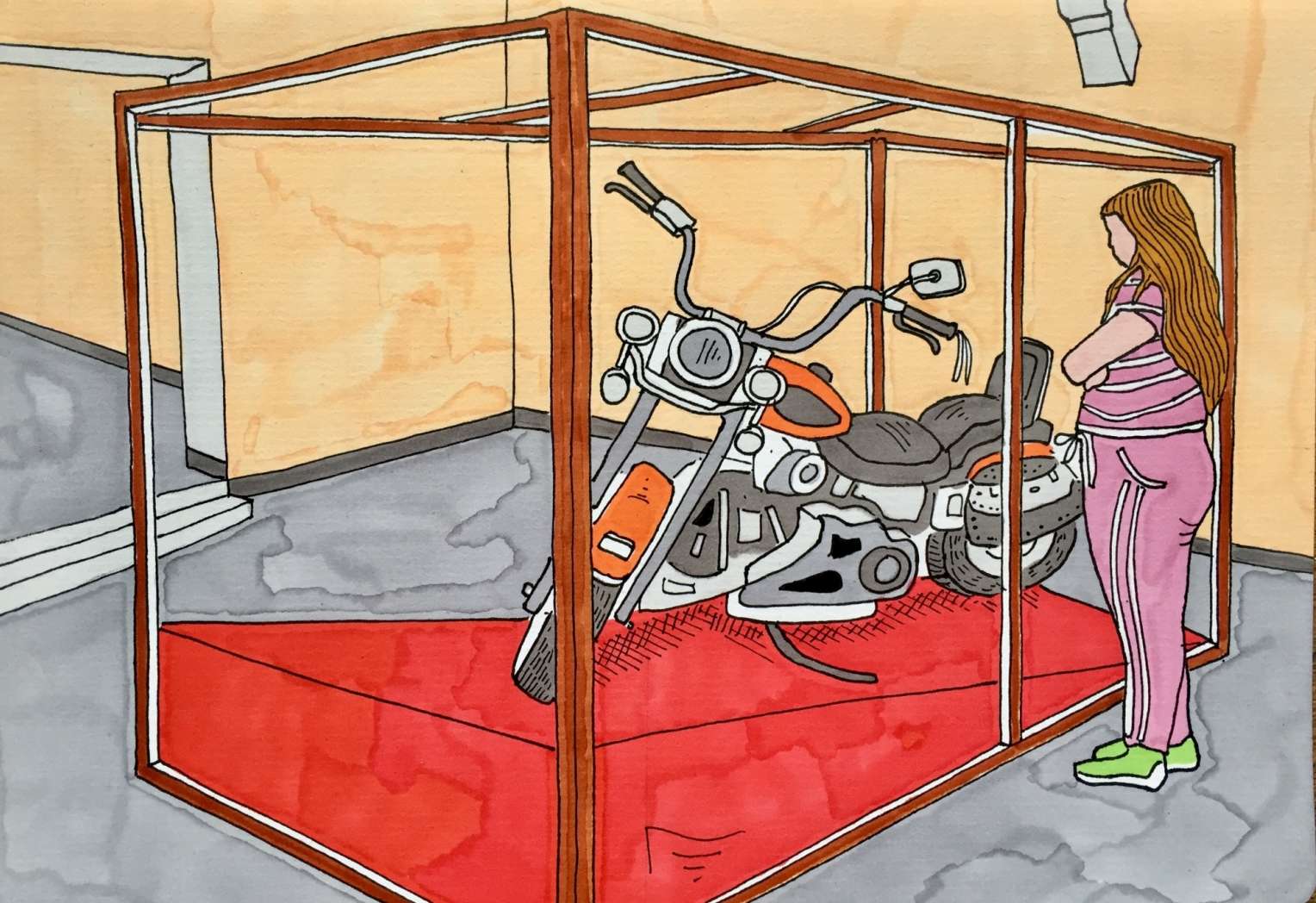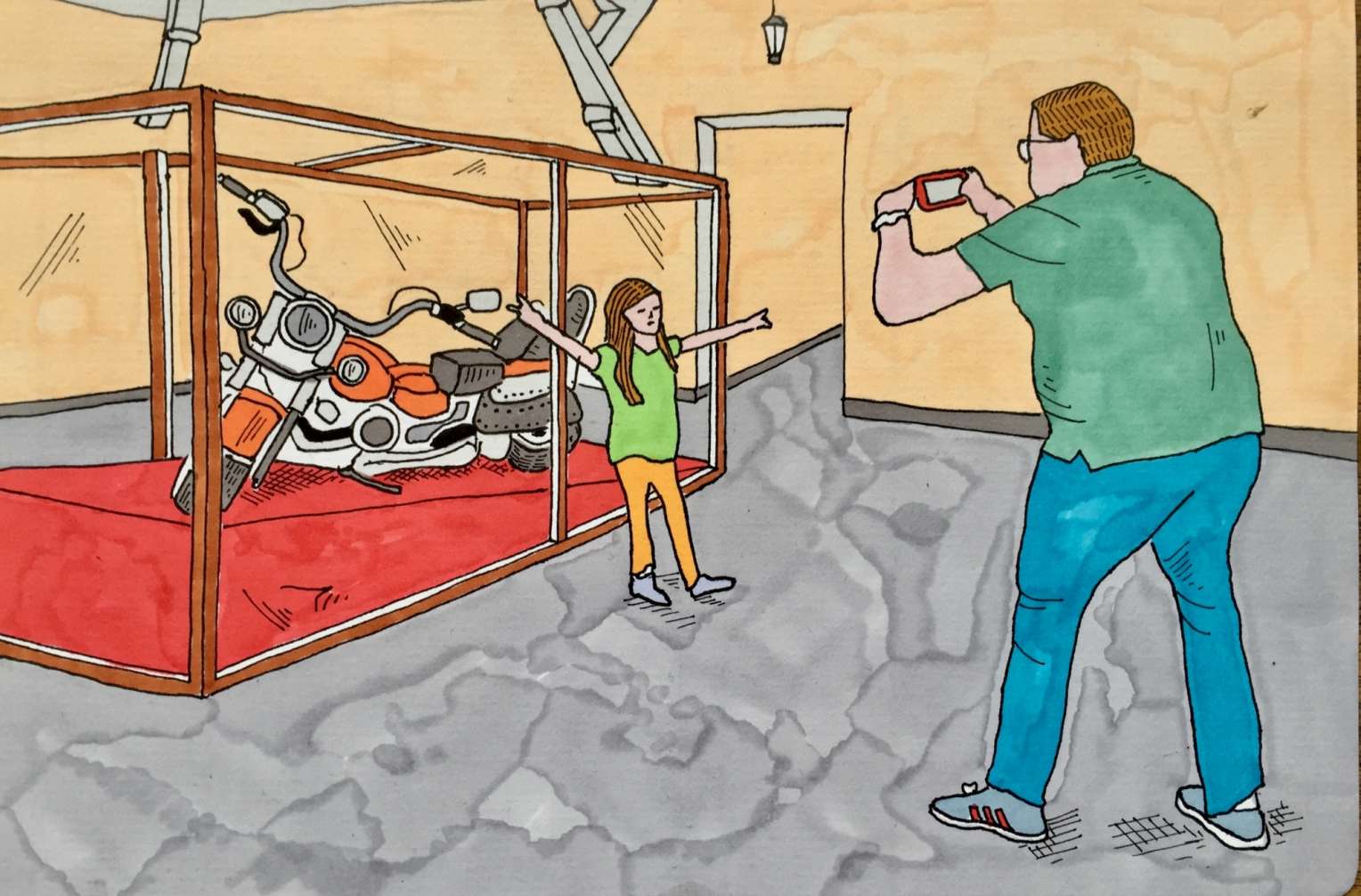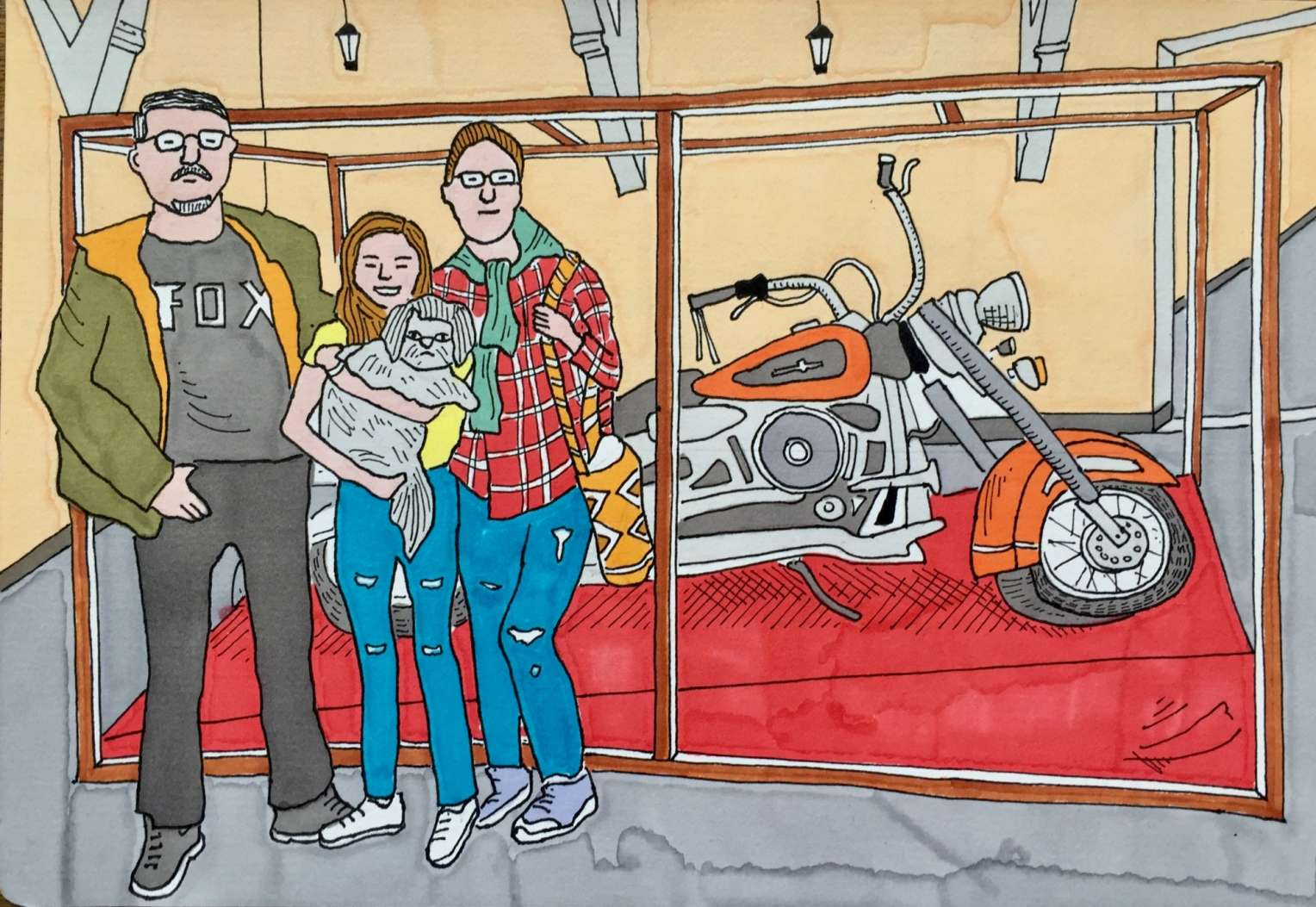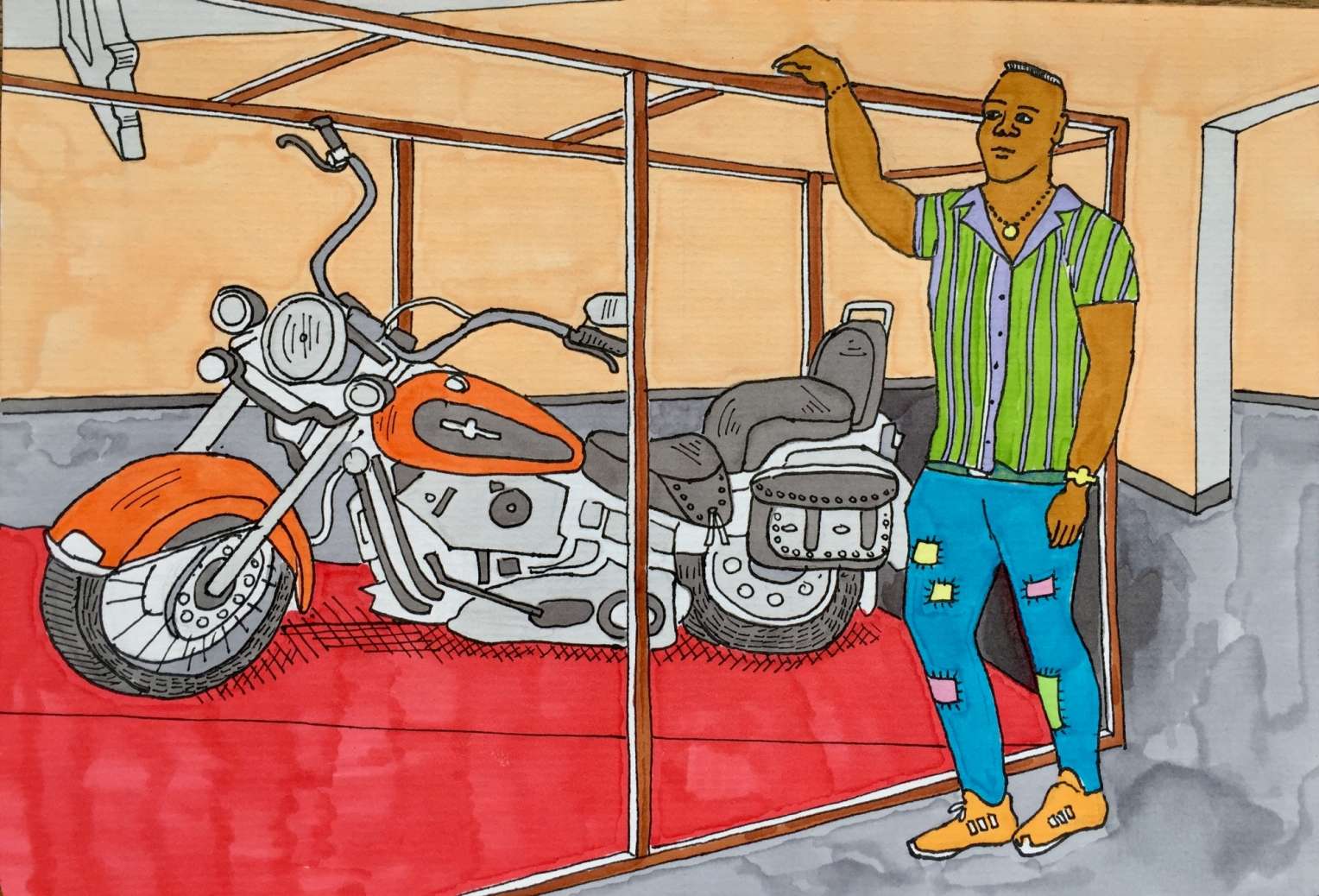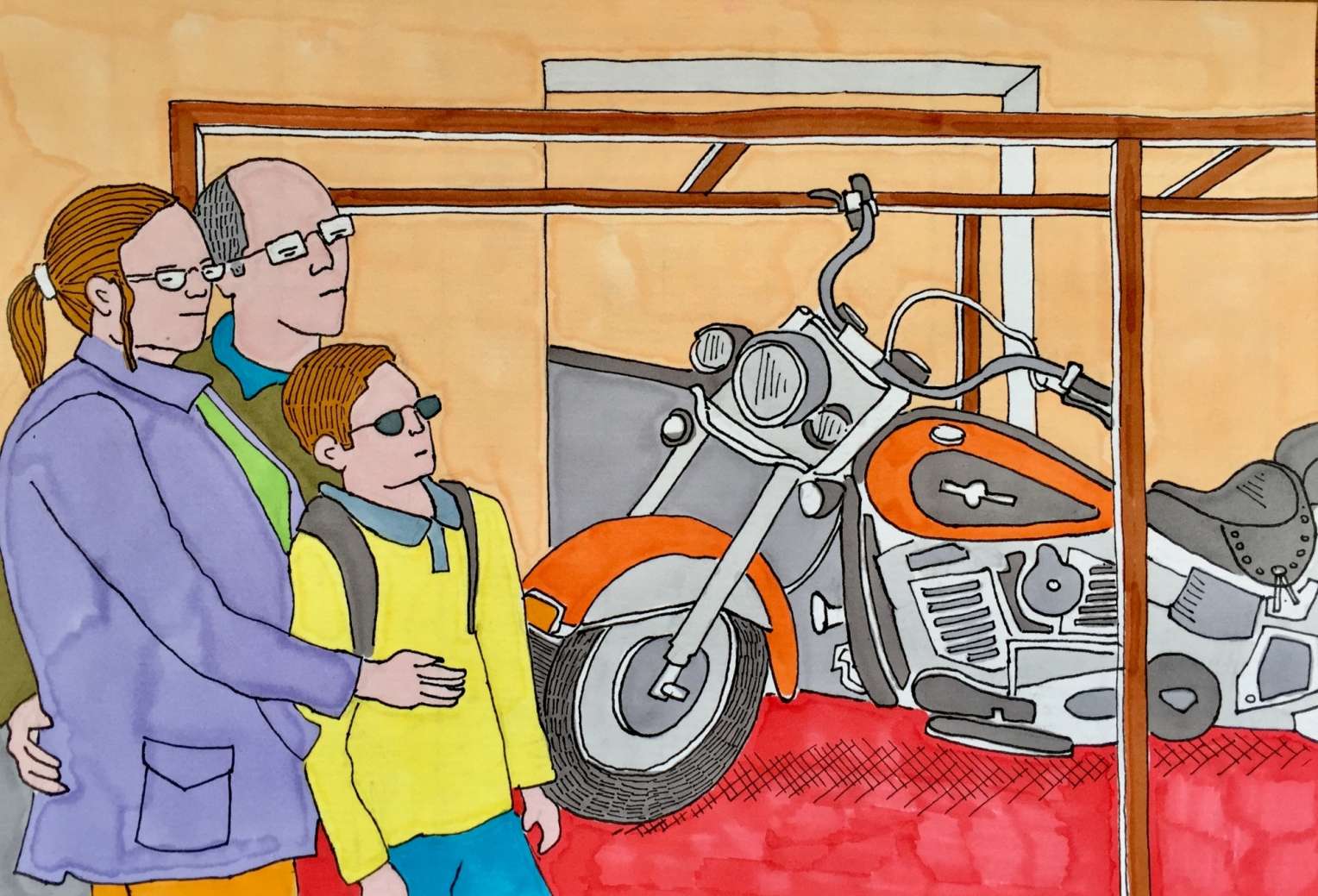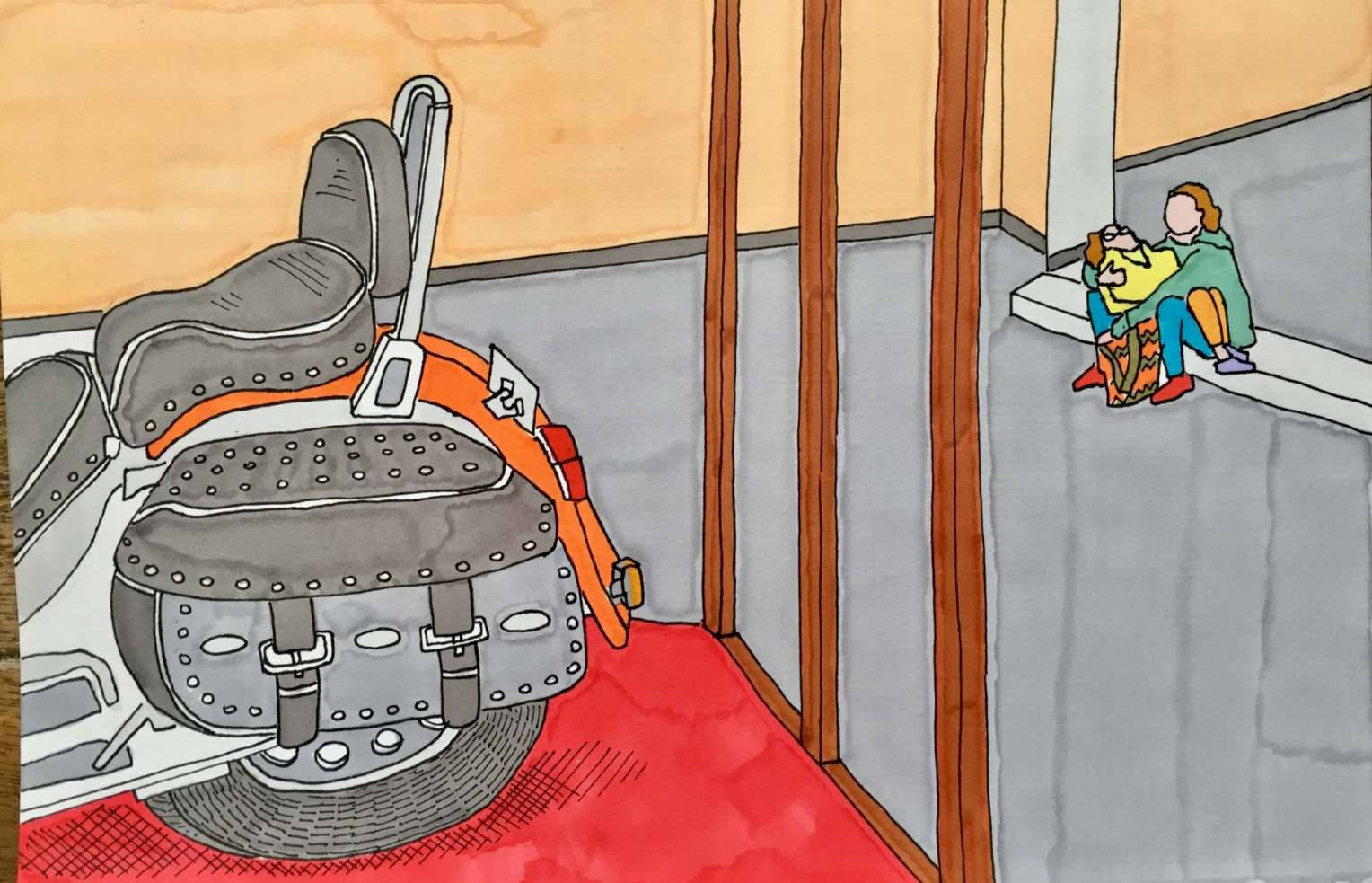 Narcolombia: Assemblage and Curatorial Collapse in a Museum
This essay experiments with two disparate temporalities: that of ethnography and that of the production of the images that document, under a visual language, the precise moment in which the collapse of a curatorial script occurs inside a specific institution: the Historical Museum of the National Police in Bogotá, Colombia. The ethnography took place throughout 2017 as part of the Narcolombia project: On the Aesthetic Effects of Narco, co-directed by Andrade. The drawings were produced in 2020 based on observations by Borrero.
The fieldsite, a museum, is the maximum expression of the public image that the National Police broadcasts toward the Colombian society. It is accessed only by tours guided by officers who have been trained as guides to develop a careful curatorial script that was conceptualized by its highest authority, General Humberto Aparicio, who directed the institution for more than two decades. The script involves honoring the essential values ​​of the Police and illustrating its commitment to the defense of the social order. Located in an emblematic building, the museum is aimed at counteracting the criticisms that periodically emerge in a country characterized by decades of irresoluble violence.
Despite repeated attempts to tame the visitors' gaze toward the aseptic curatorial narrative, the tours inevitably witness a breaking point: when they approach the collection of objects related to the legacy of drug cartels found in a room called: "Crime Does Not Pay." An inversion of the curatorial principles occurs for the majority of spectators: instead of distancing them from objects that attempt to exemplify the worst historical enemies of the police, the effect is exactly the opposite. The reactions are best exemplified in the series of images that accompany this essay. The drawings portray the precise moment in which different visitors, excited to discover a Harley Davidson motorcycle engraved in silver and gold, they proceed to break into discussion and take photographic snapshots. The motorcycle was originally owned by Pablo Escobar, who gave it away as a gift to "El Arete," one of his closest hitmen. This object summarizes the glamor and power associated with the narco. The result is disorder in the museum, the explosion of selfies as a memento of an experience that resembles that of the popular narco-tours that travel through the landmarks of Pablo Escobar's heritage in Medellín, despite official attempts to prohibit them.
The ethnographic drawings speak eloquently of a collapsing moment that characterizes the emerging assemblage between things, architecture, museum devices, and people. These drawings evoke public disputes over the narco that lie at the very heart of normalizing efforts.

Title: From Pablo to El Arete.
Series of 12 drawings, each of 21 cms. x 14 cms.
Ink and Pencils.
January, 2020