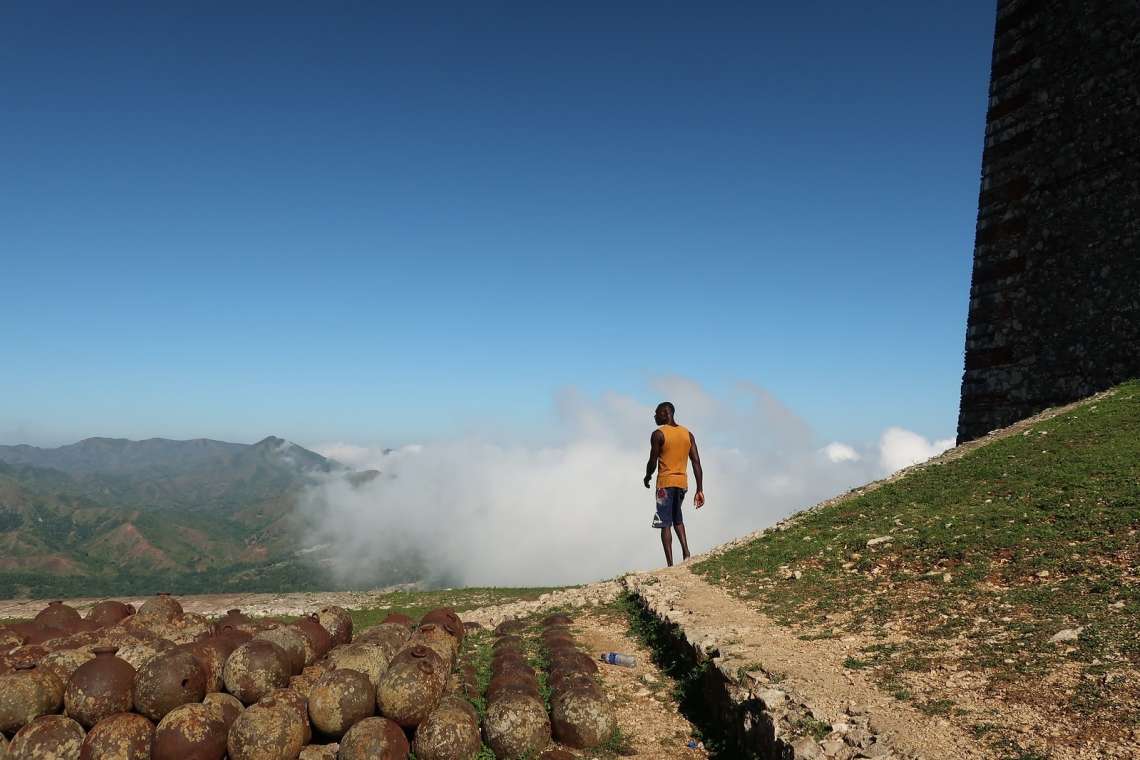 Note des éditeurs : On a publié ce texte sous un pseudonyme, considérant la crise politique actuelle en Haïti. L'auteur est un journaliste qui raconte, dans cet article, son voyage de Port-au-Prince à sa maison hors de la capitale. La Route Nationale numéro 2, la route principale qui passe par les quartiers de Fontamara et Martissant, est largement sous le contrôle des bandits armés. Tous les noms utilisés dans ce texte sont faux.
Port-au-Prince, jeudi 25 novembre 2021 : Après plusieurs jours en ville, loin de chez moi et de ma femme (c'est ainsi que je le fais depuis le début de cette guerre entre les bandes armées à Fontamara et à Martissant), il me fallait rentrer chez moi. Même s'il est déjà 18 heures passées. Je viens tout juste de fermer le journal que je co-présente avec Myriam, ma collègue avec qui je prends la route pour me rendre à Carrefour. Mon sac rempli de vêtements que j'ai portés pendant les jours où je ne pouvais pas rentrer chez moi. C'est vrai, depuis un certain temps je vis comme un SDF (sans domicile fixe) tantôt dans un hôtel, tantôt chez un ami qui m'offre livres, whisky et poésie pour tenter d'oublier mes désillusions. Cap sur Portail-Léogâne. Myriam et moi, nous avons tout vécu sur cette route. Du moins, c'est que nous pensions jusqu'à ce jeudi.
Il n'y a pas beaucoup de véhicules de transport en commun dans cette station. Ce qui nous donne le temps de remarquer que la chaussée est propre. Pas de déchets, ni de flaques d'eaux sales, comme c'est le cas tous les jours. C'est le travail des riverains, précisément certains mécaniciens, me dit Myriam. Le travail me fascine. Ça mérite un article, dis-je. Journaliste, à chaque fois que je tombe sur une initiative citoyenne pour résoudre un problème communautaire, j'ai envie de raconter cela à tout le monde. Surtout que la veille, une grosse averse s'abattait sur Port-au-Prince. La chaussée serait impraticable sans ce travail remarquable. Autre chose qui attire mon attention dans ce carrefour, c'est le nombre de personnes qui cherchent à rentrer chez eux, dans la commune de Carrefour. On aurait pu croire que tout allait bien sur la route. C'est ce que je me suis dit quand j'ai pris la résolution de monter sur cette moto-taxi (motocyclette) accompagné de ma collègue.
À mesure que nous avançons sur la route, la vie nous quitte. Ah cette traîtresse ! Nous voyageons seuls. Sans vie, sans souffle. D'ailleurs, au milieu de cette route, il n'y a pas de place pour la vie. Personne ne peut oser vivre pendant les instants passés sur cette route. La mort, en revanche, s'installe, occupe chaque artère liée à cette voie. La mort se pavane. La mort rit à gorge déployée. Comme pour ridiculiser toutes ces âmes qui ne peuvent s'empêcher de penser à elle. Oui, elle les habite comme un amour interdit ou impossible. Sur cette route, on meurt avant de passer. Si l'on arrive chez soi, le sourire des gens qu'on aime nous aidera à ressusciter.
Pas une détonation. Nous nous approchons de Martissant 23. Bientôt nous pourrons recouvrir la vie. Un bout d'espoir commence à s'installer dans notre tête. Au point que nous ne remarquons même pas qu'un véhicule est passé à côté de nous avec une telle vitesse que l'eau sale de la route nous a arrosés. Une autre moto-taxi reproduit l'acte. Mais nous nous en fichons. Myriam et moi, nous avons tout vécu sur cette route. C'est ce que nous croyions jusqu'à ce que cette silhouette brandisse son arme que je ne saurais nommée et nous demande de nous arrêter. Le chauffeur obéit. Heureusement. Sinon, rien ne pourrait empêcher ce jeune homme de nous abattre. Je descends, tentant de garder le calme. Myriam me suit, toute tremblante. Il nous invite à le suivre dans un petit corridor.
C'est l'instant où il faut garder son calme. Malgré soi. Sommes-nous enlevés ? Va-t-il nous abattre au milieu de ces dédales ? Faut-il courir ? Non. Pas question. Pour aller où d'ailleurs ? Juste quelques secondes pour prendre une décision. J'avance vers l'homme en affichant une sérénité qui m'étonne. « Sa k ap fèt la baz [Quoi de neuf, mec] ? », laissai-je sortir dans un calme épatant. Mais il est pressé, lui. Il a peut-être peur également, qu'un blindé de la police nous crible dans le corridor. Il serait mort comme nous. Il me demande de continuer à avancer, question de m'éloigner beaucoup plus de la route principale.
« Fouye tèt nou [Fouille tes poches] », lâche-t-il. Je n'aurais jamais pu imaginer que cette injonction me ferait autant plaisir. À ce moment, je me dis qu'il ne compte pas nous enlever, ni nous tuer. Il veut juste nous dépouiller. Il nous presse d'agir vite. Il est tellement pressé qu'il ne remarque peut-être pas que nous avons chacun un gros sac entre nos mains. Ou peut-être, il s'en moquait. Heureusement.
En ouvrant le sac pour récupérer ma bourse, je lui dis que j'ai de l'argent sur moi pour me rendre à Petit-Goâve au mariage d'un ami, que je n'ai aucun problème de lui en donner une partie, mais je dois garder de quoi payer le chauffeur de moto-taxi. Celui-ci est épargné. Quand le bandit lui demandait de se fouiller, il lui a dit quelque chose et il l'a épargné. Je lui donne l'argent qu'il prend sans dire mot. Je remets mon portefeuille dans le sac. Il nous demande nos téléphones, je lui demande s'il ne peut pas nous laisser les téléphones. Il ne répond pas. Il me demande de supprimer le code, je fais semblant d'obéir en lui demandant des explications sur ce qu'il veut que je fasse réellement. Il reprend le téléphone. « Ebyen ok », lui ai-je dit en reprenant le chemin pour rejoindre la moto. Myriam derrière moi oubliant comment refermer son sac. Elle arrive à le faire jusqu'à ce qu'on arrive à Carrefour. En rejoignant la moto, je lui demande une dernière fois s'il ne peut pas nous laisser les téléphones. Il ne répond pas. Le chauffeur démarre. Il n'y avait pas une seule détonation jusque-là.
À une dizaine de mètres, nous sommes arrivés à Martissant 23. Des hommes armés se mettent à tirer, sans que nous puissions voir s'ils nous tirent dessus ou en l'air, ou sur d'autres gens. Je me convaincs que tout va bien, que je ne suis pas blessé, Myriam non plus. Mais la moto a failli caler sous l'effet de notre tentative pour baisser la tête. Les bruits de balles s'accompagnent de cris indéchiffrables. S'amusent-ils en tirant ? Ou c'est le cri d'hommes touchés ? Nous avançons alors que les rafales se multiplient derrière nous. Nous parvenons à atteindre Carrefour. Sains et saufs, du moins physiquement. Chez moi, c'est ma femme qui me demande pourquoi je n'ai pas appelé pour lui dire que je suis en route. Je lui ai donc raconté cette histoire comme je viens de le faire pour vous. Et son sourire perdu entre peur et soulagement m'aide à me ressusciter.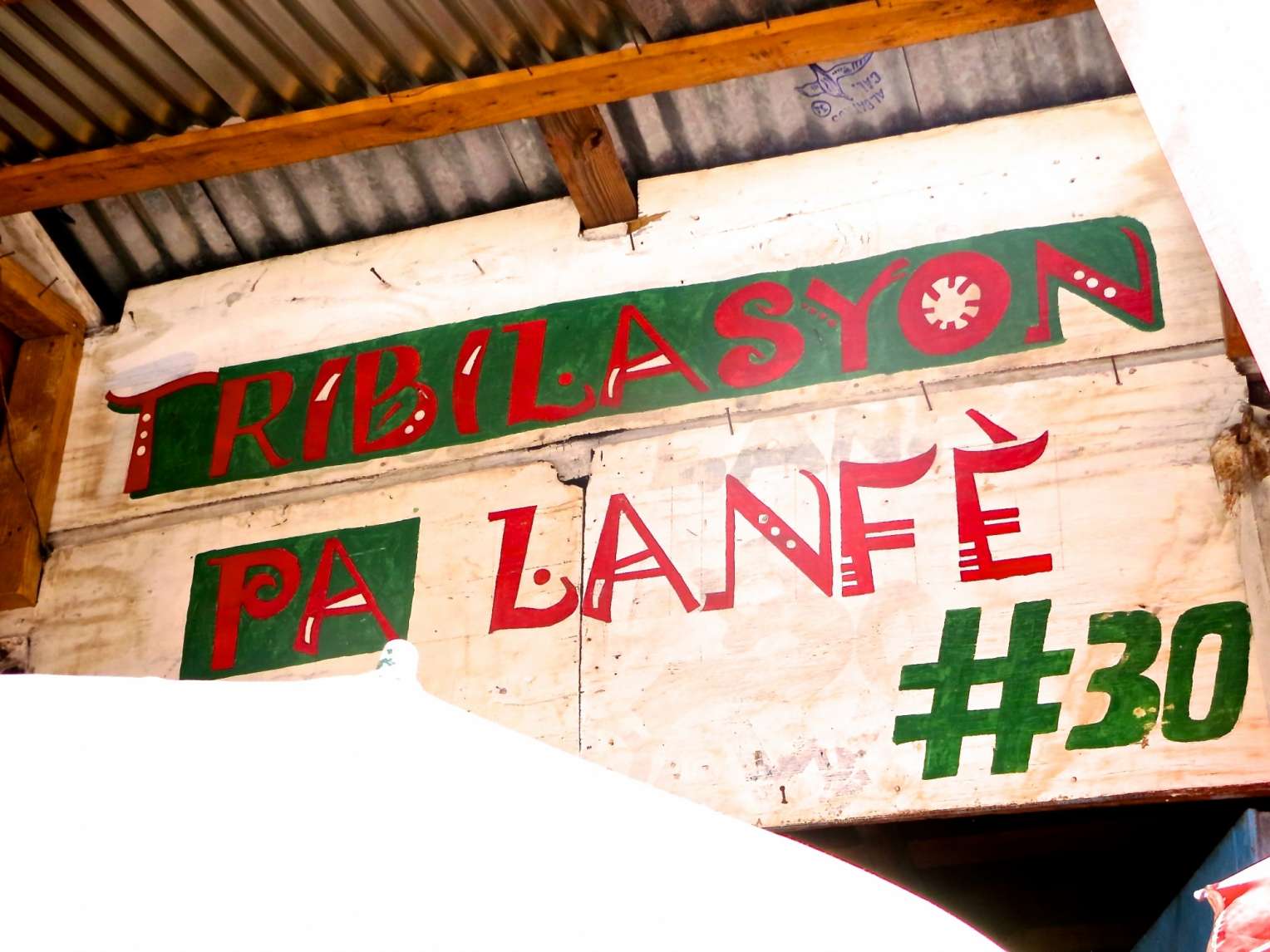 Held Up in Martissant
"Jonathan" ; Translated by Greg Beckett
Editors' note: We are publishing this piece under a pseudonym due to the ongoing political insecurity in Haiti. The author is a journalist who recounts here his journey from Port-au-Prince to his home outside of the capital. Route Nationale 2, the main road that passes through the neighborhoods of Fontamara and Martissant, is largely under the control of armed gangs. All names used here are pseudonyms.
Port-au-Prince, Thursday, November 25, 2021: After several days in the city, far from my home and my wife (that's how I've been doing it since the beginning of this war between the armed gangs in Fontamara and Martissant), I had to go home. Yet, it was already past 6 p.m. I had just finished airing a news broadcast that I copresent with my colleague, Myriam, with whom I'm going to take the road to Carrefour. My bag was filled with all the clothes I had worn over the days I couldn't go home. Yes, it's true—for some time I've been living like a homeless person, sometimes in a hotel, sometimes at the home of a friend, who offers me books, whiskey, and poetry to help me forget my disillusionments. Now, we're heading for Portail-Léogâne. Myriam and I have experienced everything on this road. Or so we thought, until this Thursday.
There are not many public transportation vehicles at the station. This gives us time to notice that the road is clean. No garbage, no puddles of dirty water, as is the case every day. This is the work of local residents, specifically a few mechanics, Myriam tells me. I'm fascinated by this kind of work. It deserves an article, I say. As a journalist, every time I come across a citizen's initiative to solve a community problem, I want to tell everyone about it. Especially since a heavy downpour fell on Port-au-Prince yesterday; the road would have been impassable without this remarkable work. Another thing that draws my attention at this crossroads is the number of people who are looking to return to their homes in the municipality of Carrefour. You would think everything was fine on the road [Route Nationale 2]. That's what I thought when I decided to get on the moto-taxi (motorcycle taxi) with my colleague.
As we go along the road, life leaves us. Ah, that traitor! We travel alone. Lifeless. Breathless. Besides, along this road, there is no place for life. No one dares to live during the moments spent on this road. Death, on the other hand, settles in, occupying every side street connected to the main road. Death struts its stuff. Death laughs out loud. As if to ridicule all those souls who cannot stop thinking about it. Yes, it inhabits them like a forbidden or impossible love. On this road, we could die before we pass by. But if we make it home, the smile of those we love will help bring us back to life.
The road is silent as we approach Martissant 23. Soon we will be able to return to life. A bit of hope begins to settle upon us. So much so that we don't even notice that a vehicle has passed by us with such speed that the dirty water from the road has sprayed us. Another moto-taxi does the same thing. But we don't care. Myriam and I have experienced everything on this road. That's what we thought until a shadowy figure pulled out his weapon (I don't know what kind) and told us to stop. The driver obeyed, thankfully. Otherwise, nothing would have stopped this young man from shooting us. I got off the moto-taxi, trying to stay calm. Myriam followed me, trembling. The man told us to follow him into a narrow alley.
In this moment you have to stay calm, in spite of yourself. Are we being kidnapped? Will he shoot us in the middle of this labyrinth? Should we run? No. No way. Anyway, where would we go? You only have a split second to make a decision. I walk toward the man with a serenity that surprises me. "Sa k ap fèt la baz? [What's happening, man?]," I say to him with stunning calmness. But he's in a hurry. Maybe he's afraid too, afraid that an armored police car will spot us in the alleyway. He would be dead just like us. He tells me to keep going, to get farther away from the main road.
"Fouye tèt nou [Empty your pockets]," he says. I never imagined that hearing such a command would make me so happy. At that moment, I tell myself he doesn't intend to kidnap us or kill us. He only wants to rob us. He urges us to act fast. He was in such a hurry he didn't even notice we each had a big bag in our hands. Or maybe he didn't care, fortunately.
As I open the bag to get my wallet, I tell him that I've got money to go to a friend's wedding in Petit-Goâve, that I have no problem giving him part of it, but I have to keep enough to pay the moto-taxi driver, who had himself been spared. When the bandit had demanded to search him, the driver said something to him and he was saved. I give him the money and he takes it without saying a word. I put my wallet back in the bag. He asks us for our cell phones; I ask him if he can't leave the phones with us. He does not answer. He asks me to remove my passcode; I pretend to do it then ask him to explain what he really wants me to do. He takes the phone back. "Ebyen ok [Fine]," I say to him as I walk back to the bike. Myriam is behind me and has forgotten how to close her bag. She only manages to close it later, when we get to Carrefour. When we're back at the moto-taxi, I ask the man one last time if he can't let us have our cell phones. He does not answer. The driver starts the bike. Not a single shot was fired.
About ten meters away, we arrive at Martissant 23. Armed men start shooting. We cannot see if they are shooting at us, or in the air, or at other people. I convince myself that everything is fine, that I am not hurt. Neither is Myriam. But the bike almost stalls as we try to put our heads down. The sound of bullets is accompanied by indecipherable shouts. Are they shooting for fun? Or are those the screams of people who have been shot? We move forward as the gunshots multiply behind us. We manage to reach Carrefour. Safe and sound, at least physically. When I get home, my wife asks why I didn't call to say I was on my way. So I tell her this story, just as I am telling it to you. And her smile, lost between fear and relief, helps bring me back to life.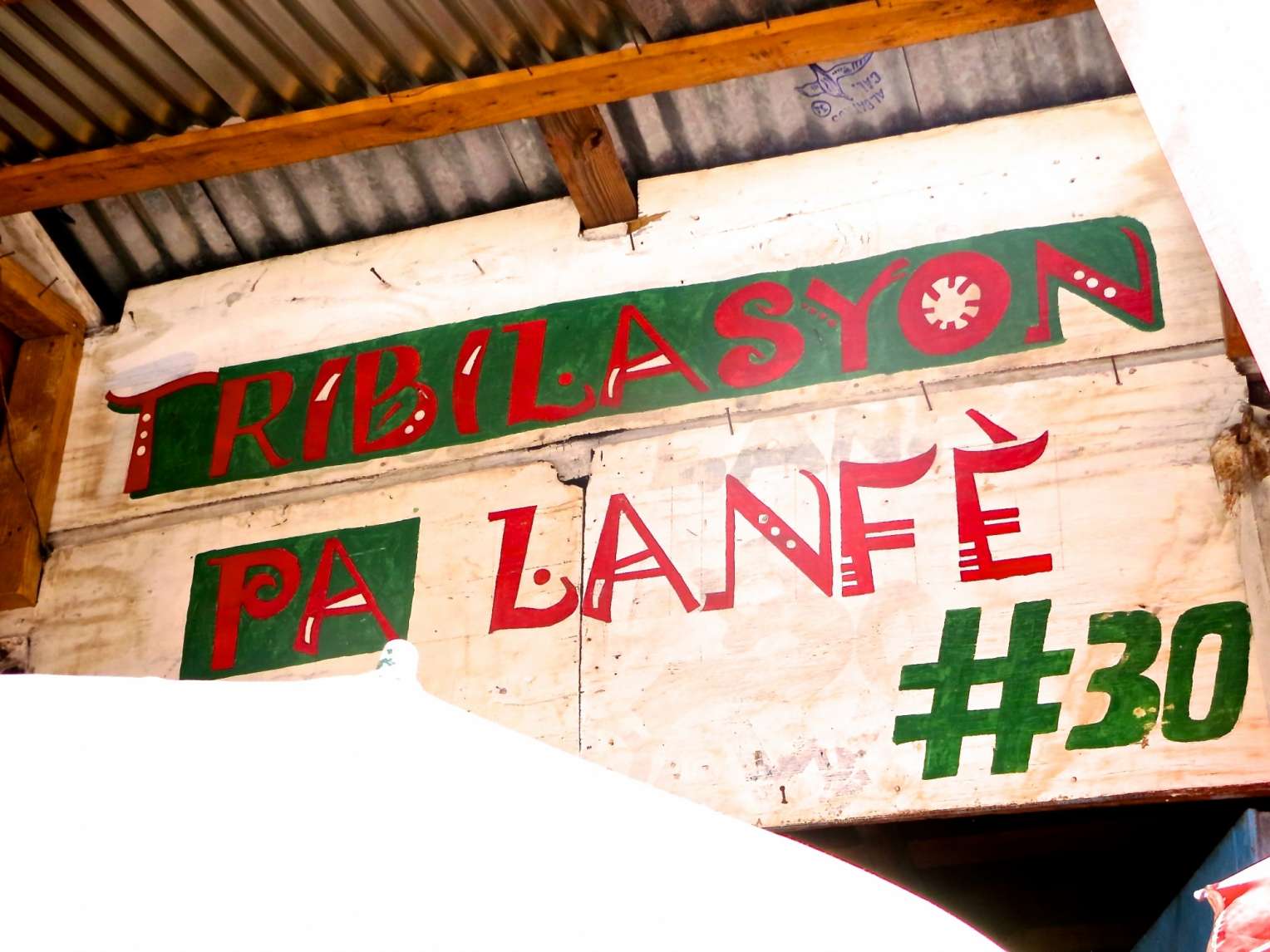 Yo fouye m nan Matisan
"Jonathan"; Danielle Josyle ki tradui l
Nòt editè yo: Nou pibliye tèks sa a avèk yo fo non, poutèt ensekirite politik ki an Ayiti nan moman an la. Moun ki ekri l la se yon jounalis k ap rakonte jounen l sòti nan Pòtoprens pou ale lakay li deyò kapital la. Wout Nasyonal nimewo 2, granwout ki pase nan Fontamara ak Matisan, anba kontwòl gang ak zam. Tout non nou itilize nan tèks sa se fo non.
Pòtoprens, jèdi 25 novanm 2021. Aprè plizyè jou anba lavil, lwen lakay mwen ak madanm mwen (se konsa mwen fè l depi lè gè nan mitan bandi ak zam te kòmanse nan Fontamara ak Matisan), fòk mwen te rantre lakay mwen. Menmsi li te gentan 6è depase. Mwen fenk fèmen jounal m ap prezante ak Myriam, kòlèg mwen an, se ak li m pran chimen an pou m ale Kafou. Valiz mwen chaje ak tout rad mwen te mete nan jou m pa t ka al lakay mwen. Pou m byen di w—depi kèk tan, m ap viv tankou yon sanzabri, swa nan otèl, swa kay yon zanmi m ki konn ban mwen liv, wiski ak pwezi pou m ta kapab bliye doulè m. Nou pran wout Pòtay Leyogàn. Mwen ak Myriam nou pase tout mati sou wout sa. Se sa nou te kwè jouk jounen jedi sila a.
Pa gen anpil bis ni kamyonèt nan estasyon sa. Sa ki ban nou tan pou nou wè twotwa a pwòp. Pa gen fatra, ni ma dlo sal jan sa konn ye chak jou. Myriam di m: "Se kretyen vivan nan zòn yo ki fè travay sila a, pou m byen di w, kèk nan mekanisyen yo." Sa yo fè a fè m kontan. Mwen di konsa: "Fòk mwen ta ekri yon atik sou sa." Jounalis mwen ye, chak lè je m tonbe sou travay yon bon pwochen fè pou rezoud yon pwoblèm k ap ravaje kominote a, m anvi mache di sa. Epi yon gwo lapli te tonbe ayè nan Pòtoprens. Moun pa t ap kapab pase sou twotwa a si se pa t travay sila a. Lòt bagay ki te rale atansyon m ankò nan kafou sa a, se valè moun ki bezwen rantre lakay yo nan komin Kafou a. Ou ta kapab kwè pa gen okenn pwoblèm sou wout la. Se sa m te panse tou lè m te deside n ap pran moto, mwen ak kòlèg mwen an.
Tout n ap pran wout la, nou santi lavi prale kite nou pou kont nou. Trèt la! N ap pran wout la pou kont nou. Ni lavi, ni ti souf la bwaze. Epitou, nan mitan wout sa a, pa gen pyès kote pou lavi poze kò l. Pyès moun pa t ap anvi viv pandan y ap travèse wout sa a. Poutan, lanmò, li menm, li chita kò l, l ap kontwole chak grenn venn ki konekte ak wout sa. Lanmò ap taye banda. Lanmò ap griyen dan l men lajè. Se kòmsi l ap pase nan betiz tout grenn nanm ki pa ka sispann panse ak li. Se vre, l ap viv nan yo tankou yon lanmou entèdi oswa yon lanmou ki enposib. Sou wout sa a, ou mouri anvan w travèse l. Si w gen chans rive lakay ou, souri moun ou yo a reba w lavi.
Pa menm yon peta. N ap pwoche Matisan 23. Talè konsa, nou pral resisite. Yon ti limyè lespwa kòmanse boujonnen nan tèt nou. Sa fè nou pa menm wè machin nan ki pase ak tout boulin ki anvayi nou ak dlo sal. Yon lòt motosiklèt pase, menm penpenp lan. Men sa pa gade nou. Mwen ak Myriam te pase tout mati sou wout la. Se sa wi nou te kwè jouk yon lonbray pwenti yon zam sou nou, m pa t konn non zam nan, epi mande nou pou nou kanpe. Chofè moto a koute li. Bondye pou nou. Si se pa t sa, pa gen anyen ki t ap fè ti nonm nan pa touye nou. Mwen desann. M fè tout janm kapab pou m rete tèt frèt. Myriam suiv mwen, l ap tranble kou fèy bwa. Li di nou swiv li nan yon ti koridò.
Se lè sa a menm pou nou pa montre nou kapon. N oblije wi. Èske yo kidnape nou? Èske li pral touye nou nan pil ti koridò sa yo? Èske pou nou kouri? Non. Sa pa ladann. Pou ale kibò tou wi tanpri? Kèk segonn sèlman pou nou konn kisa n ap fè? M ap rive sou nonm nan ak tout yon tèt frèt menm mwen m sezi. Epi ak tout sanfwa, mwen di l: "Sa k ap fèt la baz?" Men li menm li te prese, li pa t ka tann. Genlè, li menm tou, li te pè pou yon machin blennde lapolis pa t vin krible nou bal nan koridò a. Li t ap kadav menmjan ak nou tout la. Li di m kontinye antre nan koridò a pou n kite gran wout la dèyè.
Li di: "Fouye tèt nou." M pa t ap janm panse yon lòd konsa t ap fè m kontan konsa. Nan moman sa, m di nan tèt mwen, li pa gen lide kidnape nou ni touye nou. Vòlè sèlman li vle vòlè nou. L ap ban nou chalè pou n fini. Li tèlman ap fè tèt cho, li pa menm wè nou chak la gen yon gwo valiz nan men nou. Oubyen genlè, sa pa t enterese li tou. Bondye pou nou.
Pandan m ap ouvri valiz la pou pran bous mwen, mwen di l mwen gen kòb sou mwen pou m ale Tigwav nan maryaj yon zanmi, m pa gen okenn pwoblèm pou m ba li ladann men fòk mwen ta kenbe yon ti pati ladann pou m peye chofè moto a. Li pa fè chofè moto a anyen. Lè nonm ak zam nan mande l pou l fouye tèt li, li di l yon bagay epi misye ba l vag. M ba l kòb la, li pran l san pale. Mwen refoure bous mwen nan valiz la. Li mande nou telefòn nou, mwen mande l si l pa ka kite nou ale ak telefòn yo. Li pa reponn. Li mande m pou m retire kòd la, m fè kòmsi m ap fè sa l di m fè a pandan m ap mande l pou l di m kisa l bezwen m fè menm. Li pran telefòn nan ankò. Mwen di l: "Ebyen ok," pandan m ap pran wout pou al monte moto a. Myriam menm dèyè m nan bliye kijan pou l fèmen valiz li. Li rive fè sa jouk lè nou rive Kafou. Lè n ap tounen al monte moto a, mwen mande l yon dènye fwa si l pa ka kite nou ale ak telefòn yo. Li pa reponn. Chofè a estat moto a, li ale. Pa gen yon grenn bal ki tire jouk kounya.
Kèk dis mèt konsa, nou rive Matisan 23. Nèg ak zam tanmen tire, nou pa ka wè si y ap tire sou nou oswa anlè oswa sou lòt moun. M di nan tèt tout bagay nòmal, mwen pa blese, Myriam pa blese. Men moto a manke tenyen pandan n ap chèche bese tèt nou. Bri katouch yo mele ak yon pakèt rèl nou pa ka konprann. Èske se blag y ap bay pandan y ap tire? Oswa rèl moun ki pran bal? Nou kontinye sou wout la pandan n ap tande katouch k ap vide dèyè nou an. Nou rive Kafou. San tèt fè mal, di mwens fizikman. Lakay mwen, madanm mwen ap mande m pouki rezon mwen pa t rele l di l mwen nan wout. Mwen tou rakonte l sa k te pase a menmjan m sot rakonte nou an. Li bay yon souri ki mele ak laperèz ansanm ak yon soulajman ki reban m lavi.