A la izquierda del poder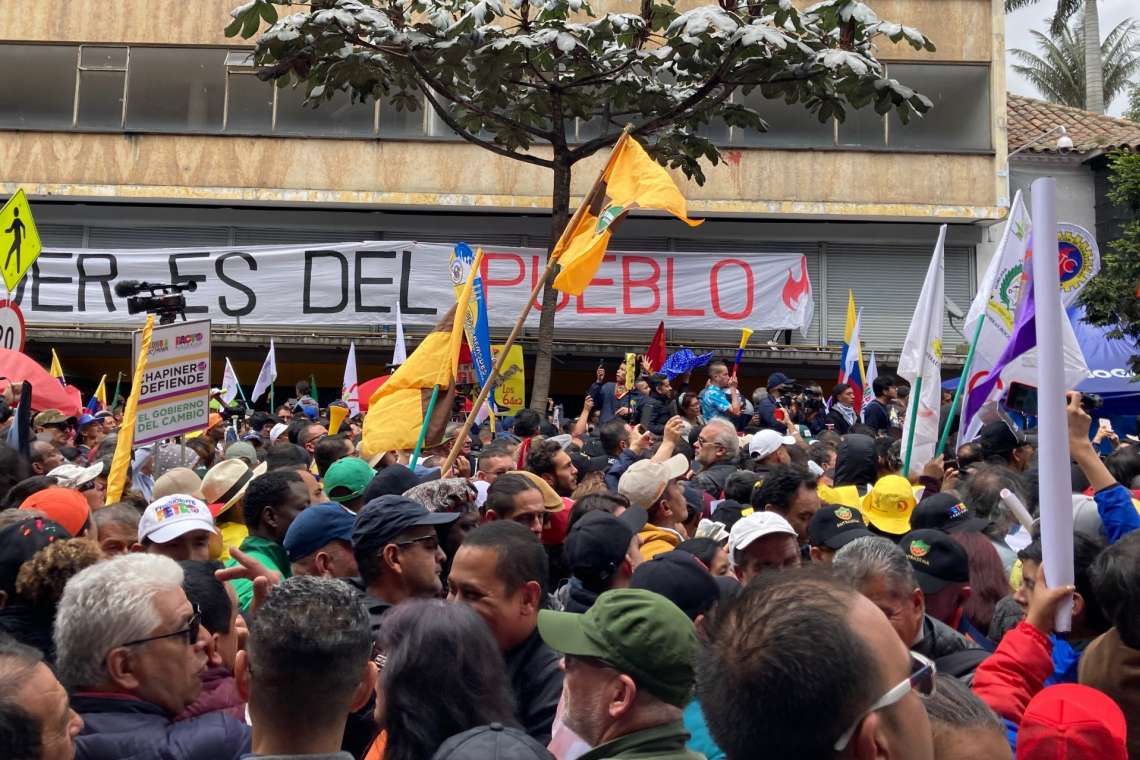 Esta colección de ensayos reflexiona sobre la llegada al poder, por primera vez en la historia del país, de la izquierda democrática en Colombia. La victoria del Pacto Histórico, una coalición de movimientos feministas, campesinos de base, indígenas y afrocolombianos, llevó al poder a Gustavo Petro, un militante de izquierda, y a Francia Márquez, una mujer negra líder de movimientos por la justicia social y ambiental del Pacífico colombiano. Esta victoria, en sí misma un contrapunto a décadas de violencia política y económica ininterrumpida, promete reconfigurar los modelos tradicionales de proyectos políticos progresistas y radicales en las Américas. Mientras buscan llevar a cabo múltiples transiciones de la guerra a la paz, del extractivismo a la energía renovable, de la acumulación mediante desposesión a la redistribución justa, el primer año en el poder del Pacto Histórico también se ha visto marcado por acusaciones de corrupción, la implementación desordenada de la política de "Paz Total", y los desafíos planteados por el Congreso. La respuesta del Pacto Histórico a estos retos ha buscado mantener abiertas las discusiones y los debates populares, invitándonos una y otra vez a interrogarnos: ¿quién o quiénes detentan realmente el poder en Colombia?

Los ensayos de esta serie, escritos en español y en inglés, reflejan, desde diversos lugares etnográficos y compromisos disciplinarios y epistemológicos, los futuros, las esperanzas, las interrupciones y las promesas del presente político sin precedentes de Colombia.

Left of Power
This collection of essays reflects on the arrival to power, for the first time in history, of the democratic Left in Colombia. The victory of the Pacto Histórico (Historic Pact)​​—a coalition of feminist, peasant farmer, grassroots, Indigenous, and Afro-Colombian movements—brought Gustavo Petro, a former guerrilla militant, and Francia Márquez, a Black leader of movements for social and environmental justice in the Colombian Pacific, to power. This victory is a counterpoint to decades of uninterrupted political and economic violence in Colombia and promises to remake traditional models for progressive and radical political projects across the Americas. As they seek to deliver on multiple transitions—war to peace, extractivism to renewable energy, accumulation by dispossession to just redistribution—the Pacto Histórico's first year in power has also been marked by accusations of corruption, the uneven implementation of a policy of Total Peace (Paz Total), and sustained challenges in congress. The Pacto Histórico's response to these difficulties has sought to keep open to popular discussions and debate, inviting us to interrogate, again and again: Who has the power in Colombia?
The essays gathered here, written in Spanish and in English, represent diverse ethnographic sites and disciplinary and epistemological commitments on the futures, hopes, disruptions, and promises of Colombia's unprecedented political present.

Posts in This Series
(English translation below) Esta colección de ensayos escritos por un grupo interdisciplinario de académicos especialistas en Colombia, reflexiona sobre la lleg... More