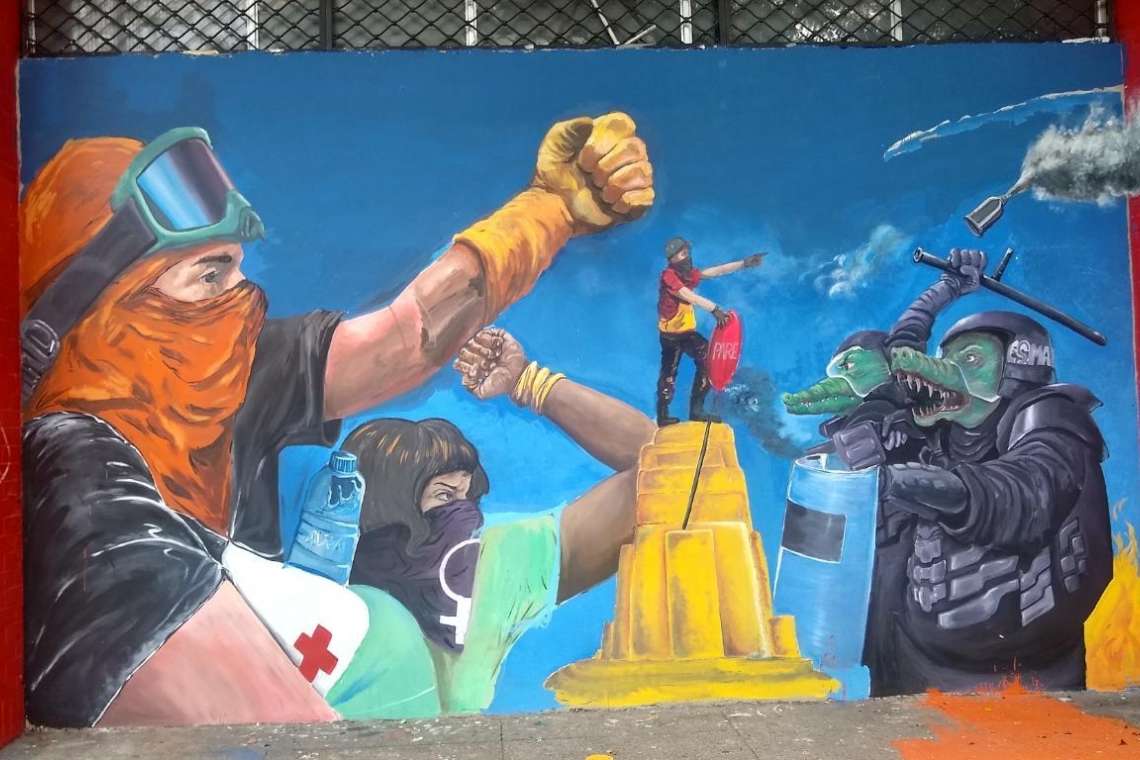 For a month now, the unnerving racket of Black Hawk helicopters lingers over Cali, Colombia, while social protests continue unabated. It bursts into households and disrupts sleep as it polices a city stranded in a sea of green. Since colonial times, sugarcane monoculture has taken over the giving soil. By the end of the twentieth century, four families owned 76 percent of the sugar market. Today, the sugarcane industry has become a hugely lucrative economic cluster that trades in, among other commodities, processed foods, alcoholic beverages, and biofuels. Colonial agribusiness practices survive into a predatory twenty-first-century slash-and-burn agriculture thanks to disguised subsidies and generous tax exemptions that added to US$5.825 million in 2007 (Pérez and Álvarez 2009). Consider that in Colombia, gasoline has to be mixed with 10 percent ethanol. The economic conglomerate Ardila Lülle owns one of the largest sugar mills in the country and has stakes in two others, thus controlling 65 percent of Colombian ethanol production. This wealth is returned to the city in the guise of burned-molasses stench and gray ashes that rain from the sky after crops are burned by underpaid labor. Helicopters police that sky to ensure unrelenting wealth extraction goes undisturbed.
This is mostly unwritten history, unheeded memory. The cruel social inequality that keeps the monoculture machine running remains largely unacknowledged in history textbooks, public policy, and traditional mass media. Yet this ruthless inequality is deeply inscribed on bodies and livelihoods. Extractive economies are cruel not only because they resort to violent means whenever they feel threatened but because they operate through insidious exclusionary hierarchies.
One example: in Cali, there are 2.6 square meters of public space per inhabitant (the WHO recommends 16 square meters). With no place to meet, public debate and solidarity networks are short-circuited. Therefore, Colombian protesters are making use of walls and roads as surfaces to write the counter-memory of a city built on exclusion. It is telling that in the early twentieth century, nation-building sponsored muralism. Mexico, for instance, used murals to reflect a somewhat cohesive narrative of a mestizo country. However, as early as the 1930s, Ignacio Gómez in Colombia and Laureano Guevara in Chile, inspired by Mexican muralists such as Rivera and Siqueiros, taught how to socialize art and cement collective work through mural-making (Solano 2013; Cortés 2016).
Murals have been key for Latin American social movements. In Chile, they have represented the values, hopes, and dreams of many generations that have fought for peace and equality (Rolston 2011; Cortés 2016). Colombian muralism is invigorated due to the work of artists and citizens, most of them young people who have taken over the streets to mourn the dead and register memories of cruelty and exclusion that are systematically denied by urban elites (Rolston and Ospina 2017). These murals give voice to a generation that chants that they are not afraid to protest since the future has already been taken from them.
The citizens of Cali are painting these unheeded memories on walls and the city's main crossroads. Most of these murals, posters, and graffiti pay tribute to those lost during the protests and demand the government invest in public education and health care, prosecute state crimes, and respect the peace agreements. Some murals have been painted over by the police only to be painted again overnight. In those walls the memory of the protests is at stake; for in them, a less cruel, more inclusive future society is being imagined.
Editors' Note
July 1, 2021—The first paragraph of this essay has been edited to add additional context.
Memorias Desatendidas: Murales por la Justicia en Colombia
Durante un mes, el desapacible ruido de helicópteros Black Hawk sobrevuela Cali mientras las protestas continúan sin desfallecer. Irrumpe en hogares y perturba el sueño mientras vigila una ciudad varada en un mar verde. Desde tiempos de la Colonia, el monocultivo de caña de azúcar se ha tomado el suelo generoso. Para finales del siglo XX, cuatro familias eran dueñas del 76% del mercado azucarero. Hoy, la industria cañera se ha convertido en un clúster económico enormemente rentable, que comercia con, entre oros productos, alimentos procesados, licores y biocombustibles. En pleno siglo XXI, prácticas coloniales de producción perviven en una agricultura depredadora de tala y quema gracias a subsidios subrepticios y generosas exenciones de impuestos que sumaron US$ 5.825 millones en 2007 (Pérez & Álvarez, 2009). Considérese que, en Colombia, la gasolina debe ser mezclada con un 10% de etanol y que la Organización Ardila Lülle es propietaria del ingenio del Cauca Incauca, además de tener participación en otros dos ingenios, lo que le garantiza controlar el 65% de la producción de etanol en Colombia (Pérez & Álvarez, 2009). Esta riqueza le es devuelta a la ciudad bajo la forma del hedor de la melaza quemada y las cenizas grises que llueven del cielo luego de que la caña es calcinada por mano de obra mal pagada. Los helicópteros patrullan ese mismo cielo para asegurar que la incesante extracción de riqueza continúe impertérrita
Esta es en buena medida historia por escribir, memoria desatendida. La cruel desigualdad social que mantiene funcionando la máquina del monocultivo es casi del todo ignorada en textos de historia, política pública y medios de comunicación tradicionales. No obstante, esta despiadada desigualdad está profundamente gravada en cuerpos y sustentos. Las economías extractivas son crueles no solo porque recurren a medios violentos cuando se sienten amenazadas, sino porque operan a través de insidiosas jerarquías de exclusión.
Un ejemplo: en Cali hay 2,6 m2 de espacio público por habitante (la OMS recomienda 16 m2). Sin lugares de encuentro, el debate público y las redes de solidaridad son cortocircuitadas. Por tanto, los manifestantes en Colombia están haciendo uso de paredes y vías como superficies donde escribir la contra-memoria de una ciudad construida sobre la exclusión. Es diciente que, a principios del siglo XX, los estados-nación hayan patrocinado el muralismo. México, por ejemplo, recurrió a murales para reflejar la narrativa más o menos coherente de un país mestizo. Sin embargo, ya en la década de 1930, Ignacio Gómez en Colombia y Laureano Guevara en Chile, inspirados en muralistas mexicanos como Rivera y Siquieros, enseñaron cómo socializar el arte y consolidar el trabajo colectivo por medio de murales (Cortés, 2016; Solano, 2013).
Los murales han sido de gran importancia para los movimientos sociales latinoamericanos. En Chile, han representado los valores, anhelos y sueños de varias generaciones que han luchado por la paz y la igualdad (Rolston, 2011; Cortés, 2016). El muralismo colombiano se ha revitalizado debido al trabajo de artistas y ciudadanos del común, la mayoría de ellos jóvenes, que se han tomado las calles para hacer el duelo por las víctimas del conflicto, así como registrar aquellas memorias de crueldad y exclusión que son sistemáticamente negadas por las elites urbanas (Rolston & Ospina, 2017). Estos murales dan voz a una generación que canta que no tiene miedo de protestar pues el futuro les ha sido arrebatado.
Los caleños están pintando estas memorias desatendidas en paredes y principales intersecciones de la ciudad. Muchos de estos murales, carteles y grafitis rinden tributo a los que han sido asesinados durante las protestas, y demandan que el gobierno invierta en educación y salud públicas, enjuicie a los culpables de crímenes de Estado y respete el proceso de paz. Algunos murales han sido cubiertos por la policía solo para volver a ser pintados durante la noche. En esos muros la memoria del paro está en juego pues en ellos se está imaginando una sociedad futura menos cruel y más incluyente.
References
Pérez, Mario, and Paula Álvarez. 2009. Deuda social y ambiental del negocio de la caña de azúcar en Colombia. Responsabilidad social empresarial y subsidios implícitos en la industria cañera: Análisis en el contexto del conflicto corteros-empresarios. Bogotá: ARFO Editores e Impresores.

Cortés, Alexis. 2016. "The Murals of La Victoria: Imaginaries of Chilean Popular Resistance." Latin American Perspectives 43, no. 5: 62–77.
Pérez, Mario, and Paula Álvarez. 2009. Deuda Social y Ambiental del Negocio de la Caña de Azúcar en Colombia: Responsabilidad Social Empresarial y Subsidios Implícitos en la Industria Cañera: Análisis en el Contexto del Conflicto Corteros-Empresarios. Bogotá: ARFO Editores e Impresores.
Rolston, Bill. 2011. "¡Hasta La Victoria!: Murals and Resistance in Santiago, Chile." Identities 18, no. 2: 113–37.
Rolston, Bill, and Sofi Ospina. 2017. "Picturing Peace: Murals and Memory in Colombia." Race and Class 58, no. 3: 23–45.
Solano Roa, Juanita. 2013. "La Asimilación Mexicana: Colombia en los años treinta: El caso de Ignacio Gómez Jaramillo." Historia y memoria 7: 79–111.