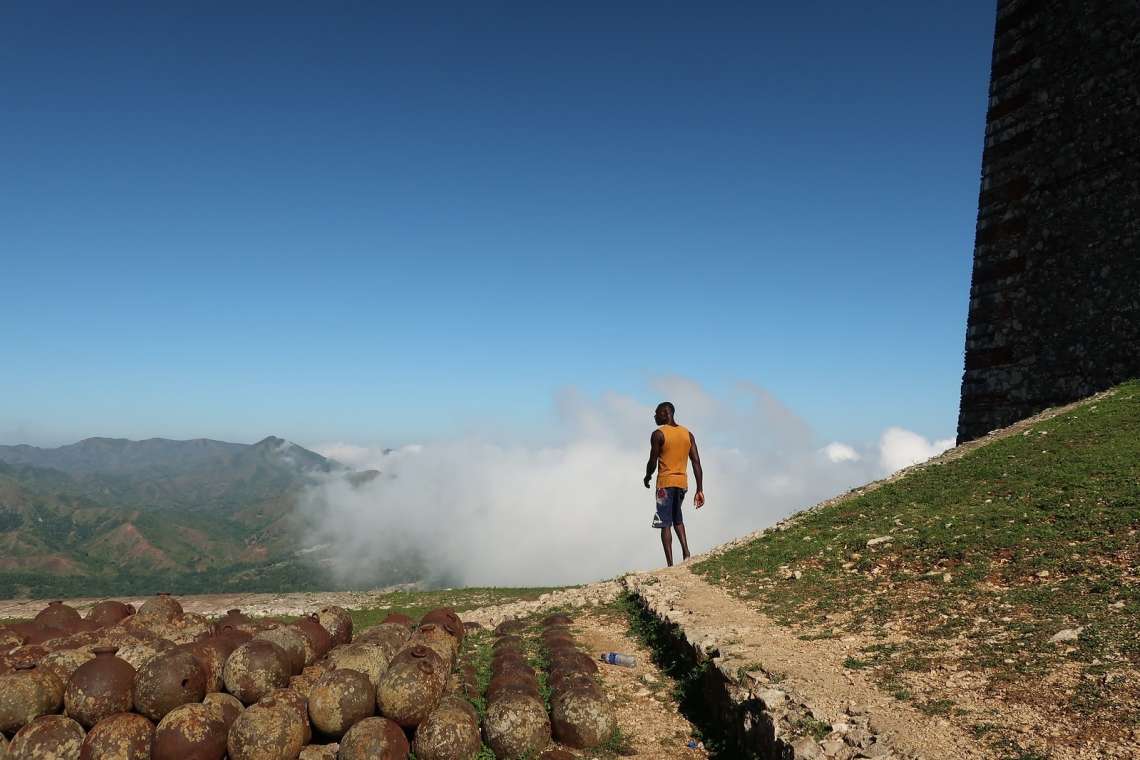 Nòt editè yo: Nou mande kèk zanmi kijan zafè ensekirite a ak kriz gaz la afekte lavi yo. Tèks sa sòti nan yon pakèt mesaj WhatsApp yon jèn fanm ki nan klas defavorize nan Pòtoprens te pataje ak nou. Nou itilize l ak pèmisyon moun ki ekri l. Pou pwoteje idantite l, nou te ba l yon fo non. Pou transmèt ijans ak vwa moun nan, nou kenbe menm ponktiyasyon an, jan li itilize lèt majisikil/miniskil yo ansanm ak fòm orijinal la ak tout egzaktitid posib.
Gwo zotobre yo souke tab la se malere ki peye po kase a.
Yon bann chirepit,twòp briganday
Yon sistèm politik retire kò'w ban'm mete pa'm lage moun ki pi pòv nan yon twoubiyon misère.
Viv an ayiti se tankou lavi'w sou kontè,se renouvele l'ap renouvele chak 24 è,si'w soti ou antre di Bondye mèsi paske gen ensekirite anraje.
Chomaj,mizè ak lavi chè se inimajinab
Bon,nan dènye tan sa yo n'ap fè ak yon kriz gaz se rezilta ensekirite a.
Lavi moun menase,tout ponp gaz fèmen,sikilasyon redui,anpil enstitisyon tankou: lekòl,labank ata lopital fèmen pòt pou ensekirite ak gaz yo pa ka jwenn pou yo fonksyone. Ata doktè yo kidnappe.
Semèn pase yo Jina yon kouzin mwen manke pédi lavi li avek yon eklanmsi piske nan tout lopital li pase yo fèmen poutèt gaz ak difikilte pou jwenn machin.
Galon gaz pase nan pri egzajere,yon galon ki te 201 htg pase a 2000 htg se tris pou mwen pou'm di Jina pèdi ni pitit la ni matris li ki te tanmen gate nan vant li,elas li pap janm ka anfante ankò.
isit an Ayiti chaje fontyè andan peyi a, fontyè matisan pou gran sid ki afekte tout moun nan zòn nan ki pa ka peye yon bien avyon swa pou ale oubyen pou antre pòtòprens,sa ki lakoz tout pwodui premye nesesite yo double dèfwa menm triple nan pri yo.
Fontyè kanaran pou ale nan gran nò.
Fontyè baz 400 marozo pou ale malpas
Si'w se yon fanm ki brav si'w se yon fanm ki pa pote kilòt pou bèl twal ou ta fè zòn sa yo fòk ou ta rele tout fanmi'w pou'w di ou pase.
Pa gen lespwa pou klas defavorize a,si bagay yo rete konsa wap rive yon lè kote 10 moun pral mete ansanm pou achete yon ti mamit diri paske boujwa ansanm ak politisyen sansi kap souse tout san ti pèp la.
Nou gen yon jenès debwate kap depafini anba yon lavi chè ansanm avèk yon chomaj kap mete yo toutouni chak jou sa lakoz 3/4 nan yo pati kite peyi yo ki ayiti.
Nou wè nan yo ki depòte aprè yo fin riske lavi yo nan pakouri konbyen milye kilomèt wout a pye hélas pou pèp ayisyen.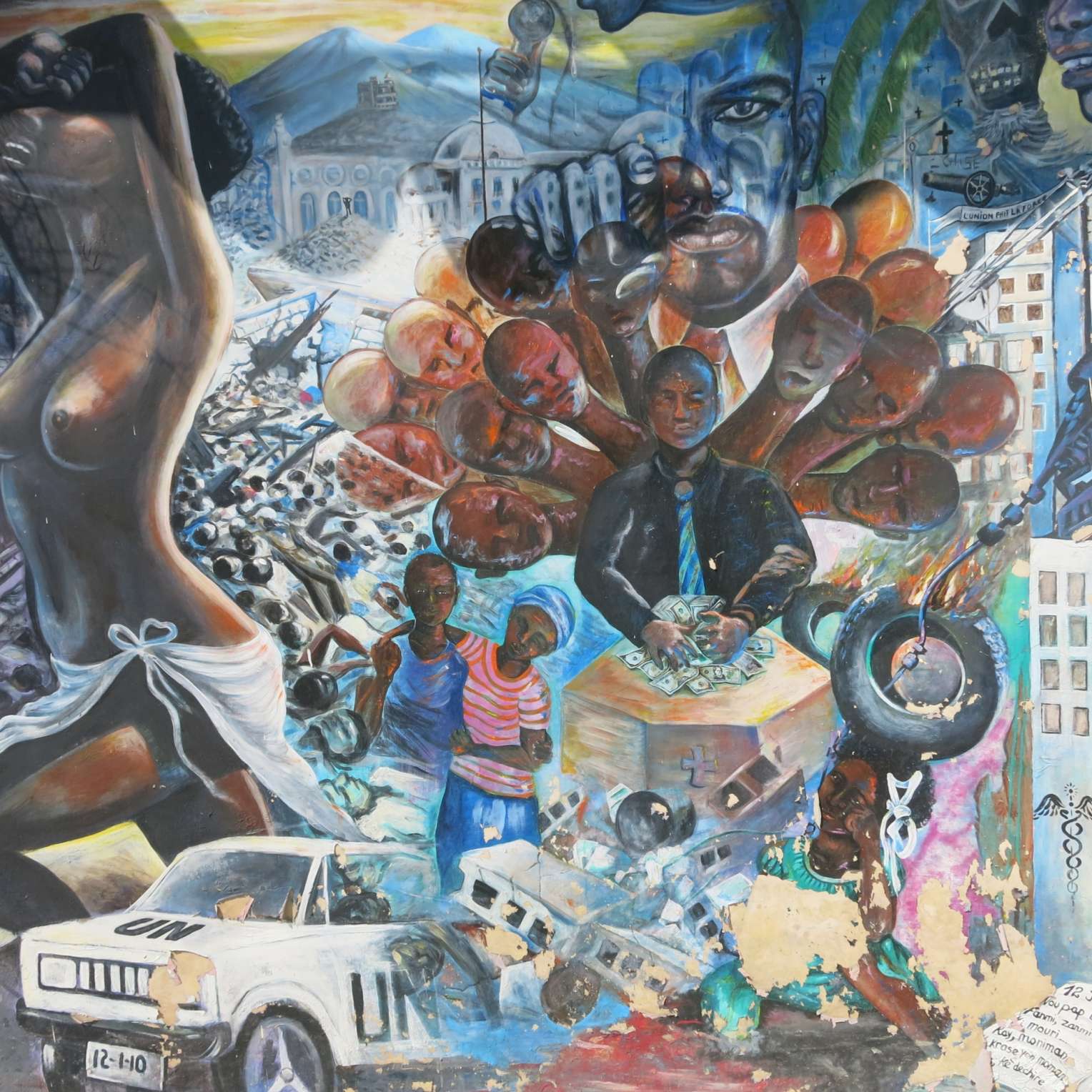 The Big Shots Shake the Table, But Poor People Have to Pay for the Broken Vase
By "Jésumène," Translated by Laura Wagner
Editors' note: We asked friends how broader issues like ensekirite and fuel shortages affected their everyday lives. The following text, used with permission, is drawn verbatim from a series of WhatsApp messages from a young working-class woman in Port-au-Prince. To protect her identity, we have given her a pseudonym. To convey something of the urgency and voice, we have preserved the punctuation, capitalization, and form of the original as faithfully as possible.
The big shots shake the table but poor people have to pay for the broken vase.
A bunch of disputes, too much lawlessness
A political system of move it, I'm taking over leaves the poorest people in a whirlwind of misery.
Living in haiti is like your life is on a meter,you have to renew it every 24 hours,if you go out and come home again thank God because ensekirite is out of control.
Unemployment,poverty and the rising cost of living are unimaginable
Well,most recently we've had a gas crisis as a result of ensekirite.
People's lives are threatened,all the gas stations are closed,traffic is down,many institutions like: schools,banks even hospitals have closed their doors because of ensekirite and because they can't get the gas they need to function. Doctors have even been kidnapped.
In recent weeks my cousin Jina almost lost her life to eclampsia because all the hospitals she went to were closed because of the gas crisis and it was difficult to find a car to take her.
A gallon of gas is exorbitant,a gallon that was 201 gourdes is more than 2000 gourdes sad to say Jina lost both her baby and her womb which had begun to rot inside her,alas she will never be able to have any more children.
here in Haiti there are so many borders in the country, the border between martissant and the grand-sud affects everyone who can't pay for an airplane to leave to come to port-au-prince,that's why all the most basic products have doubled or even tripled in price.
The border of canaan toward the grand-nord
The border of the 400 mawozo baz toward malpasse
If you're a brave woman if you're a strong sensible woman who doesn't fear anything [pa pote kilòt pou bèl twal] and you need to pass through those areas you should call your whole family to tell them you made it through.
There's no hope for the marginalized class,if things remain this way it'll get to a point where 10 people will have to come together to buy a single little mamit of rice because the bourgeoisie and the politicians are leeches sucking all the blood of the people [ti pèp la].
Our young people have lost their calling wasting away under the rising cost of living and unemployment that's stripping them bare that's why 3/4 of them are leaving their country Haiti.
We see some of them who are deported after risking their lives traversing a distance of however many thousands of kilometers on foot
alas for the haitian people.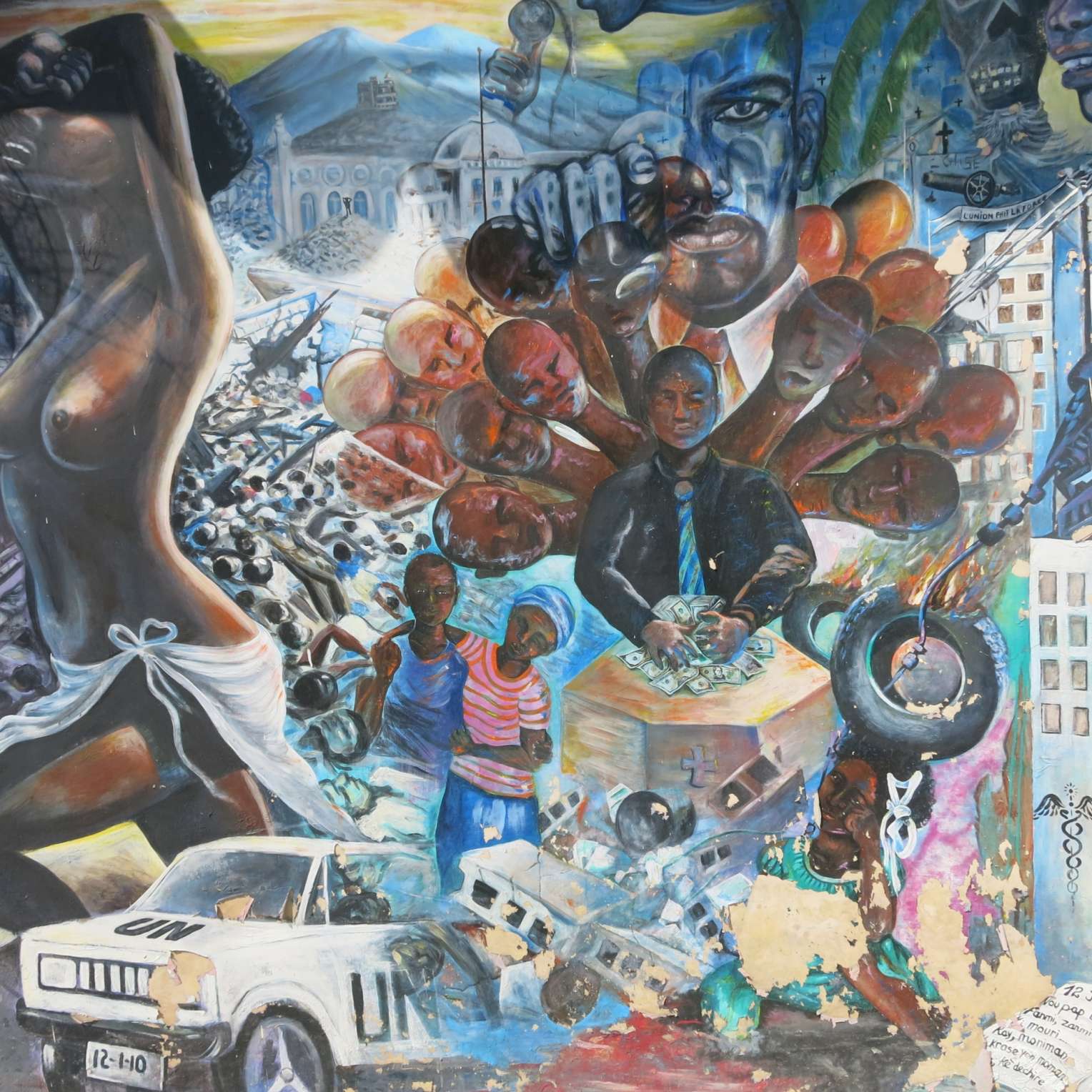 Les gros bonnets secouent la table mais ce sont les pauvres qui doivent payer les pots cassés
« Jésumène »; Traduit par Danielle Josyle
Note des éditeurs : Nous avons demandé à des amis comment des questions plus larges comme l'ensekirite et les pénuries de carburant affectent leur vie quotidienne. Le texte suivant, utilisé avec autorisation, est tiré textuellement d'une série de messages WhatsApp d'une jeune femme de la classe ouvrière de Port-au-Prince. Pour protéger son identité, nous lui avons donné un pseudonyme. Pour rendre compte de l'urgence et de la voix, nous avons conservé la ponctuation, l'utilisation des majuscules et minuscules et la forme de l'original aussi.
Les gros bonnets secouent la table mais ce sont les pauvres qui doivent payer les pots cassés.
Un tas de disputes,trop de brigandage
Un système politique du type ôte toi de là que je m'y mette laisse les plus pauvres dans un tourbillon de misère.
Vivre en Haïti c'est comme si votre vie est sur un compteur,vous devez la renouveler toutes les 24 heures,si vous sortez et rentrez à nouveau, remerciez Dieu car l'ensekirite est hors de contrôle. Le chômage,la pauvreté et l'augmentation du coût de la vie est inimaginable. Tout récemment, nous avons eu une crise pétrolière à cause de l'ensekirite.
La vie des gens est menacée,toutes les stations-services sont fermées,la circulation est en baisse,de nombreuses institutions comme des écoles, des banques et mêmes des hôpitaux ont fermé leurs portes à cause de l'ensekirite et parce qu'ils ne peuvent pas obtenir le gaz dont ils ont besoin pour fonctionner. Même des médecins ont été kidnappés.
Dans les semaines précédentes, ma cousine Jina a failli perdre la vie à cause d'une éclampsie, car tous les hôpitaux où elle s'est rendue étaient fermés à cause de la crise pétrolière et il était difficile de trouver une voiture pour l'emmener. Un gallon d'essence est exorbitant, un gallon qui coûtait 201 gourdes coûte plus de 2000 gourdes, malheureusement, Jina a perdu son bébé et son utérus qui avait commencé son bébé et son utérus qui avait commencé à pourrir en elle,hélas,elle ne pourra plus avoir d'enfants.
ici, en Haïti, il y a beaucoup de frontières à l'intérieur du pays, la frontière entre martissant et le grand-sud affecte tous ceux qui ne peuvent pas se permettre un billet d'avion pour aller à ou venir de port-au-prince,c'est pourquoi le prix de tous les produits les plus basiques a doublé ou même triplé.
La frontière de canaan pour aller au grand-nord.
La frontière des baz 400 mawozo pour se rendre à malpasse
Si tu es une femme courageuse si tu es une femme forte et sensée qui n'a peur de rien [pa pote kilòt pou bèl twal] et que tu dois passer par ces zones tu dois appeler toute ta famille pour leur dire que tu as pu passer.
Il n'y a pas d'espoir pour la classe marginalisée,si les choses restent ainsi,on arrivera à un point où 10 personnes devront se réunir pour acheter une marmite de riz parce que la bourgeoisie et les politiciens sont des sangsues qui sucent tout le sang du peuple (ti pèp la).
Nos jeunes ont perdu leur vocation en dépérissant sous le coût de la vie et le chômage qui les mettent à nu chaque jour, c'est pourquoi 3/4 d'entre eux quittent leur pays, Haïti.
Nous voyons certains d'entre eux qui sont déportés après avoir risqué leur vie en traversant une distance de plusieurs milliers de kilomètres à pied, hélas pour le peuple haïtien.