Radhika Govindrajan Awarded the 2019 Bateson Prize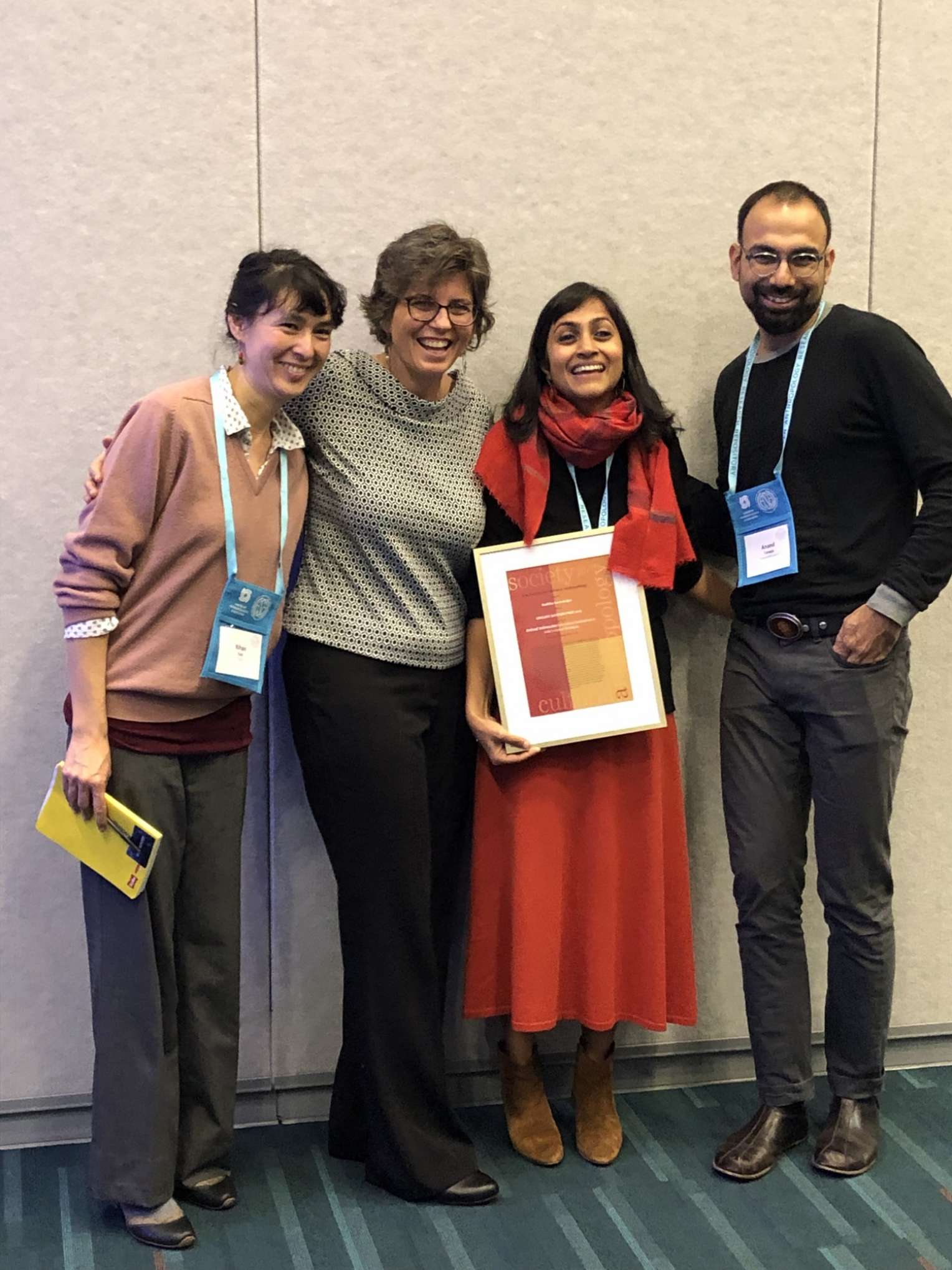 The Society for Cultural Anthropology (SCA) is proud to award the
eleventh annual Gregory Bateson Prize to Radhika Govindrajan for Animal Intimacies: Interspecies Relatedness in India's Central Himalayas (University of Chicago Press).
This sparklingly beautiful book is replete with the kind of insight, even wisdom, that emerges from an anthropologist's conscientious attention to the lives of interlocutors in the course of exceptional fieldwork. While Animal Intimacies returns to major objects of classic ethnographic inquiry, including sacrifice, kinship, and human-animal relations, it nonetheless remains fresh, innovative, and ethically grounded. Never imposing her powerful writing on the question of what it means to live and die with animals in the highland villages of India's Central Himalayas, Govindrajan attends to the particular details of her fieldsite and its community in ways that allow for the emergence of an argument about wellbeing and relatedness in everyday life. Sometimes this relatedness entails violence, and some of the most powerful parts of the book demonstrate with unflinching ethnographic depiction how violence is productive of certain kinds of relationships, even how violence may forge relatedness, situated as it is between incommensurable difference and intimate affinity. The exemplary ethnography based on finessed noticing commits to staying local as it revives significant questions about culture, community, and ethical regard for both human and non-human others. At the same time, Govindrajan judiciously situates her ethnographic insights amidst wider themes and contexts such as colonialism, nationalism, rural-urban tensions, gender, and migration. The book seamlessly balances storytelling and analysis, and with richly rendered interlocutors and interactions demonstrates the stakes of narrative, including the ethnographer's own.
The jury is also pleased to recognize Anand Vivek Taneja with an Honorable Mention for his book, Jinnealogy: Time, Islam, and Ecological Thought in the Medieval Ruins of Delhi (Stanford University Press), and Rihan Yeh with an Honorable Mention for her book, Passing: Two Publics in a Mexican Border City (University of Chicago Press).

Anand Vivek Taneja, Jinnealogy: Time, Islam, and Ecological Thought in the Medieval Ruins of Delhi, Stanford University Press.
Taneja's lovingly rendered ethnography of vernacular worship in the ruins of a medieval Delhi palace beautifully evokes place, history, and a heterodox and diverse community of devotees to the jinn saints. Without trumpeting a decolonizing agenda, Taneja masterfully teases out the profound insights of his largely Dalit and Muslim interlocutors, bringing them into a capacious conversation that includes medieval North Indian historic figures, Sufi poetry, the Vedas, as well as contemporary Western theorists. The result leaves the reader with a sharply critical perspective on the postcolonial predicament of contemporary India and a poignant sense of loss for the violently displaced medieval worldview that Taneja's interlocutors re-animate and sustain in new conditions. Blending history and ethnography, Taneja offers a critique of the "official theater of history," whether that of the state or of sectarian reimaginings of the past. Against the backdrop of partition and the current rise of nationalism, Jinnealogyshows us with poetic particularity the impossibility of imagining Hinduism without Islam. This hopeful ethnography of ancient ruins and their lively sociality suggests that our imaginations might be an essential political resource.
Rihan Yeh, Passing: Two Publics in a Mexican Border City, University of Chicago Press.

This timely ethnography focuses largely on Tijuana's middle class citizens, detailing their relationship to the border. Tracing relationships through an imaginative collection of things (business cards, the laser visa), discourse markers ("I", "we", "they say"), speech acts (the visa interview, hearsay, story, song), and sites (the assembly plant, the country club, the dinner table), Yeh helps us understand Tijuana's publicity, produced in part through its residents' multiple and often conflicting ways of engaging with the north, as they struggle for US recognition. This carefully researched book built on long-term relationships, deftly shifts scales and identifies convincing parallels in disparate everyday micro-interactions. Yeh thereby invites readers to see the border as a moveable space and passing through it as a preoccupation (positive and negative) that constitutes Tijuana's social world This is an ethnography about our historical moment that all anthropologists should read.
The Gregory Bateson Book Prize is awarded by the Society for Cultural Anthropology (SCA), the largest section of the American Anthropological Association. Named after distinguished anthropologist, semiotician, cyberneticist, and photographer Gregory Bateson, the award reflects the SCA's mandate to promote theoretically rich, ethnographically grounded research that engages the most current thinking across the arts and sciences. Welcoming a wide range of styles and argument, the Gregory Bateson Prize looks to single out work that is interdisciplinary, experimental, and innovative.
In selecting the winners for this year's prize, the jury, Zeynep Devrim Gürsel (Rutgers University, coordinator of Bateson Prize 2019), Deirdre de la Cruz (University of Michigan), Louise Meintjes (Duke University), and Maple Razsa (Colby College) considered over one hundred books from more than thirty presses.