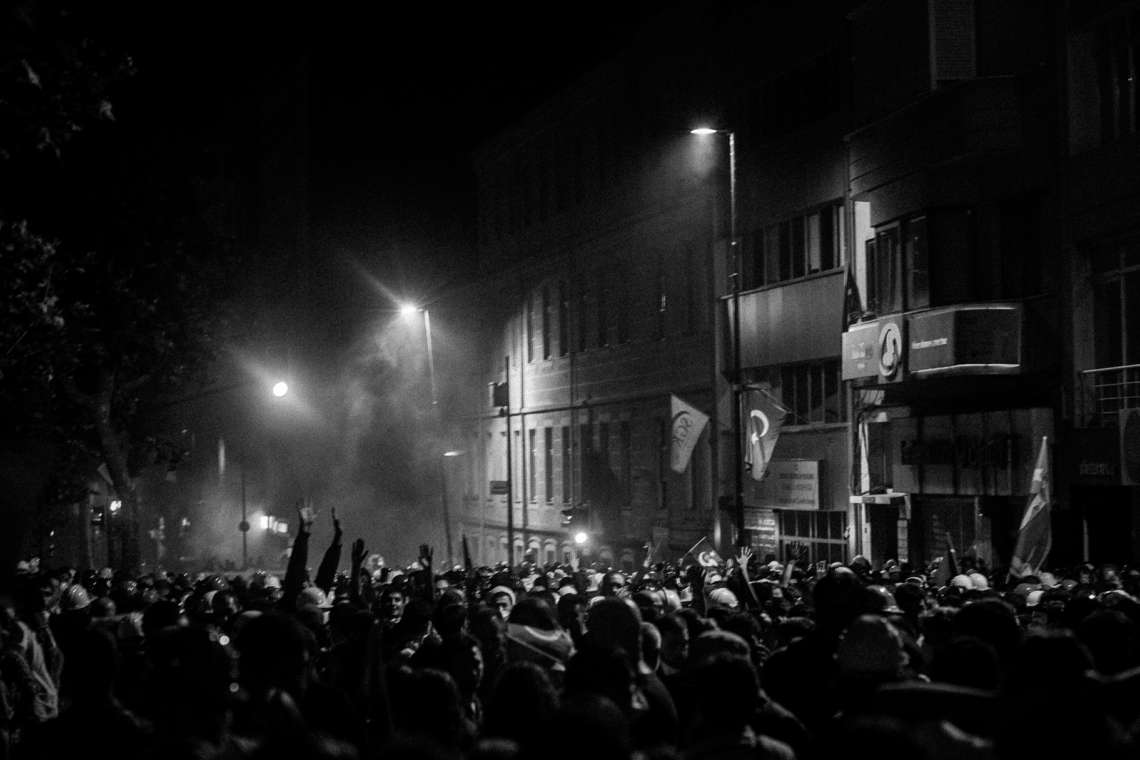 "Pardon me! But where do you mean by Kurdistan?" Deniz rhetorically asked Ali, who happened to drop the word Kurdistan in a conversation on the Gezi protests in Istanbul. We were at a public forum held to discuss the prospects of an emergent common ground of opposition in Turkey. Everyone was excited and hopeful about the unexpected gathering of millions from multifarious segments of society—soccer fans, feminists, LGBTQs, socialists, Kemalists, environmentalists, Kurds . . . —in the Gezi protests. The forum's atmosphere was cordial: no harsh debates, no confrontations whatsoever. Then Ali dropped "the word." A moment of surprise was followed by a tense debate on the whereabouts of Kurdistan. Does he mean "Eastern Turkey?" Why this insistence on the word Kurdistan though? On the way back home, Ali, quite frustrated with the conversation, said, "Here I cannot even say Kurdistan out loud. What common ground are we talking about?"
While the initial reaction of many Turkish Gezi protestors to the word Kurdistan was a troubled surprise, Kurdistan's initial reaction to Gezi was hesitancy. When the Gezi Park protests started on May 27, Turkey's Kurdistan was exceptionally peaceful: no clashes between the PKK (Kurdistan Workers' Party) and the army, no mass arrests of Kurdish activists, and many fewer police attacks against demonstrators. All this quiet was brought about by peace talks launched between Abdullah Öcalan, the imprisoned leader of the PKK, and the Turkish government in early 2013. It was an uneasy quiet, though. While prospects for an honorable peace where Kurds would be granted constitutional rights gave people hope, ongoing military station constructions and recruitment of new paramilitary forces in Kurdistan created distrust about the government's intentions.
Despite this well-grounded suspicion towards the government, "the spirit of Gezi," which mobilized millions against the government's policies and state violence, could not possess Kurdistan. Police brutality, arbitrary arrests, extra-legal killings, and media censorship—all that is new and eye opening to the majority of Gezi protestors—have long become facts of life in Turkey's Kurdistan. Yet the silence that pervaded Kurdish cities had less to do with the normalization of state violence or a pragmatic concern about securing the peace talks than a resentment: "Where were these protestors while Kurds have been brutally suppressed?"
The Gezi experience, however, recognized and reacted against state violence in Kurdistan. On June 28, in a protest of a military station construction in Lice, Diyarbekir, the Turkish gendarmerie fired at civilians, killed Medeni Yıldırım, and wounded nine others.1 On the same night, a protest march was organized in Kadıköy, Istanbul. It was the first time that non-Kurdish people alongside pro-Kurdish activists marched in mass in Istanbul, recognizing the suffering in Kurdistan.
Lice has emerged as a symbol through which the Gezi protests can connect the Turkish and Kurdish oppositions. In fact, back in the 1960s, the Turkish and Kurdish (leftist) oppositions had more exchanges, and discussed creating a unified revolutionary front. Yet, by the late 1970s, the Turkish left's reluctance to recognize the existence of a separate regime of exploitation, racism, and state violence in Kurdistan—which the Kurdish opposition preferred calling colonialism—distanced the Kurdish revolutionary agenda from the Turkish one.2 The Gezi protests showed that, today, a broader Turkish opposition is open to embracing Kurds: thousands marched with slogans, "Don't touch my brother!" in protest of the state violence in Lice, people holding Turkish flags danced with Kurdish songs, and Kurdish language classes were held at neighborhood forums in Istanbul.
But why are many Kurdish activists in Kurdistan still hesitant about the Gezi protests? Part of the answer lies in Kurdistan, both as a space of constant emergency rule and racism, and also as an idiom of Kurdish collective political agencies. Not only in pro-PKK circles, but also other Kurdish activists have crafted collective political agencies through the everyday experience of resistance against a specific regime of state violence in Kurdistan. The dominant reaction of hesitancy, or even resentment, to the Gezi protests can be explained through this history of the specific regime of state violence in Kurdistan and a resultant expectation for recognition of the Kurdish collective political agencies. Until this expectation is met, to many Kurdish activists, "a unified front for change in Turkey," may still sound like another neo-colonial way of subjugating Kurdistan.
Notes
1. This was not a single protest but a part of a protest series that the pro-Kurdish Peace and Democracy Party (BDP) members started to organize just before the Gezi protests began. The first protest took place in Çukurca, Hakkari, on May 25, 2013.
2. An early version of Kurdistan-as-colony thesis was formulated by a Turkish Marxist scholar, Hikmet Kıvılcımlı, in a report series presented to the Turkish Communist Party in 1933. This report was eventually published as a book in 1979. Although the Kurdistan-as-colony thesis did not initially ignite a wider scholarly and political debate, later in the 1970s, it was embraced by various pro-Kurdish leftist organizations in their political agenda and activism. For debates on the colony thesis, see Kıvılcımlı (1979) and Beşikçi (1990). For debates between the Turkish and the Kurdish left, see Güneş (2012).
References
Cengiz Güneş, The Kurdish National Movement in Turkey: From Protest to Resistance, London: Routledge, 2012.
Hikmet Kıvılcımlı, İhtiyat Kuvvet Milliyet (Şark), Istanbul: Yol Yayınları, 1979.
İsmail Beşikçi, Devletlararası Sömürge, Kürdistan; Bilim-Resmi İdeoloji, Devlet-Demokrasi, ve Kürt Sorunu, Istanbul: Alan Yayıncılık, 1990. Abridged English version, International Colony Kurdistan, London: Parvana Press, 2004).