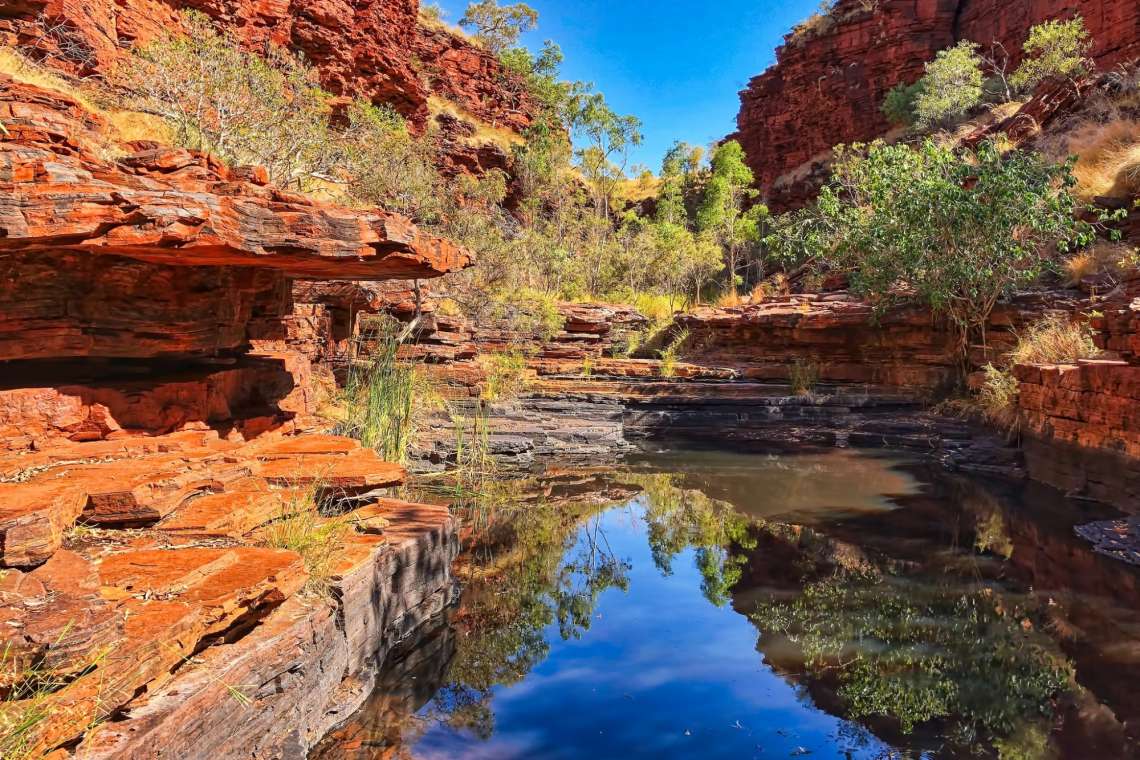 Change in the Pilbara is everywhere: it is witnessed in the construction of new roads, ports, and wastewater facilities; announced by government agencies who describe their plans to build desalination plants or to bore ancient aquifers; and speculated by new streams of global capital and investment funds, cross-sector partnerships and international collaborations. These changes are discussed and debated, feared and welcomed, but more importantly, they are framed as critical to supporting economic prosperity. The more obvious concerns of rapid growth in an environmentally fragile and geographically remote region include environmental impacts, inflation and economic inequalities, and community disruptions. The impacts of mining and gas development on Country, or in areas with significant heritage values, are less clear.
It is true that the Pilbara region has a history of industry that includes pearling and pastoralism, as well as salt and iron-ore mining. Long before industry sought the mineral wealth of the region's iconic red-earth landscapes, these same places were (and are) Country, "a place that gives and receives life" for Aboriginal people (Rose 1996, 7). Caring for Country includes obligations, laws, practices, and knowledge that ensures continuation and protects cultural identity. Reconciling industrial development with ongoing claims to land, resources, and rights has been an ongoing concern (Altman and Martin 2009; Sawyer and Gomez 2008; Scambary 2013). Although Country is often glossed as heritage, the terms are not synonymous. Nevertheless, the knowledge and practices of Country fall within the scope of heritage management. Aboriginal people manage sacred or cultural sites, conduct surveys, manage heritage places, record rock art, and engage in other activities related to land and mining agreements and native title (Taylor and Scambary 2005).
Heritage increasingly intersects with and is shaped by industry, particularly within Aboriginal country. In Australia the development of heritage sites is common, including proposed dredging related to a coal port in the Great Barrier Reef, uranium mining at the Ranger Mine (Kakadu National Park), and iron ore mining in Karijini National Park. The controversies over the establishment of the Marandoo mine in Karijini, amidst protests by traditional owners, brought these tensions into sharp relief. In that case, Hamersley Iron pushed for an exemption to the Aboriginal Heritage Act of 1972 and was the impetus for mining companies (Rio Tinto in particular) to adopt approaches that mitigate tensions and better represent the interests of Indigenous Australians (Scambary 2013; Veth 2015).
Heritage in the Pilbara is promoted by local, state, and national agencies. The Western Australian government, for example, celebrates the Pilbara region's coastline, Karijini National Park, and the Burrup Peninsula's rock-art galleries in order to foster economic and tourism development, and to promote the region to national and international audiences. The irony is that these same heritage sites are increasingly impacted, and in some cases destroyed, by mining and development. For example, industrial development was allowed on the Burrup Peninsula—an important and widely celebrated rock art site—despite a well-organized protest that garnered international attention and support. In that case, the state government entered into the Burrup Agreement with native title claimant groups, which extinguished native title and allowed for the creation an industrial estate (Edmunds 2013; McDonald 2015; Veth 2015).1 The designation of Murujuga as a national park in 2013 was celebrated in the media and throughout the region as evidence of working relations. After all, the park is a community-comanaged protected area. Nevertheless, 64 percent of the archipelago is now available for industrial development, and Woodside Petroleum constructed a massive onshore liquefied natural gas (LNG) processing plant. The Aboriginal rangers I spoke to in 2014 were concerned about noise, litter, and a recent incident of vandalism where someone etched over the rock art.
Resource development in Western Australia has, in many ways, empowered companies that draw on what Lindsay Weiss (2009) has called "corporate heritage discourse." In Western Australia, heritage is de rigueur for discussing relations and responsibilities and is part of the social license to conduct business. Aboriginal heritage is invoked in media and public relations, presented at visitor centers, discussed on mine tours, and promoted in glossy brochures. For example, Woodside's North West Shelf Visitor Center, which overlooks the LNG plant, uses Country as a touchstone to shape visitor experience. The design team incorporated the surrounding landscape of Murujuga to juxtapose the LNG plant with Country: looking out of windows etched with petroglyphs, visitors can now view the state-of the-art technology of the gas plant and the beauty of the landscape. These new heritage landscapes—once Aboriginal Country—are framed around awe in technology, progress, and ambition. In the process, contestations over place or ongoing negotiations are erased from the narrative, and concerns over industrial and environmental impacts are not discussed.
Recourse to heritage is not problematic in itself; the recognition of Aboriginal heritage has been critical to its protection. At the same time, there has been a marked shift in how corporations engage, define, and conceptualize heritage within their scope of work. Heritage is shaped and interpreted in ways that serve industry needs: history, controversies, and political contexts are scrubbed, making heritage a proxy for showcasing company values and commitments. In this way, resource sectors are reshaping the debate and heritage serves as a framing device that promotes specific values and points of view. A cynical view would see these engagements with heritage as terra nullius in a new guise. But something more is at work. Heritage—and by extension, Country—is being reframed as a resource. It is a resource that allows specific histories and stories to be told: stories that are largely celebratory and that circumvent discussions about the environmental or social costs of doing business. In the promotion of heritage, contested histories and contemporary issues are presented as resolved. The corporate heritage discourse transforms the relationship around heritage. It sets the agenda and leaves no space to contest or problematize.
Recent events have brought the intersections of heritage, policy, and industry into sharp relief. In June 2014, the Western Australian state government released a draft of the Aboriginal Heritage Amendment Bill of 2014, which seeks to amend the Aboriginal Heritage Act of 1972. Aboriginal groups and representative bodies, as well as heritage managers, immediately denounced the bill. Aboriginal Affairs Minister Peter Collier (2014) nonetheless declared that the amendments were critical for supporting industry and development, and that "modest changes [would] ensure that our Aboriginal heritage can continue to be protected in an efficient and effective way." It is true that there is a substantial backlog of sites awaiting assessment. It is also true that Aboriginal groups have sought changes, especially in providing a more culturally sensitive definition of significance (e.g., Kwaymullina, Kwaymullina, and Butterly 2015; Povinelli 2002; Smith 2004). But the proposed changes are anything but modest; they align with the needs of industry and the state, and they would erode Aboriginal rights and protections. Although the bill does increase penalties for offenses to destruction of Aboriginal heritage, this is not the same as protecting and representing Aboriginal interests.
Note
1. Mary Edmunds and Sharon Reynolds provide a concise and insightful overview of the negotiations in their presentation, "The Living Heritage of Murujuga (Burrup Peninsula) and the Dampier Archipelago."
References
Altman, Jon, and David Martin. 2009. Power, Culture, Economy: Indigenous Australians and Mining. Canberra: Australia National University E Press.
Collier, Peter. 2014. "Changes Coming to Forty-Year-Old Aboriginal Heritage Act." Media statement, November 27.
Edmunds, Mary. 2013. A Good Life: Human Rights and Encounters with Modernity. Canberra: Australia National University E Press.
Kwaymullina, Ambelin, Blaze Kwaymullina, and Lauren Butterly. 2015. "Opportunity Lost: Changes to Aboriginal Heritage Law in Western Australia." Indigenous Law Bulletin8, no. 16: 24–27.
McDonald, Jo. 2015. "Culture Clash: National Heritage Values, Native Title and the GDP." In "The Pilbara Crisis: Resource Frontiers in Western Australia," Hot Spots series edited by Melissa F. Baird and Jane Lydon, Cultural Anthropology website, December 16.
Povinelli, Elizabeth A. 2002. The Cunning of Recognition: Indigenous Alterities and the Making of Australian Multiculturalism. Durham, N.C.: Duke University Press.
Rose, Deborah Bird. 1996. Nourishing Terrains: Australian Aboriginal Views of Landscape and Wilderness. Canberra: Australian Heritage Commission.
Sawyer, Suzana, and Edmund Terence Gomez. 2008. "Transnational Governmentality and Resource Extraction: Indigenous Peoples, Multinational Corporations, Multilateral Institutions, and the State." Identities, Conflict and Cohesion Programme Paper no. 13, United Nations Research Institute for Social Development.
Scambary, Benedict. 2013. My Country, Mine Country: Indigenous People, Mining, and Development Contestation in Remote Australia. Canberra: Australia National University E Press.
Smith, Laurajane. 2004. Archaeological Theory and the Politics of Cultural Heritage. London: Routledge.
Taylor, John, and Benedict Scambary. 2005. Indigenous People and the Pilbara Mining Boom: ‪A Baseline for Regional Participation. Canberra: Australia National University E Press.
Veth, Peter. 2015. "Exile in the Kingdom: The Struggle for Cultural Heritage in the Pilbara." In "The Pilbara Crisis: Resource Frontiers in Western Australia," Hot Spots series edited by Melissa F. Baird and Jane Lydon, Cultural Anthropology website, December 16.
Weiss, Lindsay Moira. 2009. "Fictive Capital and Economies of Desire: A Case Study of Illegal Diamond Buying and Apartheid Landscapes in Nineteenth-Century Southern Africa." PhD dissertation, Columbia University.