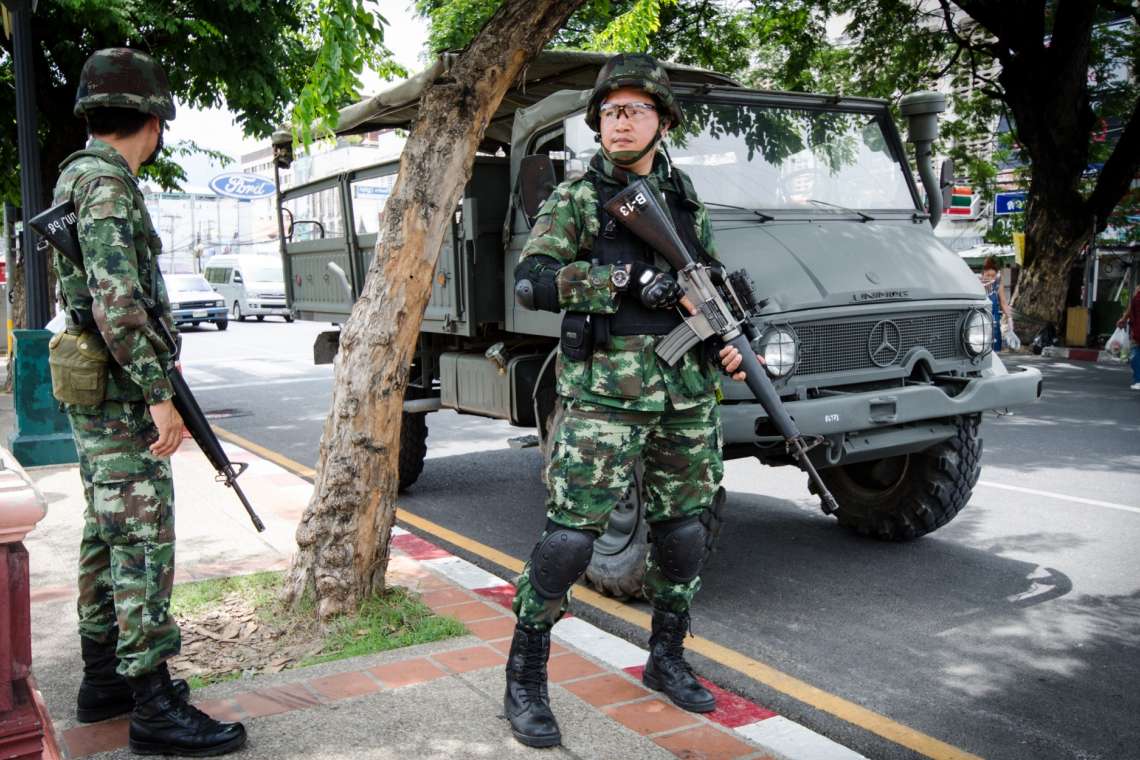 In the aftermath of the May 22, 2014 coup, the military junta embarked on eliminating the thorns in its side. These include politicians associated with the deposed Yingluck Shinawatra government, anti-coup political activists, and academics known to be critical of the coup makers. The junta asserted that the coup was necessary to end Thailand's political deadlock and would be a catalyst toward greater democratization. Despite these assertions, elections are clearly not the real agenda of the Thai military. The recently launched interim constitution revealed the military's ambition to entrench itself in politics ahead of an uncertain royal succession.
In doing so, the military is hard at work silencing its critics. One of their weapons has been the summoning of certain individuals for questioning about their supposed wrongdoings. This process, according to the junta, is to "adjust" these individuals' attitudes about politics. They say such adjustments should not last more than seven days. Those refusing to answer the summons face arrest warrants, two-year imprisonments, and/or fines of forty-thousand baht.
My name is on the list of those most wanted by the Thai junta. Since the coup, I have affirmed my standpoint: rejecting the legitimacy of the coup, I did not answer the summons. A warrant was subsequently issued for my arrest. I officially became a fugitive. Ultimately, the junta revoked my passport, forcing me to apply for refugee status in Japan. Unable to return home to visit my family, my constant fear remains that the junta could intimidate my family in Bangkok should I continue to criticize the military through my academic work.
I keep in contact with academic colleagues and some political activists in Thailand. Most of those summoned were released after three to seven days of detention. Their political positions and previous participation in political activities determined how they were treated in the Army camp. In low-profile cases, they would be interrogated by military officers, instructed not to further engage in any political movements, and forced to sign agreements confirming their well being under detention. Once freed, most of them have refrained from speaking out publicly to avoid being rearrested.
The interrogations were reportedly, at times, excruciating. One female detainee revealed to me privately that she underwent extreme psychological torture and was threatened with lèse-majesté charges that carry prison terms of up to fifteen years. She was ordered to her knees while being interrogated, had her head covered by a paper bag, and was stripped and locked in a tiny windowless room for days. Yet, when she was set free, the only thing she could report to the media was, "I was fine."
The junta's hunting game was not restricted to those names on the list. The Army sent its troops to the North and Northeast regions—the strongholds of former Prime Minister Thaksin Shinawatra and the power bases of the Red Shirts—to annihilate networks they deemed hostile. Red Shirt activists, anti-coup academics, and NGOs have been harassed, intimidated, and detained arbitrarily. Some have had their houses searched and belongings confiscated. Red Shirt villages have been forced to shut down; red flags on their houses have been burnt. Some village leaders have been interrogated, and others have been placed under detention without any information on their whereabouts or when they might be released.
Outside Thailand, anti-coup activists and critical academics, including myself, while having the luxury of being out of reach of the junta, are still subject to harassment and intimidation. In my case, pressure came in different forms and methods. The junta instructed the Thai Consul General in Osaka, close to Kyoto where I am based, to "discuss" my case with my director, hoping to bring discomfort to the center for employing me. The Consul General accused me of being biased and ignorant about the coup, thus calling into question my academic competency.
A day before I gave a lecture at a gathering in Brussels via Skype on the human rights crisis in Thailand, a representative of the Royal Thai Embassy in Belgium attempted to lobby the organizers to cancel the event. She accused me of working in favor of the elected government that was overthrown by the junta, and claimed that I often gave interviews to media networks close to Thaksin. In effect, she suggested that the coup was a necessary step to move Thailand forward.
Back in Bangkok, the National Council for Peace and Order (NCPO), the governing body of the junta, has worked closely with the Thai Foreign Ministry to hunt down their critics overseas. In my case, the junta moved to pressure the Japanese government to deport me. Reportedly, one high-ranking military officer even suggested abduction. The Foreign Ministry responded by holding talks with the Japanese Ambassador to Bangkok to discredit my professionalism and to seek cooperation in monitoring my movement in Japan.
In more severe cases, such as that of Chatwadee "Rose" Amornpat, a self-proclaimed Thai-born anti-monarchist based in England, more extreme measures were implemented. The Foreign Ministry demanded cooperation from its British counterpart to extradite Rose back home to serve a lengthy jail term for insulting King Bhumibol Adulyadej. But the British ambassador to Bangkok, Mark Kent, confirmed that Rose is a British national and would not be deported, despite the existence of an extradition treaty between the two countries, because there is no lèse-majesté law in the United Kingdom. When legal means proved futile, hyper-royalists in Britain took matters into their own hands by invading and vandalizing Rose's former property. This kind of "public pressure" is more akin to simple menacing.
The interim constitution reveals how the Thai junta has seemingly adopted Myanmar's model of preserving political power for the military. The future of Thailand is thus grim. The mechanisms put in place by the military will certainly obstruct the pace of democratization and worsen the human rights situation in the country. Academic freedom and much more is seriously under threat.