Animals and Anthropology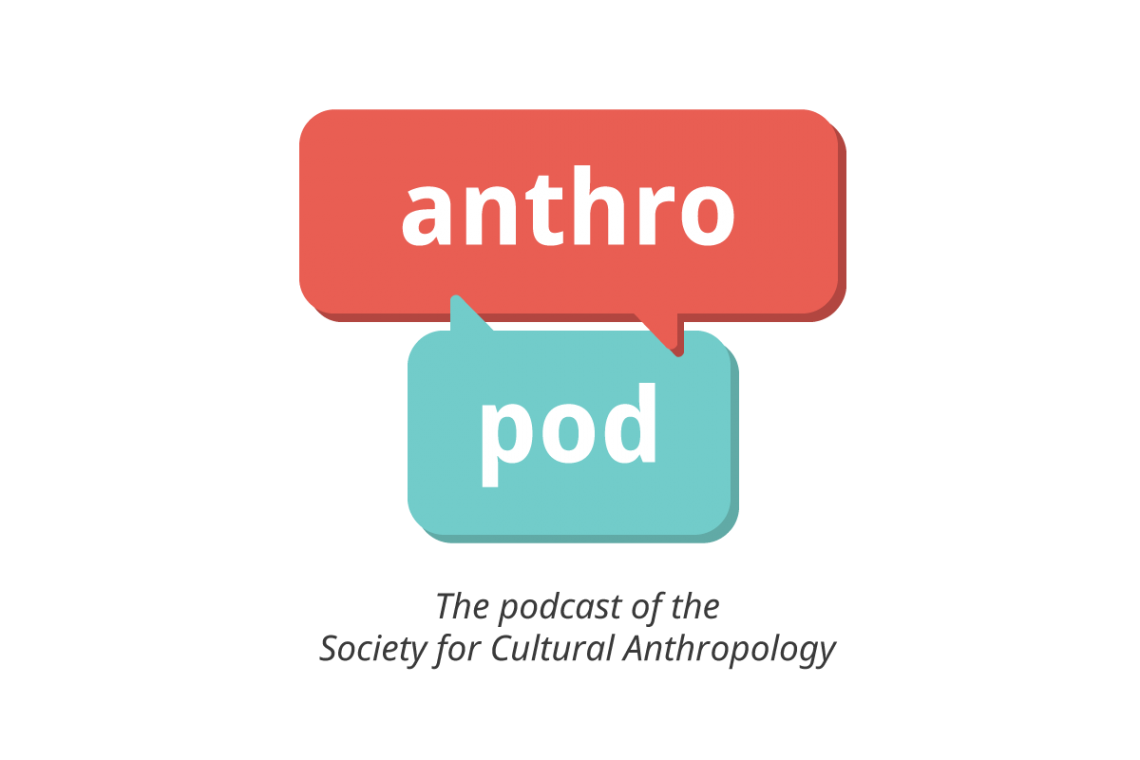 There has been a recent fluorescence of anthropological interest in human-animal relationships, animals in society, and animal politics in a conjuncture often called the "animal turn." Many find the turn of a humanist discipline to nonhuman subjects perplexing and even problematic. In this episode of AnthroPod, we bring you a conversation with Nikhil Anand, Philippe Descola, Radhika Govindrajan, Laura Ogden, and Paige West on the theory, method, and politics of studying nonhuman subjects from anthropological perspectives. For more on nonhuman subjects and anthropology, check out our previous episode "Anna Tsing on Landscapes and the Anthropocene."
Philippe Descola is Chair in the Anthropology of Nature at the Collège de France. His most recent book, Beyond Nature and Culture (University of Chicago Press, 2013; originally published in French in 2005) investigates the epistemological premises of anthropology and philosophy through ethnography, cognitive science, structural analysis, and phenomenology.
Radhika Govindrajan is Assistant Professor of Anthropology at the University of Washington. She is currently working on a book entitled Animal Intimacies: Interspecies Relations in India's Central Himalayas, which is forthcoming from the University of Chicago Press. The book asks what it means to live and die in relation to other animals, and situates this question in the realm of everyday intimacies—care, indifference, curiosity, kinship, violence, killing, and desire—between human and nonhuman animals. The book was awarded the 2017 American Institute of Indian Studies Edward C. Dimock Prize in the Indian Humanities.
Laura Ogden is Associate Professor at Dartmouth College and President of the Anthropology and Environment Society. Her book Swamplife (University of Minnesota Press, 2011) combines multispecies ethnography with political ecology to understand the shifting relations of alligators, hunters, and mangroves in the Florida Everglades. Her current research project explores the poetics of loss and wonder in the Fuegian archipelago.
Paige West is Claire Tow Professor of Anthropology at Barnard College and Columbia University. She has written about the intersections between indigenous epistemic practices and conservation science, the linkages between environmental conservation and international development, the material and symbolic ways in which the natural world is understood and produced, the aesthetics and poetics of human social relations with nature, and the creation of commodities and practices of consumption. Her most recent book is Dispossession and The Environment: Rhetoric and Inequality in Papua New Guinea (2016, Columbia University Press).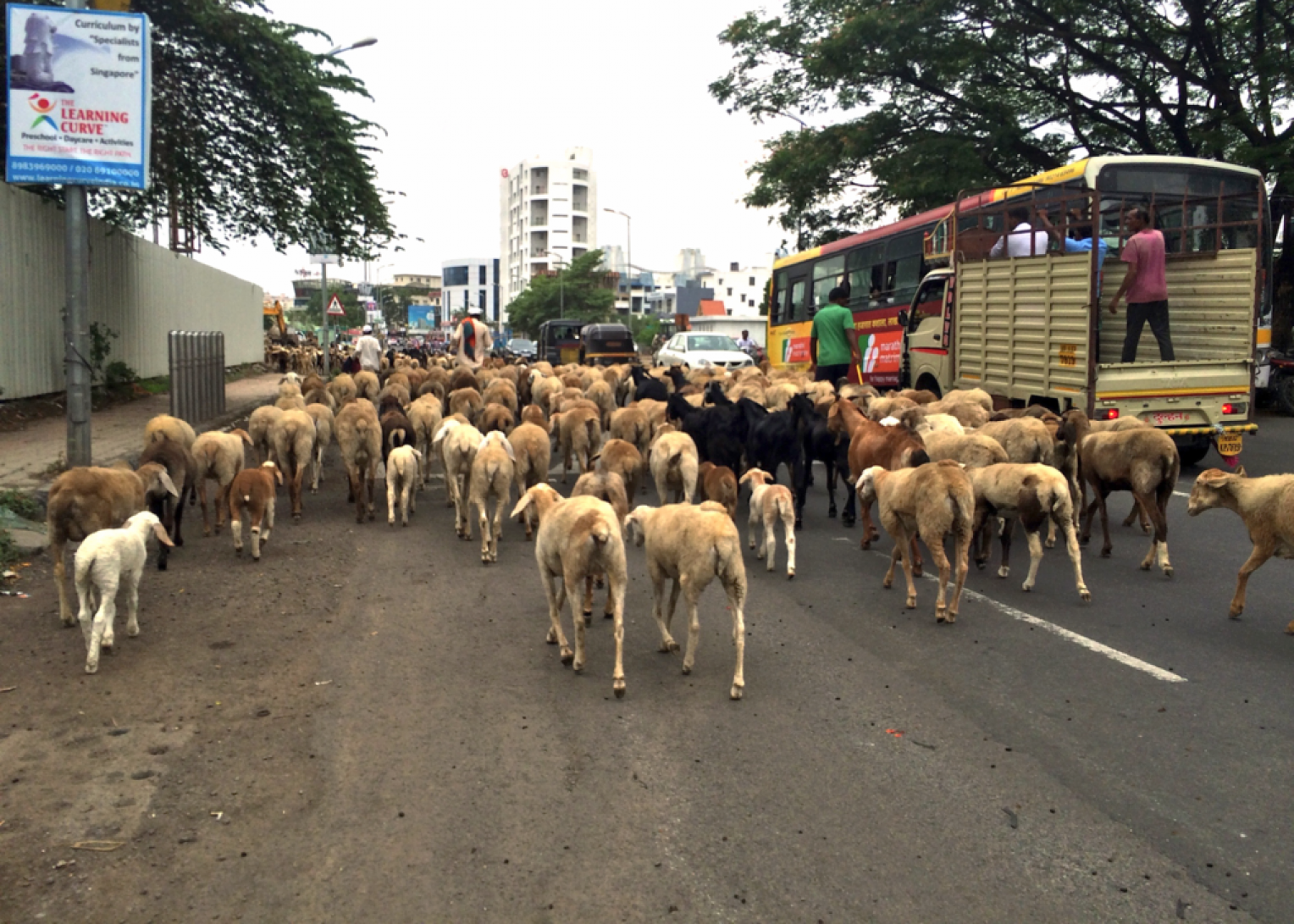 Guest Producer Interview

After the recorders were turned off, AnthroPod caught up with guest producer Laura Murray to learn more about her own research. This interview excerpt has been lightly edited for clarity and length.
AnthroPod: Could you tell us more about this photo and what it says about your research?
Laura Murray: This photo was taken in early June 2016, a couple days after I arrived in Pune for my second round of preliminary fieldwork. The city was on the cusp of monsoon, so Maharashtra's semi-nomadic herders (dhangars) were on the move. The migratory routes of this particular group cut through the heart of the city and, for a few short minutes, our paths converged: me, in search of lunch and them, homeward bound. I think the photo embodies a sense of movement, encounter, and connection that is telling of the kinds of human-animal relations in which I am interested.
AP: What inspired you to do this AnthroPod episode on animals and anthropology? How does it connect to your research?
LM: The inspiration for the podcast came from a conference on animals in anthropology that I helped organize with the Animal Studies Initiative at NYU during the fall of 2016. My idea was to synthesize and build on the conversation at that conference by interviewing presenters. Nonhuman animals are at the center of my research, so this episode reflects questions in which I am interested regarding how an anthropology of animals intersects with other subfields—such as critical race theory, postcolonial studies, and gender studies—and how anthropological theory and method, in general, might benefit from the questions raised by accounting for nonhuman beings and materialities.
AP: Where do you hope that you research takes you? Where do you think research on animals and anthropology might go in the future?
LM: At the moment, I hope it takes me all the way to the end of my doctoral studies! More honestly, if sentimentally, I hope it takes me into new spaces and relations, modes of being, and ways of seeing. And then: tenure (half kidding). I am not sure what I think, but I hope research on animals and anthropology leads to the discovery of new lacunae in the canon and enriched political philosophies of difference for more just futures.
Credits
Laura Murray produced this episode of AnthroPod, with special thanks to Luke Lalonde for music and sound engineering. Murray is a doctoral student in sociocultural anthropology, as well as the graduate certificate program in culture and media, at New York University. Her research explores the politics and ethics of socio-technological changes in India's dairy industry, and their impact on interspecies possibilities for health and livelihood. Laura is also a photo essayist, writer, and aspiring filmmaker. To learn more about her work, visit www.reverie.work.
AnthroPod features interviews with anthropologists about their work, current events, and their experiences in the field. To pitch your own episode ideas or to offer feedback, email us at [email protected].
You can find AnthroPod at SoundCloud, subscribe to it on iTunes, or use our RSS feed. If you have any thoughts on this episode or on AnthroPod more broadly, please leave us a comment to the right or get in touch via Facebook and Twitter.
Music: Sweeter Vermouth by Kevin MacLeod.