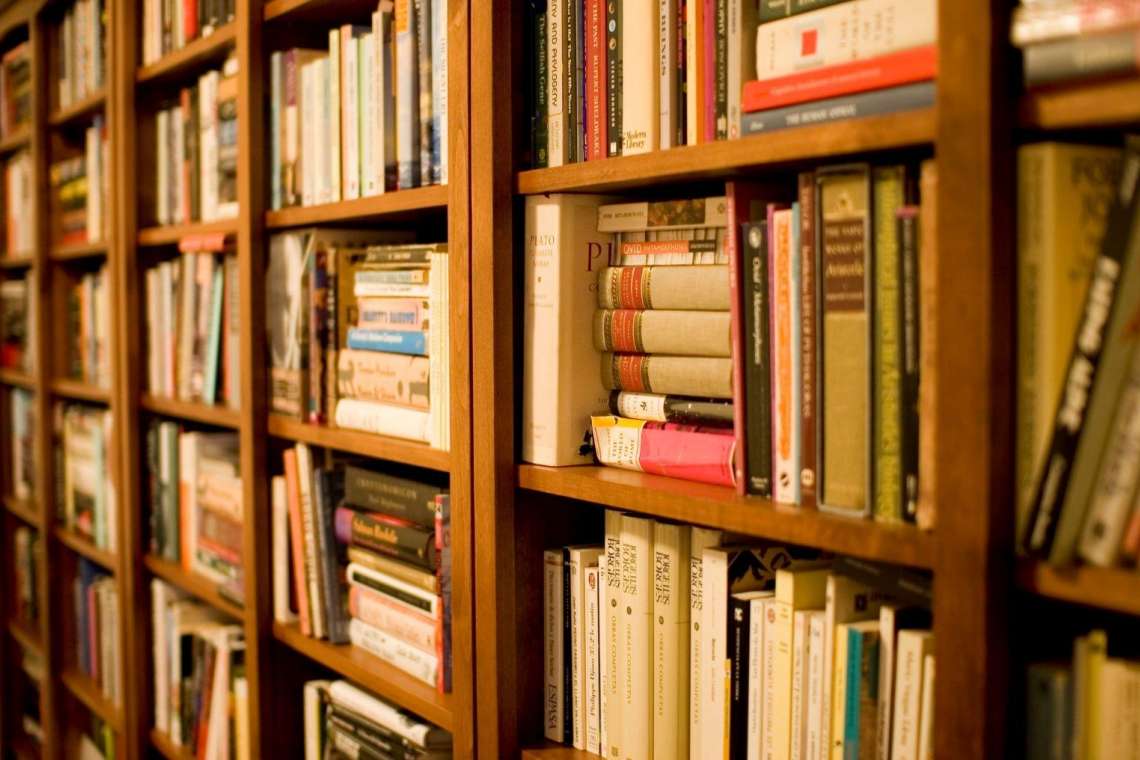 The aim of this post is to explore different tools that can be used to allow students to have interactive and collaborative reading experiences with texts assigned for class. As instructors, it is very difficult for us to understand if and how students are interacting with the texts we assign for our classes. As classes have been pushed online, it can be even harder to gauge whether students are understanding the readings as our discussions (either synchronous or asynchronous with the help of discussion boards) have been shifted and ways of interaction need to be re-learned through new technologies.
The following highlighted platforms emphasize active student engagement with assigned readings through annotations and highlighting. The tools give individual students the opportunity to make comments and highlight the text, but the nature of these platforms allows students to see what others in the class have taken note of in each reading and to start a small discussion of the passages with other students. Annotating directly on the text allows students to refer directly back to the passages that were interesting or confusing to them. Through using these collaborative and visible annotation platforms, students are creating their own analytical conversations about course readings outside of classroom time that aid in their comprehension and engagement with course content. Platforms discussed in this post are Perusall and Hypothes.is.
Platform 1: Perusall
Perusall is a free online reading software that automatically grades students on their collaborative annotations as they read a text. It was designed to solve several interrelated problems. The first is that most students do not read (Johnson 2019), and some never purchase class materials at all. Perusall solves this issue by making the readings available for free, and making them worth the student's time by assigning a point value.
The second issue is that, in trying to come up with ways to make sure students read, the instructor is typically doing more work than the students, such as designing and grading quizzes, collecting exit surveys, or other methods of monitoring reading. Perusall takes that burden off the instructor by automatically grading student work. Perusall also saves instructors time by providing a short summary of the keywords students wrote about the most, thus helping guide class time and discussion. Persuall's motto is "every student prepared for every class" and, in using it with four classes so far, Whitney has found they deliver on this claim. On more than one occasion, Whitney used the Perusall-provided summary to start class with a few comments about the student's discussions, and then said nothing further as students began prompting each other and talking through the readings themselves. Rather than preparing for what to do if students had nothing to say, her task became how to control for the fact that the in-person discussion was limited to class time.
There are other good reasons to use Perusall. One is that, with students facing the isolating effects of remote learning, the collaborative nature of their readings helps students feel less alone. However, beyond this, the main reason Whitney has stuck with Perusall has to do with its effects on equity and inclusion; annotation is a basic skill for academic researchers. Whitney notes that by the time individuals finish their PhDs, many have developed multiple types of annotation techniques. They can annotate a text to review it, critique it, process and retain its argument, revise it, and appraise it. Many students arrive at university with no reading strategy and no approach to annotating. She says "many" because students who come from high-performing high schools with AP and/or IB classes typically arrive with an annotation strategy because it is part of their curriculum. Annotation is also, ostensibly, one of the skills on the Common Core, though we know those skills are, of course, being taught unevenly across state school systems. Annotating, despite being central to all academic work, is an academic skill that only some students are taught and many may never learn. Perusall interrupts that.
At first, Whitney's under-prepared students seem to struggle and express resistance at the idea of annotating texts. She shows some annotation videos and examples in class and, after the first few assignments, anonymizes good Perusall comments and shares them as further examples. Ultimately, students seem to catch up because of their engagement with each other. Strong annotators ask questions that engage weaker annotators because it helps raise their own score. Weaker annotators see this and learn how to ask similar questions. Perusall gives them scores in real time or after the assignment closes (a feature at the discretion of the instructor), which helps students understand their own progress. By the end of the class, the disparity between what a student from an over-resourced high school gets out of a reading at the university level, and what a student from an under-resourced school gets from the same, seems to have narrowed dramatically. If this is important to us as anthropology instructors, we should consider Perusall for all of our classes, whether remote or in person.
Platform 2: Hypothes.is
Hypothes.is is a free, open-source software allowing individuals and groups to annotate webpages, PDFs, and EPUBs via a web-browser plug-in. It has integration with many learning management systems (LMS), including Canvas, d2l, Moodle, and Blackboard, but if your institution doesn't have a subscription, it is free for individual use. Similar to Perusall, it allows students and instructors to collaborate on writing on and about different documents. You and your students will need to create accounts on the hypothes.is site—and as the instructor you'll also need to designate a "group" and invite students by sharing the group link with them (auto-generated by Hypothes.is). This way, your annotations can be visible to the entire class, but not to the rest of the internet-using public. The invite link also serves as the groups "homepage" on Hypothes.is, so you can include a standing link to it from your LMS's homepage.
Once you and your students have the browser plug-in installed, and the group set up, all that's needed is for you to navigate to the text you wish to annotate and open the browser plug-in. As an example, the image below shows a PDF from one of Mary-Caitlyn's classes, opened via web browser. By opening the hypothes.is plug-in on the upper-right-hand corner (circled in red), you activate the ability to select what group you want these annotations to be visible to (circled in blue), add annotations and highlights to specific parts of the text, and then edit, delete, and reply to these annotations (circled in green). As the instructor, you may wish to establish guidelines with students about what kinds of comments/annotations they should write, how to write thoughtful annotations, and deadlines for annotations/replies. You can also have students annotate web pages (consider: news articles, pieces from Sapiens, resources on the AAA website, etc.)—so long as the annotations are made to your class group, you'll see all of your students' contributions in one place.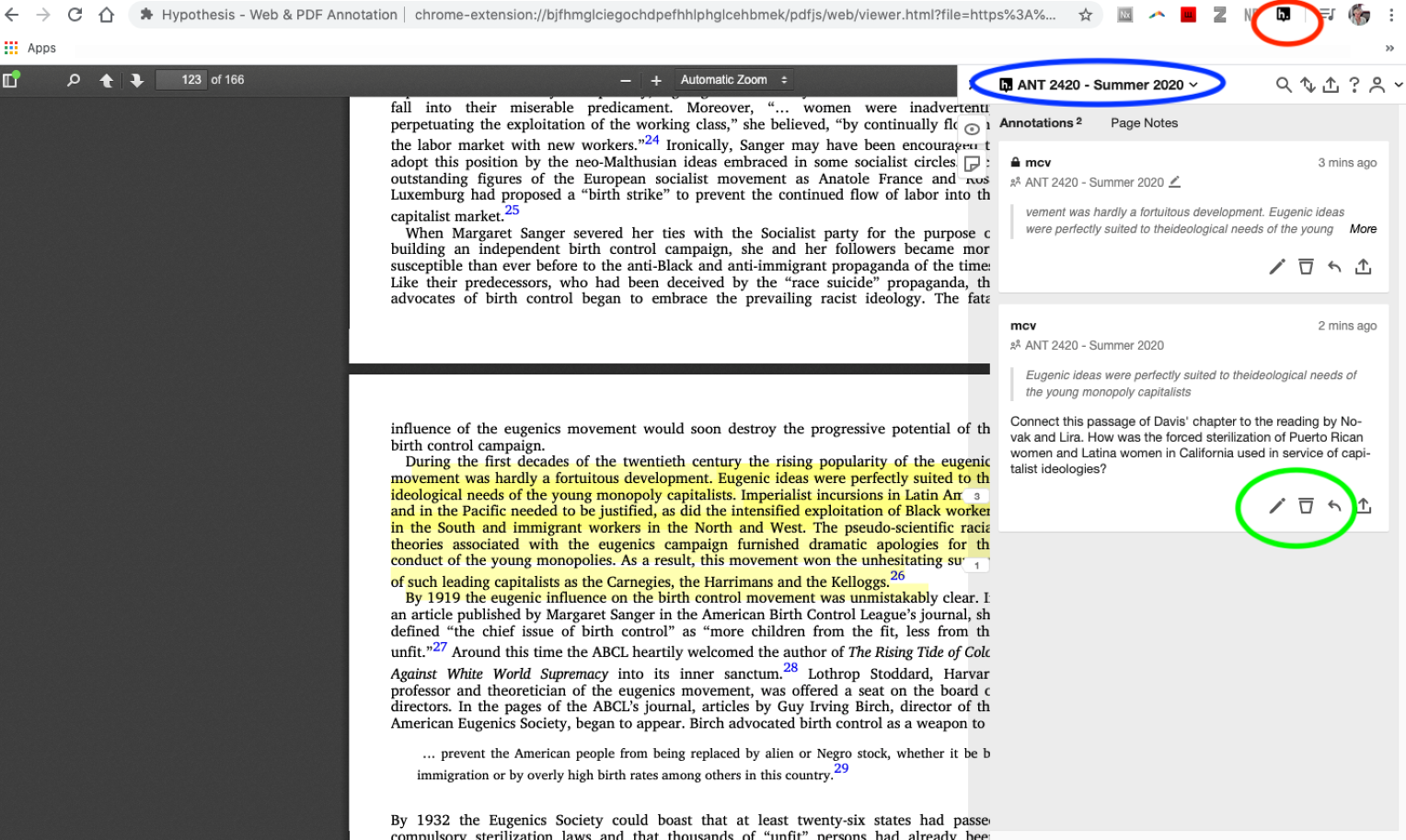 Mary-Caitlyn also wants to point to a great instructional idea from a 2015 blog post by Hypothes.is team member Jeremy Dean concerning the use of the private group function. By using the private group function—which you'd be applying anyway to use Hypothes.is in your online class—you're providing students a space to separately practice different styles or frames of analysis. For instance, you might assign a set of texts that you want students to read through functionalist, Marxist, and postmodern frameworks. With Hypothes.is, you can create a group for each of these frameworks, populate each group with the same set of texts, and instruct students to use the concepts and tools from each of these frameworks to annotate the set of texts. Include the link to each separate Hypothes.is group on your course homepage for accessibility and clarity.
Comparison of Platforms
Despite several similarities, Hypothes.is and Perusall have a few key differences worth noting. First, Hypothes.is does not have the automatic grading feature that Perusall does—this might make Perusall a better option for instructors who have less time to grade greater numbers of students. (For institutions that use Canvas as their LMS, Hypothes.is can be used with the SpeedGrader app, which might make this difference moot.) While Perusall seems to allow images and videos in its annotations, the "texts'' that users can annotate are limited to PDFs. Hypothes.is, as a browser extension, allows students to annotate PDFs, webpages, and other media—but the annotations themselves must be solely text-based. The right platform for your class will therefore depend on what kinds of documents your students are reading, whether you want your students' annotations to include more than just text, and which platform best conforms to your grading process.