Anthropology and Undergraduate Desire: An #AmAnth17 Panel Review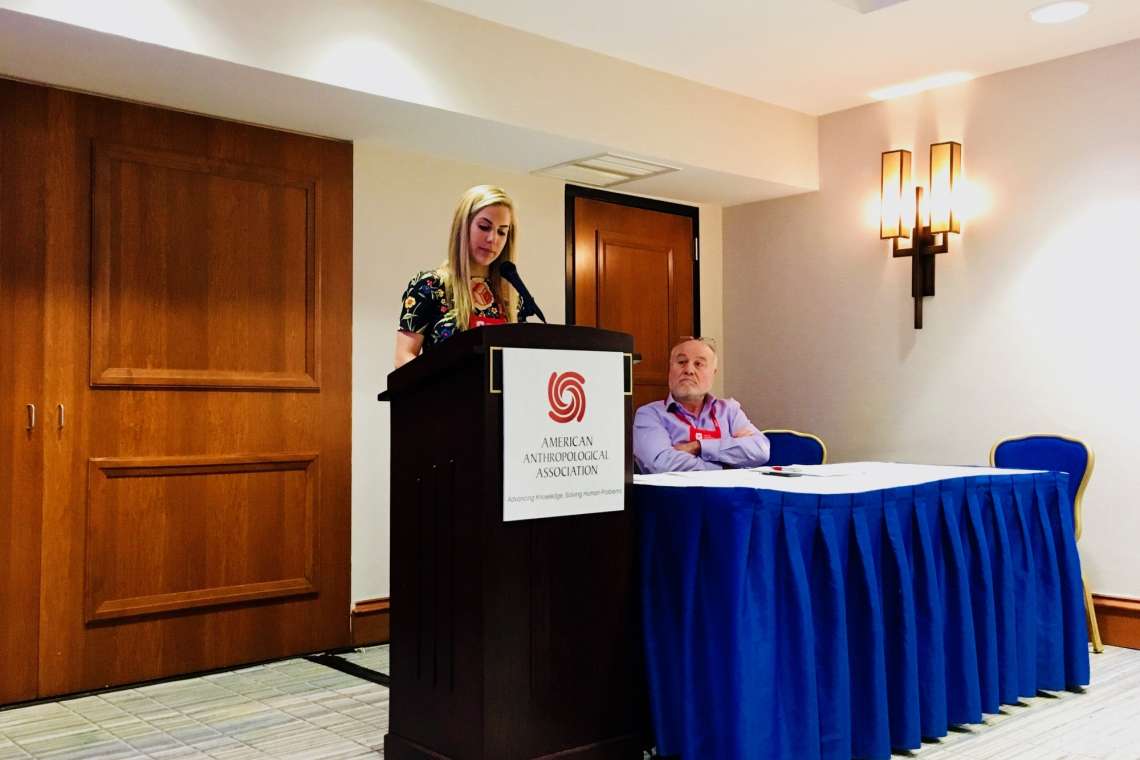 Anthropology and Undergraduate Desire
Panelists: Richard Handler (University of Virginia), Lee Baker (Duke University), Charlie Piot (Duke University), Alexandra Middleton (Princeton University), Ramah McKay (University of Pennsylvania), Carolyn Rouse (Princeton University)
Discussant: Kim Fortun (University of California, Irvine)

As anthropologists, we take pride in our discipline and view an undergraduate program of study not in terms of "what can you do with an anthropology degree?" but rather "what can you not do with it?" Yet in a time of shrinking enrollments and what some argue is the illegibility of anthropology to a generation of students drawn to global health and policy studies, what would a dramatic rethinking of the curriculum and disciplinary pedagogies look like? This well-attended and exciting panel of anthropology educators and scholars explored two options, in particular: 1) curricular interventions that would rebrand anthropology as global/international studies, and 2) abroad experiences that engage students' interest in research, writing, and service learning. How, the question was framed, do we make anthropology matter at a time when its name is less recognizable but its approach—its theories and methodologies—retains critical relevance for today's students?
The first speaker, Richard Handler, Professor of Anthropology and Director of the Global Development Studies Program at the University of Virginia, began with the question of the effectiveness of anthropological critique in our classrooms. He shared his experiences from anthropologically oriented Global Development Studies program, which attracts politically centrist or mildly left-leaning students, mostly from privileged backgrounds, who want to (in their words) "do service," often by finding what they see as "innovative solutions" to the world's ills. Yet the curriculum they encounter develops a critique of student service and of the idea of apolitical solutions to social problems that stem from global structures of wealth and power. Handler argued that it is not difficult for most of these students to understand such a critique, and noted that many are persuaded by it, intellectually. Yet it difficult for students on the verge of leaving school to imagine themselves working outside the university in spaces of political action and resistance. It is difficult for them, ultimately, to move beyond the kind of understanding that bespeaks an elite education to a politics of struggle alien to the habitus of privilege that has shaped most of them (and, Handler pointed out, many of us) as subjects.
Lee Baker recalled that, several years ago, the dean of the college of arts and sciences at Duke University had insisted that every program publish learning outcomes for undergraduate majors and elaborate an approach to assess those outcomes. The director of undergraduate studies for the International Comparative Studies Program asked Baker, then the director of undergraduate studies for the Department of Cultural Anthropology: "What are your learning outcomes? Because ours are pretty much like yours, so maybe we could collaborate on this exercise." This remark made Baker wonder why, if the two programs were so similar, they were housed in different organizational units. Baker's presentation offered an overview of the challenges and opportunities that arose as Duke explored the possibility of integrating two undergraduate majors into one department: the first, an interdisciplinary major focused on the complex processes of globalization and transnationalism, and the second, a disciplinary major addressing many similar issues. How, Baker reflected, might jointly administering the programs offer students a broader educational experience? Yet he acknowledged that such a shift would involve navigating and negotiating the politics of autonomy as well as concerns about providing labor for a neoliberal university.
Charles Piot, a colleague of Baker's at Duke, picked up the narrative by observing that the International Comparative Studies Program currently has five times as many majors as the Department of Cultural Anthropology. While there is significant overlap in course content and even in the training of faculty members, many students at Duke choose to major in international comparative studies rather than anthropology because they see its name as more legible and because it better orients them toward careers in international relations and global finance. Yet anthropologists have found that something as simple as naming courses strategically can boost enrollment, as Piot found with his course on "Anthropology of Money." The course was able to bridge the gap between anthropology and the economics courses that were often full. Piot argued that the aim of courses like these is not necessarily to recruit more students to anthropology, but to increase interest and awareness in what the discipline has to offer.
Next, Alexandra Middleton, now a graduate student in anthropology at Princeton, drew on her experience as an undergraduate student of Piot's working on a project in Togo. Middleton reflected on what draws an undergraduate to pursue a graduate degree in anthropology in the twenty-first century. She recalled that two factors had cultivated her interest: fieldwork and publishing. The fieldwork she conducted during her undergraduate studies resulted in the publication of a book entitled Doing Development in West Africa: A Reader by and for Undergraduates (Piot 2016). Texts written by undergraduates for undergraduates does not only increase engagement on the part of early-career anthropologists but make the field more accessible and reader-friendly to both anthropology majors and undergraduates from other disciplines.
Ramah McKay foregrounded questions such as: How are critique and engagement situated in pedagogical practice? How do anthropologists balance pedagogies of intervention and desire with critical perspectives on development, humanitarianism, and global health? She pointed out that global health and development initiatives are themselves structured by transnational power formations and, as a result, work not only to alleviate suffering but also to depoliticize postcolonial inequities in the distribution of health, wealth, and well-being. Often, she observed, anthropology students who start out in career fields like global health end up being attracted to more lucrative fields like health-care marketing. McKay posited that although this can be frustrating, it could also lead to causative change. In seeking to make anthropological research legible to health studies, critical development studies, and related fields, this body of work could also pose new challenges as it circulates into the very fields it describes.
Carolyn Rouse discussed the importance of active learning in anthropology by poignantly reflecting on the significance of applied anthropology. She argued that for anthropology to truly be applied, anthropologists must reach out to other fields or to governing bodies to enact change. She offered snapshots of her own work with governing bodies at the intersection of anthropology and development, which led to the establishment of a high school in Ghana. Rouse argued that the practice of development and anthropological methods are similar in many respects, and that these similarities can be understood by recourse to theories of pragmatism and design thinking. She invited fellow anthropologists along to help with the school and truly see how the theoretical didactic learning met the real-world manifestations of solutions to problems.
The panel's discussant, Kim Fortun, drew the various strands of the discussion together in terms of the necessity to adapt our pedagogy to the needs of our students—even to the point of discuss the name of the discipline under whose sign we write and teach. She heralded the opportunity for students to help shape of the discipline through undergraduate publications, in which students can not only translate their experiences from the theoretical to the practical but also better understand what their place in the world of academia is. Fortun noted that all the presenters embody the idea that classroom learning is only a portion of what is necessary to be a successful anthropologist, and that with real-world exposure to fieldwork and the publication process we might be able to encourage students to integrate the theoretical and practical sides of anthropology—seeing them as complementary, rather than existing in isolation.
During the Q&A, audience members pointed out that while certain universities might be able to provide scholarships and study-abroad opportunities to conduct fieldwork, for some students studying anthropology remains an expensive major. Yet it is worth remembering that anthropology does not need to be done outside of the United States; the familiar can be made strange by doing fieldwork in our own college towns. Moreover, I would suggest that if more K-12 students were introduced to anthropology before entering university, some would enroll already dedicated to and familiar with the discipline. Rather than changing the discipline's name, what if we worked to expand anthropology's presence in our schools and, by extension, in mainstream society?