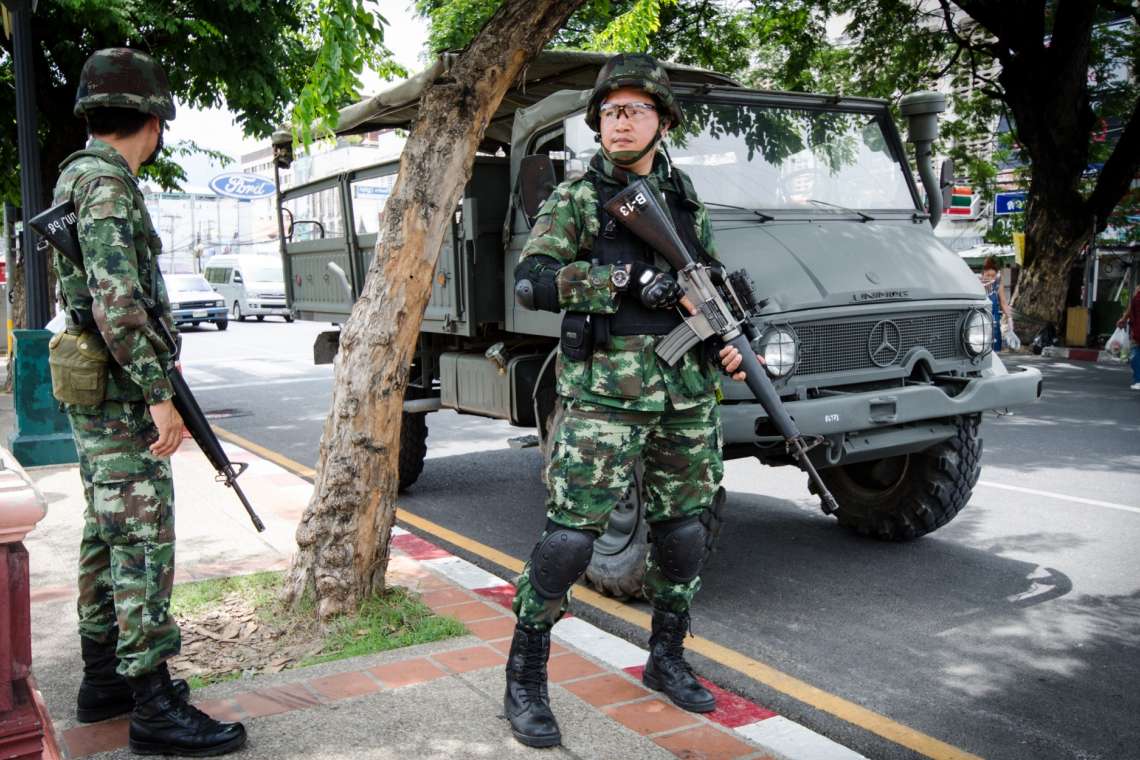 . . . whenever the Prime Minister deems it appropriate for the purpose of impressing or suppressing actions, whether of internal or external origin, which jeopardize the national security or the Throne or subvert or threaten law and order, the Prime Minister, by resolution of the Council of Ministers, is empowered to issue orders to take steps accordingly. Such orders or steps shall be considered legal.

—Article 17, Interim Constitution of the Kingdom of Thailand, 2502 B.E. [1952 C.E.]1
Article 17 was put in place during the dictatorship of Field Marshal Sarit Thanarat (1958–1963), used extensively during the regime of Field Marshal Thanom Kittikachorn (1963–1973), and finally repealed following a transition to a more democratic government under Prime Minister Sanya Thammasak after the student and peoples' movement of October 14, 1973. Under Sarit, Article 17 was used eleven times to authorize executions. Under Thanom, it was used sixty-five times to authorize executions and 113 times to authorize detentions (Premchai 2517 [1974], 21). A similar order providing executive power has been present in several constitutions under military dictatorships, including Article 21 of the 1976 charter and Article 27 of the 1977 and 1991 charters. The three most recent of Thailand's eighteen constitutions since the end of the absolute monarchy—1997, 2006, and 2007—have not contained such a measure.
The return to dictatorship was heralded by a violent, at-times vigilante, movement masquerading as civil disobedience that began in November 2013. Suthep Thaugsuban, a Democrat Party politician indicted for the murder of Red Shirt protesters in 2010, abandoned his parliamentary seat in order to the lead the People's Democratic Reform Committee (PDRC). The PDRC sought to oust the government of Prime Minister Yingluck Shinawatra, and between November 2013 and April 2014, they successfully forced the dissolution of Parliament, ensured the failure of elections, and supported dubious judicial machinations. Addressing his followers during a rally on April 5, Suthep commented that if the caretaker prime minister Yingluck Shinawatra was removed from office by a judicial coup in the coming weeks, "We will have something like Article 17 [of 1959 Administrative Charter] as the highest law. . . . [I] will be able to order anyone to be executed by firing squad, but I will only freeze assets" (see Khaosod English 2014). Yet in the same speech, Suthep insisted that if Yingluck was ousted, sovereign power would return to the people.
Shortly after the genesis of the PDRC five months prior to this speech, historian Nidhi Eoseewong (2013) warned that the movement was totalitarian. The movement aimed to reduce its members to Arendtian atoms, at once malleable, fragile, and motivated by fear and desolation. The devotion characteristic of totalitarian movements sustained the contradiction contained within Suthep's statements: sovereign power belonged to the people, but Suthep himself would have absolute, executive power. This contradiction echoes the way in which the people and the king are positioned vis-à-vis one another and sovereignty in Article 3 of both the 2007 Constitution and the 2014 interim Constitution, which begins: "The sovereign power belongs to the Thai people. The King as Head of State shall exercise such power . . ."2
Less than two months later, a military—not judicial—coup was fomented by General Prayuth Chan-Ocha and his junta, the National Council for Peace and Order (NCPO). As a result, the 2007 Constitution was abrogated. Acting under a banner of "reform" and of bestowing "happiness," within a short span of time the NCPO has created the most repressive political conditions present in the country since 1976–1977. Lists of names of those summoned to report to the junta in Bangkok have been read ominously on television and radio broadcasts many evenings since the coup. Outside the capital, summonses are even less official or public. The lists have been wide-ranging and have included dissident scholars, writers, and activists. Some have been released after a few hours of questioning, while others have been held for up to seven days. A spokesperson for the junta, Werachon Sukondhapatipak, issued a plea to journalists to cease referring to this as detention and to instead call it "accommodation."3 Foreign Correspondent's Club of Thailand, 11 June 2014.
Although the NCPO does not plan to allow a full constitution until August 2015, nor elections until October 2015, a temporary constitution was announced on July 22, 2014. The junta brought back the essence of Article 17 in their Article 44:
In the case where the Head of the National Council for Peace and Order is of opinion that it is necessary for the benefit of reform in any field and to strengthen public unity and harmony, or for the prevention, disruption or suppression of any act which undermines public peace and order or national security, the Monarchy, national economics or administration of State affairs, whether that act emerges inside or outside the Kingdom, the Head of the National Council for Peace and Order shall have the powers to make any order to disrupt or suppress regardless of the legislative, executive or judicial force of that order. In this case, that order, act or any performance in accordance with that order is deemed to be legal, constitutional and conclusive, and it shall be reported to the National Legislative Assembly and the Prime Minister without delay.4
To date, Article 44 has not been used, but its sheer presence in the temporary charter consolidates the power of the junta. Unlike the PDRC, who aimed only to instill fear into its members, the junta's policies target Thai society as a whole. And unlike Suthep, General Prayuth does not even pretend that sovereignty belongs to the people.
Writing about the PDRC, Nidhi Eoseewong (2013) noted, "How can we move away from mass politics that are proceeding towards dictatorship? I think that elucidating the illegitimacy and illegality of this movement is something that must be swiftly done. Not in order to accuse those who have joined the demonstrations. . . . But we must create greater understanding for those outside the movement . . . so that they will believe that there is still a democratic option, if we give it a chance." Since May 22, 2014, and the transition to what resembles a military dictatorship more and more each day, Nidhi's call to careful, critical intellectual work becomes more and more urgent. The work of resisting the junta's attempts to dissemble is not only an exercise in interpretation but also an urgent form of opposition to a seamless slide into dictatorship.
Notes
1. This translation of Article 17 was included in Thak (1979, 129).
2. The 2007 Constitution was published in the Ratchakitchanubeksa, Book 124, Issue 47 Ko, 24 August 2550 (2008), 1–127. For an unofficial English-language translation of the 2007 Constitution, see Bureau of Technical and International Cooperation, Secretariat General of the Administrative Court, "Constitution of the Kingdom of Thailand, B.E. 2550 (2007)."
The 2014 Temporary Constitution was published in the Ratchakitchanubeksa, Book 131, Issue 55 Ko, 22 July 2014, 1–17. For an unofficial English-language translation of the 2014 Temporary Constitution, see Pakorn Nilprapunt, "Translation of the Constitution of the Kingdom of Thailand (Interim), B.E. 2557 (2014)."
3. Foreign Correspondent's Club of Thailand, 11 June 2014.
4. Quoted from Pakorn Nilprapunt's translation.
References
Nidhi Eoseewong. 2013. "The Great Mass of the People." Translated by Tyrell Haberkorn, Prachatai English, December 31, 2013. accessed June 29, 2014.
Premchai Phringsunlaka. 2517 [1974]. Article 17 in a Time of Darkness. Bangkok: Krung Siam Press.
Khasosod English. 2014. "Suthep To Seek Royal Approval For His 'People Coup,'" April 6, accessed June, 29, 2014.
Thak Chaloemtiarana. 1979. Thailand: The Politics of Despotic Paternalism. Bangkok: Social Science Association of Thailand.