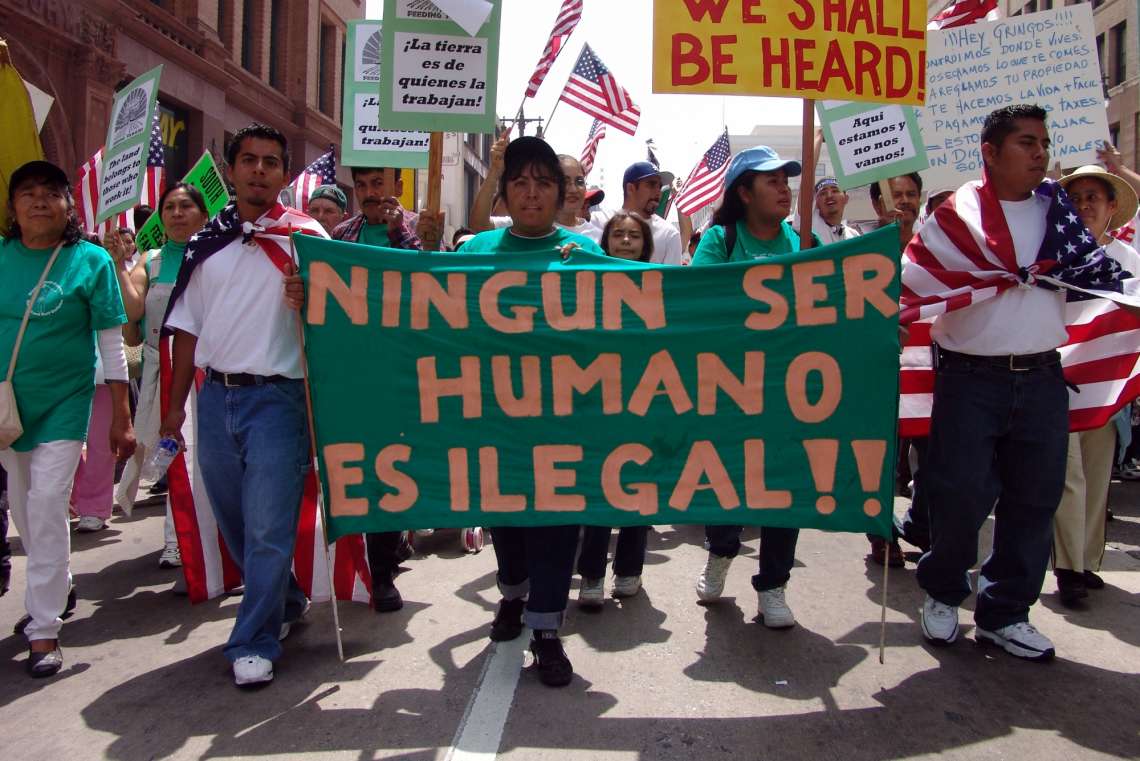 There are certain transformational encounters in research that challenge us to reflect on our own positionality as ethnographers, advocates, and even as parents. Such was my relationship with Gabriela: an eight-year-old girl who I first met during fieldwork in Guatemala and would later encounter in a detention facility for unaccompanied migrant children in Chicago. Here, I enlist a digital narrative to grapple with the contradictory messages and meanings of care, from state institutions, nongovernmental organizations, families, young people, and researchers such as myself.
In response to an influx of young migrants from Central America in 2014, the U.S. federal government readied dozens of facilities to detain children until they could be reunited with family, transferred to federal foster care, or removed from the United States. Charged with the "care and custody of unaccompanied alien children," the U.S. Office of Refugee Resettlement (ORR) subcontracts NGOs to provide a "home-like environment where children receive education, recreation, and specialized services," as an ORR field specialist described to me. Euphemistically called shelters, NGO staff, and by extension the state in loco parentis, provide for children's everyday needs such as food, shelter and healthcare. Casted as ideal victims deserving of the moral economies of care, children such as Gabriela are seen as humanitarian victims in need of protection. ORR and its NGO subcontractors frame children as dependent upon adults and the welfare state, rooted in a culturally situated understanding of childhood that accentuates dependency and vulnerability over independence and agency (Horton 2008; Heidbrink 2014).
Yet in spite of particular moral claims to vulnerability and deservingness, unaccompanied youth experience this institutional care as violence. As Gabriela and others underscore, the brightly painted walls and human rights posters belie the lived experience of these spaces as restricting their freedom of movement: surveilling their actions and reactions via video cameras and line of sight tactics, and recording their sleep patterns, conversations, and phone calls in their institutional files can and have been used against them in immigration court.
Across multiple facilities in Illinois, Texas, Arizona, and New York, I observed how ORR and NGO staff work in tandem to restrict young people's access to information about their cases—be it reunification with family, upcoming court dates, or impending deportation—with limited opportunities for young people to meaningfully inform their future custodial arrangements. Small gestures of affection, concern, or best intentions by facility staff collapse under the weight of state violence in which shelters function as total institutions (Goffman 1961). Young people describe these facilities as "lost time," "traumatic," and "a nightmare I can't escape," as places where "I am treated like a criminal . . . a threat" and where, as Gabriela concluded, "I have no rights." In other words, well-intentioned yet misguided humanitarian conceptions of care become indecipherable from state violence; unauthorized migrants are conceived as outlaws subject to state discipline via detention and deportation.
We see analogous claims to care by privately run, for-profit facilities housing women and small children in nearly four thousand beds—facilities which, according to the Department of Homeland Security, were established "to keep families together." Private prison companies have not skipped a step with the GEO Group recently filing for a child care license for their San Antonio facility, while for-profit bond companies advertise their financial services under the guise of family reunification because "we care about you and your family." Under the veil of care and claims to best intentions, the state, private prison industry, financial service industry, and even NGOs prey upon immigrant children and families. All fail to openly acknowledge their complicity in the immigration industrial complex, which has only gained momentum under the Trump administration.
While I turn my anthropological gaze to critique the state, private industry, and NGOs, I too must submit to critique. My interactions with Gabriela propel me to interrogate my own positionality and best intentions as an advocate, a researcher, and a parent. As an advocate, I have spent the better part of two decades traversing many of the same geographic, institutional, and legal spaces that young migrants encounter. Yet, as a white, Anglophone U.S. citizen, I move in and out of these spaces with relative physical ease. My experiences render stark the disparities. I wonder: Are my intentions as an advocate too entangled with other seemingly-benevolent policy and institutional promises? Is using my platform as a professor and a researcher to advocate for policy change enough? And, what meaning and power is lost when all institutions and actors—the state, nonprofit organizations, private companies, and even myself—are complicit in promising care?
As a researcher, at times the privileging of objectivity paralyzes me. I sit silently, unsure how to react, comfort, or even counsel Gabriela when she asks. How can I communicate these feelings that seem disallowed and undervalued in academia? Would it compromise my objectivity? As a researcher, what are the political and ethical implications of my findings and how might they be used against the very children with whom I work? Should I so boldly critique NGOs who provide shelter when they are far better than the Immigration and Naturalization Service (INS) jails that detained children a mere decade ago? And how do I navigate the significant emotional toll that this research takes on my well-being, for which I feel guilty even acknowledging?
And, as a mother, how do I care for my children in a way that instills a sense of belonging and purpose amid such glaring and seemingly unending global inequities? How can my own daughter Gabriela learn from my political and personal investments with immigrant children and their families? In our current political climate, I desperately cling to care as a critical guide to my professional engagements and personal commitments, and as essential to raising empathetic and socially-responsible children. Yet, I find care—theoretically, politically, and practically—not enough.
Protección en el Contexto de la Detención de Menores
Durante la investigación vivimos ciertos encuentros transformacionales que nos retan a reflexionar sobre nuestra posición como etnógrafos, defensores e incluso m/padres. Tal era mi relación con Gabriela, una niña de 8 años que conocí durante una investigación realizado en Guatemala y posteriormente en un centro de detención para migrantes no acompañados en Chicago. Aquí incluyo una narrativa digital para intentar entender los mensajes contradictorios y significados del cuidado—de las instituciones estatales, las ONG, las familias, los jóvenes y los investigadores como yo.
Ante la llegada de migrantes jóvenes centroamericanos en el 2014, el gobierno de E.E.U.U. alistó docenas de centros para la detención de menores hasta que pudieran estar reunidos con sus familias, trasladados a cuidado sustituto federal o deportados de E.E.U.U. La Oficina de Reasentamiento de Refugiados (ORR) tiene a su cargo "el cuidado y la custodia de menores no acompañados" y subcontrata a las ONG para proveer "un ambiente parecido al hogar donde los niños reciben educación, recreación y servicios especializados." En alberges, llamado de manera eufemística, los empleados de las ONG y por lo tanto el Estado in loco parentis, proveen las necesidades cotidianas de los niños—comida, alberge y salud. Niñas como Gabriela son vistas como víctimas humanitarias que necesitan protección y víctimas idóneas que merecen las economías morales del cuidado. La ORR y las ONG perciben a los niños como dependientes de los adultos y el estado de bienestar, una percepción concebida en un entendimiento cultural de la niñez que aumenta la dependencia y la vulnerabilidad a costo de la independencia y agencia (Horton 2008; Heidbrink 2014).
Sin embargo a pesar de las pretensiones especiales a la vulnerabilidad y el merecimiento, la experiencia de los jóvenes de la protección institucional es una de violencia. Como Gabriela y otros señalan, las paredes alegres y afiches de derechos humanos contrastan con la experiencia verdadera de estos lugares que restringen su libertad de movimiento; supervisando sus acciones y reacciones por cámaras de video y tácticas de línea visual, manteniendo notas de los hábitos de sueño, conversaciones y llamadas en sus expedientes institucionales, que pueden ser y han sido usadas en su contra en los tribunales.
En varios lugares en Illinois, Texas, Arizona y Nueva York, pude observar a empleados en dúo de la ORR y las ONG restringir el acceso de jóvenes a información sobre sus casos de reunificación familiar, fechas de audiencias pendientes, o la deportación próxima. Gestos pequeños de cariño, preocupación o las mejores intenciones de empleados de los lugares fracasan bajo el peso de la violencia estatal en la cual los alberges funcionan como instituciones totales (Goffman 1961). Los jóvenes describen los lugares como: "tiempo perdido," "traumáticos," y "una pesadilla de la cual no puedo escapar"; además de ser lugares donde: "me tratan como un criminal . . . una amenaza" y donde, como concluyó Gabriela: "no tengo derechos." Las concepciones humanitarias bien intencionadas, pero mal informadas, del cuidado, se mezclan con la violencia del Estado: los migrantes no autorizados son percibidos como criminales sujetos a la disciplina del estado a través de la detención y la deportación.
Vemos pretensiones análogas a la protección y cuidado de lugares privados de lucro que albergan mujeres y niños pequeños en 4000 camas, lugares que, según el Departamento de Seguridad Nacional, fueron establecidos: "para mantener las familias unidas."Empresas penitenciarias privadas no han quedado atrás; el Grupo GEO hace poco pidióuna licencia de cuidado infantil para su centro en San Antonio, mientras empresas lucrativas de fianzas anuncian sus servicios financieros bajo el pretexto de la reunificación familiar porque "nos preocupamos por usted y su familia." Bajo la apariencia de cuidado, el Estado, la industria penitenciaria privada, la industria de servicios financieros e incluso las ONG, se aprovechan de los niños y familias migrantes; ninguno reconoce completamente que son cómplices en el complejo migrante-industrial.
Mientras mi mirada antropológica se gira para criticar al Estado, a la industria privada y a las ONG, también debo someterme a mi misma a la crítica. Mis interacciones con Gabriela me impulsan a interrogar mi propia posición y mejores intenciones como defensora, investigadora y madre. En mi capacidad de defensora, he dedicado dos décadas a atravesar muchos de los mismos espacios geográficos, institucionales y legales donde se encuentran los jóvenes migrantes. Sin embargo, como ciudadana estadounidense, blanca y anglófona, puedo entrar y salir de estos espacios de manera relativamente fácil. Mis experiencias dejan claras las diferencias. Me pregunto: ¿mis intenciones como defensora se han mezclado demasiado con otras promesas institucionales y políticas aparentemente benévolas? ¿Qué significado y cuánto poder se pierde cuando todas las instituciones y los actores—el Estado, las ONG, las empresas privadas e incluso yo misma—somos cómplices en la promesa de cuidado?
Hay veces que, como investigadora, me siento paralizada por el privilegio de la objetividad. Me siento en silencio, sin saber cómo debo reaccionar o consolar a Gabriela. Como investigadora: ¿que son las implicaciones políticas y éticas de mis conclusiones y de qué manera pueden ser usadas en contra de los mismos niños con que trabajo? ¿Debo criticar tan fuertemente a las ONG que dan alberge cuando son mucho mejor que las cárceles del Servicio de Inmigración y Naturalización donde detuvieron a los menores hace tan solo una década? Finalmente: ¿cómo puedo navegar el costo emocional para mi bienestar, por el cual me siento culpable por reconocerlo?
Además, como madre: ¿cómo puedo cuidar a mis hijos de una manera que les inculque un sentido de permanencia y propósito en medio de inequidades globales tan flagrantes y aparentemente interminables? ¿De qué manera puede mi hija Gabriela aprender de mis inversiones políticas y personales con los jóvenes migrantes y sus familias? En el ambiente político actual me aferro desesperadamente al cuidado como un guía crítico para mis relaciones profesionales y compromisos personales y como parte esencial de la crianza de hijos empáticos y socialmente responsables. Sin embargo, concluyo que el cuidado no es teóricamente, políticamente, ni prácticamente, suficiente.
Nota
Traducido por Lauren Heidbrink.
References
Goffman, Erving. 1961. "On the Characteristics of Total Institutions." In Symposium on Preventive and Social Psychiatry, 43–84. Washington, DC: Walter Reed Army Medical Center.
Heidbrink, Lauren. 2014. Migrant Youth, Transnational Families, and the State: Care and Contested Interests. Philadelphia: University of Pennsylvania Press.
Horton, Sarah. 2008. "Consuming Childhood: 'Lost' and 'Ideal' Childhoods as a Motivation for Migration." Anthropological Quarterly 81, no. 4: 925–43.