Changed Bodies in an Unchanged World: Teaching Bodies at War
From the Series: Bodies at War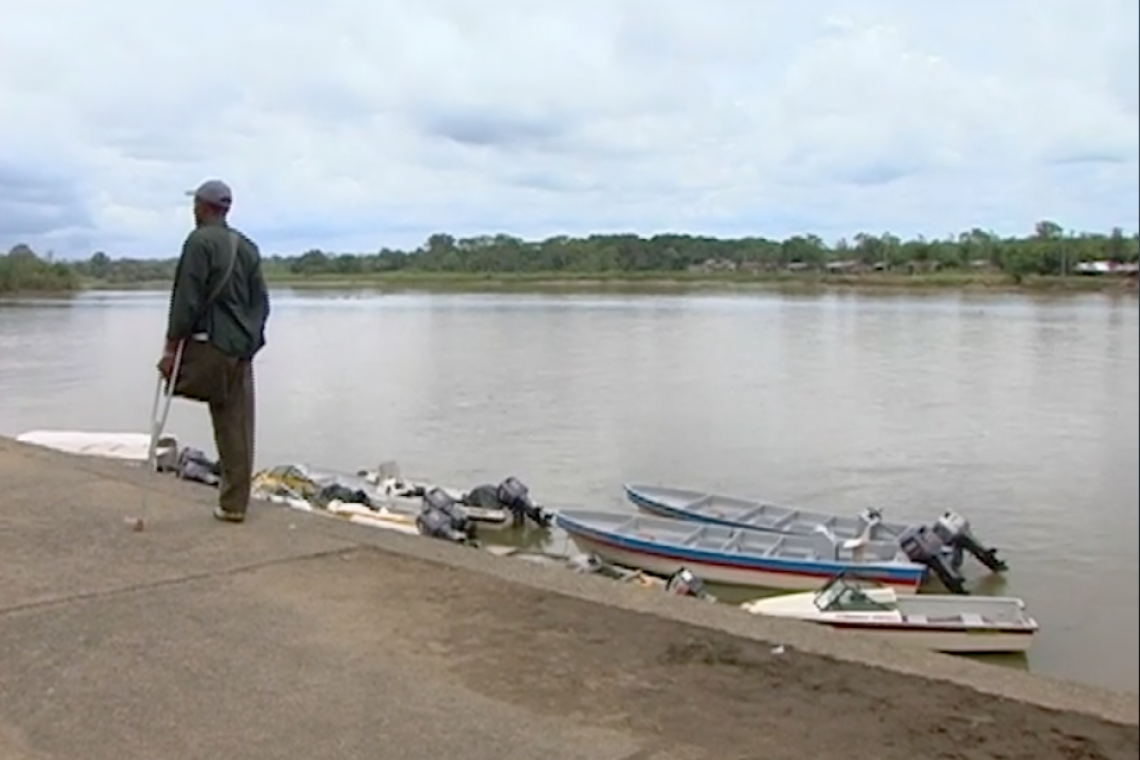 The film Bodies at War (Mina) (2015) by documentarian and anthropologist Emily Cohen (now Emily Cohen Ibañez) can speak to many different lessons. In this post, I offer several possible options before including suggested readings and a writing exercise that emphasize disparity and ability in the built environment.
When I first watched the documentary, I planned to frame a lesson through my own research on violence, trauma, and meaning-making after Northern Ireland's own internal conflict. I saw parallels between the Northern Irish joke that Belfast is the best place to be shot because the hospitals are so experienced and the routinization of landmine injury treatment that Cohen shows in Colombia. After processing the film, I decided a better approach was the film's highlighting of the international economic relationships based in conflict and its aftermath, as Carolyn Nordstrom (2004) has so eloquently demonstrated. From the references to the foreign companies that produce artificial limbs, with "the whole world vying for the Colombian market," to the way one of the protagonists uses the camera to speak directly to foreign aid agencies and organizations, calling on them "to see us and to explain the cause for our suffering that we carry inside"—all struck me as strong examples of the various international markets that develop around conflicts.
Around the time I was writing this, news of the protests in Colombia reached the English language news outlets (see, for example, the Guardian and the New York Times). I considered creating a lesson around the history of the conflict depicted in Bodies at War and its cessation, as one point of protest has been President Ivan Duque's lack of movement on the 2016 peace agreement between the guerrilla group Revolutionary Armed Forces of Colombia (FARC) and the Colombian government (see Al Jazeera).
Only in continuing to process the film did a light bulb finally go off: I should frame a lesson around the story actually being told in Bodies at War, that of how everyday Colombians who have lost limbs to mines are adapting and moving through a built environment and society designed without them in mind. Each protagonist that Cohen follows, whether in physical therapy, the process of requesting an artificial limb from the government, or participating in the Colombian military's paralympic games, is shown adapting not only to the physical changes of their bodies but to how these changes affect and often complicate their everyday lives. A striking example of this is the wall of homemade prosthetics displayed at an orthopedics center. The various artificial limbs, crafted from wood, plastic, and other materials, are displayed by the healthcare provider as evidence of ingenuity. At the same time, to viewers, the number of homemade limbs illustrates the delays and disparities in state support for civilian versus military survivors of landmines highlighted throughout the film (see Scenes from Colombian Fields). In the classroom, this connection can be extended, tying the physical and economic disparities in conflicts to the broader topic of accessibility and Ableism (see, for example, Leah Smith's blog on #Ableism).
If this is the pedagogical approach you choose to take, I recommend assigning readings to be completed by the students before they view Bodies at War. For students, there are suggested readings listed below. For teachers, I also recommend Marzieh Kaivanara's post "Teaching (through) Disability and Difference." After viewing the film, present students with the following writing exercise and build in time to discuss their essays during the next class.
Writing Exercise
This exercise should require some reflection, so it is better completed outside of class. However, in-class discussion of the exercise is important, so time for this should be included in a later class after the exercise is completed.
Provide students with the following three prompts. All three prompts should be answered to complete the exercise.
1) In the film Bodies at War (Mina), in what ways did losing a limb affect people's daily lives? Was there a particular person whose experience struck you? Why?
2) Did the readings and/or the film parallel with experiences you have had in an environment not built for you, or with experiences you have had with a change that affected your daily life? What was similar, and what was different?
3) Imagine a permanent, visible change to your body (could be a change in physical ability, but could also be a different type of change, such as a racial/ethnic or gender marker). In what ways do you think this change would make your daily life different? In particular, how would this change affect your movements through your local environment?
Suggested Readings
Fattal, Alex, and Maria Vidart-Delgado. 2015. "The Colombian Peace Process: A Possibility in Spite of Itself." Hot Spots, Fieldsights, April 30.
Ginsburg, Faye, and Rayna Rapp. 2003. "Disability Worlds." Annual Review of Anthropology 42: 53–68.

Hartblay, Cassandra. 2018. "Cyborg." Theorizing the Contemporary, Fieldsights, March 29.
Imrie, Rob, and Rachael Luck. 2014. "Designing Inclusive Environments: Rehabilitating the Body and the Relevance of Universal Design." Disability and Rehabilitation 36, no. 16: 1315–19.
Kohrman, Matthew. 2005. Bodies of Difference: Experiences of Disability and Institutional Advocacy in the Making of Modern China. Berkeley, Calif.: University of California Press.
Puar, Jasbir K. 2017. The Right to Maim: Debility, Capacity, Disability. Durham, N.C.: Duke University Press.
Ralph, Laurence. 2012. "What Wounds Enable: The Politics of Disability and Violence in Chicago." Disability Studies Quarterly 32, no. 3.
Steinfeld, Edward, and Jordana Maisel. 2012. "Public Accommodations." In Universal Design: Creating Inclusive Environments, 187–221. Hoboken, N.J.: Wiley.
Suggested Listening
Rahman, Tariq, and Katherine Sacco. 2017. "Ethnography and Design 1: Disability, Design, and Performance." AnthroPod, Fieldsights, June 13.

Acknowledgments:
I want to thank Dr. Molly Ranahan for recommending Universal Design: Creating Inclusive Environments.
References
Nordstrom, Carolyn. 2004. Shadows of War: Violence, Power, and International Profiteering in the Twenty-First Century. Berkeley, Calif.: University of California Press.