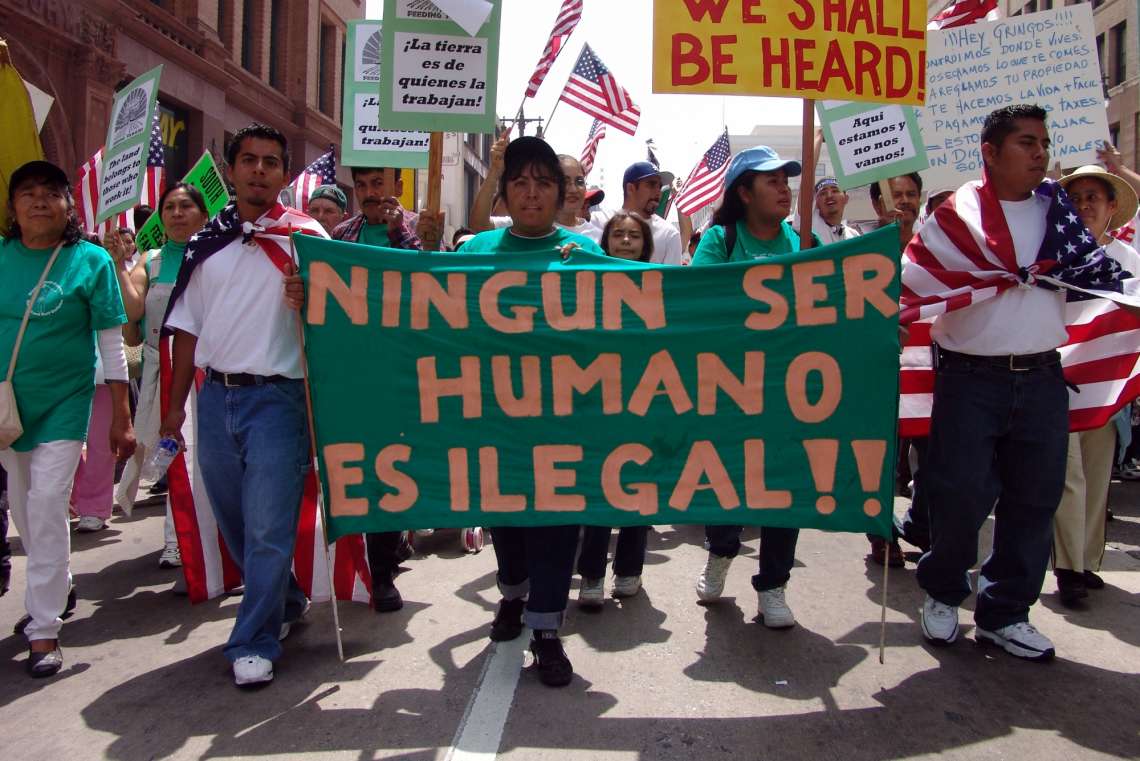 "ICE was almost like an urban legend here. They existed, but I'd never seen them, so they didn't really exist in my mind. I knew the danger, it just had never become real for me."
In June 2016, twenty-year-old Juan described to us how the presence of U.S. Immigration and Customs Enforcement (ICE) had recently intensified in Maryland. Juan was born in a small Mexican city along a highly surveilled segment of the U.S.–Mexico border, but he left as a toddler. "I don't remember crossing over," he told us. "My earliest memory is just being here in the United States." Juan spent his early childhood in Georgia, where his parents moved to join extended family. The family found stability as his parents worked in construction and housekeeping and had two more children. But when the economy declined in 2008 and work dried up, his parents pondered moving again. As Juan recalled: "My dad knew a family friend that lived in Maryland and told him that there was work and that you could get driver's licenses here. So we moved, and made it through that rough patch."
Juan's family's experiences underscore the variable and shifting local contexts of reception for immigrants. Maryland has historically been an "immigrant-friendly" state, with immigrants of diverse backgrounds making up one in seven Marylanders. Several recent policies demonstrate the state's support for undocumented immigrants, especially those eligible for Deferred Action for Childhood Arrivals (DACA). Voters passed a state-level DREAM Act in 2012, offering in-state tuition to undocumented students like Juan, led by the organizing efforts of CASA de Maryland, an immigrant advocacy powerhouse. Since 2014, undocumented immigrants have been able to obtain driver's licenses, albeit federally noncompliant ones. In 2014, several jurisdictions—including Baltimore and two counties with the largest concentration of immigrants, Montgomery and Prince George's—enacted policies of ICE noncooperation. By comparison, next-door Virginia "is a totally different environment" as Juan observed, and "much worse" for immigrant families.
Despite Maryland's inclusive policies, conditions changed. As Juan put it, the ICE "urban legend . . . [became] real." In December 2015, the Obama administration initiated a series of high-profile raids to address a surge of Central American immigrants. Raids were particularly acute in the Washington, DC metropolitan region because of its large concentration of Central Americans. The raids provoked immense fear and had immediate effects: workplaces reported high absenteeism, school buses were empty, students avoided going to school, and stores registered a sharp decline in business. Checkpoints also started popping up, including some near our campus. Increasingly, Maryland had come to resemble the border community where Juan had first lived.
Juan experienced this uptick in enforcement directly, recounting: "When the raids started in this area, my mom was going to go shopping for food on a Sunday morning. When she got to the grocery store, ICE was there, so she didn't stop . . . she just came back home and made me go instead." Unlike his mother, Juan had some security in the form of DACA, which he had applied for when he was a high-school junior. Once Juan got to the store, he recalled: "ICE was in the parking lot, asking people questions. I had my work permit in my pocket. A guy came up to me and I just pulled out my permit and showed him and kept walking. I felt like I was controlling [the situation] to a certain point, and it made me feel secure."
Scholars have noted the tangible benefits that DACA has provided recipients: increased income and financial stability, assistance for continuing or completing schooling, and the ability to get credit cards and driver's licenses. But, as Juan's story highlights, material security in the form of even conditional documents is crucially important. As he talked, we noticed that Juan subconsciously reached for his wallet pocket repeatedly as if to reassure himself that his permit was still there. As he reflected later, "I carry my work permit with me everywhere go. Now I see the danger of not having it." Though Juan had that form of temporary security when we interviewed him in 2016, his situation—and that of thousands of his DACA-eligible peers in Maryland—has become ever more tenuous since President Trump rescinded DACA on September 5, 2017.
In some respects, Maryland continues to be an immigrant-friendly place. Hyattsville—adjacent to our campus—is one of the latest cities to boldly declare itself a sanctuary city. Student, staff, and faculty advocates at the University of Maryland organized and fought hard to launch the undocumented.umd.edu web resource and to get the university to hire an undocumented student coordinator. Yet there are clearly limits to this inclusivity. For example, despite broad-based support, Maryland's legislative minority caucuses were unable to convince state lawmakers to pass the Maryland Trust Act, which would have prohibited local police officers from asking about immigration status. And on the University of Maryland campus, nearly 150 DREAMers were traumatized in May 2017 when a student group chalked anti-DREAMer messages on sidewalks outside the student union.
The increasing tension between our state's immigrant-friendliness and the federal policies and enforcement practices that undermine it has become quite apparent. This tension also ultimately begs the question: how do we continue to cultivate local spaces of inclusion against the backdrop of intensifying enforcement actions and declining safety for immigrant communities? Though federal policies and practices are worsening by the day and pro-immigrant state policies have stalled, campuses remain an important space for advancing inclusion. Indeed, actions taken by students like Juan and student groups like Political Latinxs United for Movement and Action in Society (PLUMAS) underscore how swift and adaptive organizing efforts must be in responding to changing realities. On our campus, students immediately chalked messages countering the hate speech and consistently push the administration to address immigrant students' evolving needs. Though it is no antidote to increasingly draconian immigration developments, looking up and seeing "#UMDDREAMers" on the campus shuttle bus instead of hate messages chalked outside the student union is a powerful symbol of Maryland's inclusivity.