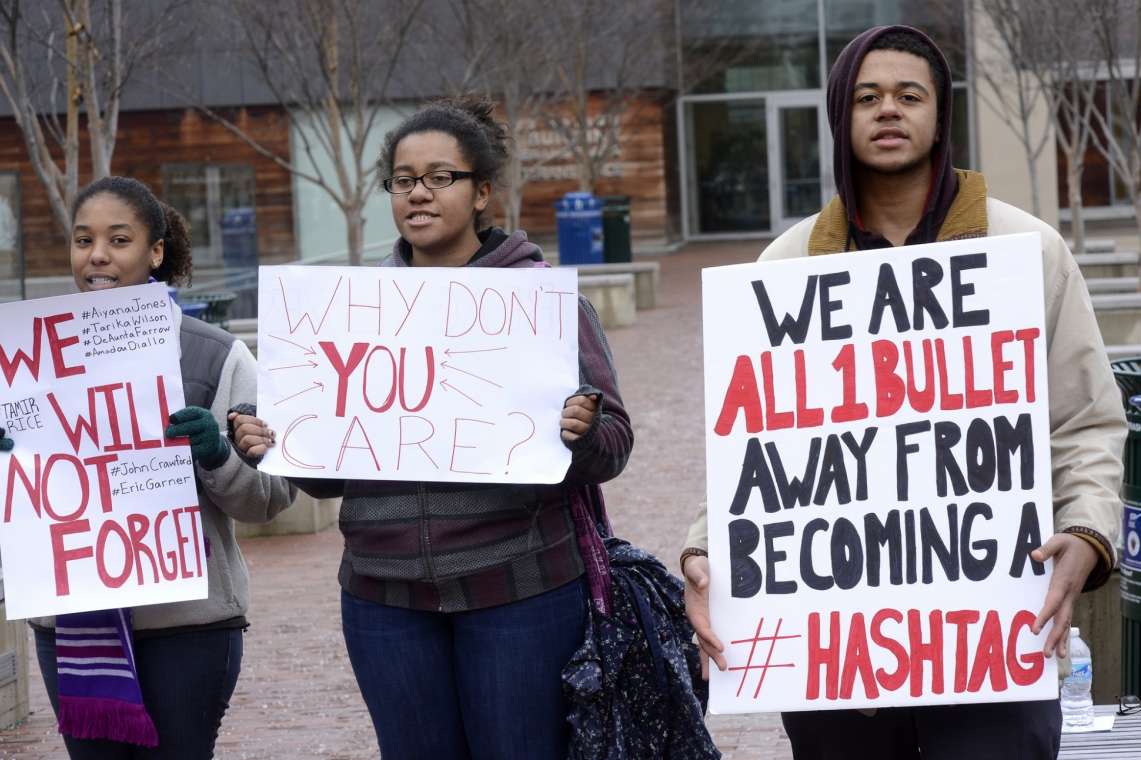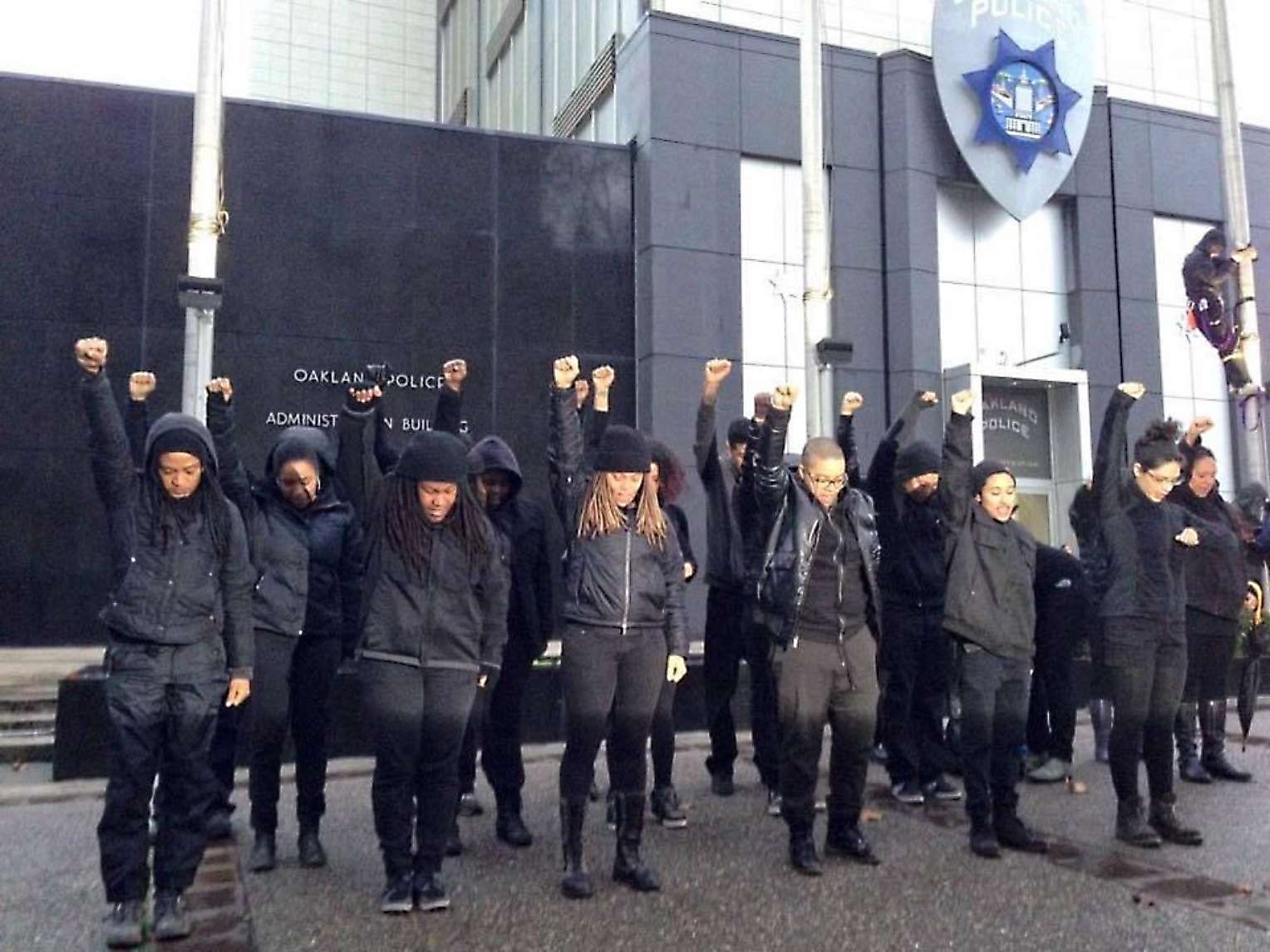 Charleston. Baltimore. Ferguson. Dayton. Chicago. Sanford. Atlanta. Brooklyn. Oakland.
Nizah Morris. Aiyanna Jones. Eric Garner. Yvette Smith. Dontre Hamilton. Tamir Rice.
Since the killing of Michael Brown by Officer Darren Wilson in August 2014, protests and acts of resistance have erupted across the United States. This was not the first time an unarmed Black person was shot and killed by police, nor was it the first case of police violence to draw national attention. Communities have organized against police brutality for decades. Long before this contemporary moment of resistance, activists and researchers repeatedly brought attention to the disproportionate state-sanctioned violence that Black communities experience. However, it seems that the death of Brown and the subsequent protests marked a tipping point. In response to the tragic events in Ferguson, there have been over two hundred days of consistent national protest and resistance against racialized violence and police brutality. The duration of this movement in the United States is second only to that of the Montgomery bus boycott, which was sparked by the arrest of organizer Rosa Parks and lasted for 381 days. Gathered under the umbrella of Black Lives Matter, this movement has taken place in the streets, courthouses, university campuses, and malls, as well as outside of police departments.
The founders of the organization and popular hashtag #BlackLivesMatter, Alicia Garza, Patrisse Cullors, and Opal Tometi, describe the movement as "an ideological and political intervention in a world where Black lives are systematically and intentionally targeted for demise. It is an affirmation of Black folks' contributions to this society, our humanity, and our resilience in the face of deadly oppression" (Garza 2014). These Black women, two of whom identify as queer and one as the child of Nigerian immigrants, created #BlackLivesMatter after Trayvon Martin's killer was acquitted, by way of imploring us all to pay attention to the damage anti-Black racism continues to inflict on our society. #BlackLivesMatter demands that we recognize that all Black lives matter, including trans folk, differently-abled individuals, and others who are frequently marginalized. While the movement acknowledges the impact that various forms of racism have on a host of marginalized communities, it emphasizes how the exploitation of Black labor, the objectification of Black bodies, and the subsequent trauma and death of these human beings continues to be central to the political and economic workings of the United States. In this way, it requires people to understand that our struggles for liberation are connected, while recognizing the specific roles that anti-Black racism and white supremacy have played in centuries of oppressive discourse and practices. Throughout these months of resistance, thousands of people engaged in organized and spontaneous disruptions that have taken the form of die-ins, digital activism, blocking traffic and commerce, protests during city council meetings and court appearances, employment strikes, dancing and roller-skating in the streets, interrupting newscasts when residents feel that their stories are not being told, and campaigns highlighting Black experiences at what Eduardo Bonilla-Silva (2012) has called HWCUs (Historically White Colleges and Universities). Additionally, this resistance against anti-Black racism and state-sanctioned violence has not been confined to the borders of the United States, but has been taken up by Black peoples throughout the Diaspora, in places like Colombia, the Dominican Republic, and Brazil.
The essays in this Hot Spots series are framed around three sets of questions. First, how do we understand #BlackLivesMatter as an intersectional political and theoretical intervention, and how does this intervention help us to better grasp the connections between race, racism, and state-sanctioned violence? Second, in what ways is the history of racism and violence in the United States connected to the transnational and diasporic experience of anti-Black racism and violence? Finally, what are some solutions to these critical issues of Black life and death, and how can activists, researchers, and scholars, particularly those in anthropology, contribute to actions focused on this problem-solving?
Since the last professional meeting of the American Anthropological Association (AAA) in December 2014, the organization has responded to its members' demand that it take an active role in working against anti-Black racism and police violence. This response began with public statements made by the president of the AAA, Monica Heller, and the Association of Black Anthropologists, both of which called anthropologists to action. Additionally, the AAA Executive Board has approved the creation of the Working Group on Racialized Police Brutality and Extrajudicial Violence, which is part of the Committee on Minority Issues in Anthropology. It is our hope that the essays in this forum will contribute to these developments within the discipline, encouraging anthropologists and others to use our training, our skills, and our theoretical and experiential insight to be the change we want to see in the world.
Bianca C. Williams is a cultural anthropologist and Assistant Professor of Africana Studies in the Department of Ethnic Studies at the University of Colorado Boulder.