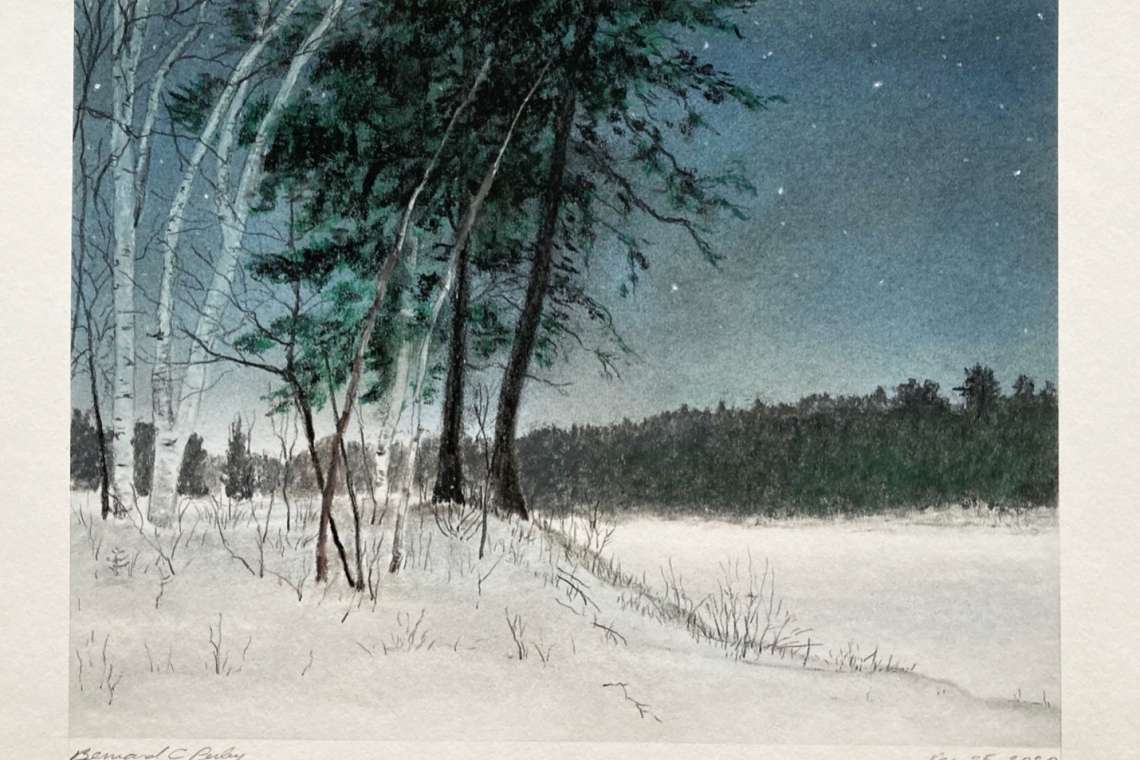 The relationship between what we see and what we know is never settled.
—John Berger
Privileging Sight
We practice noticing, here in the Zoomiverse. In summer 2020, Introduction to Cultural Anthropology becomes a virtual space to contemplate our discipline through art, to consider what the materiality of an image offers to cultural memory, fragmented and imperfect though it is. I scaffold mini lectures with the bones of a woodblock print, the sinews and muscles of watercolor and acrylic, the manifold skins a photograph allows. From "What do you see?" we move on to "What questions does the work evoke?" and, eventually, the interpretive dance: "What do you think it means?" I toss morsels from museum catalog sheets into the lake of knowing: a form of bait. Students hook meaning on the line, reel in recognition.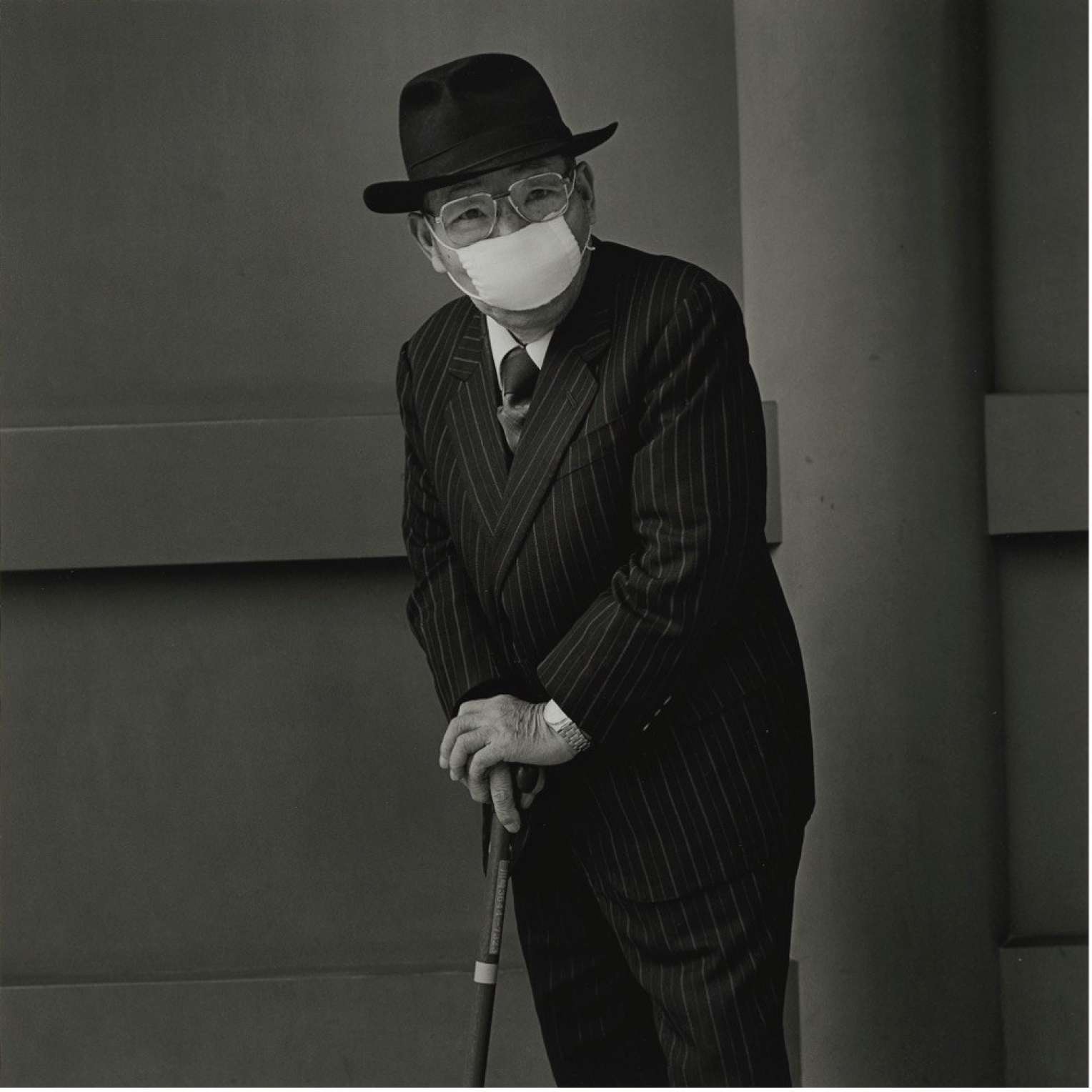 An Old Man with a Penetrating Gaze (Wearing a Face Mask)
A mask is a material thing, but it is also an interpretive stance. Before March 2020, we would have read this differently. Now we all think we know what it means. Time works that way on people. Like aging, it is a form of deception as much as it is an unveiling of what we do not know. The backdrop, stark. The pinstripes, stately. The cane, sturdy. The stare, anybody's guess. What is a portrait? Masks have pushed us to consider more carefully what mouth and cheek reveal and obscure. On the surface is a visage. Underneath lives an essence. Maybe it is in the hands, the crook of the back, not the stare.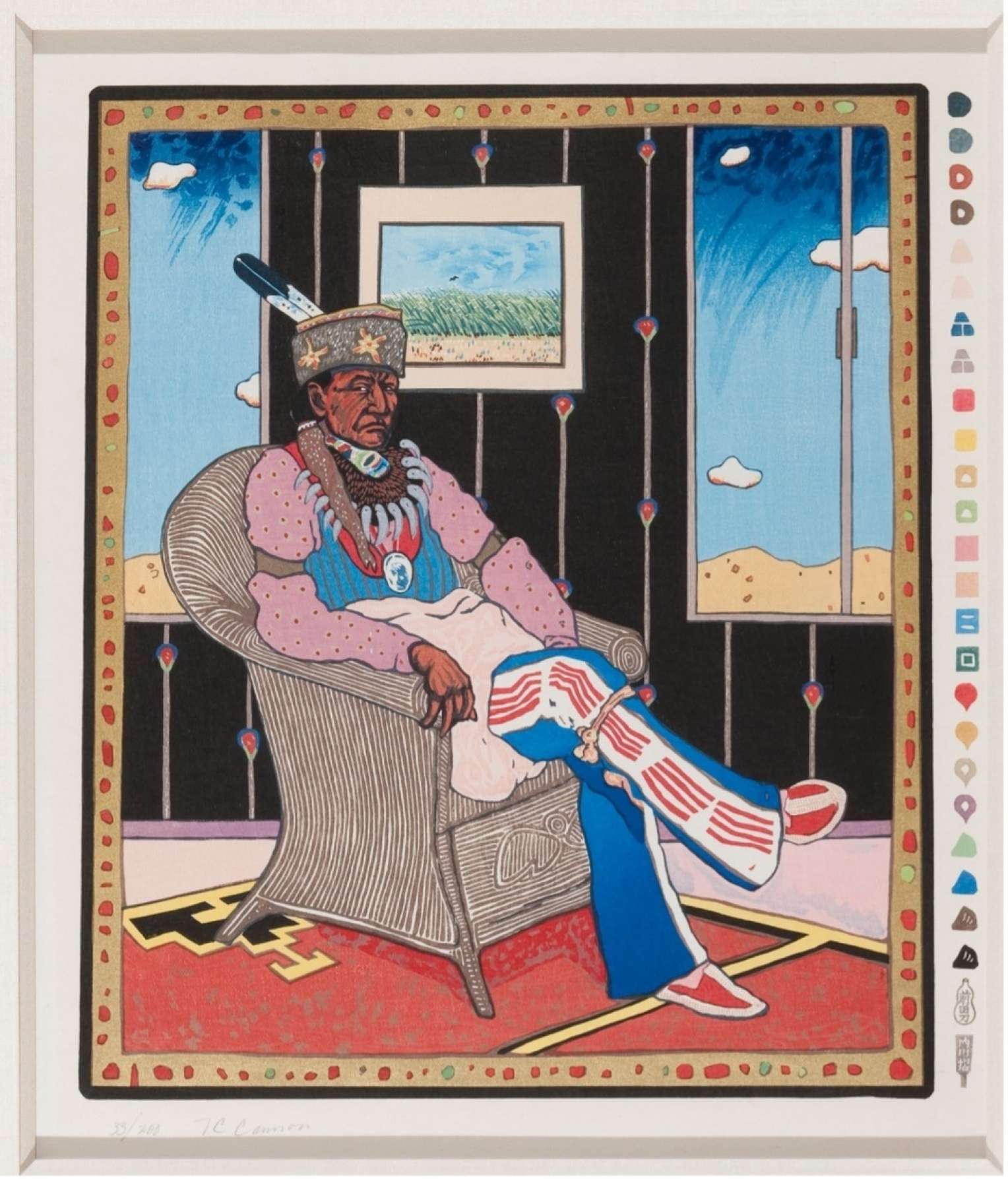 Collector No. 5
In the desert spaces between quintessence and stereotype grows a flower called authenticity. It is rare. One form of being is encased within other forms. Frames within frames take us from Southwestern mesas outside the window to Van Gogh's Wheat Fields—another space-time hung from the wall of home. A Pawnee Chief's feet rest on Navajo weavings. A photograph taken with all the hyperbolic seriousness of Edward Curtis is reclaimed as a Japanese-style woodprint, forged while the artist was in residence at Dartmouth: Vox Clamentis in Deserto.1 The subject of objectification in this settler colonial hall of mirrors becomes a character who accumulates, maybe even treasures. Someone asks: Is this meant to be ironic? The living is in the multitudes.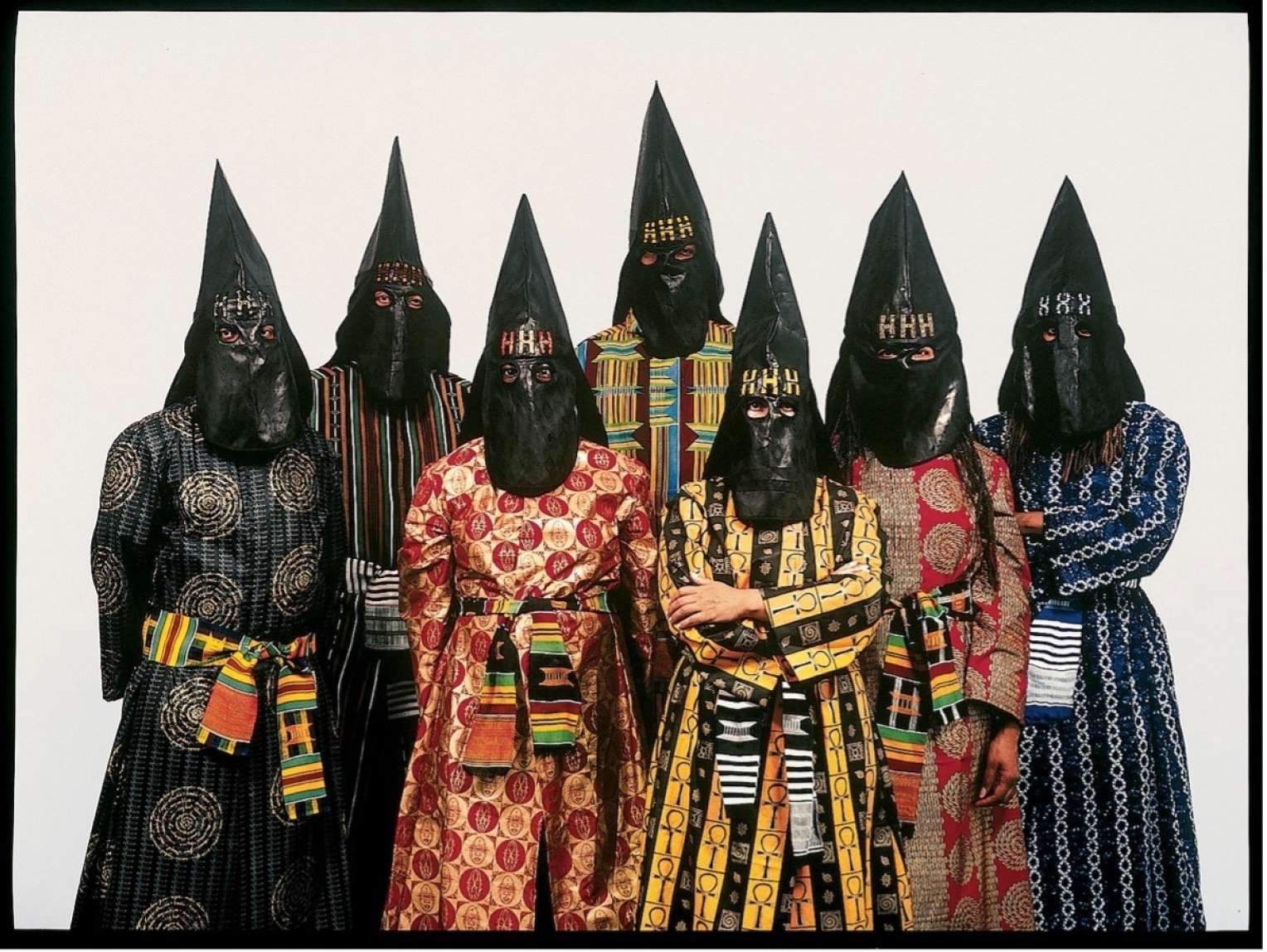 HHH #1
This one throws them. In our virtual classroom, you could hear a pin drop. Nothing is easy about the image. There is talk of trigger warnings in this summer of reckoning. Memory runs thick like mud. Wait. Look deeper. Begin with what you witness, not with what you think you know. Seven figures. Black pointed hoods. Robes fashioned from kente cloth. Three letters: HHH. Hands and eyes that present across a skin spectrum. Saturated in overdetermined iconography, they do not expect a female Australian Aboriginal artist. They do not expect Hedonistic Honkey Haters, a group formed in 1965, in opposition to those other three letters, those other hoods.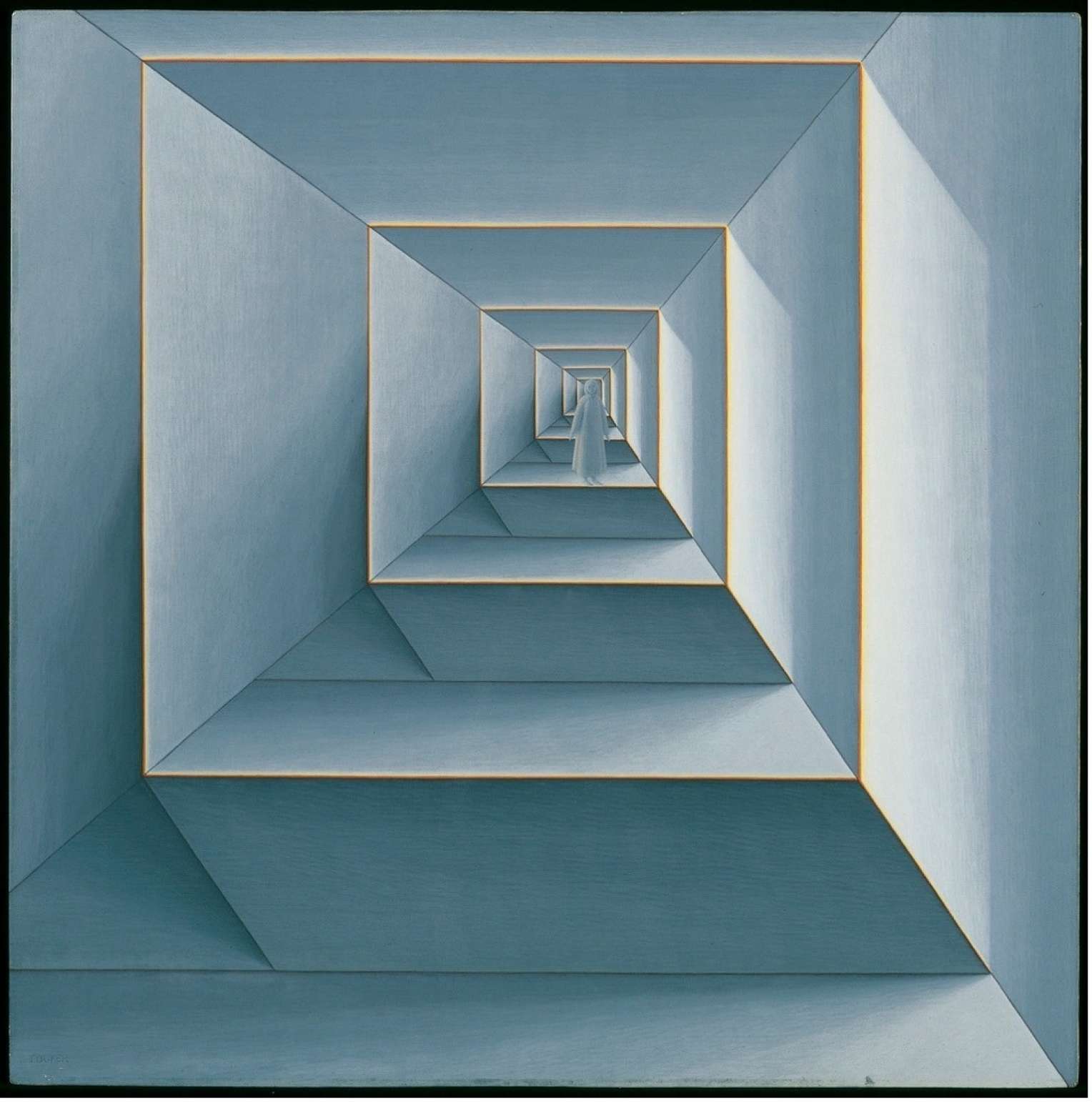 Farewell
At the outset, they speak of symmetry, geometry, and proportion. Then they describe a palate of emotion—cool, melancholy, sterile—as a metaphor for the colors of mourning. Form becomes content. Some assume asylum. Others think hospital. I ask them to consider the difference between these institutions. Curiosity piques. Who is the person at the center of this American yantra, this mandala of loss? Is she facing toward us or away? Is she wearing a housecoat or a surgical gown? Why does this matter? I tell them about the Ascent of Souls, the artist's mother. We contemplate the infinity of death, infinite depth.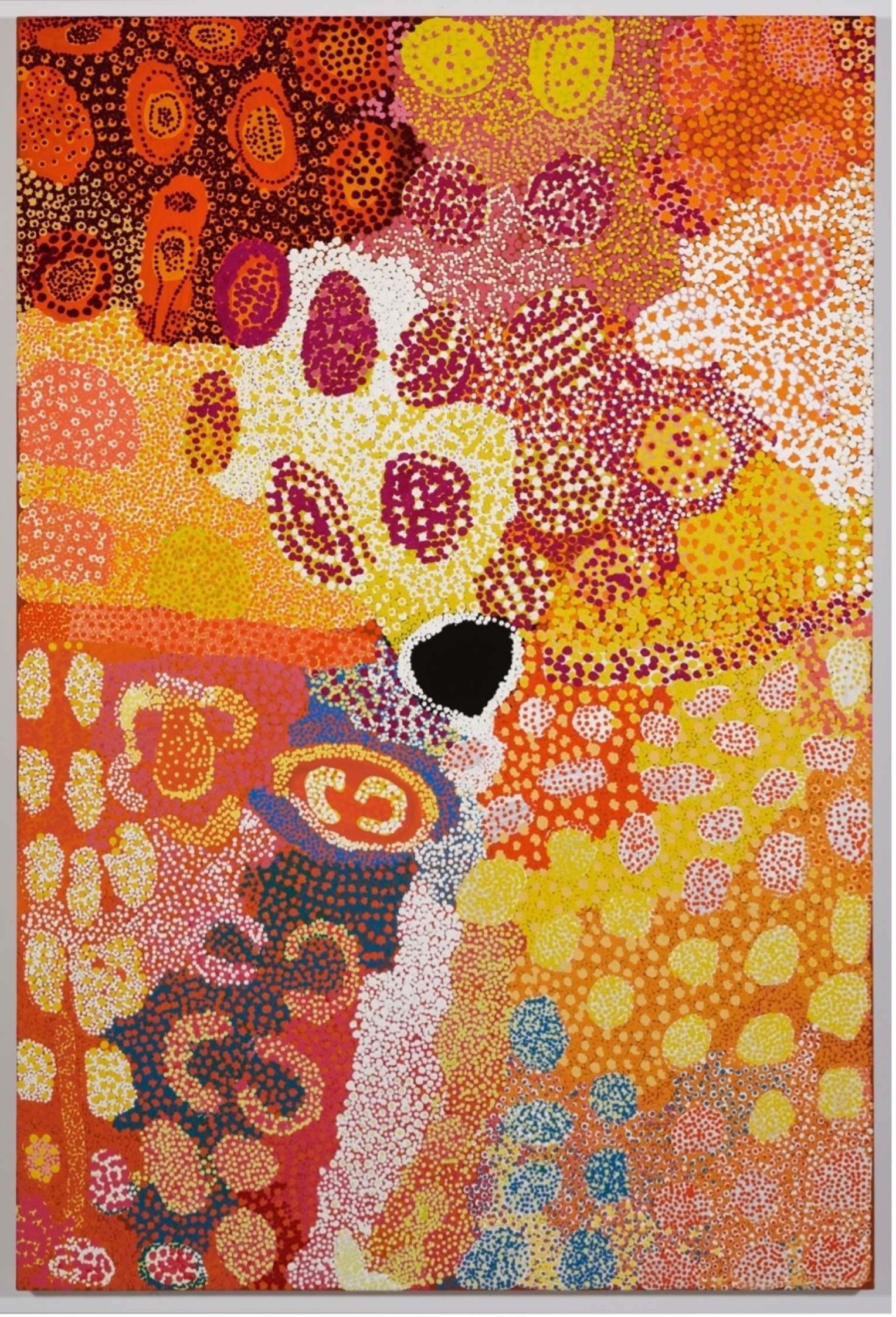 Winpurpurla
At first, the focus is on color, pattern, beauty. It shimmers. They toss out words like "tapestry," "contemporary." A student with studio art experience speaks of stippling. Someone else riffs on Jackson Pollock. I provide some context for this Dreaming. Abstraction comes into focus. Materiality lives in the abstract, each dot a story. This is her grandmother's country, a place of good water, where women's knowing runs all the way through. Once, these female ancestors made fire at water's edge. They danced, then walked west, collecting flowers of the murlanpa (sugar tree). There is nothing abstract about it. Kinship lives on and beyond canvas.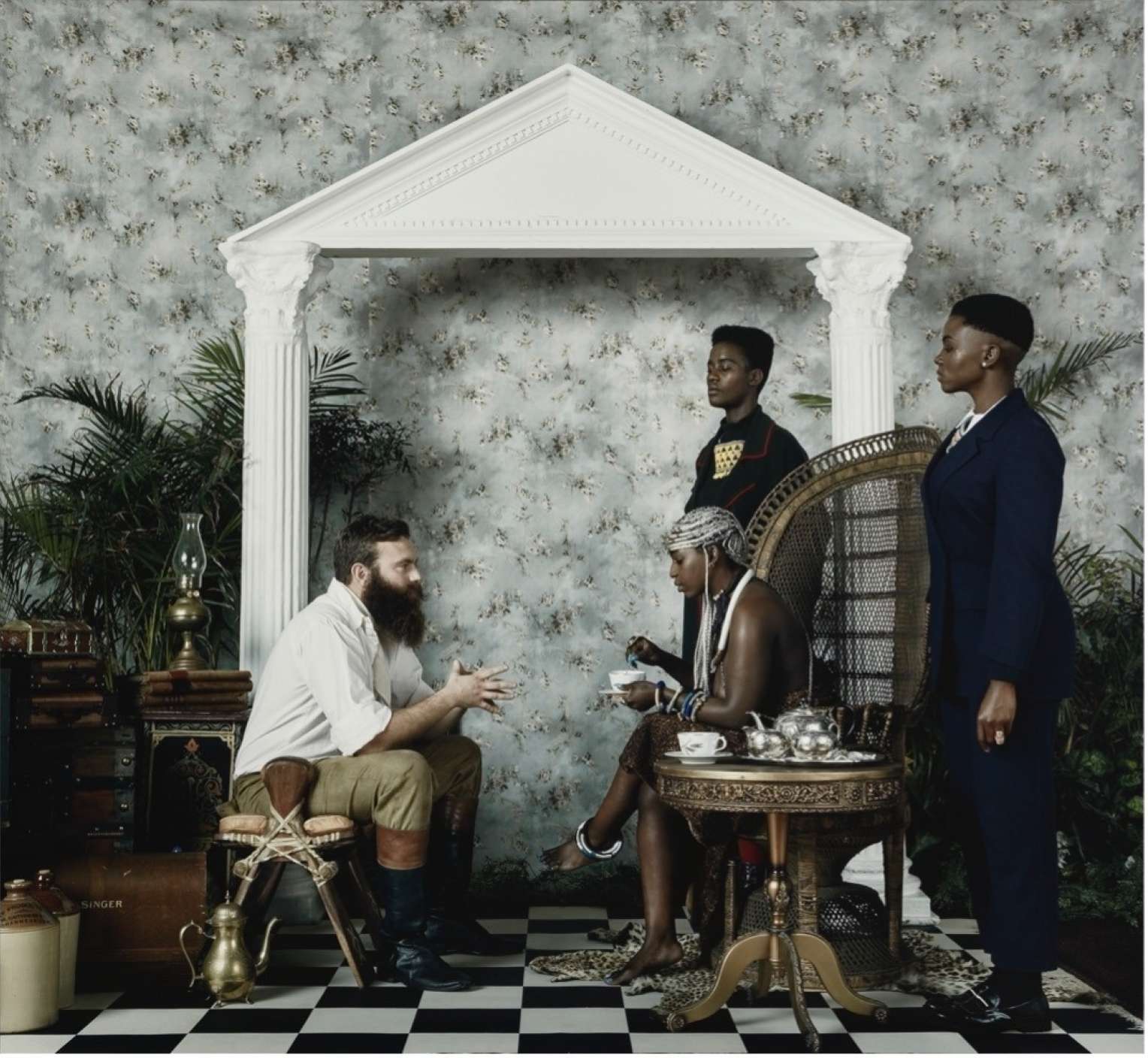 Genesis [Je n'isi isi]
It begins with an inventory of things: silver, china, and the presumption of tea; gas lantern, high-backed wicker throne, Singer (as in the sewing machine); leopard skin, tropical fronds, Corinthian columns; a headdress and a beard; bodyguards. Then they begin to notice stance and stature. Who is supplicant to whom here? What sort of encounter is this? Dr. Livingstone, I presume? We walk the line between Imperial fantasy and Afrofuturism. The title speaks of beginnings, but also of going head-to-head. In this chess game that plays out across black and white territory, we live past and present simultaneously, imagine otherwise.

Coda: On Ethnographic Sensibility
Ethnography is a form of action involving all our senses (McGranahan 2018). It brings, if not joy, then something kindred. We wrestle with illumination, obscuration, blind spots. Still, we delight in the abiding. How to translate this thing we do into a language, a form that will make sense to students, weighted down by their own identities, sometimes light on comparative imagination? In this liberal arts universe, at a moment of radical pivot, we find openings in art, even when works offer stark depictions, harsh truths. We meet each other at this confluence of ignorance and experience: humans in generous relation through an impossible time.

Notes
1. "A voice crying in the wilderness" is Dartmouth College's motto.
Acknowledgments
This work was done in collaboration with colleagues at Dartmouth's Hood Museum of Art, with special thanks to Amelia Kahl, Barbara C. and Harvey P. Hood 1918 Curator of Academic Programming.