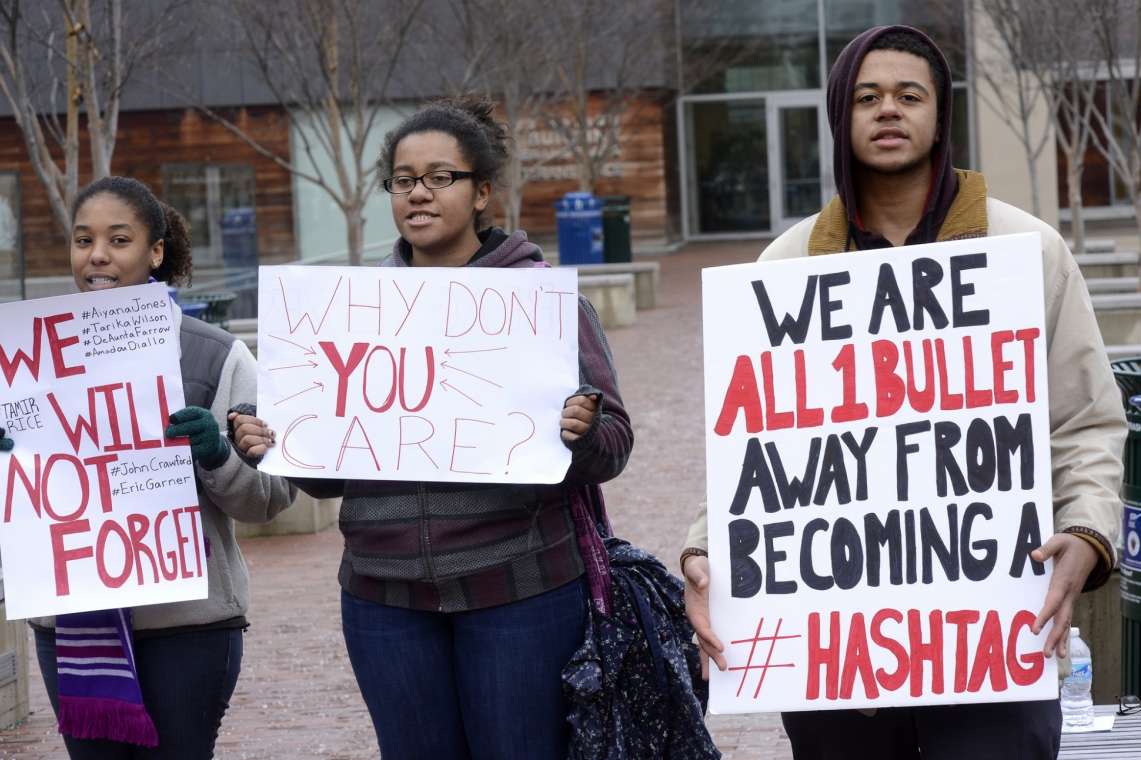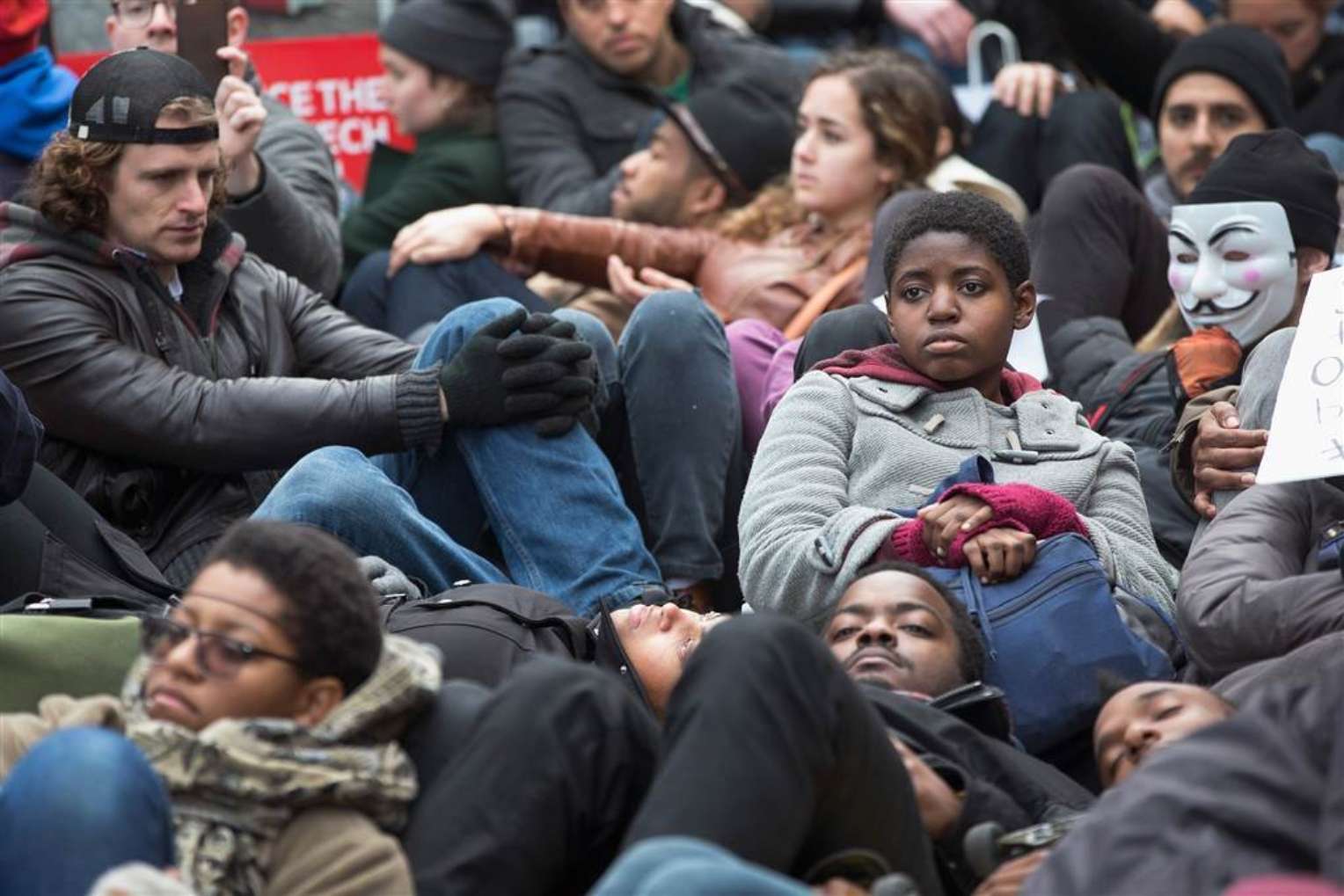 "We can restore both trust and faith, not only in our laws but also in those who enforce them."

—Loretta Lynch

"The racial reputation of blacks has been uniquely besieged [by the] idea that blacks are racially predisposed toward criminality . . ."

—Randall Kennedy

"Civil society is reserved for those bodies that do not magnetize bullets."

—Frank Wilderson III
Activists affiliated with #BlackLivesMatter, the Black Women's Blueprint, and Educators for Mumia Abu-Jamal (EMAJ) aim to extend imagination and practice beyond conventional politics, resisting the law-and-order rhetoric that legitimates police and prison brutality. EMAJ, for instance, confronts life-threatening medical neglect of political prisoner Mumia Abu-Jamal as an expression of the vulnerability of black lives to legal violence. Such violence renders black people moving targets for violation and death. Homicides of unarmed blacks by white, nonwhite, or multiracial police forces reflect an institutional anti-black bias in law enforcement. Recent politicized deaths include the police killings of unarmed children and adults: Ayana Stanley-Jones, Rekia Boyd, Trayvon Martin, Miriam Carey, Yvette Smith, John Crawford, Michael Brown, Tamir Rice, Eric Garner, Tanisha Anderson, Walter Scott, and Freddie Gray.
After Ferguson, Missouri erupted in 2014 following the police shooting of Michael Brown, President Barack Obama dismissed Congressman John Lewis's assertion that the Ferguson protests could spark another major civil rights movement. Yet Lewis, a former Student Nonviolent Coordinating Committee activist, perceived the impact of an emergent international network of radical opposition. In November 2014, young activists from Chicago, aligning themselves with the "We Charge Genocide" petition of 1951, met with the Committee Against Torture in Geneva to discuss the Chicago police torture ring that forced over one hundred mostly black men into false confessions and imprisonments. Michael Brown's parents raised the issue of the militarization of police in Ferguson, while #BlackLivesMatter and the Black Women's Blueprint addressed the committee on sexual assault. The Committee Against Torture's questioning of the U.S. delegation focused on militarized policing, torture, and rape in prison. When President Obama subsequently discussed remedies to police militarization and prison rape, he did not mention radical black activists' diplomatic work beyond U.S. borders.
Besieged Reputations
On April 27, 2015, U.S. Attorney General Loretta Lynch (2015) condemned protesters' violence against Baltimore police and property. Validating what she described as "legitimate peaceful protesters," Lynch raised the possibility of a Department of Justice investigation into Freddie Gray's death, an offer that the city accepted the following week. But Lynch's predecessor, Eric Holder, had rejected Baltimore Mayor Stephanie Rawlings-Blake and Police Commissioner Anthony Batts's calls for a federal investigation after a Baltimore Sun exposé on police brutality. Instead, the Department of Justice settled on a collaborative review of the police department, in keeping with President Obama's Community Oriented Policing Services initiative. Even as police continued to violate black communities, Attorney General Lynch instructed "the Baltimore community" to adhere to nonviolence. Police aggression was seen as necessary, protected by bureaucracy, unions, and laws such as Maryland's Law Enforcement Officers' Bill of Rights. Activists rejected this framing and denounced police violence, challenging the position that broken windows were more important than broken necks.
Press reports of Baltimore students rioting after school failed to note what teachers, administrators, and students themselves witnessed: militarized riot police forcing students off buses, blocking subway travel, and refusing to let students leave Frederick Douglass High School for home. In May, a student's handwritten missive to the alternative press explained that when police commandeered their transportation, corralled, and intimidated them, students reasoned that rather than turn their anger on each other, they would turn it against the police. Just as with the gang threat, media outlets uncritically accepted the predator-teen threat, increasing public sympathy for police. Governor Larry Hogan outlined the military campaign, with Baltimore divided into sectors cleared by police and secured by the National Guard. The mayor set a curfew, lifted only after police indictments. Meanwhile, underreported by the press, gangs called truces as black clergy and community leaders walked the streets with members of the Nation of Islam, serving as moving shields between rioters/rebels, police, and property. This inversion of the 1971 Attica rebellion—in which black and brown prisoners mistakenly believed that National Guard troops would not shoot through white prison guards used as shields—revealed these leaders' comprehension of the agency, grief, and rage (as well as venal opportunism) of their burning communities. Leaders maintained discipline by keeping everyone within the community, sharing criticisms of police violence and containment strategies. For his part, President Obama (2015) condemned Baltimore "thugs" and acknowledged his inability to control police, even as he called for a national movement addressing the needs of impoverished children.
Gendered Movements
Public perceptions of police violence obscure the victimization of women. A 2010 report from the Cato Institute found that sexual misconduct is the second-most-reported police crime, following excessive force. Black female (and queer) sexuality gets associated with seduction, rendering consent meaningless. Yet the victimization of black men can also end in rape; in 1997, it was Loretta Lynch who prosecuted the white officers responsible for sodomizing Abner Louima with a toilet plunger, leading to the New York Police Department's largest settlement for police violence. Gender bias in activist movements must be understood in the context of traumatizing police assaults that place black women under rhetorical and physical siege.
Unifying theories of violence and vulnerability, activists reconstitute movements as genders-inclusive, nonelitist, and radical. Offering critiques beyond bipartisan, cost-cutting decarceration and police training, their focus on anti-black racism redefines the resistance of moving targets.
Joy James is F.C. Oakley Professor of the Humanities at Williams College.