Muddy Labor: A Japanese Aid Ethic of Collective Intimacy in Myanmar: Supplemental Material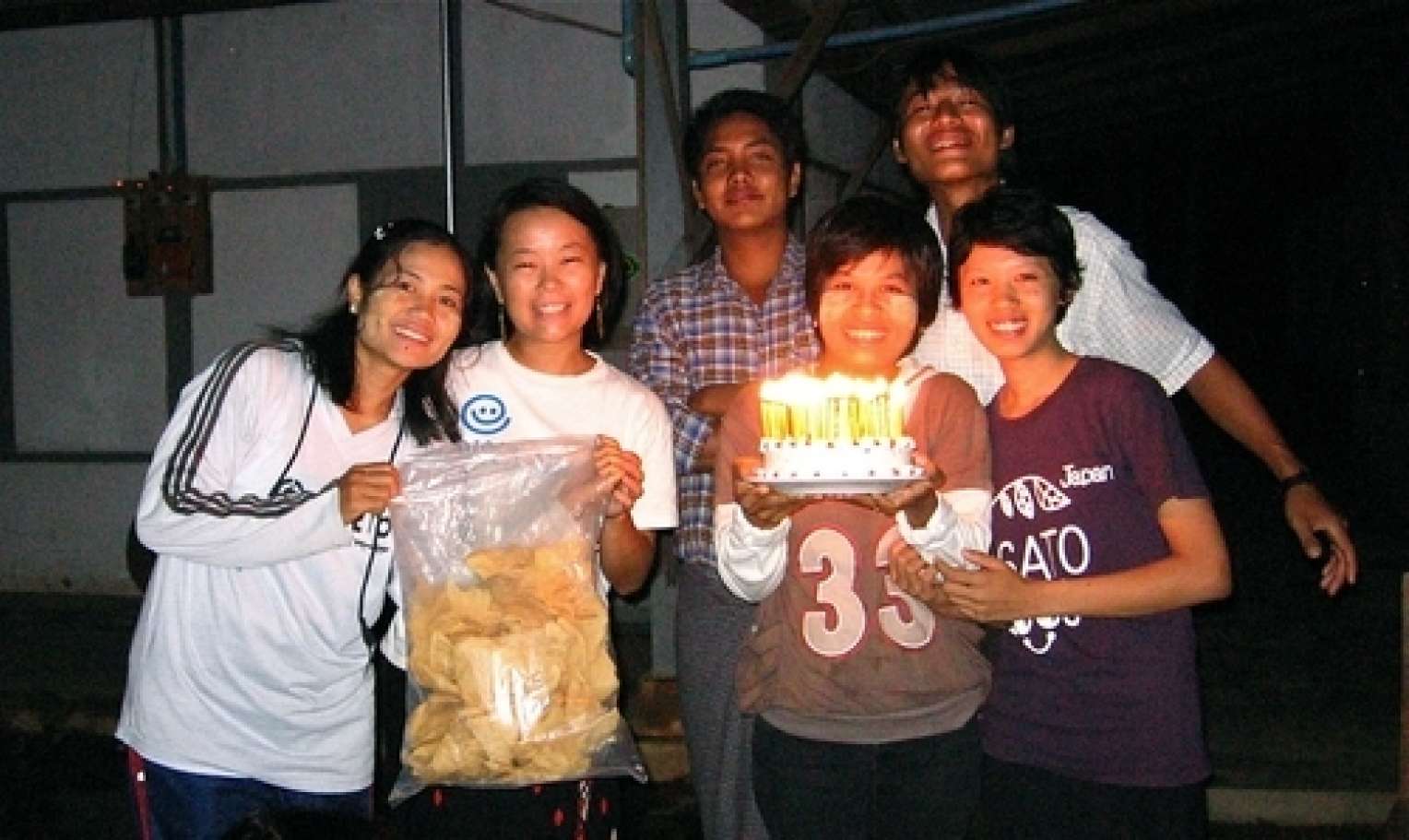 Chika Watanabe is an assistant professor in the Department of Social Anthropology at the University of Manchester, UK. Her research focuses on the logics and practices of Japanese aid in Myanmar, particularly as they emerge in the intersection of questions of religion and secularity, ethics and morality, ecology, and remnants of imperialist ambitions and relations. In addition to several forthcoming publications, she is currently working on a book manuscript entitled Muddy Labor: Nonreligion and the Moral Imaginary of a Japanese NGO in Myanmar. For more on Watanabe's work, see her faculty webpage.
Additional Works by the Author
2013. "Past Loss as Future?: The Politics of Temporality and the 'Non-Religious' by a Japanese NGO in Burma/Myanmar." Political and Legal Anthropology Review (PoLAR) 36, no. 1: 75–98.
2011. "Zaidan Hojin OISCA no hito wo sodateru Kaihatsu enjo-neoliberalism e no sleeve wo try shutaikeisei no kōsatsu" [Developing Aid through 'Nurturing People' by the NGO OISCA-A Study of the Subject Formation Beyond the Critiques of Neoliberalism]. Shūkyō to Shakai Koken [ Religion and Social Engagement ], 1, no. 2: 23–48 (In Japanese).
Interview with Chika Watanabe
Ann Iwashita: Your study of Japanese aid in Myanmar necessitates the transversal and translation of multiple cultural thresholds of language, body, and ethics—not only between Japanese and Burmese philosophies but also across genealogies of Euro-American thought. Can you speak about your preparation for this work?
Chika Watanabe: I was fortunate to be at Cornell for my graduate training, where there was a wonderful Southeast Asian Studies Program with excellent Burmese language classes, in addition to a strong group of Japan Studies scholars. Of course, in terms of language and other preparations, it also helped that I am Japanese! I recognize that a lot of the challenges of doing inter-Asia research are such practicalities. As for traversing diverse genealogies of thought, I did not think that I was doing anything particularly different, but perhaps taking into account historical traces—specifically of Japanese imperialism in Asia—in international aid activities helps make such connections.
AI: Can you explain a bit more about the extent to which the OISCA organization engages with a broader community in Myanmar, outside of the training center? For example, is there distribution of vegetable or animal goods, or any kind of person-to-person interaction that diffuses the hard boundary of the training center from a larger territory, a larger community?
CW: The OISCA training center does have more interaction with the surrounding villages than it appears in the article. Villagers buy eggs, piglets and pigs, and other agricultural produce such as bokashi fertilizer and natural pesticides from the training center. Since 2005, OISCA has also partnered with the World Food Programme (WFP) to implement Food for Training (FFT) activities in nearby communities—two- or three-day trainings in organic agriculture, hygiene, and other topics that villagers attend in exchange for rice. So the training center is not like a secluded utopian community. But, the emphasis remains on the collective in the training center and the way it operates is largely in response to the needs and practices of the center, not to the lives of people in the surrounding communities. I would also say that OISCA's mode of engagement with villagers, government bodies, and other organizations in Myanmar is, as the director explained, as a "model farm," that is, as a bounded entity to be studied and emulated.
AI: As funding for OISCA shifts from provision by government subsidy and Ananaikyō membership fees to private donations and Japanese corporate contributions, is there a shift or strengthening of a particular ethos of aid, or what aid should look like or produce?
CW: This change has definitely forced OISCA to reexamine its priorities and the way that it operates. For instance, corporations care about quantifiable results, such as the number of trees planted, rather than hard-to-measure activities, such as the "cultivation of persons" in hitozukuri. As a result, funding for the trainings has been difficult to secure in recent years. As senior Ananaikyō staff members lamented to me, the shift has also pushed staffers to prioritize "projects" over understandings of the organization as a "movement." In that regard, the Myamar training center has been hailed as a success because it funds itself through the sale of agricultural produce and exemplifies what makes OISCA unique—the making of persons through a communal lifestyle and collective labor.
AI: Can you give us a sense of what the mud smelled like? How were participants experiencing the mud? Was the mud consistently interpreted through discourse of OISCA staff and officials, and did this bleed into people's expressions of mud?
CW: I have a short essay under review that begins with a description of how the mud smelled of excrement. This was because human wastewater and animal manure were used in the agricultural fields. They used effective microorganisms (EM) to disinfect so the smell was usually not so bad, but sometimes we would get a whiff of it and it was unpleasant. But even the occasional stench seemed to add to the sense of community and solidarity for the director and Burmese aid workers. This is probably unsuprising—the visceral smell permeating the training center connected everyone in a shared experience. What was powerful about the Japanese metaphor of muddiness (dorodoro) was that it mobilized ambiguous things—soil that is not quite just soil, relations that are not quite comfortable, and so on—as the fuel for sentiments of oneness. And so even ambivalent feelings about mud, OISCA, or communal living could be part of what made the sense of oneness.
AI: You end the article with your thoughts on the limits of ethnographic work: its situational power, its temporal brevity. Yet, your article testifies to the capacity for careful and engaged thought to imagine, and perhaps produce, new futures. What are possibilities for political intervention you imagine through your work, and the work of anthropology?
CW: This is a difficult question. One answer is that what I pointed to was perhaps a friction between anthropological analysis and ethnographic work—that ethnography might pose difficulties to any kind of analytical stability. We need to always keep our ears and minds open because the people we study might be reformulating questions of power and agency—perennial anthropological concerns that I think still color most studies—in ways that make us uncomfortable. I have just been re-reading Iris Jean-Klein and Annelise Riles's (2005) article, "Introducing Discipline: Anthropology and Human Rights Administrations," and if there is any possibility for my work, or the work of anthropology in general, to intervene in "the real world," it would be in rethinking the importance of discipline in our ethnographic descriptions, as Jean-Klein and Riles say. This is easier said than done, however; but the first step might have to be to think about interventions in indirect ways so that they are not formulaic.
Related Readings
Ampiah, Kweku. 2012. "The Discourse of Local Ownership in Development: Rhapsodies about 'Self-help' in Japan's Economic Assistance to Africa." Japanese Studies 32, no. 2: 161–82.
Berlant, Lauren. 2011. Cruel Optimism. Durham, N.C.: Duke University Press.
Borovoy, Amy. 2012. "Doi Takeo and the Rehabilitation of Particularism in Postwar Japan." Journal of Japanese Studies 38, no. 2: 263–95.
Kim, Soyeun. 2011. "Bridging Troubled Worlds? An Analysis of the Ethical Case for South Korean Aid." Journal of International Development 23:802–22.
Leheny, David, and Kay Warren, eds. 2012. Japanese Aid and the Construction of Global Development. New York: Routledge.
Robertson, Jennifer. 1997. "Empire of Nostalgia: Rethinking 'Internationalization' in Japan Today." Theory, Culture & Society 14, no. 4: 97–122.