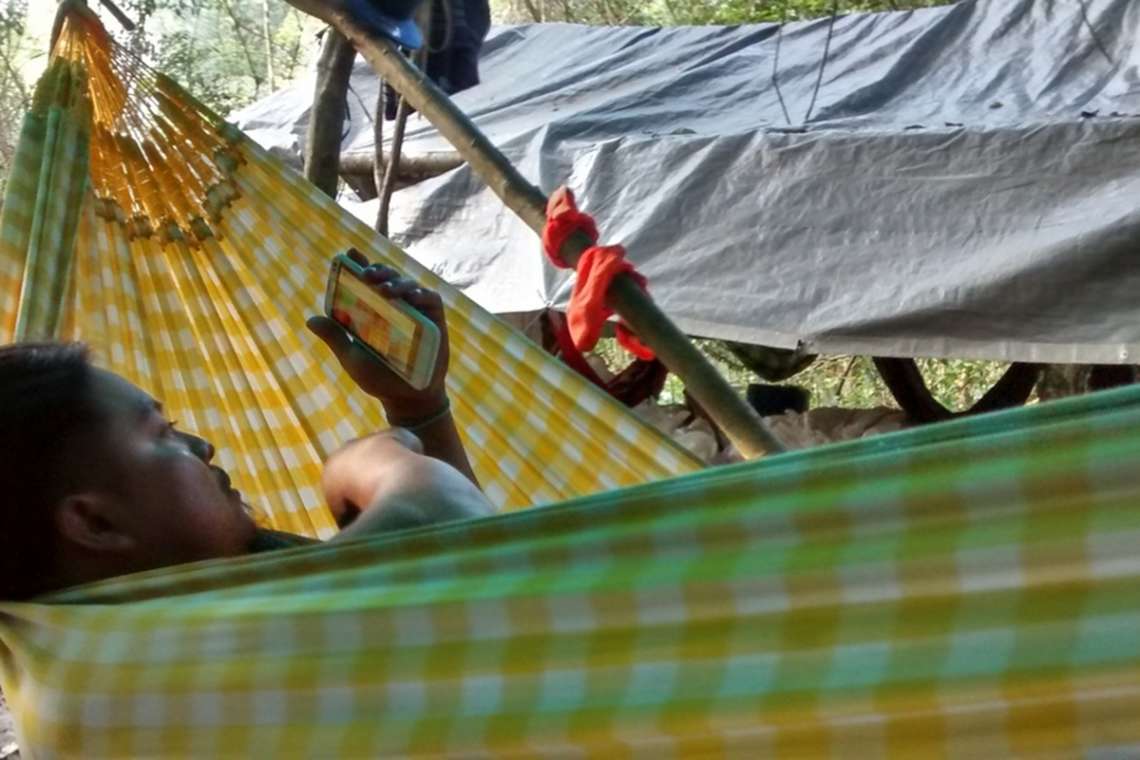 Bluetooth
by Elliott Oakley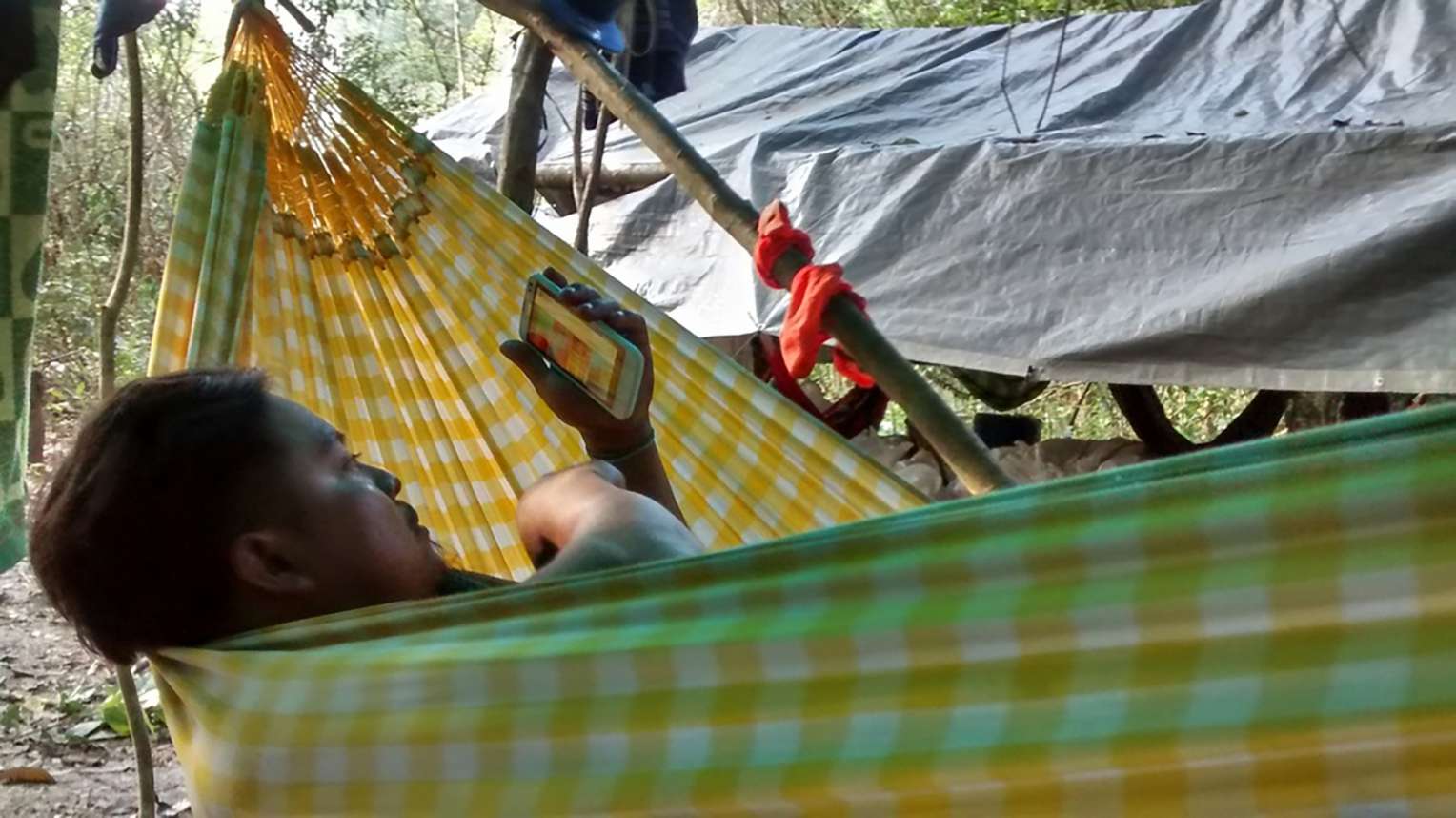 Standing trees and standing water
Sifting silt to fill the coffer
Gold in pockets and Nescafé bottles
Gold in cell phones recording the process
Pictures that travel and pictures that leap
Bluetooth between bodies that meet.
One night, in an indigenous village in the rainforest of southern Guyana, we woke to the muutu's growl, the outboard engine noise that reveals riverine comings and goings. Dogs barked, and we returned to sleep; the men who went to work gold were home. The next day, I joined a circle around a cell phone displaying images of creeks, forest camps, and young men posing with their tools. "Akuknon komo ishe wasï. Bluetooth kasko!" someone called. I want those pictures. Do Bluetooth!
Bluetooth inverts the alluring far-as-near that seems to shrink our world. Its spark functions only in the most local sense of proximity; social space transforms, yes, but people nevertheless pair before their devices can. Images of near and far spread as people retrace the rivers and roads that have long carried trade goods, knowledge, and kin. At each juncture, beside government-installed solar panels or petrol-powered generators, phones drink current and people drink cola. Neither cell phones nor their digital-material contents are individualized or individualizing. Physical phones are lent, SIM cards swapped, files duplicated. The beautiful and the graphic, the melodious and the comic—they replicate to follow both branches, undermining the singularity with which bodies choose one.
Here the multiplying cell lends its name to the phone. But it is the habit of visiting, the deliberate recitation of how a visitor came here, the branching out of stories heard and retold, which shapes the sociality of Bluetooth. And it is this sociality for which D-cell batteries are wired to chargers plugged into phones in the forest: we travel, we return home; we pair, we share.
Overcharged
by Alessandro Angelini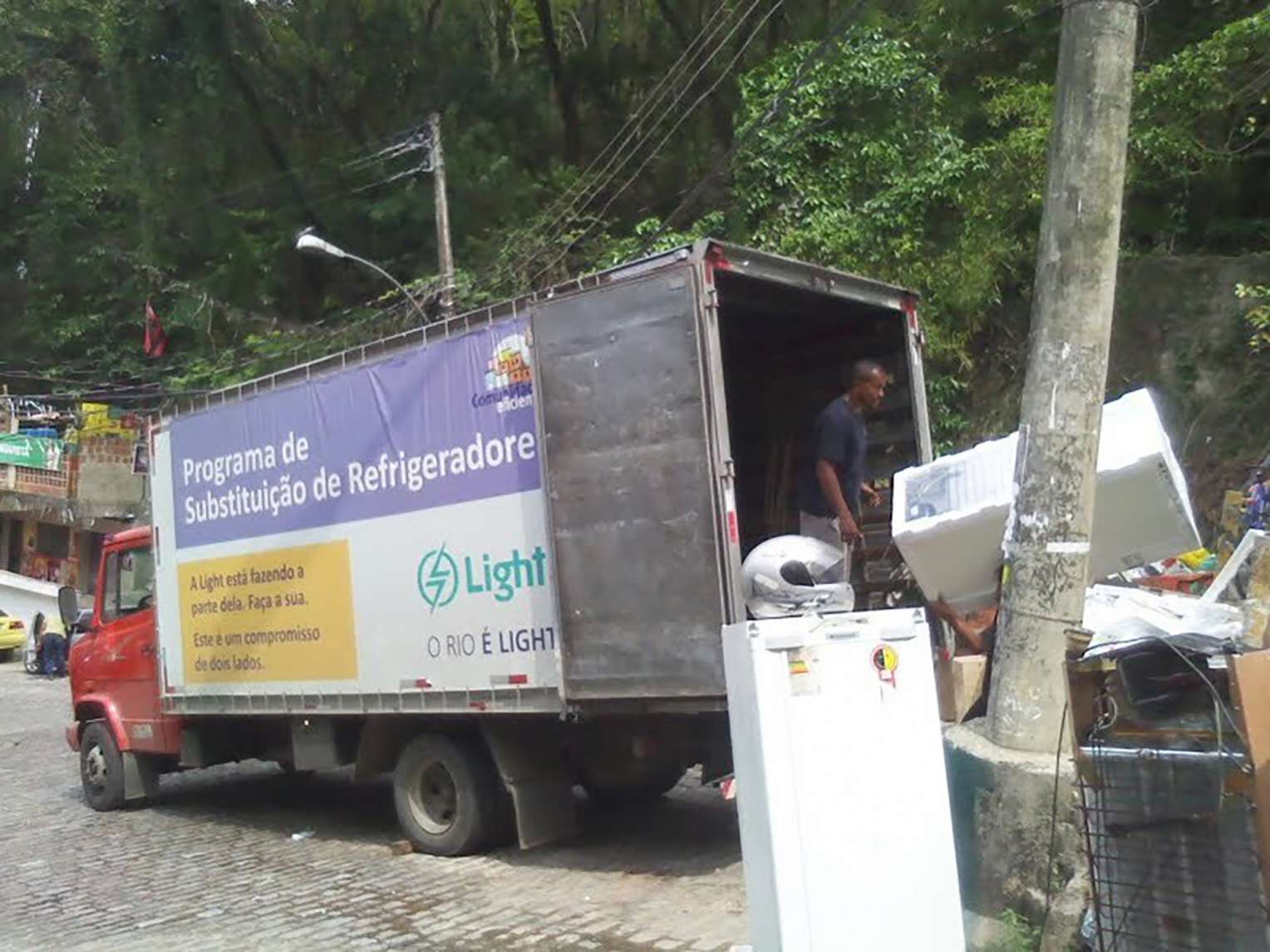 In 2010, a fleet of box trucks delivered 33,000 brand-new, energy-efficient refrigerators to Rio's poorest communities, known as favelas. The side of the delivery trucks bore a message of reciprocal interdependence: "Refrigerator Substitution Program: Light is doing its part. Do yours. This is a commitment with two sides."
Light, the municipal electric company, had devised the trade with favela residents who had recently seen the utility provider's technicians install electric meter boxes on their houses. Residents carried out their old, rusting fridges and exchanged them for gleaming white new ones. The program projected that the lower consumption rate of the new appliances would contribute to more affordable monthly electric bills for residents who had, until then, always drawn power from the grid for a nominal fee paid to an informal electrician, or gato. Being able to pay a utility bill thus represented a form of social inclusion through consumption of public services.
Thousands of families would acquire addresses where that bill could arrive, the alleyways christened with names and their houses numbered. Having a postal address, in turn, made opening bank accounts possible. Residents carried plastic debit cards in their wallets and punched PIN codes into ATMs for the first time. Some favelas even became experiments in energy projects, such as high-tech soccer pitches that transformed the kinetic impacts of players' footsteps into nighttime illumination. Within a few years, however, favela residents saw their electric bills inexplicably skyrocket, over 1000 percent in many cases. Some staged public protests, while others surreptitiously hired their local gato to reconnect them to the illicit network. The entanglements of wires and idle meter boxes that no longer counted kilowatt-hours speak not only to the fraught relationship between formal and informal economies but also to stalled commitments.
Watermill
by Jonathan DeVore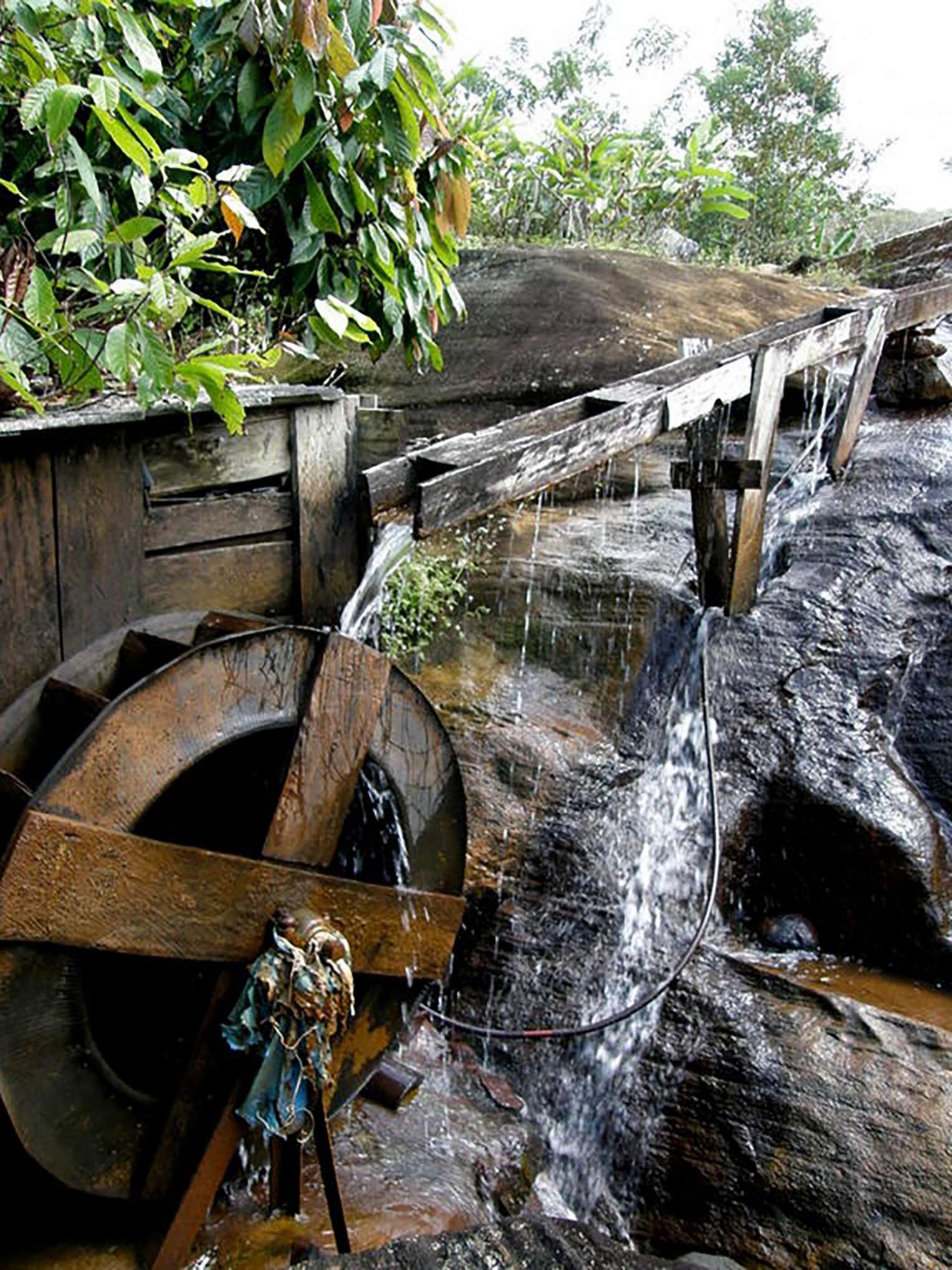 Our lives with electric things are marked by disjuncture, disparity, and electric inequity. Thus, this homemade hydroelectric watermill situated upon a cascade of rocks in a small stream near the southern coast of Bahia, Brazil. The watermill charges an old car battery used to illuminate a bulb in the quarters where a family of landless rural workers sleeps. There, they dream dreams of other electric things—refrigerators, washing machines, even televisions—that populate an imagined house on some possible land that one day, perhaps, they will call their home. Theorizing our contemporary lives with electric things is to recall violent legacies of historical inequalities that continue to shape the lives of many rural people, in Brazil and beyond.
Programs to repair these electric inequities in Brazil have appeared under different names. Before President Lula's rural electrification initiative, Luz para Todos ("Light for All"), there was President Cardoso's Luz no Campo ("Light in the Countryside"). But even after years of petitions submitted, GPS coordinates recorded, and NGO meetings held, the Bahia Electricity Company has yet to arrive in many invisible and ignored communities.
Unevenly distributed networks of electrical grids, like the benefits of many rural development programs, trace unevenly distributed networks of political and bureaucratic patronage. Promises made in political campaigns rarely materialize, and woe to the community that picks the wrong candidate in municipal elections. It will suffer the mayor's vingança (vengeance) through deliberate inattention.
Meanwhile, rural families electrify their lives by creating commons out of refrigerator space and energy bills, while others save up for months or years to buy tens if not hundreds of meters of wire that they run for long distances on improvised stilts, often through the forest, to the houses and electrical boxes of friends who always provide candles in the dark.