"Pervasive, yet Fractured": A Roundtable on Centering Indigenous Critiques and Teaching Settler Colonialism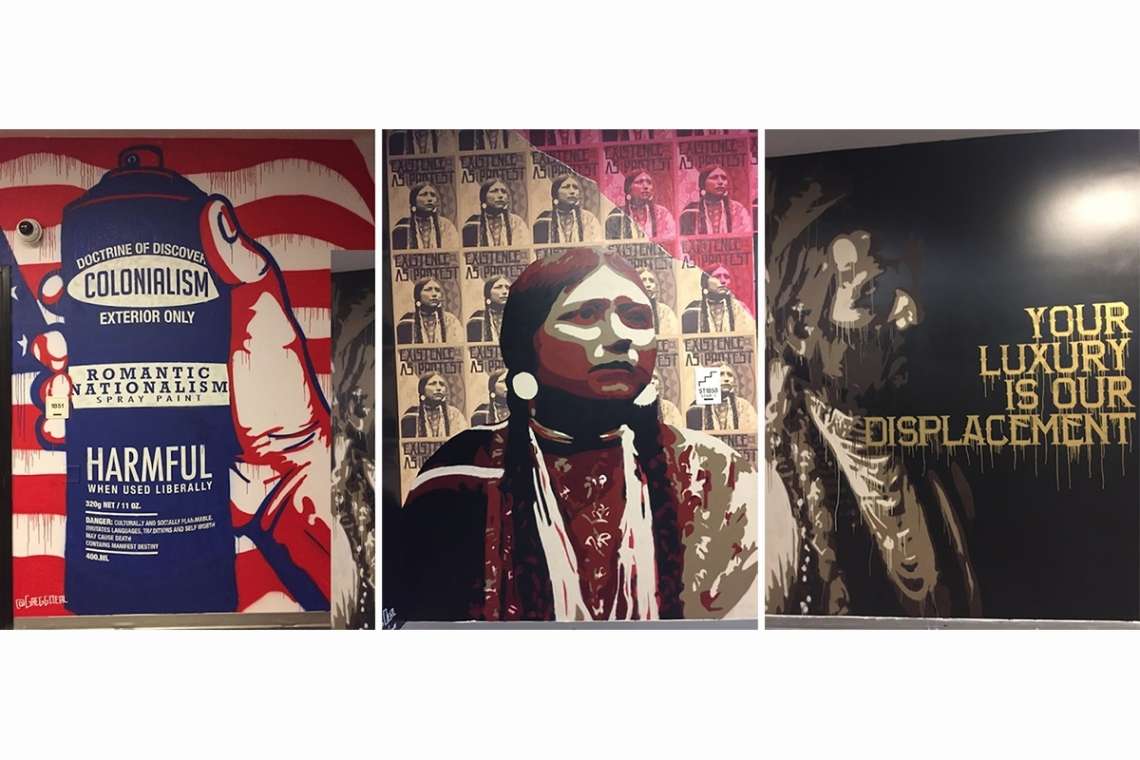 As I write, Kanaka Maoli kia'i are assembling to protect Mauna Kea against the threat of the Thirty Meter Telescope; Diné and Pueblo peoples are collaborating to safeguard the Greater Chaco region from unchecked fracking; and the Unist'ot'en are holding space to defend Wet'suwet'en territory and ways of life from invasive pipeline infrastructure (see Spice 2018). These are just a few of the many of ongoing Indigenous-led struggles around the world to protect sacred places, territories, and lifeways from settler capitalist incursions. In this context, it is as important as ever to teach and learn about the structures that normalize and enable dispossession, and the varied ways in which Indigenous peoples are building futures.
This Teaching Tools post features a roundtable discussion between Clint Carroll, Jessica Cattelino, Jean Dennison, and Anne Spice. We discussed imperatives for teaching about settler colonialism in university classrooms, and creative strategies for doing so. The authors underscore the importance of centering Indigenous perspectives and critiques in their pedagogy and reflect on their personal experiences teaching about the continuance of Indigenous life. Throughout their responses, each scholar provides examples of texts, activities, and approaches that they've found helpful in their teaching for creating conditions for students to, as Clint Carroll says below, "offer critical contributions on the pervasive, yet fractured, project of settler colonialism."
Clint Carroll (Cherokee Nation) is Associate Professor of Native American and Indigenous Studies in the Department of Ethnic Studies at the University of Colorado Boulder. He works at the intersections of Indigenous studies, anthropology, and political ecology, with an emphasis on Cherokee environmental governance and land-based resurgence.
Jessica Cattelino is UCLA Associate Professor of Anthropology and a faculty affiliate in American Indian Studies. She is author of High Stakes: Florida Seminole Gaming and Sovereignty (2008, Duke University Press). She is currently working on an ethnography about the cultural politics of water in the Florida Everglades and directs a team research project at UCLA's Center for the Study of Women on gender and everyday household water use in Los Angeles.
Jean Dennison (Osage Nation) is Associate Professor of American Indian Studies and the Co-Director for the Center for American Indian and Indigenous Studies at the University of Washington. Through her ongoing research with the Osage Nation, she is examining how we might reestablish trust in our Native nation governance systems.
Anne Spice is a Tlingit land defender, queer Indigenous feminist, and anti-colonial organizer. She lives and works with Indigenous peoples resisting resource extraction on Wet'suwet'en territory and is a doctoral candidate in anthropology at the CUNY Graduate Center.
---
Sonia Grant (SG): Why is it important to you to teach undergraduate students about settler colonialism? In what kinds of classes do you do so?
Clint Carroll (CC): My work is critically engaged with anthropology and related disciplines, as reflected in my academic background and current research; however, my disciplinary "home" has always been Native American and Indigenous Studies (NAIS). Teaching from this perspective within a department of Ethnic Studies, the study of settler colonialism as a historical formation and ongoing structural process permeates each of my courses.
Although I do have my students read the important work of Patrick Wolfe and others who have theorized settler colonialism as a distinct colonial formation, the framework of NAIS from which I teach has always centered Indigenous critiques of colonialism. Useful to me has been a piece by Corey Snelgrove, Rita Dhamoon, and Jeff Corntassel (2014) in which they dialogue with each other regarding the relatively new area of settler colonial studies in relation to NAIS, among other issues.
Jean Dennison (JD): I have taught a range of courses that contend with the ways that Indigenous peoples are making sense of and navigating ongoing settler colonial structures. The clearest example is my mixed graduate and undergraduate course entitled Settler Colonialism. The three-hour discussion class is organized around weekly themes on a range of topics such as sovereignty, recognition, whiteness, gender and sexuality, governance, and solidarity. The graduate students take turns leading class each week, bringing in relevant outside materials, such as film and audio clips, developing discussion questions, and breaking students into small working groups to parse the materials and delve deeper into the themes of the week.
Similar to Clint, my grounding as both a researcher and teacher is ethnographic, and my primary discipline is NAIS. In teaching settler colonialism, I am especially committed to grounding all of my teaching in Indigenous perspectives and critiques. Too often in academia, Indigenous peoples are treated as subjects, or perhaps research assistants, but rarely as theorists. Thus, while I assign a few non-Indigenous authors for students to read, the majority of the authors are Indigenous. Assigning Aboriginal Australian theorist Aileen Moreton-Robinson (2015), for example, helps students understand that Indigenous theorists are not only thinking about Indigenous knowledges, but have important critiques of whiteness and other structures. This critique of whiteness is particularly useful to my white students who are coming to terms with the legacies of privilege they have inherited and with how that manifests in their opportunities and emotions. This discussion of whiteness is also important for all students, as they make sense of the motivations that underlie structures of power and come up with strategies, such as centering Indigenous sovereignty, for challenging the "white possessive" (Moreton-Robinson 2015).
Another core commitment grounding my teaching of settler colonialism is to make sure that students understand that Indigenous peoples have not been eliminated, despite settler colonial logics. Too often in their writing, students will assume that assimilation policies did what they were intended to do, thus reinforcing settler colonial logic. As J. Kēhaulani Kauanui (2016) argues, we must instead pay close attention to "enduring Indigeneity" because "to exclusively focus on the settler colonial without any meaningful engagement with the Indigenous. . . can (re)produce another form of 'elimination of the Indigenous.'" Thus in the conference paper assignment required of each student, they're asked not just to chronicle the impacts of settler structures in a particular area, but also to discuss how Indigenous peoples are navigating these colonial entanglements. By focusing student projects around the paths Indigenous peoples are carving in an effort to move forward, students are able to challenge colonial narratives of disappearance and share strategies of how to disrupt these structures.
Anne Spice (AS): As a PhD student in anthropology, I taught anthropology 101 classes in the public CUNY system. There were few courses offered in the whole system that attended to settler colonialism or Indigenous resistance in any focused way. I felt a responsibility to make sure the anthropology courses I taught considered the discipline's roots in colonialism, imperialism, and racist science. Settler colonization and Indigenous dispossession are the foundational conditions of education on this continent and understanding how they operate is crucial to pedagogies based in a desire for justice and freedom. I've worked with students to better articulate the intersections and connections between anti-blackness and settler colonialism, the regimes of property that underwrite Indigenous dispossession and the system of racial slavery, border imperialism, and the creation of savage "others." Bringing these complicated intersections into the classroom means trusting students to follow the connections and map these networks, to bring their own experiences to bear on the structural oppression of others, to analyze the tools we have in disciplines like anthropology to make these experiences and connections known. For me, this is grounded in Indigenous ways of knowing, in storytelling and relationality. Finding the places where these ways of knowing intersect with anthropology's methodologies helps me to create spaces in the classroom where students can also tell their stories and be open to the stories of Indigenous peoples.
Jessica Cattelino (JC): I regularly teach a lecture course to 300–400 students at UCLA, a public university. The course functions as: 1) the fulfillment of a general education (GE) requirement on "Foundations of Society and Culture"; and 2) the required introductory course in sociocultural anthropology for our large (600+) major in anthropology. I have always considered it to be my basic responsibility, as a teacher generally and an anthropologist specifically, to introduce the concept of settler colonialism in any class I teach. I especially drive home to GE and intro students the ways in which settler colonialism is fundamental to the structure and meanings of American life as we live it, day to day. While it is my conviction that settler colonialism should be a theme in any social sciences core course—especially in anthropology, for the reasons Anne says—and that courses in the traditional disciplines need to do this work, I (like everyone here) never teach about settler colonialism without also teaching about Indigenous sovereignty and resistance to colonialism.
"By focusing student projects around the paths Indigenous peoples are carving in an effort to move forward, students are able to challenge colonial narratives of disappearance and share strategies of how to disrupt these structures". —Jean Dennison
SG: How do you introduce students to the histories and ongoing processes of settlement, and to some of the multiple forms of indigenous resistance to settler colonialism?
AS: I begin with an exercise. I give the class a minute to name as many Indigenous people as they can. The list they compile is short, and stereotypical, and there are rarely many living Indigenous people. The experience and existence of Indigenous peoples under American occupation has been made so invisible that we simply don't come to mind. This is the context of our theorizing around settler colonialism. Unfortunately, I have to begin my classes by emphasizing the ongoing existence of Indigenous life and culture and resistance.
While it is useful to draw attention to the ongoing violence of settlement, and the way that colonialism pervades the structures of governance in settler states, it is also crucial to attend to the ways that Indigenous life evades capture and continues to thrive in the face of attempts at assimilation and elimination. I often begin discussions around colonialism by talking about property. What does it mean to own the land? Who gets to say they own the land and how did they get into a position to do so? How is colonial possession maintained, and what violence is involved in this maintenance? What other ways of relating to land might we consider? What other worlds do these relations make possible? Grounding discussions this way helps students to locate intersections as well between histories of settler colonialism, slavery, and imperialism.
In terms of resistance, my teaching has always been interwoven with my own participation in movements for Indigenous liberation. I draw from my experience in grassroots movements—at Unist'ot'en Camp, at Standing Rock, on Haida Gwaii—to help illustrate the ways that Indigenous resistance is aimed at rebuilding a way of living alternative to the destructive and extractive settler state. I've also used videos, YouTube clips, poetry, and art emerging from these movements as starting points for discussion. This is useful for shifting the frame of Indigenous resistance from simple opposition to an emerging and generative movement toward the continuation of Indigenous life.
CC: I really like Anne's comment on "shifting the frame" for understanding Indigenous resistance from purely oppositional acts to the assertion and enactment of Indigenous lifeways. In a similar vein, I encourage my students to think about how contemporary Indigenous resistance articulates the need for fostering reciprocal relationships among peoples (including other-than-human beings). This feeds into the stance of Indigenous activism seen in the #IdleNoMore movement and the #NoDAPL movement at Standing Rock, in which Indigenous people were/are calling for responsible allyship and relational solidarity in order to resist capitalism and settler colonialism collectively and for the well-being of the land. Regarding allyship, Patrick Wolfe's (2006) main arguments in "Settler Colonialism and the Elimination of the Native," opens up some space for my students and I to aim our critique at structures rather than point fingers at individuals. Of course, there are plenty of individuals throughout history and in the present that actively promote and uphold settler colonial structures (at whom we can point fingers). But the strategic move here is to de-center (note: not dismiss) the personal feelings of shame and guilt (or, in some cases, defensiveness) on which many white students may dwell to the detriment of actually learning how to think critically. When we center settler colonialism as a structure, or as one of many mutually constituting structures, then we can begin the critical work of understanding how those structures function and how to challenge and work to dismantle them.
I always start my courses with an acknowledgment and discussion of the Indigenous homelands that we occupy. In the case of CU Boulder, these are the traditional territories of the Ute, Arapaho, and Cheyenne nations. I also provide the link to the Native Land project and encourage my students to use this resource whenever they travel in order to be mindful of the social construction of settler borders. I also start the semester by teaching students very basic greeting phrases in my native language, Cherokee ("Hello, how are you?" "I am fine." etc.). This way, we begin each session in an Indigenous language, which helps us all to transition to class on an intentionally different note; you could say that this, in itself, challenges and resists the educational structures of the very university we inhabit. These opening activities contribute to my general approach to the course: to bring people in by creating a space that is both welcoming and unabashedly critical of colonial structures and policies. This can be tricky, but settler colonial studies helps here. I think one of the most useful contributions [Patrick] Wolfe made, especially for teaching NAIS, is to name explicitly, and discuss at length, the ongoing structural qualities of settler colonialism.
JC: Throughout the quarter in my big introductory/GE course in sociocultural anthropology (which is global in scope) I thread the theme of settler colonialism through lectures on a variety of topics, including economic anthropology, power and everyday life, colonialism, education, immigration, global politics, and environment. Partway into the course, there is also a dedicated unit on Indigeneity and Settler Colonialism (with readings by Audra Simpson; a film, the classic Kanehsatake: 270 Years of Resistance; and a short video, Haida Raid 3: Save Our Waters).

Early in the course, while teaching basic research methods, as an in-class exercise I have them map where we are. While I use the resulting maps to discuss scale, description, and related methodological issues, I also use that moment to ask them whose land they are on. Year after year, no one (or in some years a single student, and in one year, two students) out of a class of 300–400 could name the Indigenous people on whose land UCLA sits. That is, until this year. What changed? Lakota PhD student Clementine Bordeaux and Kumeyaay alum Kenneth Ramos wrote and performed a piece for UCLA's big orientation event about being a guest on this Tongva land (Bordeaux and Ramos 2018). Students cited that performance as the source of their knowledge. This reminded me of the basic truth that teaching happens across the university, not only in our classrooms. The final exam for the course includes multiple-choice questions designed to test higher-order thinking. But, there is a single question that requires only that they have memorized a fact (and I even tip them off to this in advance), and that asks who are the traditional caretakers of the land on which we sit in the class.
The important ongoing work of Indigenous resistance gets through to students when I teach the struggle against the Dakota Access Pipeline not in isolation, but rather alongside Oka, repatriation efforts, and other Indigenous struggles. Perhaps even more, it sticks when I tie together Audra Simpson's (2014) description of Mohawks at Kahnawà:ke as "Indigenous nationals of a strangulated political order who do all they can to live a political life robustly, with dignity as Nationals" (3, emphasis mine); Fanon's passage (I show the post of it on social media by IdleNoMore) "we revolt simply because, for many reasons, we cannot breathe" (2008: 201); and Black Lives Matter and the police murder of Eric Garner in Staten Island, who said "I can't breathe" just before he was strangled by an illegal chokehold.
JD: All my weekly themes (settler colonialisms, sovereignty, Indigenous methodologies, recognition, gender and sexuality, whiteness, governance, and solidarity) are designed to highlight both ongoing processes of settlement as well as multiple forms of Indigenous resistance to settler colonialism. But, the week on Indigenous Methodologies has consistently been the most provocative for students. Readings such as Linda Tuhiwai Smith's (1999) Decolonizing Methodologies do an excellent job demonstrating how knowledge production has acted as a key tool of settler colonialism, but also highlighting some of the core changes needed. She writes about how research undertaken within our communities must benefit them, be undertaken for and with our communities, and prioritize community self-determination. Students also find more recent readings compelling, such as Eve Tuck's and K. Wayne Yang's (2014) work, which describes the needed change from "damage-centered" to "desire-centered" research. By grounding the conversation in students' own research projects and knowledge production, this week's discussion often moves the topic of settler colonialism from an abstraction into something they must actively work against.

"Settler colonization and Indigenous dispossession are the foundational conditions of education on this continent and understanding how they operate is crucial to pedagogies based in a desire for justice and freedom." —Anne Spice
SG: Have you come up against challenges in teaching this material, either within your institution and/or in the space of the classroom? If so, what kinds of challenges? How have you responded and/or adapted your courses accordingly?
CC: My experiences in teaching NAIS have been generally rewarding, although I must acknowledge my positionality here. Although I am Indigenous, and therefore represent less than 1 percent of the teaching faculty at my institution, I am also a cis-gendered, heterosexual male with light skin. So, while my classes take a critical stance toward heteropatriarchy and heteronormativity, I realize that I bring to the classroom a very particular set of gendered, sexed, and even racialized embodiments of authority.
I say that my experiences have been rewarding because, by and large, I find that most of my students are really eager to think critically about U.S. history and settler colonialism, and to engage with Indigenous histories and ways of knowing. This is despite the fact that CU Boulder is a predominantly white institution (PWI), and Indigenous students make up only about 2 percent of the student population. I've been teaching the Intro to Native American and Indigenous Studies course for a while—this is a large course of around ninety students that fulfills numerous "diversity" general education requirements—so it attracts many students outside of ethnic studies.
In my course evaluations, a frequent comment I get from students is "why haven't I learned this before in high school?" So, although there is occasionally a student who challenges the material so as to support the legitimacy of settler colonial histories, structures, discourses, etc., the majority of my students find the critical approaches that NAIS and settler colonial studies offer to be transformative for their education. Creating an open space for students to bring their inquisitiveness, and seeing my students in turn offer critical contributions on the pervasive, yet fractured, project of settler colonialism, is what keeps me going, pedagogically speaking.
JD: Similarly to Clint, my experiences teaching settler colonialism have been very positive. Students have actively enrolled in the class and both Anthropology and American Indian Studies have been very supportive of it being taught yearly. Interestingly enough, when I taught anthropology courses entitled things like "Native North American Societies" students were far more likely to approach the class through stereotypes and romanticizing. Framing the class around colonial structures seems to allow students to enter the material differently, reflecting not only on the limitations created by settler colonialism for Indigenous peoples, but on how we are all caught up in these structures. I have now taught the class three times, with changes in readings primarily focused around trying to create a broader global representation. While settler colonialism has most frequently been used to talk about the settler states of Israel, United States, Canada, Australia, and New Zealand, this year I have brought in more recent work in Latin America (Speed 2017). I also have the graduate-level students do one additional reading each week, representing something from their geographic area of focus that ties into the week's theme. These readings add a great deal of geographic depth to the conversation and help us further map out the parameters and limitations of settler colonialism as a theory. For example, I have had students working with Indigenous populations in China and Bangladesh, which offers different perspectives on colonialism beyond European settlement.
AS: Many of my students are working class people of color. I teach for/to them. Our experiences of oppression are different but have roots in the same structure, the same colonial and imperial forces. When I make space to share our stories and to imagine possibilities for living otherwise, they are receptive. Many students have expressed an appreciation for the way we discuss "real shit." In this way, it's important to me to continue to detail the messy and complicated structures that are making our lives unlivable under racial capitalism and settler colonialism. I have encountered push back from white settlers in my classes, but navigating that aspect is worth it, given the importance of making space for marginalized people to speak. My main challenge has been teaching in a vacuum of institutional support for Indigenous teachers and students. As such, the main challenge in introducing theories around settler colonialism into undergraduate classes is institutional and structural, not individual.
JC: I share Clint's experience of having students ponder why they haven't been taught this before. In a lecture on political anthropology, in which I teach about sovereignty, at some point I ask students whether they learned anything in school, prior to college, about the Indigenous peoples local to their schools. A majority raise their hands. They keep their hands up when I follow up to ask if they learned about Indigenous peoples and practices in the past, and again when I ask if they learned about this in terms of culture. Then I ask them if they ever learned about Indigenous nations as polities/sovereigns. At that point, reliably, almost all hands go down, often every single one. They stay down when I ask if they learned about Indigenous communities in the present. I then remind them that settler colonialism is about elimination, and we talk about erasure, and we talk about the role of education in settler colonialism. And I ask them to think, again, about why they haven't learned this material before.
I also talk about my own position, as a white woman teaching the course. As is the case with Anne, many of our students are working class people of color, and they don't need me to tell them that their education has been part of the problem! But to see their own schooling experiences as evidence of elimination in action connects some dots and seems to reach those few who are skeptical of the value or relevance of thinking about settler colonialism. Over the years, I have had a few students complain that too much of the general anthro intro course concerns indigeneity and settler colonialism, but adding the exercise about the role of education in elimination seems to have helped.
Beginning the next time I teach the big intro class, UCLA will have adopted an official Tongva land acknowledgment. This is thanks in large part to the hard work of the American Indian Studies program chair and UCLA's Special Advisor to the Chancellor on Native American and Indigenous Affairs Mishuana Goeman, along with language experts in the Tongva community and at UCLA. I anticipate discussing this during the first lecture, and I am learning from how Clint does so.
"To see their own schooling experiences as evidence of elimination in action connects some dots and seems to reach those few who are skeptical of the value or relevance of thinking about settler colonialism." —Jessica Cattelino
SG: Do you have any favorite in-class exercises or assignments that help your students understand specific formations of settler colonialism?
JD: My course is designed to not only reveal and challenge settler colonial structures as they manifest across the globe, but also to assist students in their growth as Indigenous studies scholars. Moving from being knowledge consumers to knowledge producers means that students are better equipped to understand settler colonial formations and to produce knowledge that can disrupt these structures. Toward this end, the major assignment for the course is to write a conference paper. Building up to this assignment, I ask students to write weekly annotated bibliography entries, where they must outline the text's major arguments, describe the sources the article pulls from, and make connections to either their own research interest or other class discussions. For many students, this act of separating argument from sources is a hard one, but something that is very useful when they need to create their own scholarship. The section on sources is often the most challenging for students who can generally recognize publications as a key building block of scholarship, but are more likely to overlook the way that life experiences or media are also key sources for scholarship.
From these experiences backward engineering a broad range of Indigenous studies scholarship—from ethnographic to purely theoretical—students are better prepared to draft a conference length research paper of their own. For conference papers, I suggest that students begin by telling a story, something that speaks to the challenges Indigenous peoples are facing within settler colonialism, but that demonstrates how Indigenous peoples are working to build a stronger future. Then I suggest they go back through and weave in additional sources, including other academics talking about similar kinds of challenges, structures, and possibilities. Finally, I suggest they craft their argument around what their narrative offers to existing scholarship. Too often new scholars never get past the stage of simply citing other articles or figuring out what their unique argument is going to be. For most students, a clear argument only emerges toward the end of the writing process. Framing the process as iterative in this way can reduce anxiety about their ability to create scholarship.
CC: An exciting and recent addition at CU Boulder is an Indigenous mural created by Pyramid Lake Paiute artist Gregg Deal, which represents the hard work of the staff of the CU Upward Bound program to develop and organize support for the project. This past semester, my teaching assistant (TA) and I took each recitation (three student discussion sections of about thirty students each typically led by the TA) to the mural space for discussion, and it resulted in a really effective teaching activity. We supplemented the mural with an excerpt from Simon J. Ortiz's (2000) book of poetry, From Sand Creek, as well as a short description of the Sand Creek Massacre of 1864, which the students read in advance and reflected on before we began discussion. This offered numerous opportunities for a critical discussion of the multiple faces of settler colonialism, including cultural appropriation, the false dichotomy of modernity/tradition, and the Missing and Murdered Indigenous Women crisis (#MMIW).
References
Bordeaux, Clementine, and Kenneth Ramos, performers and writers. 2018. Bruin Life. Directed by Veline Mojarro and David Gere. UCLA Pauley Pavilion, Los Angeles, September 23.

Fanon, Frantz. 2008. Black Skin, White Masks. New York: Grove Press.

Kauanui, J. Kēhaulani. 2016. "'A Structure, Not an Event': Settler Colonialism and Enduring Indigeneity." Lateral 5, no. 1.
Moreton-Robinson, Aileen. 2015. The White Possessive: Property, Power, and Indigenous Sovereignty. Minneapolis: University of Minnesota Press.
Obomsawin, Alanis, dir. 1994. Kanehsatake: 270 Years of Resistance. Montréal: National Film Board of Canada.
Ortiz, Simon J. 2000. From Sand Creek. Tucson: University of Arizona Press.
Simpson, Audra. 2014. Mohawk Interruptus: Political Life Across the Borders of Settler States. Durham, N.C.: Duke University Press.
Smith, Linda Tuhiwai. 1999. Decolonizing Methodologies: Research and Indigenous Peoples. London: Zed Books.
Snelgrove, Corey, Rita Dhamoon, and Jeff Corntassel. 2014. "Unsettling Settler Colonialism: The Discourse and Politics of Settlers, and Solidarity with Indigenous Nations." Decolonization 3, no. 2: 1–32.
Speed, Shannon. 2017. "Structures of Settler Capitalism in Abya Yala." American Quarterly 69, no. 4: 783–90.
Spice, Anne. 2018. "Fighting Invasive Infrastructures: Indigenous Relations against Pipelines." Environment and Society 9, no. 1: 40–56.

Tuck, Eve, and K. Wayne Yang. 2014. "R-Words: Refusing Research." In Humanizing Research: Decolonizing Qualititative Inquiry with Youth and Communties, edited by Django Paris and Maisha T. Winn, 223–48. Los Angeles: SAGE Publications.
Wolfe, Patrick. 2006. "Settler Colonialism and the Elimination of the Native." Journal of Genocide Research 8, no. 4: 387–409.