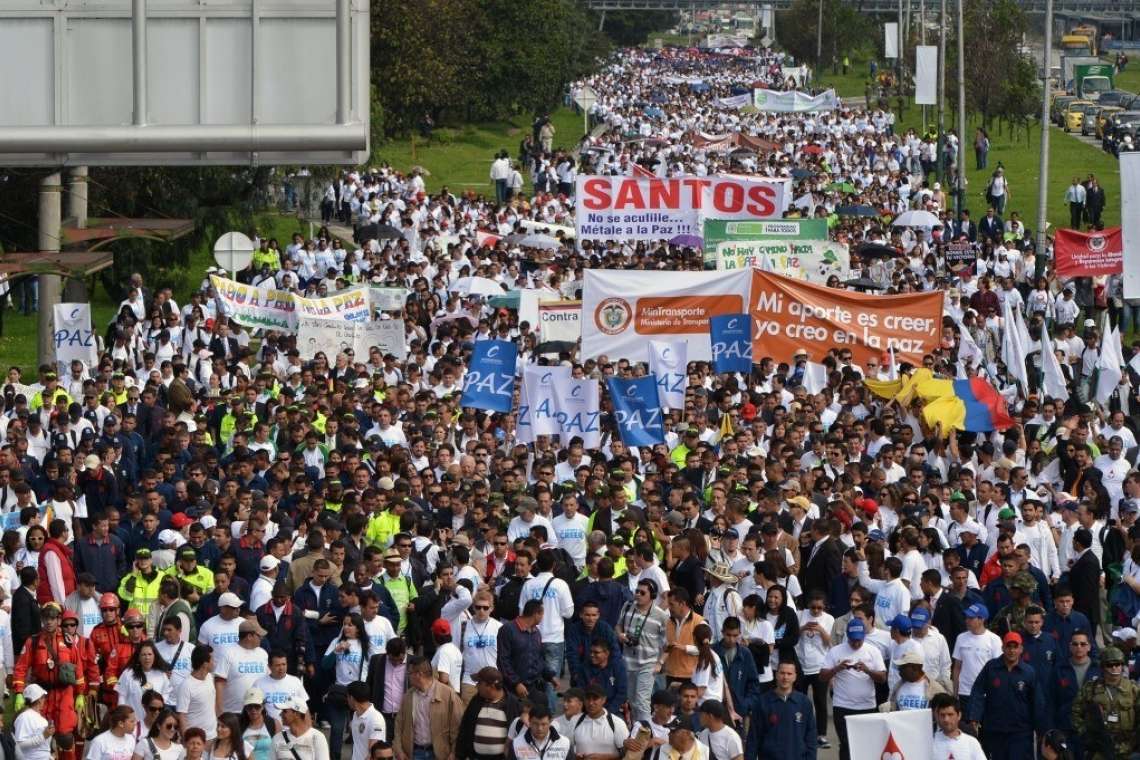 "And this is how they want to make peace," Angela said, motioning toward the riot police standing outside Medellín's city council building. A couple of hundred people had gathered to protest the city's new Territorial Ordering Plan (TOP), which the city council was approving upstairs. The council had barred the entry of those gathered outside, most of whom had been displaced from their rural land by the ongoing armed conflict, and had built new lives in sprawling informal settlements on Medellín's mountainsides. Protesters feared being displaced yet again, this time from their informal neighborhoods by development projects outlined in the TOP, which they derisively called the "Territorial Displacement Plan." Several were already targeted for removal from their homes, because the TOP had designated their land either as a development area or as a "zone of high risk" (Zeiderman 2012) susceptible to landslides. But the very legal restrictions that created limits for them opened opportunities for others.
Up in the settlements, the local mafia—successors to Medellín's paramilitary groups—runs a real estate and construction materials business in some of these targeted areas. They sell plots of land designated for development or as "risky" to displaced people, who build shacks on the plots. Police, who monitor for new construction in these spaces, in turn identify those shacks for demolition. The mafia then sells the remaining building materials from destroyed homes to local residents and occasionally resells the plot to new families. City authorities do little to halt these practices. In this way, discretionary city enforcement of high risk and development zones creates returns for the mafia, while creating simultaneous, uneven openings for and impediments to displaced people's claims on the space.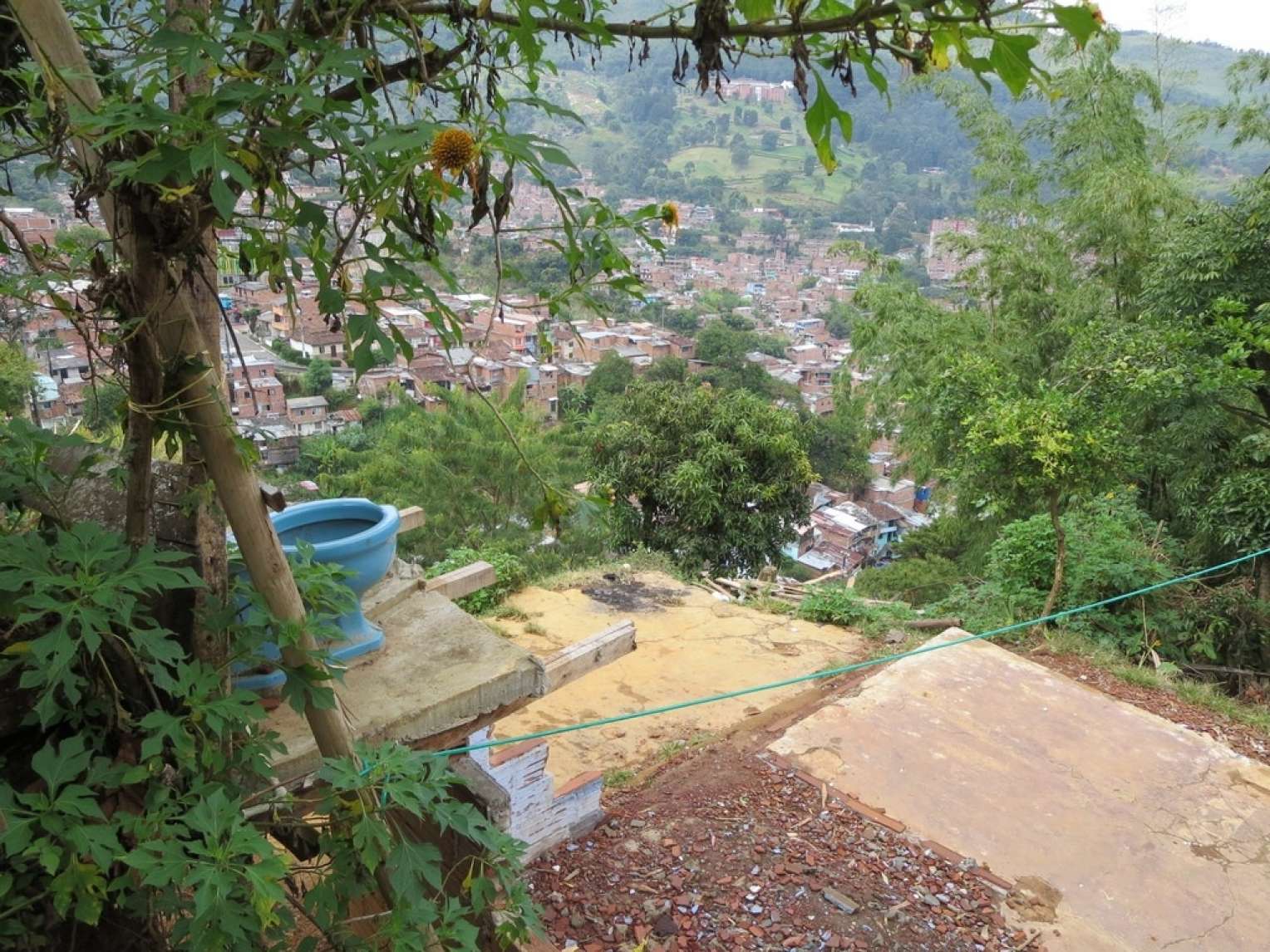 This patchy enforcement of legal restrictions—and the property claims and returns emerging from it—unfolds in related ways in the rural areas from which many of Colombia's displaced people have fled. I conduct research on claims made through Colombia's land restitution program, initiated in 2011 as part of the country's transitional justice efforts. The program aims to return land and grant title to those who were dispossessed or who abandoned rural areas due to the conflict. I recently visited a restitution claimant, who greeted me while angrily waving a resolution from the program. "They kicked me out of the case saying my land is a forest reserve—what forest reserve?! For the poor, it's a forest reserve; for the rich, it's cash!" His statement revealed the discretionary enforcement the resolution implied. The land he claimed in the Urabá region was invaded by paramilitaries in 1996, causing mass displacement of local farmers. Investors—some accused of having links to paramilitaries—purchased the land at low prices, at times by force, turning small farms and forests into enormous cattle ranches and idle fields. Although the area is now virtually treeless, a forest reserve demarcated in 1971 remains on the books, impeding his claim.
At the same time, investors continue to maintain ranches and fields on extensive landholdings within the reserve, unimpeded by environmental authorities. One of the land's primary functions is speculative; landholders considered large-scale land purchases to have been a wise investment, even if they would lay idle. The restitution program, however, shifted the legal ground on which the security of their investment relied. There is widespread concern among them that they will lose properties to restitution claimants, and several were recently arrested on charges of forced displacement and alliances with paramilitary groups.
I initially believed a potential agreement through the peace talks in Havana between the Colombian government and the FARC would be important, but would have little effect on these local property economies. While the conflict completely permeated these spaces, the FARC had little real presence. But a recent visit to an Urabá land investor proved me wrong. Sitting in his home just days after the release of the government-FARC joint draft agreement, he asked if I had read the section on land and rural development (FARC-EP 2014). He barked, "they're going to collectivize the land—they want to return to the Bolsheviks!" He complained about the insecurity this would imply for land investments, arguing that such an arrangement was unlikely to bring peace.
For investors, claimants, and mafia engaged in land claims and transactions, the environment is one of uncertainty. The possibilities of claims and returns around property are constantly being recalibrated as the legal landscape changes, with initiatives such as the TOP or land restitution plans (and their patchy enforcement) opening some opportunities and closing others. Any peace agreement—even if it does not bring peace—will similarly shift the ground on which property claims and returns are conceived. In a country where "wars have always been paid for with land" (Molano 2001, 14), this renegotiation of terms is where possibilities for peace, and for war, will be forged.
La Propiedad en la Sombra del "Posconflicto"
"Y así, buscando la paz," dijo Ángela, hablando sobre los policías del ESMAD (Escuadrón Móvil Antidisturbios) que estaban parados fuera del edificio del Concejo de Medellín. Más o menos doscientas personas se habían congregado allí para protestar el nuevo Plan de Ordenamiento Territorial (POT), que el Concejo estaba aprobando unos pisos arriba. El Concejo había impedido el acceso a los que estaban afuera, la mayoría de los cuales habían sido desplazados de su tierra como resultado del conflicto armado interno, y habían construido nuevas vidas en las invasiones de los bordes y laderas de Medellín. Los manifestantes temían ser desplazados de nuevo, esta vez de sus barrios informales por proyectos de desarrollo incluidos en el POT, irónicamente llamado el "Plan de Desplazamiento Territorial." Algunos ya habían recibido comunicados sobre su desalojo, porque el POT había designado el lote o para algún proyecto de desarrollo, o definido que sus viviendas se encontraban en "zonas de alto riesgo" (Zeiderman 2012) de deslizamiento. Pero estas mismas restricciones jurídicas que crearon límites para algunos abrieron oportunidades para otros.
Arriba en las invasiones, la mafia local—grupos sucesores de los grupos paramilitares de Medellín—tiene negocios de bienes raíces y materiales de construcción en algunas de esas zonas. Esta mafia vende lotes de tierra designados como zonas de desarrollo urbano o de "riesgo" a personas desplazadas quienes construyen ranchos en estos lotes. Los policías a su vez, quienes monitorean las construcciones nuevas en dichas zonas, identifican los ranchos para demolición. La mafia después vende los materiales de los ranchos destruidos a residentes locales, y a veces vende el lote otra vez a nuevas familias desplazadas. Las autoridades municipales hacen poco para frenar estas prácticas. De esta manera, la aplicación selectiva de las normas municipales sobre las zonas de desarrollo y de alto riesgo crea ganancias para la mafia, mientras también crea—de manera inconsistente—oportunidades y, simultáneamente, impedimentos a los reclamos de las personas desplazadas.
Esta aplicación selectiva de las restricciones legales—y los reclamos y ganancias de la propiedad que emergen de ella—ocurren de manera similar en las zonas rurales de las cuales muchos de los desplazados huyeron. Estoy realizando una investigación sobre algunos de los reclamos realizados a través del programa de restitución de tierras en Colombia, iniciado en 2011 como parte de los procesos de justicia transicional. El programa aspira devolver y titular la tierra a los que fueron despojados o abandonaron zonas rurales debido al conflicto. Durante una visita reciente a un reclamante de tierras, él se quejó de una resolución del programa frente a su caso: "Me sacaron del caso diciendo que es una reserva forestal—cuál reserva forestal?! Para los pobres, es forestal; para los ricos, es plata!" Su afirmación reveló la aplicación discrecional que la resolución implicó. La tierra que reclamó en la región de Urabá fue arrasada por paramilitares en 1996, lo que causó el desplazamiento de muchos campesinos locales. Inversionistas—sobre algunos de los cuales se circulaban afirmaciones que tenían vínculos con paramilitares—ompraron la tierra a precios bajos, a veces a través de ventas forzosas. Se convirtieron fincas y bosques en tierras ganaderas y potreros. Aunque la zona ya tiene pocos árboles, una reserva forestal declarada en 1971 sigue vigente, impidiendo su reclamo.
A la vez, terratenientes siguen manteniendo fincas ganaderas y potreros en tierras dentro de la reserva, sin ser obstaculizados por las autoridades ambientales. Una de las funciones principales de la tierra es la especulación; los terratenientes consideran que la compra de tierras a gran escala fue una inversión sensata, aunque algunas se convirtieran en tierras ociosas. Sin embargo, el programa de restitución cambió el terreno jurídico sobre el cual la seguridad de su inversión dependía. Existe una preocupación entre los terratenientes por la pérdida de las tierras en manos de los reclamantes del programa de restitución, y algunos fueron capturados bajo investigación sobre desplazamiento forzado y vínculos con grupos paramilitares.
Inicialmente pensaba que un posible acuerdo de paz en La Habana entre el gobierno colombiano y las FARC sería importante, pero tendría poco efecto en estas economías locales de propiedad. Aunque el conflicto permeó totalmente estos espacios, las FARC tenían poca presencia. Pero una visita reciente a un inversionista de tierras de Urabá me demostró que estaba equivocada. Estaba sentada en su casa unos días después de que salió el borrador conjunto del acuerdo entre el gobierno y las FARC, y él me preguntó si había leído la sección sobre tierras y desarrollo rural (FARC-EP 2014). Exclamó: "quieren colectivizar la tierra—quieren volver a los bolcheviques!" También se quejaba sobre la inseguridad que eso implicaría para las inversiones de tierras, y argumentó que era muy improbable que se llegaría a la paz con un arreglo así.
Para los inversionistas, reclamantes y mafias que están involucrados en transacciones y reclamos sobre tierras, el ambiente es de incertidumbre. Las posibilidades de reclamar y generar ganancias alrededor de la propiedad se están recalibrando constantemente mientras el paisaje jurídico cambia, con iniciativas como el POT o la restitución de tierras (y su aplicación discrecional) que abren algunas oportunidades y cierran otras. Cualquier acuerdo de paz—aunque no traiga la paz—cambiará de manera similar el terreno sobre el cual los reclamos y ganancias sobre la propiedad se conciben. En esta renegociación de términos, en un país en el cual "siempre las guerras se han pagado . . . con tierras" (Molano 2001, 14), es donde las posibilidades para la paz, y para la guerra, serán forjadas.
References
Gobierno de la República de Colombia and Fuerzas Armadas Revolucionarias de Colombia (FARC-EP). 2014. "Borrador Conjunto, Hacia un Nuevo Campo Colombiano: Reforma Rural Integral." June 6.
Molano, Alfredo. 2001. Desterrados: Crónicas del Desarraigo. Bogotá: El Áncora Editores.
Zeiderman, Austin. 2012. "On Shaky Ground: The Making of Risk in Bogotá." Environment and Planning A 44, no. 7: 1570–88.