Refusal and Resurgence: A Review of Wolastoqiyik Lintuwakonawa
Jeremy Dutcher's captivating Wolastoqiyik Lintuwakonawa (2018), winner of Canada's prestigious Polaris Music Prize as well as a Juno Award, is the debut album of an accomplished composer and performer as well as the culmination of Dutcher's multiyear archival research practice. All eleven tracks on the album are complex arrangements and settings of traditional Wolastoq songs, which Dutcher meticulously transcribed from wax cylinder recordings made by the anthropologist William Mechling (a student of Franz Boas) between 1907 and 1913 and held today by the Canadian Museum of History. Many of the original recordings are sampled in the tracks, creating moving duets between Dutcher, a trained operatic tenor, and his ancestors, blurring classical and electro-pop genres with traditional Wolastoq songs. In cultivating a dialogue between Dutcher's artistic practice and the anthropological archive, Wolastoqiyik Lintuwakonawa is instructive for anthropological scholarship. It demonstrates the creative potentialities of archival research and offers a lesson in the importance of respecting Indigenous sovereignty and refusal.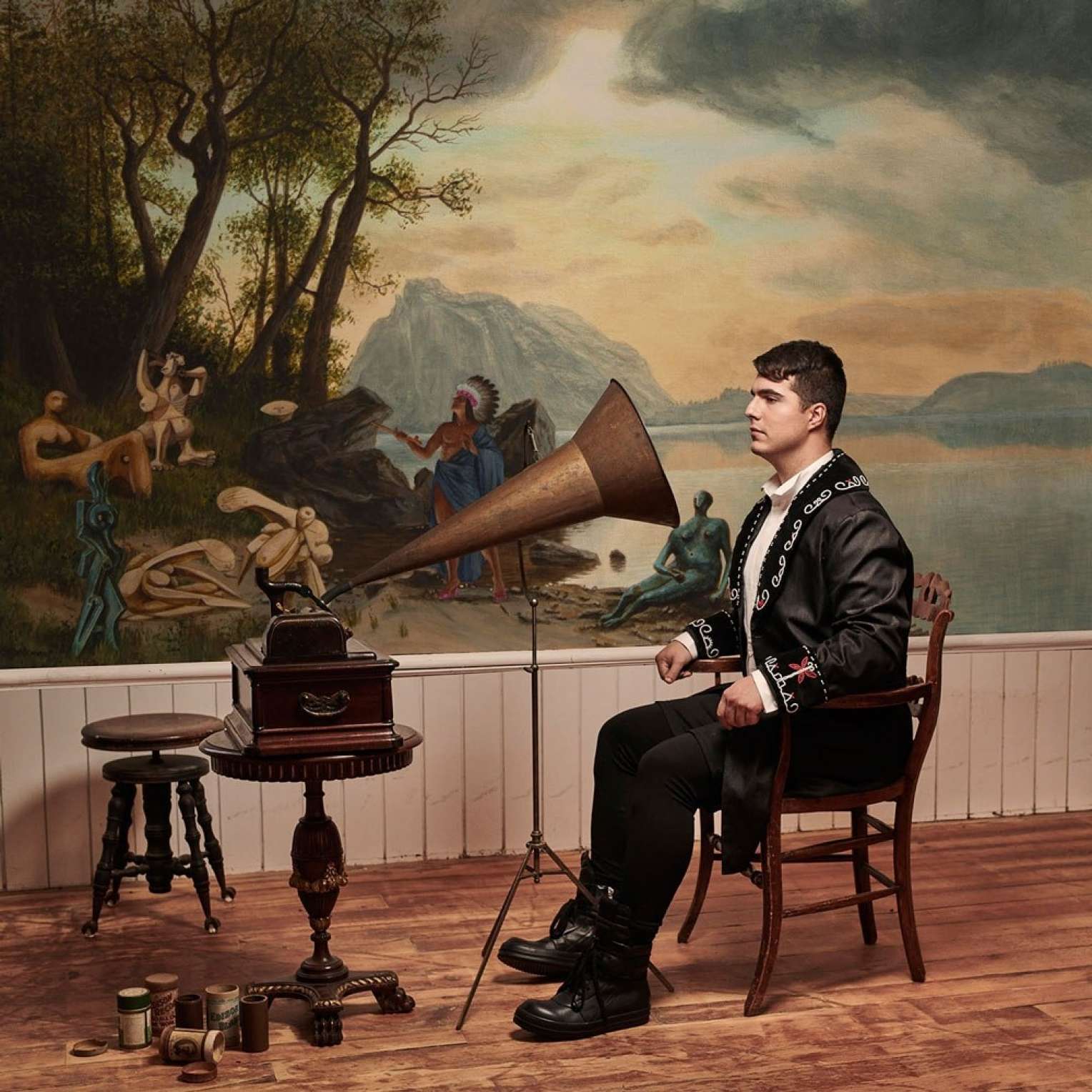 The materiality of the archive is audible in Dutcher's work. Sonic traces of early phonographic recording technology can be heard in the scratches, pops, and hisses of the sampled recordings, interspersed with expansive instrumental settings that feature predominantly piano, strings, and percussion. In a CBC interview, Dutcher described the intensity of his experience listening to the archival recordings: "When I first got to hear these voices, that work for me was a profoundly transformational moment in my life. It was a process of deep listening—to sit there with these headphones and really hear what these voices had to tell me." Dutcher's innovative arrangements foregrounds these recordings, rendering them accessible to broader audiences. Through his engagement with these materials, Dutcher initiates a cross-generational and multimodal dialogue, contributing to forms of Indigenous knowledge production that knit together aesthetic, political, and material concerns.
From the very first track, Dutcher foregrounds this intertextual conversation. "Mehcinut" opens with Dutcher's somber voice, sparsely accompanied by a chordal progression on the piano that gradually shifts to arpeggiated broken chords joined by strings and percussion to create a denser texture. Dutcher skillfully weaves straight tone with released vibrato vocals, playing with timbral and tone-color variations. By initiating subsequent harmonic changes, his vocals drive the piece, centering the importance of voice aesthetically and politically. The harmonic language leverages both tonal and atonal passages, with several tracks splicing together various musical characters, temporal pacing, and melodic content. Rich, heavily reverberated aural fabrics reinforce the album's sense of spaciousness. The instrumental orchestration then fades to Dutcher's voice, echoed by his ancestor, thinly accompanied by piano octaves and tremolo strings to create an anticipatory, haunting effect. The archival recording retains its autonomy while being integrated into the texture of the piece, threading its way in and out of Dutcher's score in an improvisatory fashion.

In the second track, "Essuwonike," a slow, call-and-response duet between Dutcher and the archival recording moves to a quicker, dancelike tempo and syncopated beat. Changing temporal structures and dissonant harmonies provide a destabilizing texture. Dutcher demonstrates his vocal range as he moves between operatic art song techniques and gravelly, gritty vocal aesthetics. In echoing the archival recordings, Dutcher provides a revoicing of the melodic lines of the traditional Wolastoq songs. One particularly moving aspect of Dutcher's vocal performance and orchestration techniques is his use of vocal lines to dovetail with existing rhythmic and melodic sequences, providing an aural bridge across musical ideas. As a contribution to Wolastoq language revitalization, the political implications of such a musical device are substantive: it foregrounds the continuity of voice across temporal and contextual divides.
Not only inviting new interest in these archival recordings of traditional Wolostoq songs but also singing with his ancestors, Dutcher disrupts the linear temporality of colonizing logics. By composing with the archive, Dutcher eschews generational divides and reminds listeners how the past continues to haunt the present. His work resonates with Avery Gordon's (1997) claim that past trauma remains elusive. Gordon advocates for a rewriting of such trauma through stories imbued with political possibilities, and Dutcher's work does just this. The experience of listening to Dutcher's Wolastoqiyik Lintuwakonawa yields vocal and technological traces of an Indigenous past—a past that has been the object of state erasure—to conjure strong affective responses in listeners, perhaps especially those who have some awareness of such silencing practices. The affective qualities of Dutcher's voice and the voices of his recorded interlocutors demonstrate how, as Ann Cvetkovich (2003) has established, archives can be felt.
By composing with the archive, Dutcher eschews generational divides and reminds listeners how the past continues to haunt the present.
Dutcher invites listeners to engage with a range of musical, aesthetic, political, and cultural concerns in his work. A settler-colonial voice indexes the archival recordings by opening the tracks with words such as "douze, twelve" and "quatorze, brise, fourteen broken, quinze." These framings act as a reminder of the power dynamics that shaped Canada's bilingual English and French settler-colonial language system, as well as the colonial-era anthropological making of these recordings of Wolastoq songs. Importantly, Dutcher does not provide his audiences with translations of the texts from Wolastoq to English or French. Dutcher's move can be interpreted as an iteration of what Audra Simpson (2017, 105) calls ethnographic refusal—"what you need to know and what I refuse to write"—a political move and ethical stance for Indigenous peoples. For Simpson (2017, 23), "to be seen by another as one wants to be seen" is impossible under settler colonialism, an order informed by a profound not seeing in the denial of Indigenous subjectivity. In making a sovereign claim over voice, Indigenous refusal affirms the political sovereignty of Indigenous peoples and disrupts the authority of settler-colonial recognition.
The discipline of anthropology, at times imagining itself as "the voice of the colonized" (A. Simpson 2017, 93), has been implicated in colonial research through the study of Indigenous peoples. The study of culture and difference has been integral to colonial governance and the establishment of power imbalances. But refusal disrupts the privileging of Western thought, including settler-colonial anthropological claims over Indigenous knowledge such as the work of Mechling. In mobilizing Mechling's recordings of Wolastoqiyik ancestors for Indigenous artistic production, Dutcher reclaims the songs of his ancestors from the colonial anthropological archive and affirms Indigenous sovereignty over such knowledge. By singing in Wolastoq and refusing to provide translations for settler audiences, Dutcher (who himself has anthropological training, having studied both music and anthropology at Dalhousie University) asserts a sovereign claim over voice through enunciation, method, and textualization. In line with Simpson, Dutcher's refusal to provide translations is a political act that manages settler epistemological desires. Instances of refusal are instructive for anthropologists to listen to when an ethnographic limit is reached.
Indigenous resistance to colonization, as Leanne Betasamosake Simpson (2011) reminds us, extends far beyond large-scale political mobilization as defined by Western social movement theory. She argues for focusing energies internally toward resurgence rather than externally toward reconciliation, so long as the meeting between the colonized and the colonizer is not happening on equal terms. Resistance on Indigenous terms is conceptualized here as part of a process of resurgence that claims sovereignty over Indigenous knowledge and moves toward decolonization. Resurgence reflects Frantz Fanon's understanding of decolonial revolutionary shifts; once Indigenous peoples are functioning not on the terms of the colonizers but on their own terms, "everything becomes possible" (Fanon 1959, 145).
The importance of resurgence is audible in tracks like "Eqpahak," where Dutcher integrates a recording of himself interviewing song carrier and Indigenous elder Maggie Paul. Framed by Dutcher's piano accompaniment, Paul tells him: "When you bring the songs back, you're going to bring the dances back, you're going to bring the people back, you're going to bring everything back." Dutcher asks: "So you think music had a lot to do with that? Bringing that back?" Paul replies: "Oh yeah, you've got that right! Music, yeah, it sure does. Music will bring you, because, it's the same when you sing, you sing your songs . . ." Paul's explanation fades out and a heavily reverberated piano accompaniment, along with a lyrical cello line, take over. Her voice enters one final time to state that "the ancestors know the songs, they're listening, and they're so happy because you're singing them again . . . because they thought that they'd never hear them again, that's what they thought." Paul's comments further situate Dutcher as a temporal negotiator of Indigenous politics, calling on past historical moments to inform the politics of the present.
When accepting his Polaris Prize, Dutcher exclaimed: "Psiw-te npomawsuwinuwok, kiluwaw yut! All of my people, this is for you! . . . Canada, you are in the midst of an Indigenous renaissance. Are you ready to hear the truths that need to be told? Are you ready to see the things that need to be seen?" As a mode of resurgence, his words and his work act as an important reminder to non-Indigenous anthropologists, and audiences more broadly, to respect Indigenous sovereignty and refusal. Critically, Dutcher reminds all of us to listen.
References
Cvetkovich, Ann. 2003. An Archive of Feelings: Trauma, Sexuality, and Lesbian Public Cultures. Durham, N.C.: Duke University Press.
Fanon, Frantz. 1965. A Dying Colonialism. Translated by Haakon Chevalier. New York: Grove Press. Originally published in 1959.
Gordon, Avery. 1997. Ghostly Matters: Haunting and the Sociological Imagination. Minneapolis: University of Minnesota Press.
Simpson, Audra. 2017. Mohawk Interruptus: Political Life Across the Borders of Settler States. Durham, N.C.: Duke University Press.
Simpson, Leanne Betasamosake. 2011. "Nishnaabeg Resurgence: Stories from Within." In Dancing on Our Turtle's Back: Stories of Nishnaabeg Re-Creation, Resurgence, and a New Emergence, 11–29. Winnipeg: ARP Books.