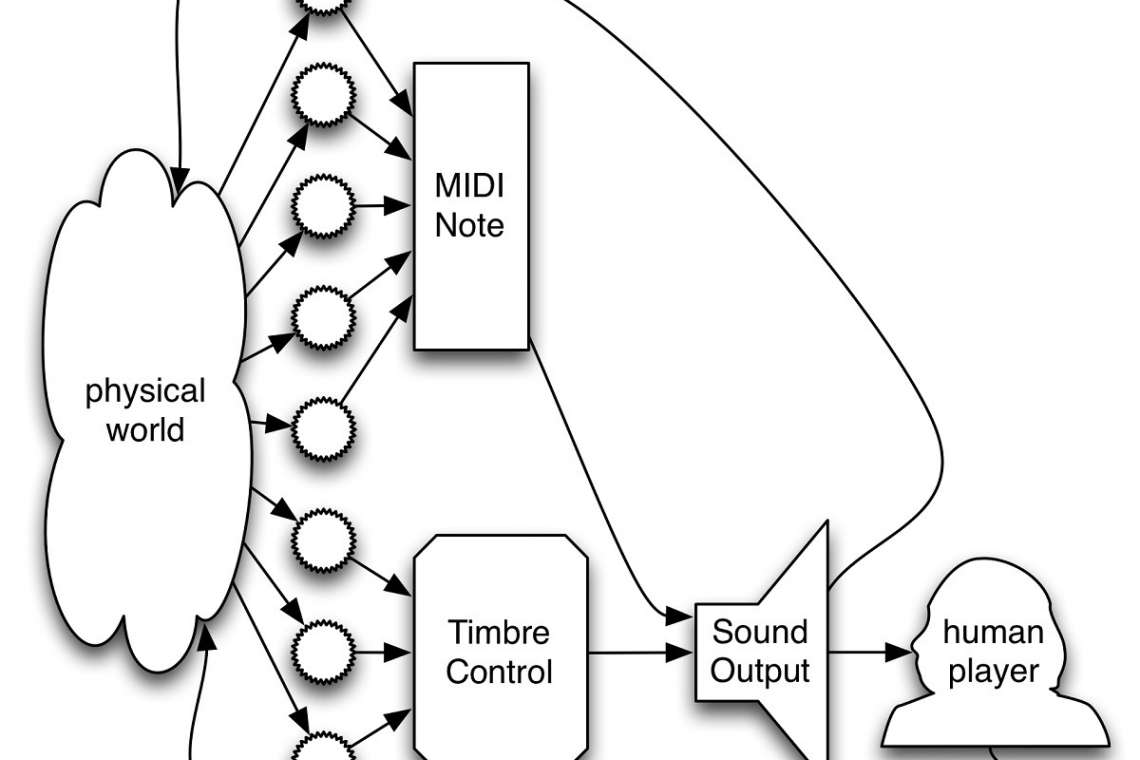 On November 9th, 2015 in Berlin-Tempelhof, Ritwik Banerji recorded an improvisation session between Maxine and Berlin-based improviser Axel Dörner. Listen to the piece here:
Performance Credits:
Trumpet: Axel Dörner
Electronics: Maxine
Recording: Ritwik Banerji
Below, Banerji unpacks the piece, raising questions about infrastructure, interaction, and algorithm-as-interpretation.
Transcript
Without getting bogged down on the specifics of the sounds that Axel and Maxine both make in this recording, one of the things that was really strange. . . this was a strange moment in general for me. Aside from the desire to have some sort of social scientific objectivity about it, this is a performer that I really admire, that many people admire. It's a beloved performer for many musicians in this scene in Berlin. The relevance of this is just that he's someone who has very pensive affect on stage, rarely makes any sort of facial expression as if to suggest that he's constantly listening very carefully, which it seems that it really is. The meaning of that affect of listening was sort of complicated very much by this particular piece, and his reaction to it afterward, which was a positive one. The reason why that's surprising to me is because in earlier takes in that session, I had directed the microphones that Maxine uses directly at his trumpet in order to catch more of the sound, and also to reproduce what I assume was his preferred mode of interaction with other performers, which is to be a sensitive, intense listener that is picking up a lot of detail from their sound. That still may be what he prefers, but in the end we moved towards more experimentation, with having the microphones directed at the system itself. In other words, that Maxine was listening to itself, or that Maxine's own output was more audible to the system than Axel's output, or rather, trumpet playing. This was the piece of several pieces that we did that day that he seemed to enjoy the most, and that he felt was most in line with what he's trying to achieve as an artist when he's working with other performers as an improviser.
So as I listened to it, the strange thing is that, even though the system isn't really listening to him, or rather the system has an impoverished ability to access sonic information coming from his trumpet, you can hear the two of them moving together, in the sense that there's—in the very caveman, primitive way that their intensity builds together. . . By primitive I just mean that that's a very low level of description, analytical description of what's actually happening. But you can hear the intensity building together. They have this connection in that way. And so on the one hand the system is not really listening to what he's doing, and on the other, it sounds as if it's actually paying attention to what he's doing, and what Axel's doing and how he's reacting. It sounds as if the system is listening, even though it's definitely not reacting as much as it was in previous takes. In previous takes, you can hear this type of interaction where the system almost immediately responds to every little minute gesture that Axel makes as a trumpet player. And in this one, you do still hear plenty of reactions in both directions, but it's far more abstract.
This raises the interesting question that many social scientists have dealt with, of what exactly is interactive, quote unquote, about an interaction or a co-present action, where there are few if any obvious displays of attentiveness. To what degree does one know that the other participant is actually paying attention or not? One can claim that they were paying attention the whole time and then strategically avoiding any type of display of attentiveness. Or one can say that, no, it just sounds like the two players were in separate rooms. The idea of two players being in two separate rooms is also something that Axel mentioned, that he does like this type of performance dynamic. He didn't go on very much to explain exactly what he might have meant by that, but certainly this is one type of dynamic that's there.