Roundtable Discussion: Reading List for a Progressive Environmental Anthropology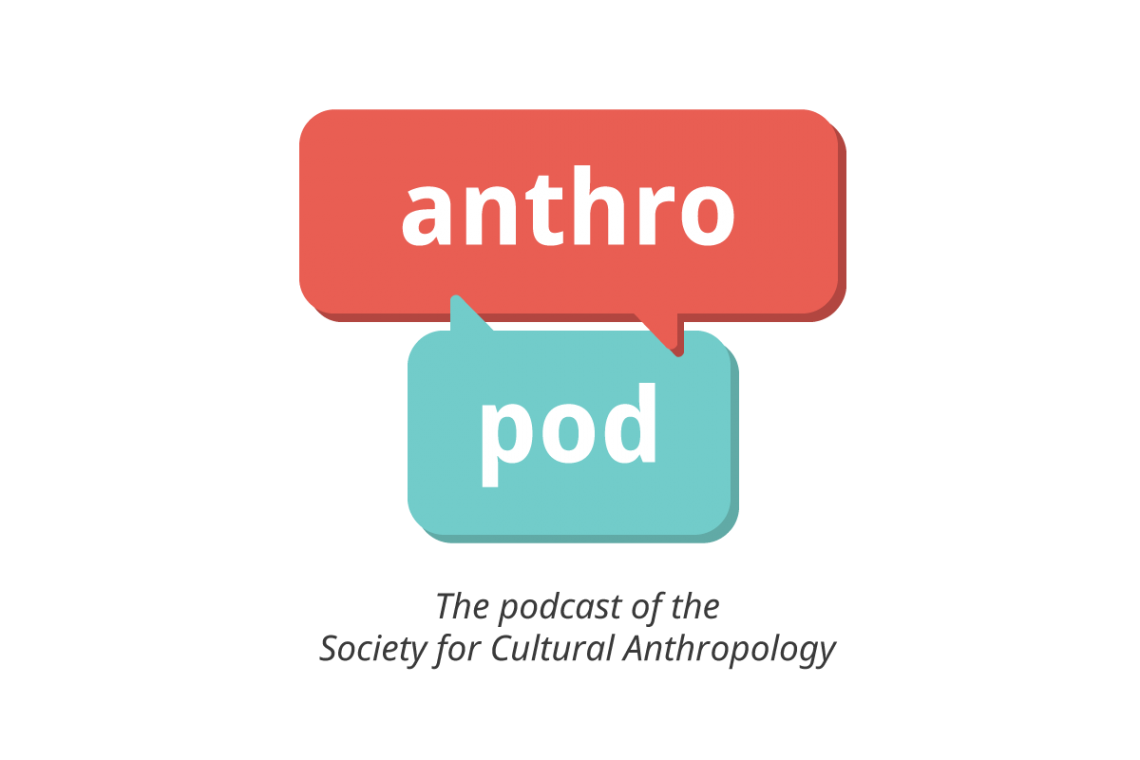 In this episode of AnthroPod, we bring you a recording of a roundtable discussion about the recently published Reading List for a Progressive Environmental Anthropology. The crowdsourced reading list is a project organized by Bridget Guarasci (Franklin and Marshall College), Amelia Moore (University of Rhode Island), and Sarah Vaughn (University of California, Berkeley). Crafting this reading list around themes such as toxicity, globalization, waterscapes, and economies, Guarasci, Moore, and Vaughn aim to offer theoretical and regional breadth that pushes at the intellectual and practical boundaries of environmental anthropology.
In this roundtable discussion held at the 2018 annual meeting of the American Anthropological Association, Guarasci and Moore are joined by collaborators Jessica Cattelino (University of California, Los Angeles), Eleana Kim (University of California, Irvine), and Laura Ogden (Dartmouth College) for a conversation on how the reading list came about, the motivations behind it, and possible applications and future directions. As well as offering insightful commentary on environmental anthropological theory over the years, the discussion highlights the political implications of who we choose to read now and what concepts and discourses we engage in our conversations about the environment—in other words, why citation matters.

About the Contributors
Bridget Guarasci is Assistant Professor of Anthropology at Franklin and Marshall College. Her work examines the wartime economy of environmental conservation in Iraq.

Amelia Moore is Assistant Professor of Sustainable Coastal Tourism and Recreation in the Department of Marine Affairs and the College of Environment and Life Sciences at the University of Rhode Island. She earned her PhD in sociocultural anthropology from the University of California, Berkeley and her BA in environmental biology from Columbia University. She approaches her research areas through the adaptive lens of feminist studies of science, building bridges between critical theories of social difference, anthropology, post- and decolonial studies, political ecology, and the socioecological sciences.

Laura Ogden is an environmental anthropologist at Dartmouth College. Her research explores the politics of environmental change and conservation in Tierra del Fuego, Chile.

Jessica Cattelino studies Indigenous sovereignty and everyday American political processes and imaginations, with emphasis on economy, gender, and environment. She is author of the book High Stakes: Florida Seminole Gaming and Sovereignty. Cattelino's current book-in-progress and a collaborative museum exhibition examine the cultural politics of water in the Florida Everglades, and she directs a team research project on gender and everyday household water use in Los Angeles. She is Associate Professor of Anthropology and Gender Studies, and affiliate in American Indian Studies, at the University of California, Los Angeles.

Eleana Kim is Associate Professor of anthropology at the University of California, Irvine, and author of Adopted Territory: Transnational Korean Adoptees and the Politics of Belonging (Duke University Press, 2010). She is currently researching and writing about the Korean Demilitarized Zone as a naturalcultural borderland.

Credits
Benjamin Bean produced this episode of AnthroPod. Special thanks to Josh Rivers for serving as Executive Producer on this episode; to Marios Falaris for technical assistance; to Bridget Guarasci, Amelia Moore, and Sarah Vaughn for bringing this conversation to us; to Jessica Cattelino, Eleana Kim, and Laura Ogden for joining the conversation; and to Kyle Harp and Laura LeVon for coordinating the publication of the reading list as part of the Teaching Tools section of the SCA website.

AnthroPod features interviews with anthropologists about their work, experiences in the field, and current events. To pitch your own episode ideas or to offer feedback, email us at [email protected]
You can find AnthroPod on SoundCloud, subscribe to it on iTunes, or use our RSS feed. If you have any thoughts on this episode or on AnthroPod more broadly, please leave us a comment to the right or get in touch via Facebook and Twitter.
Music: All the Colors in the World, by Podington Bear.
Transcript
Benjamin Bean [00:06]: Welcome to AnthroPod. This is Ben Bean and I'm very pleased to bring you this episode, a roundtable discussion on the Syllabus for a Progressive Environmental Anthropology, recorded last month at the 2018 meeting of the American Anthropological Association. The syllabus, which you can find in the Teaching Tools section of the Cultural Anthropology website, is a project organized by Bridget Guarasci, Amelia Moore, and Sarah Vaughn. Crafting this reading list around themes such as toxicity, globalization, waterscapes, and economies, the organizers aim, and I quote, "to offer theoretical and regional breadth that pushes at the intellectual and practical boundaries of environmental anthropology."
Professors Guarasci and Moore were joined by collaborators Jessica Cattelino, Eleana Kim, and Laura Ogden for this conversation on how the syllabus came about, the motivations behind it, and possible applications and future directions inspired by this project. While this may be particularly relevant to environmental anthropologists, there are important lessons and questions here for anthropology and scholarship in general: how can this crowdsourcing approach help us build bridges between disciplines and discourses within our own fields? What sort of learning and pedagogical practices might be fostered or reimagined through such projects? Might we take some time for the sort of archival work that invites lesser known or rarely cited scholars to teach us about the discourses we've inherited? Along with some insightful commentary on environmental anthropological theory over the years, this roundtable highlights the political implications of who we choose to read now, and what concepts and discourses we engage within our conversations about the environment—in other words, why citation matters.
And now, our guest contributors present their roundtable conversation on the Syllabus for a Progressive Environmental Anthropology.
Bridget Guarasci [02:21]: Hi, this is Bridget Guarasci. I am an assistant professor of anthropology at Franklin and Marshall College, and I'm one of the organizers of the Progressive Syllabus in Environmental Anthropology.
Amelia Moore: I'm Amelia Moore. I'm an assistant professor of marine affairs at the University of Rhode Island, and I am a co-organizer of the syllabus.
Laura Ogden: Hi, my name is Laura Ogden and I am at Dartmouth College, and I'm also the president of the Anthropology and Environment Society.
Jessica Cattelino: And I'm Jessica Cattelino, at UCLA.
Eleana Kim: And I'm Eleana Kim, at UC Irvine.
BG: We also want to mention Sarah Vaughn, who is our third organizer of the Syllabus in Environmental Anthropology.
BG: OK. So we envisioned today as a conversation about the syllabus, the need for the Progressive Environmental Anthropology Syllabus, and sort of how it got started, and we'll start with Laura Ogden, who will give us a brief history of the movement.
LO: The Anthropology and Environment Society started what we called the Gender Politics Task Force several years ago. And it grew out of a session of the AAAs about five years ago that Paige West and Molly Doane organized around theory in environmental anthropology. And they brought together different scholars in environmental anthropology and political ecology to talk about what counted as theory, but the underlying goal and message of that was to reveal the ways in which women scholars were not actually represented in the domain of theory within environmental anthropology and political ecology. And so that began really an awakening for me, to recognize the sloppiness of my own practices as a writer and a thinker when it came to environmental anthropology. And as a teacher as well. And so over the next few years we began having a discussion within the Anthropology and Environment Society about about ways to shift and make people aware of citational practices, the ways in which we review articles and, I think for me, what counts as theory and who counts as theorists.
BG: And so Amelia, Sarah, and I, taking the cue from Paige and Laura and Molly who launched the movement, began to meet together about two years ago and we started a reading group where we began to read sources that were not considered traditional or classical environmental anthropological sources with the idea that we would want to sort of expand the canon and think about who was not being included and what those voices might contribute.
AM [05:10]: It was interesting because we didn't know where to start and we didn't know how to find things to read. And it was we were just kind of casting around like, "Oh, people are talking about this book. Let's read this. Oh this sounds really exciting, I like the title. Let's read that." And then it became pretty clear that there's so much great content out there right now. There is a conversation happening, but it's just really hard to pin that down. It doesn't have to be pinned down, but just to frame it in some way. And we decided that we should kind of informally formalize it, the syllabus, just to give a body or give evidence to the conversation that's happening. And it's really so amorphous but it actually is really important and people are talking to each other, people are talking across disciplines, and they're talking about really important things that are coming together in really interesting, intersectional ways. And we thought it would be a nice experiment to try to put it in the syllabus form.
BG: And so this movement with the syllabus grew out of a roundtable that we organized for the AAAs in 2017 that all three of us participated on, as well as Eleana Kim, Laura Ogden, and Paige West, and we learned from the audience, which was overwhelmingly—I mean, there were so many people in attendance that we didn't expect, there was no room for people to sit. And so we could see that the conversation was really important, and one thing that people—especially advanced graduate students—were asking for was a syllabus, like the Trump 2.0 Syllabus or others that have been circulating, that they could point to and say: "Look, this needs to be part of my reading list for my preliminary exams." And so what we realized was that the syllabus would be an intervention in really, seriously shaping what we consider to be environmental anthropology.
AM: Maybe it's a good time to hear from Eleana and Jessica about what you might want to see happen in this area also, or what you think is happening in this area.
EK: I don't consider myself an environmental anthropologist, and when I think about why that is, I think partially it's because I had a notion that there was a canon, that there was a tradition. I wasn't trained in it. My first project had nothing to do with environmental anthropology. But since my second project was organized around it . . . before I started, I was teaching courses that fell under the rubric of an environmental anthropology, but I found myself kind of creating syllabi that were, that seemed, that I knew were idiosyncratic. So I taught Laura's book, for instance. And I was interested in figuring out how to design a syllabus that took the so-called lessons of Latour and STS and kind of wedded it with interesting ethnographies. So I think of myself kind of entering into this field laterally, instead of being trained from the ground up. So this, for me, the roundtable was a really perfect affirmation of my approach. And to see all the people in the room kind of responding to . . . and grad students, as you mentioned, who are trying to figure out: "Where am I in this literature, and how can I craft an intellectual genealogy for myself that reflects my interests and also my politics?" So that was a really revelatory thing that came out of that roundtable.
JC [08:43]: So, I would say much of what Eleana said also applies to me. My first project was on a quite different topic. But I came to environmental work through that first project. Just briefly, I wrote a book about casinos and gaming. But it turned out the Seminole Tribe of Florida were using a big chunk of that casino revenue for water management. And so just following that out, and following out what was important to people I was working with on a totally different topic, took me to water, at which point it became my responsibility and also my fascination to figure out why this mattered, how this was tied to a lot of things: nation, history, sovereignty, and interrelations with others, with neighbors, with non-Seminole neighbors of various kinds. So I too very much thought of myself as not an environmental anthropologist and was not at all trained in this, and just started reading, and luckily had wonderful people to guide me, like Laura, like Paige and others, through their work and through their encouragement and spirit of collaboration, which was not at all about gatekeeping but was about the generous engagement of people approaching their own areas of expertise from different directions. And so as the beneficiary of that generosity, I really came to start thinking about a collaborative spirit in people who are coming to these topics from very different directions, and to see that as a kind of feminist hallmark, was how I came to this work. And then when students, again, would take exams or do other things and I realized that it was important for me to continue that and to embody that in my mentoring, I was thrilled to hear about this project in particular, because it would give me more tools to do that. And in the syllabus in particular—I don't know if we're shifting to talk about the syllabus per se, but one thing that I saw when I started thinking about environmental topics and trying to school myself in the tiny interstices, the bits of moments when you have time to read between your teaching and your everything else, I looked at some syllabi online and tried to start doing this work. And there was a pattern, which is, you'd have all these topics, and then toward the end of the course you'd have a week on gender, maybe, a week on race, maybe, and you know, onward we go. And to think about how not to reproduce that, where these are kind of end-of-the-semester add-ons to the real foundational, traditional issues in the field. And this syllabus gives not only help with mentoring of graduate students and our own reading list, mentoring each other, but also with quite literally teaching and a kind of politics of knowledge that make these not seem like add-on topics.
AM: Yeah. Let's talk about the syllabus. First, I think maybe we should explain what the syllabus is not. So, it is not definitive canon; that is not our point. Our point was to collaboratively crowdsource with wonderful contributors to the syllabus, crowdsource a bunch of ideas and suggestions and things that are sparking people and that people are excited about and just have a cross-topical conversation. It's also not possible to teach all of these materials in one class. We're not recommending that anybody do that, because your students will mutiny. So you know, you can mix and match, you can select, you can add things, you can cut things. We see this as a beginning of a conversation, not as the enclosing or encapsulating of anything. And we really hope that people enjoy using it in that spirit.
BG [12:27]: I'm glad that you brought that up, Amelia, because that's one of the things that you and I and Sarah really talked a lot about: when is the right time to put this syllabus out? And we're releasing the syllabus now, not because we feel like we've figured out the definitive list of what we should be reading, but because these are the pieces that we are about to read as a group together, and we wanted to do that in a kind of crowdsourced way with all of you so that we could get your opinion about, you know, are there other things that we haven't thought about— I'm sure there are—that we should also be considering?
AM: Absolutely and, full disclosure, none of us have read most of what's recommended. I think that's probably a fair thing to say. We have pieces that we love, pieces that we're very familiar with. But what's so exciting to me about it is all of this new information and new suggestions of things I've never heard of, but which immediately look so incredibly enticing, and I can't wait to find the time to sit down and read more.
BG: So this is really a project in development. We're sort of midway through and we envision continuing to read together over the next year or two and then putting together a more complete review of what it is that we see emerging from this field of literature.
LO: One of the things that I was thinking about with this amazing syllabus project, which is so great and I'm grateful to have it for my own teaching and thinking, but I had this insight with my own research recently about the need for this. I realized that, when I think about the history of theory and the history of thought that is informing the ways in which we know the world and make sense of the world, there are these real gaps that are about the era of my grandmother. So I realized this because I've been working in Tierra del Fuego and in Patagonia, and there's an amazing anthropologist named Anne Chapman who worked in that region starting in the 1960s, and she in fact worked there until she died basically, in the early 90s. And she was a prolific publisher and she worked with Leví-Strauss in France. She was an American woman and she was at the institute with Leví-Strauss for her entire career. No one in the United States knows about her. And what happens, I think, to a lot of women scholars, anthropologists, is that they get kind of consigned to area studies and not to theory. And that certainly happened to Anne Chapman, who was an incredible thinker. And so, I think, for this project that you all are working on, it would be so great to have people begin to do some of that archival work that contributes and resituates women and other anthropologists who are doing amazing work, but that you only know about, say, if you work in literally, you know, southern Chile. So that's another hope that I have for this project as it moves forward, that we do some of this archival work that adds to the foundations of our intellectual heritage, not just to our contemporary way of knowing and explaining the world.
EK [15:42]: I totally second that, and since I'm teaching the introductory prosem right now for first-year graduate students, I've been thinking a lot about the canon. And there's one week that covers the new evolutionists and cultural ecology. So you have Marvin Harris, Leslie White, Julian Steward. And I found myself, when I taught that week, saying: "Well, I don't know if you'll ever have to return to these figures, but they were very important in their time. Maybe if you do an environmental project, you may have to cite them in your oral exams, but maybe not. But if we think about the 60s, you know, around the same time that these figures were writing and being so-called revolutionaries, yes, we have all these other people doing work on material realities of people living in actual places, dealing with human–environment relations, and yet they are, I totally agree with you. Those figures in particular were really invested in theory with a capital T, so we can just imagine how many other people, women and men, were writing things that were just not considered to have that degree of importance. So, yeah, I just think it's interesting to reflect on how, particularly in American anthropology, theory became important at that moment, from a Marxist, materialist, and very masculinist vision of what theory should look like.
BG: And I think even before, I mean, one of the early works that we read was by Zora Neale Hurston. So if we think about the classical foundations of our field of anthropology, why is it that Zora's work is so well-known outside of anthropology, and yet we don't really think of her at all as an anthropologist?
JC: She had an unpublished essay she once wrote that someone found, I can't remember the title right now, but it was about Black migrant labor in Florida. She referred to it as a plankton-rich stream of water and the whole thing is this remarkable piece of writing that imagines Blackness and water as beneath the subterranean on which the riches of South Florida have been built. And never published, it's only a few pages long, but that kind of work is out there. And I know that piece only because of Florida, and Laura is talking to you about Chapman only in the context of Chile. And that story can probably be retold all over the world.
AM: And we should put it in the syllabus immediately.
JC: It's a really good time for this syllabus because with movements like the No DAPL Movement at Standing Rock, what's going on in Flint—the lead poisoning in Flint, Michigan—and any number of the ways that hurricanes and fires are affecting different communities. It would be really hard to understand any of those things without a serious race and gender analysis. And so I also think that our students and we, as we read the news, as we try to connect our teaching to the issues that people face in their lives and see in the news, really requires this kind of work and requires it, not just as thematic or topical but as theoretical.
BG [19:07]: Absolutely, and this is one of the reasons that I became interested in having these conversations, because I did fieldwork on the restoration of marshes in Iraq during the war, and the marshes in Iraq are very large, and they also lie over some of the largest concentration of oil wealth in the world. So I wanted to think about: how do we consider the regeneration of reeds and birds in the same kind of ecological field as contamination of depleted uranium and the great vast reserves of oil wealth and the detritus of warcraft? How is it that this these different elements of the ecosystem are ecological, function as an ecology? And one of the things that was so difficult was that there really wasn't a lot of work. While there was a lot of work being developed on the Iraq war, much of that work tended to focus on soldiering, or atrocities like Abu Ghraib, or the remote combat of drones, and unwittingly reinforced a very limited knowledge of the Iraq war that really taught us a lot about what the American perspective was like of that war, even as it criticized that perspective, but didn't really give us a sense of what it felt like to be on the ground in Iraq. And so I had to look outside of—even though these questions about ecology and ecosystems were naturally suited to environmental anthropology—I had to look outside of environmental anthropology to rethink the elements of environment and to look to scholars like, for example, Hayder Al-Mohammad, who writes about waste and waste infrastructures and failing sewage systems in Basra, and that became sort of my catalyst for: "Well, if I need to do this, then other friends of mine who are also thinking through infrastructures and how they function ecologically are also doing the same kind of work. So can we put our work and our efforts in conversation?" And that became the syllabus.
EK: It seems to me that one of the major shifts in environmental anthropology is from environments to ecologies. And that's certainly how I think of my own movement into the field, was thinking in terms of ecologies, which doesn't restrict us to thinking about environments in the kind of legacy that the canon has prescribed. So it's kind of a question. I mean, I think the syllabus reflects that turn to an ecological mode. Would you agree with that?
BG: I would agree with that. And I think that it's no coincidence, you know, that many of us in this room have come to environmental work or environmental anthropology later, as second projects, as a lateral move, as you say, Eleana. And there is something that perspective offers because, you know, we have had to look for other traces or other pathways into the field.
AM: But I think, as somebody who started out as an environmental anthropologist, the movement is about—if I could sum it up in one word, which you shouldn't do—but it's about relationality. And ecology does that. And that is not something that the field for me, as an undergraduate in the 2000s, it's not where that was at the time. So it's been a really beautiful evolution as somebody . . . and when I went to graduate school, wanting to be an environmental anthropologist, it was kinda like: "Well, I feel weird in my department because I've been reading a whole bunch of stuff that's not about race, that's not about gender, or it is in really particular ways." And then just finding this whole field of newer literature or referencing people who did do this very early on, who were not really in the canon of environmental anthropology that we were reading, these things becoming central and, as you were saying Jessica, central to the theory: that has just been a really exciting process to just kind of sit in and kind of watch happening around me. And it's important to document that.
LO [23:32]: This is Laura. I might amend a little bit. I think that at least my take on environmental anthropology is that it started with ecology, as a systems approach very much informed by this merger of a Marxist systems approach with ecology, with Rappaport. So it starts there, and then it goes to environment, and now it's back to ecologies with an s. What I think is important about the project you all are working on, and that I hope to help with a bit, is that the shift from environment to ecologies that you're tracing is one that we use this term relationality to talk through. What I think we need to be really, really careful about is to show the ways in which feminist science studies and other kinds of theories of relationality have been a part of that project in ways that are often left out of a lot of things I read. I mean, even including my own work has been negligent in that way by really always relying on male French Continental philosophy to be the way of understanding relationality when, you know, that is a set of paradigms and ways of thinking the world that goes back to feminist theory from the 1970s on, but particularly has been informative, I think, into this ecologies movement with more contemporary feminist science studies. But even since the 1970s, feminist science studies since the 1970s.
JC: This is Jessica. When we first said relationality, I'm thinking about people who are writing about that now, like Kim TallBear, for whom that is linked to some of the oldest and most central questions in anthropology, like kinship and relations, good relations, and thinking of that as a way to understand environment and ecology has been really productive in her work. So there is a way that sort of reading back through, kind of tracing a history of these present concerns in the field is productive, and I will say that thinking about relationality: the feminist science studies approach has been so important partly because the politics of that relationality are very clear. It's not sort of relationality for its own sake; you know, it's Haraway thinking about how breaking down some of these distinctions. For her, the human beyond the human is more than a general move; it is a way to think, as she—I can't quote her, but paraphrasing her—kind of an ongoing process in the imagination of a utopian world without gender. And that's a very different kind of project than many people first encounter those ideas in relation to. And that project, for me, also thinking about the way that feminist political theorists have long written against ideas of autonomy and the subject, partly by looking at how autonomy is elevated and independency devalued as a historical process that involves the gendering of the domestic sphere versus the public, or things like that. And so we can really link . . . one of the things I'm excited about is all of the linkages that get remade here. It's not about—at least in my view—I don't think this is about brand new stuff, or you know, it's not novelty for its sake. It's kind of all about almost remapping relations in scholarship, even as we analyze relationality in the worlds of our research.
AM [27:02]: Absolutely. And one thing that I'm hoping that the syllabus will show is that—and I don't think anybody could get away with this, but there has been this kind of pushback or critique of relational literature that it's apolitical or you can't do anything with it, it's just talking academically and it won't stop climate change. And I think that something that the syllabus shows is that this is clearly all about politics, it always has been. It really centralizes the feminist contribution, it really centralizes these ongoing arguments about explaining how things become politicized and then depoliticized in really subtle and powerful ways, and very overt and powerful ways as well. And I'm just hoping that nobody even bothers to criticize the syllabus in that language. Don't even start. [laughs]
JC: I have a question, if I may, for everyone here. When you're teaching and you get students who come because they're sort of worried about climate change, they've gotten into some kind of environmental issues, they're taking an undergraduate class because green politics are important to them, and they don't come to it from already building in race, already building in coloniality, already building in these things—many of them will come to it already building those things, but for the ones who don't and you're at the front of the classroom, how do you get them there?
AM: I just jump right into it. But I teach in an interdisciplinary department where most of our students do not have a high-theory background in anything, least of all anthropology or feminist critical theory or anything like that. And I just begin right from day one: this is a class about science studies, that's a thing, we're going to just start with feminist science studies because that's the thing that I want to talk about, and it'll become clear to you over the course of the semester how this is relevant to your life and our life and our shared project in the department and in the world. And you're gonna write a paper about that, about how it's clear to you. So you have to think about it. And so far, the response is, from a lot of those students that had no prior background, is: "Why aren't we learning more about this? How did I get so far, how did I get to graduate school and never have these conversations? And now I need to do something differently." And I find that incredibly fulfilling.
BG: Yeah, I think that's great, just jump right in. I think it also matters what we're assigning in the classroom, so that when we are assigning works to students, they're not only challenging students, but they are provocative works that are going to get them outside of their comfort zone. So they are thinking through an ethnographic context that requires them to do the hard work of really leaving their own personal situation or background to dwell or live for a moment inside that book. And I teach at a liberal arts college, so one of the things that I really emphasize with my students is: before we even start reading anything, how do we read a text? What are our expectations for our conversation in the classroom? How do we treat a text respectfully and break it down so that when you don't understand a difficult argument or when there is a passage that you can't personally relate to, how is it that you can take that on? And I've found that the kind of work that we're doing with the syllabus is exactly what I try to do in the classroom, to get students to read beyond what they've explored before. And when they do that, they really eat it up. They love it.
EK [30:47]: I'm not sure how to answer this question. I actually have not taught recently any environmental anthropology–related courses, but in the past—and this may have been my own, like, poor selection of texts—but I found that it was a kind of syllabus that didn't so much focus on the canon, but tried to engage with recent work that was mostly STS or more recent—like, I taught Paige West's first book. And then I found myself with just like a week on environmental justice, and one of my students took me to account for that. And I was like: "Yes, you're right. This is strange. Like, why is this course on environmental anthropology, sort of like what Jessica was describing. But that was 2008, I think. So I feel like at that moment I wasn't hooked into other literatures that would have done the work that we're talking about. And it might be interesting to look at the syllabus. Of course, we're talking about the historical works that have not been included in the canon but more recent work: like, what are the publication dates? Because I feel like there's been certainly a growing set of conversations, like what Amelia was talking about earlier, things have come into greater articulation recently that have made it such that one can craft a syllabus like this, not the one that I did, but where environmental justice isn't mostly thought of as, first of all, not theoretical because it's describing local politics and then kind of leaves everyone feeling depressed because we know it's happening everywhere, yet it's often framed as if it's not happening to "us." But now certainly with climate change, the Anthropocene, the "us" has shifted, and what we need to know is becoming more pressing because it's expanding the scale and scope. So this is what I think students are coming with. So I think, were I to teach something, I would definitely draw on the syllabus because I think it's helping us break down a lot of the temporal and categorical assumptions that previous syllabi may have just reinforced.
BG: One of the things that we've been thinking a lot about as organizers of the syllabus is: Where should this be going in the future? What is the work that needs to happen? How can we advance the kind of work that we've been doing for the project? And the most immediate goal for the three of us is to actually read the works that we've put on the syllabus and then get back to you with a kind of review of what we have read and what we see as the trends or the contributions of that work. And certainly, Laura, I think that it is so important for us to think about traditions that have trajectories over the longue durée, and we want to be doing that work as well.
JC [34:03]: When Laura was talking about Chapman, who worked in Chile, I'm thinking: would it be interesting to organize some kind of panel in the future where we took a bunch of people, and each of them went into their area study and found such a story, such a person, such a piece of writing, such a historical moment or something, and came together and told those stories, and introduced those works and framed them on a panel? I'm thinking about ways to make this fun and add up to more than the sum of its parts. Or having a kind of series where you just write up a couple paragraphs about, "you should read this person," and have it come from different corners of the world, could be a really exciting project.
AM: So, we're down for next year? Organizing a panel . . .
JC: Count me in. We'll talk about plankton and Hurston . . .
AM: Fantastic!
LO: The Grandmother Project.
AM: The Grandmother Project!
JC: I love it!
LO: What I would like to see, too, as next steps: I'm looking forward to this synthesis work you all do, and intervention work that you do beyond the syllabus. I would also like to see us have an effort in Anthropology and Environment or elsewhere to get this syllabus in front of journal editors. That's the other space that I've been thinking a lot about and pushing back on when I have pieces that have been reviewed, and then there's these recommendations that certain kinds of citations are added. This happened to me just recently, where the number of citations by male scholars would've overtaken my entire article, and it didn't have anything to do with what I was thinking and reading about. But you get from editors and external reviewers quite a lot; it's really from external reviewers, but editors aren't doing that job of helping to negotiate that. So I would really like to have a link and a document to send back when I get that kind of thing and say, "look, this is where I'm working from," and just make editors more aware of this broader effort to rethink the canon and what counts as theory in the canon.
EK: I recall at the roundtable last year, I think this came up, and there was a proposal to have a standardized footnote or text that could be included, maybe in response to reviews like that, or when the article is submitted. And I wonder if that's something that could be posted.
LO: Maybe an explanatory text that could be used in brokering those relationships, that's a part of the syllabus itself, that says: this is a project that we are doing to rethink the history of who we are within the discipline, and what matters, and we hope this is useful for reviewers.
AM [37:11]: That's something we can definitely add to the syllabus, as well. And I also want everybody to know that the syllabus itself is going to be hosted on the Cultural Anthropology website, and there's commenting capacity there. And it will be really important, I think, to leave us feedback. Of course we realize we're missing everything and everyone, and we'll hear tons of that. But how people are using the syllabus, suggestions for what extra texts we could add to it, how it could be used beyond teaching, that kind of feedback: we'd really like to collect that and use the site as a way to host that information (and hopefully minimize trolling, as well).
JC: That's a great idea, and insofar as teaching helps us ask questions differently ourselves, I was thinking, as you get feedback, it could be fun to ask people for essay prompts that they have written in their teaching that would generate papers and student thinking, whether at the graduate or undergraduate level, or exam questions, comp or preliminary exam questions that they've asked in this domain—partly because we can use these things, we can make use of each other's work, but also because, in doing so, in making those available and public, it also can be an indirect way of modeling how a question is asked. So if you don't have to decide whether some movement was really about race or really about environment, that's partly because you have to ask a different question. How do you ask a different question? Not just how do you get different approaches or how do you do theory, but how do we ask questions? And the more we think about that, the more we ask our own research questions differently.
BG [39:02]: I really love all of these ideas and contributions that we've heard from all of you today. It's really given me the sense that what we're creating here is a toolbox. It's a multimedia resource that we can host for an ongoing conversation in multiple forms, and I love all the suggestions that we've had for how to do that and how to continue advancing this conversation, because it's really what we're hoping to do with the syllabus at this point. So, thank you all for joining us today. This is wonderful.
JC: Thank you for all the work on the syllabus.

BB [39:38]: We hope you enjoyed this episode of AnthroPod, the podcast of the Society for Cultural Anthropology, produced in collaboration with the American Anthropological Association. We would like to thank Bridget Guarasci, Amelia Moore, and Sarah Vaughn for bringing this conversation to us; Jessica Cattelino, Eleana Kim, and Laura Ogden for joining the conversation; Kyle Harp and Laura LeVon for coordinating the Teaching Tools post; as well as Josh Rivers for executive producing this episode. You can find the syllabus and join the conversation by visiting on our website at culanth.org (that's c-u-l-a-n-t-h.org).
And while you're there, the SCA welcomes your support as the website receives some exciting changes. In particular, the Friends of Cultural Anthropology are raising funds to complete in-depth accessibility testing of our new site, by readers using assistive technologies, to be carried out by the Institute for Human Centered Design. Please consider making a tax-deductible contribution, and you will receive a thank-you gift for your support.
You can subscribe to AnthroPod via iTunes, Stitcher, and SoundCloud. And, for the latest updates from the Society for Cultural Anthropology, find us on Facebook and Twitter at culanth. I'm Ben Bean. Thanks for listening to AnthroPod.