Screening Room: Voices of El Alto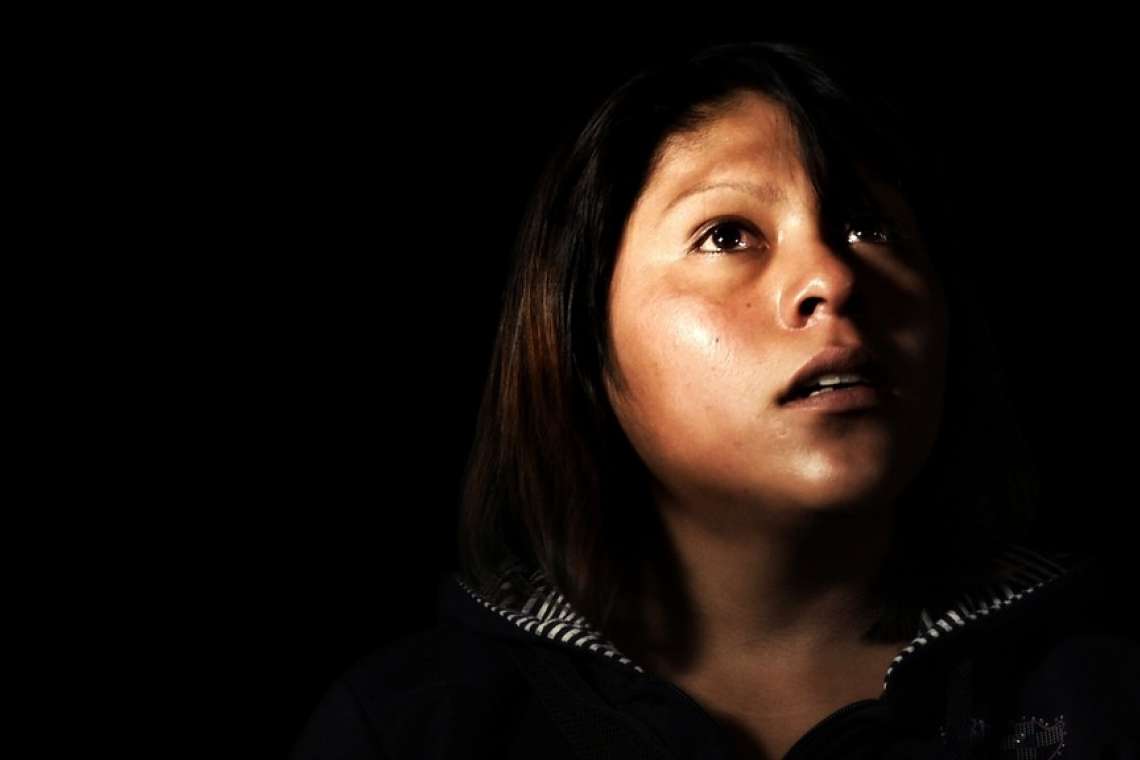 We hope you were able to enjoy Voices of El Alto! The film has been taken down, but this page will remain up with the filmmaker interview and other teaching resources.
From September 22 to October 6, we screened Benjamin Oroza's award winning documentary Voices of El Alto (2013). Using the Storytent, a tent pitched in the market square of El Alto, Oroza and his crew collected stories from residents of El Alto, one of the fastest growing urban centers in Bolivia that overlooks La Paz. Even though it is a rapidly growing urban center its population faces high levels of poverty, a lack of infrastructure, and violence.
Passersby could come in and share with Oroza and his crew any story they desired with the camera, from personal tales of hardship and struggle to stories of love and family. The film intercuts a wide array of silences and stories narrated by community members of all ages, from schoolchildren performing a monologue about indigenous struggles to personal tales of molestation and violence against women, with portraits of the urban landscape and daily life. Through this compilation of voices and images the film becomes an experimental and intimate portrait space of the city that challenges popular images and representations of urban poverty and violence. As Oroza states, the Storytent serves as a space to make a film "with the community rather than just about the community." It is a fascinating project for those interested in representations of urban poverty, Latin America, oral histories, and participatory methods.
The screening of Voices of El Alto is accompanied by an interview with director Benjamin Oroza about his participatory filmmaking process. He has generously shared with us additional clips that speak to processes of editing and crafting a film based primarily on interviews—an unedited storytelling session, an editorial visual experiment, and a scene that didn't make the final cut of the film. This provides an interesting approach to the ethics involved in documentation, filmmaking, and editing.
For purchasing information contact director Benjamin Oroza ([email protected]) or producer Jussi Oroza ([email protected])
Film website here.
Synopsis
A tent is pitched in the market square of El Alto, the Bolivian city perched 4,000 meters above sea level. The filmmakers ask random passersby to tell a personal story for the camera. The film opens with a young girl half giggling, half crying as she describes a very unpleasant experience. It seems that the impersonal camera has become the first confidant she has had for a long time. It is a confronting first scene, but at its core it is representative of what is to follow. The Finnish-Bolivian director Benjamin Oroza explains that this "storytent"—which he has been taking all over the world since 2009—is a way of "making films with them, not about then. I want my films to convey a sense of us, while I remain silent and invisible." Oroza's sympathetic presence combined with the generosity of the passersby in sharing their personal experiences have resulted in a sensitive collage of stories, a poignant and intimate insight into personal joy and sorrow. There's everything from an optimistic anecdote about a first kiss to a loudly declaimed mini-play about the native population's struggle for independence, along with accounts of runaway spouses, violent fathers, and the pain of being cast out by your own family.
Biography
Benjamin Oroza was born in 1959 in Finland. Oroza has directed several documentaries and radio features for the Finnish Broadcasting Company. He has also directed several music videos and factual, educational, and industrial programs for various institutions. Benjamin often composes music for his films, among them "The Mine" which won first prize in the 1991 Tokyo International Film Festival for Cinema Students, Documentary Category. Since 2008 Benjamin has been the film director of the Storytent cross-media project. The documentary film, Voices of El Alto, is based on stories collected in Bolivia. Currently he is sharing the Storytent cross-media concept and techniques with African filmmakers. In October 2013, as a result of a 3-week Storytent workshop, more than 70 stories were collected in Nairobi, Kenya. As part of the workshop, Benjamin also directed a music video, "Ghetto."
Interview with Benjamin Oroza
Patricia Alvarez: Voices of El Alto is part of a larger project, which has been taken to many different countries and produced with diverse communities. How did the idea behind Storytent emerge, what is the project's background?
Benjamin Oroza: In the very beginning, about 5 years ago, Iikka Vehkalahti, commissioning editor for the Finnish Broadcasting Company (YLE), launched a mission called "One Thousand Stories" open to all Finnish filmmakers. The mission was to collect 1000 short stories intended primarily for the net platform, and to be accomplished by the year 2017.
The idea of a studio tent popped into my mind at a public brainstorming session for filmmakers. I stood up and told a funny story about having to sell chorizos at music festivals to finance a documentary I was doing in the early 90's. I remembered that, while waiting for the chorizos to be grilled under the market stall cover, my hungry customers revealed their most intimate secrets and told incredible personal stories. I was absolutely fascinated because I didn't have to ask people any questions. I just kept my mouth shut and listened the stories unfold its natural and mysterious paths. Until that experience I hadn't fully grasped the true meaning of listening.
At an early stage, decision makers understood that the tent itself was essential to create a setting where a complete stranger could tell personal stories at ease. Perhaps they also liked that the Storytent had the potential to collect huge amounts of stories in a very cost effective way. After this meeting things began to evolve at a hectic pace. A Storytent team was established and soon, after many trials and errors, we came up with a concept and a practical solution. The tent was put on test when we were asked to collect 20 short stories to promote the newly established web site for the nationwide "One Thousand Stories" project.
Soon YLE decided to broadcast the stories as a hosted TV-series. The Storytent became a true cross media project, which included a popular 67 episode primetime short documentary TV-series, an 8-episode one-hour radio feature series and an interactive website where we could show the stories of most storytellers.
The news about a very economical and efficient way for collecting primetime quality stories, grabbed also international attention. In 2010 STEPS International launched a worldwide project "Why Poverty" and I was asked to make a few shorts from Bolivia based on the Storytent concept. Later I got a chance to do a feature length documentary based on the stand alone single stories shot in Bolivia. (See Clip #1, below)
The Storytent is still growing. I've also had a chance to share my experiences with filmmakers based in Africa at workshops in Johannesburg, Nairobi and Kinshasa. Many of the stories we recorded in Africa have already been broadcast in local TV-channels, but a mayor feature length documentary "Voices of Africa" still requires funding. To date, 1000 persons in three continents have shared their stories in the tent.
PA: How do you select the locations were the Storytent will be set up and for how long? What made you decide to set up a tent in El Alto, Bolivia?
BO: Choosing the right location is an important decision to make, but not the only one. We usually look for storytellers in public spaces where a lot of people hang around such as market places, shopping malls, parks in poor and rich neighborhoods, hospital and school yards, big and small outdoor events, army quarters, and many, many more. I always look if there are food stalls around, a playground for children, a bus stop nearby, places where the unemployed gather to be hired for casual work, places where dreams persist or are broken. Sometimes general noise can't be avoided, but speeches and commercials from loudspeakers can ruin an interview. Usually, three long shooting days is ideal for one location. In El Alto we chose three locations and we filmed stories for eight days. Each day 10 to 30 storytellers enter the tent.
Every event and location brings along its own natural selection of storytellers such as dominant age and gender, race and ethnicity, class, sexual identity and so on. But instead of enforcing stereotypes, the diversity and unpredictability of the stories unmask a deeper truth about human nature. Actually, I was hoping that when a person is given a chance to freely open his mind, heart and soul, and listen to his inner voice speaking, the stories themselves would strongly suggest that instead of fixed identities each person would reveal x multiple, fluid and multidimensional identities. In El Alto poverty, inequality, injustice and violence was all around us. We couldn't avoid seeing poverty, but we didn't have to point our finger at it. Life is full of surprises and reveals itself with all its might and complexity if you just give it a chance.
I chose the City of El Alto, the former satellite city of Bolivia's capital La Paz, for various reasons. El Alto has shaped the political destiny of Bolivia. El Alto is widely known for its upheavals and roadblocks which paralyze the whole nation. I had already done three documentaries in Bolivia, so I was aware that the people of El Alto were extremely well organized and informed, and most could give you a fierce speech with solid argumentation. But all that was something that I already knew. At some point I got tired of watching endless militant reportages showing nameless masses marching, throwing stones at the police and shouting slogans. Even though I strongly sympathize with their struggle, I didn't want to make a simple advocate documentary because at its worst these type of films get only the attention of other militants. It would have been like preaching to the already converted. Everyone, willingly or not, has seen charity videos and disturbing images of poverty, which evoke pity and appeal to our sense of guilt. I wanted to do something different.
On the other hand El Alto is one of the ugliest and poorest cities of the world. It is a rapidly growing city which was founded only 29 years ago, but already has over one million habitants. There is a lot of poverty and violence, but I felt that the dominant feeling was not of despair and survival, but that of desire and longing. When I chose El Alto, I hoped that the diversity of stories might unmask that poverty had as many faces as storytellers. I also wanted to emphasize that poor and rich people had much in common: dignity, persistence, imagination, will power, humor, intelligence, courage, nobility, empathy, love and passion... hope and faith. But there was a hidden weakness. If we did not recognize that poverty is also pain, daily humiliations beyond imagination, and lack of power, the film might enforce a romantic vision of the "poor but happy."
However, above all, I choose El Alto among all other places in the world for emotional reasons. I'll tell you a story. A few years before the Storytent project I had a chance to visit with Minna, my wife, the School of Arts of El Alto. It had no tuition fees therefore the school was crowded with children. The school had just been burned to ashes by protestors. Imagine, an orchestra playing Pachelbel's Canon in D major, others rehearsing a play, little girls having a ballet lesson, young artists drawing a naked model. I saw all those things happening in the middle of burned ruins at 4000 meters above sea level. It was extremely cold. I was deeply moved. The staff and students told me stories about their heroic efforts to save their instruments as mass protests rage at their footsteps. Fortunately nobody died, but these children risked their lives to save the violins that were not even their own! I thought this was a story worth telling. A story beyond bare survival.
The apparent harsh background of El Alto made it the perfect location to bring to the foreground stories prevalent in every society and every person: longing for love and beauty, meaningful life and self-determination.
In the School of Arts of El Alto there was also a very modest Visual Arts department. During the preparation period I proposed to conduct a Storytent workshop with the advanced students. After a week of intensive technical and conceptual training, we were ready to test our team. The creative artistic input and social skills of Raul Sivila Garcia, Ruddy Tapia Gutierrez, Delia Yura Chura and Boris Mariaca Lima, ensured that the stories told in Bolivia would unfold freely and engagingly.
PA: In the film we see the space of the tent transform into many different spaces. It becomes a confessional space for some, for others a place to perform, a place to share their cultural heritage, a place to denounce social injustice, and a place to share a moral lesson coming out of personal experience. Can you talk about the experience of being in the tent and how it becomes such a flexible space?
BO: The tent represents a neutral space for stories somewhere in between one's cozy home or an intimidating TV-studio. It can be perceived as a small chapel patiently standing just for the right moment for someone to enter. It is an open invitation. The dark, isolated and silent studio setting is carefully designed to make a special psychological impact which affects the content and quality of the stories. For many storytellers, talking without intervention is a first-time-experience. Therefore the tent, the setting, can be understood as a gift of silence, a place of refuge, a stage where storytellers feel they can their hear inner voice speaking.
The interior of the tent can be perceived also as a stage. The special thing about the tent is that the key and fill lights are placed halfway between the interviewer and the storyteller so that the storyteller can't see clearly the interviewer. In this case the distance between the interviewer and storyteller is much longer than in a normal interviewing session. Thus the storyteller feels more like being onstage than in a face-to-face interview. And accordingly the interviewer becomes the audience. This creates a pressure cooker intensity because telling a story from the beginning and having to end it without any helpful guidance to an imaginary worldwide audience, creates stories with a natural narrative structure. The placing of the interviewer as close as possible to the camera creates a feeling that the storyteller is talking directly to the TV-viewer rather than enforcing a conventional feeling that the TV-viewer is an outsider watching somebody talking to another person.
The interviewing technique more or less mimics the behavior of an audience. Thus the interviewer's listening skills become more important than his/her journalist or rhetoric skills or charisma. Collecting stories is challenging for the interviewer because we all have been conditioned from early childhood to be active and helpful. Normally we would interrupt each other all the time, but in our case the interviewer is like a priest, psychoanalyst, taxi driver or bartender, rather than a journalist. Personally, I could never tell my closest friend the same things I would tell my doctor or psychoanalyst. In most situations, remaining apparently indifferent while swallowing your tears in silence, will be highly appreciated by the storyteller. More than often a storytelling session ends with long hugs and tears of relief and happiness.
It is important to recognize that we are dealing with perception: in this project the emphasis is not in how the director perceives the storytellers – it's about how people perceive themselves. And that is a very delicate matter, which can be easily distorted. This is why social communicators and interviewers have to be trained properly.
PA: There are various instances were we see the tent and a woman handing out flyers for participants. I immediately was intrigued by the community involvement in the project. What was the relationship and level of community involvement in the project?
BO: Actually, the woman in the white hat was not directly involved with the project. Now that you mention it, I see how it might seem like that, but I never thought about it until you mentioned it. Once you start working with a master editor who has no prior knowledge of the project, your precious raw material starts to transform into something other. At some point the director becomes an obstacle because he often sees in his raw footage meanings that are visible only to his own eyes. On the other hand, an editor often builds up meaningful sequences of shots the director would discharge as irrelevant.
But I'm really happy that you interpreted these scene as proof of community involvement, because that's also true. In El Alto the tent and its immediate surroundings spontaneously formed the center of a small community. This doesn't occur every time. Children were the first who approached us. They were more than happy to pass on our flyers to bystanders, their friends and relatives. For the children the tent became a talent show. We had lots of fun. But as you see in the film, children wanted also to talk about the things which were tormenting their souls. Love, or the lack of it, was a common theme children spontaneously started to talk about.
During five days of shooting in the same spot, we couldn't avoid becoming involved with the people around us. In this way our little community was built from scratch. After a few interviews the word spread around and everybody got the idea of our mission. People around us became aware that we couldn't help them financially. We also made clear that we had nothing to do with any community aid program, religious sect or political party. That was very important because we wanted to build up a fresh and non-hierarchical relationship. They knew all we had to offer was a chance to share a personal story with the rest of the world.
PA: We see interviewees from all ages and walks for life in the community. How many people participated in the tent and how did you find participants?
BO: Handing out flyers was a task the children took spontaneously, but I had also trained our local team to function as social communicators. Due to the workshop nature of our team, each team member had an opportunity to test his social skills. One of the team members was a young Aymara woman. Her presence ensured the success of our project. She knew how to treat all people with utmost respect, like they would be special guest stars.
As potential storytellers approached the tent, they asked questions such as: What the hell are you doing here? How much are you going to pay us? How much does it cost to tell a story? Where are you going to show my story? Can I sing a song? Generally people assumed that they were going to be interviewed in a conventional manner, so it was important to explain very clearly that we wanted to hear the story each person carried within his heart and mind. Sometimes it was also necessary to explain the difference between stories versus descriptions and opinions.
Social communicators outside the tent also told people that the best stories would be shown to millions all around the world. That was really the case. The knowledge of this fact, raised the stakes very high. People might have thought that "it's now or never". For many, it was an opportunity given only once in a lifetime. "Now it's time that I speak aloud all that's been tormenting me". People wanted to share their words of wisdom or special talents with their fellow-men. All this complicated preparation work was necessary, because storytellers had to be aware what to expect and felt that they were in good hands and didn't feel intimidated despite the presence of the camera and bright lights.
As soon as people understood what it was all about, they started to recall things that had happened to them, but usually they needed more persuasion to enter the tent. It is almost a cliche to say that everyone has a story to tell. That is very true, but very few are convinced that they are capable of telling a story in front of a camera to the rest of the world. This is why the role of social communicators was crucial.
Sooner or later, there comes a magic moment when a person realizes that she has a story to share, something so valuable that she is willing to take her chances. But the moment that person starts to narrate that particular story to the social communicator, she is interrupted. The story had to remain fresh. It had to be a first-time-ever for both the audience and storyteller. This was just the right moment to enter the tent, because the storyteller had reached a certain momentum. In El Alto there were 46 persons who dared to enter the tent.
PA: I think it is really interesting that you don't place thematic limitations in what people can come and talk about. Why did you decide to just let the interviewees decide what to share? Usually, interviewers come in with at least a general set or ideas of questions to ask. How does the interview process unfold when the interviewer has to follow what the interviewee wants to discuss?
BO: When the storyteller enters the tent, she has already decided what story to tell. The first thing a storyteller sees when she enters the tent is an empty brightly lit chair in the middle of a huge tent covered inside with thick black curtains. Then she sees a beautiful carpet, the green screen at the rear end of the tent, the camera operator and the interviewer. I let her look around for a while. Its important to talk as little as possible. You may accompany the storyteller to sit on the chair. Every move is done very calmly, professionally. There's obviously some tense feeling, but it's the momentum and the magic moment that I wish not to interfere with. Once she sits down, I wait a while and ask the storyteller´s name. Then I ask her to start narrating the story she wants to share with us. Instead of overdoing friendliness with exaggerated facial gestures, the tone of my voice and my body language emphasized the fact that I was there as a mere technician. By all means this doesn't mean that the interviewer is just a passive listener. I ask everyone to look straight to my eyes. It helps the storyteller to focus in her story. It also creates a sensation that the storyteller is directing his words directly to the viewer.
The sensation of being on stage has a tremendous effect: He or she becomes a star. He or she is talking to millions. Actually, the tent is like a little stage. So, telling a story in the tent is like a performance to an invisible audience, the world. This sensation creates a pressure-cooker intensity. The fact that the interviewer doesn't obstruct the storyteller resembles that of being on stage. It's a one-way ticket. Once you sit down on the chair you must go all the way. You start your story. You must continue and find a beginning, middle and an end to your story. This all happens naturally because the human mind is inherently structured to understand life as narrative. Looking at the eyes of the interviewer makes you feel that you also must say something meaningful. You assume your responsibility. You give the best you can. It's not just small talk. And it's not meant to be easy. In the end, most people feel very grateful after having pushed themselves to their limits and surpassed them. These are extremely rewarding moments for both the film maker and storytellers.
Before we filmed in El Alto, I had already perfected this specific interviewing technique. In Finland I also tried to cover certain themes in a conventional journalistic mode, but it never worked out properly. The magic and intensity and the natural narrative structure of stories were all gone. Later I analyzed that the moment you ask a specific question you impose a hierarchy. In the real world that happens all the time. Normally a documentary film maker, willingly or not, often guides his subjects in a way that they speak aloud only phrases that the director supposedly wants to hear from them. In the worst case, real people are reduced into puppets at service of illustrating a vision or mission totally apart from their true personality, reality, moral and ethical values, dreams and wishes. Apart from that, people don't get a chance to communicate directly with the viewers.
I'm not a fundamentalist follower of the Storytent concept, though. Sometimes you record an incredible story, but you feel there's still something missing. In these cases I just wait silently for a while and more than often the narrator starts filling the gaps in her story. She may also find a new angle, make a beautiful epilogue or start a completely new and unpredicted story. She may start singing or acting. Usually I start asking a specific question related to the story only after the storyteller feels she has nothing more to say. I never ask questions such as how old are you, where do you come from, how do you earn your living, how many children do you have and so on. This kind of information is not relevant in our context. The things you can imagine are not worth showing.
PA: Were some interviewers community members? If so, how do you think this might have influenced the kinds of stories shared?
BO: The majority of the local members of our team were natives from El Alto, but I didn't see them as community members. They knew the place as well as any other local dweller. The community near the tent and its surroundings was comprised by street merchants, taxi and minibus drivers and clients. Even though no one could claim ownership of the area, every square inch was occupied by somebody. Therefore we had to make all kinds of arrangements during the preparation period to ensure we can set up our tent. That's why we became very involved with the merchant community also officially. I've also taken Storytent to a few closed communities in Africa. There it was essential that the social communicators were well-known members of the community.
Due to the workshop nature of the project, most of the students had a chance to conduct one or two interviews. This arrangement was also necessary because I needed some pauses. This interviewing technique is very intense and exhausting. Even though the interviewing skills of the team members were not perfect, they made a big contribution. I've used three or four interviews made by students in the final edit. The main problem with students was, that they just could not resist themselves asking questions like journalists. As a consequence the stories were fragmented and had to be heavily edited. The love story of the young couple is one of the achievements of the students. Without that sequence the film would have been a much darker viewing experience!
PA: The film opens with a really impactful story and we see the girl struggle with her emotions in re-counting it. In a way it sets up the tent as a space that confronts local social issues that affect the community. Can you talk about the decision of beginning the film with this particular interview?
BO: Elsa, the girl we see in the beginning was attending table football games just beside our tent. She was from a family of four children. Her father and mother were also around. Later we were invited to their home nearby where our DOP Meeri Koutaniemi took the stills for the "Little Red Riding Hood" sequence.
At first Elsa came just to sing songs with her sisters and little brother, but when she was left alone she told a story about her attempted rape. I thought it would be ideal to begin with this story because it unfolds naturally and builds up suspension. What is going to happen with her? Also the zoom-in is perfect. We had time to introduce our green screen and make it fade away into blackness. We could also have started with a really terrible rape story but we decided not to include it in the film.
It is true that this story creates strong expectations about what is to follow. But it was a conscious choice. The selection and order of stories and the editing style, all of these choices were intended to prepare the viewer for something unexpected. We wanted to create darkness, so that even the smallest spark of light would not pass unnoticed.
PA: Considering the amount of interviews you collected and the wide variety of stories recorded. How was the editing of the film approached? How was the process of managing, deciding and selecting what themes to explore in the final film?
BO: The editing of this film was very long and painful. Before I started editing I had already made 14 standalone shorts of the strongest stories filmed in Bolivia. I had edited most of my previous documentaries so I tried to edit also this for almost a year. Besides the interviews I had about 2000 stills and 15 hours of exterior shots covering all possible angles of El Alto and its people. I had in mind a completely different film. I thought that it would be important to edit special symphonic city interludes and place them in between the storytellers. I also took three families with children to a beautiful amusement park to ride horses and row with a boat. We also filmed the famous "cholitas" show wrestling, where indigenous women beat men wrestlers. We went to weddings. I just couldn't throw away my precious shots.
But this time I had to give up. Whatever I tried to add, diminished the strength and integrity of the stories. Our creative producer Iikka Vehkalahti decided to invite Menno Boerema, editor of various award-winning fiction and documentary films, to edit the final version of the film. He was impressed by the intensity of the stories. Menno's approach was very efficient. We organized the stories in themes and subject matters such as survival, destiny, abuse, longing, hope, faith, love, childhood, struggle, relationships, aging, health, and so on. We also cross examined the stories using several categories. Once we organized our material, we had to weight their emotional identity, relative value and function within a cinematic context.
Most of the editing work was done intuitively. We put aside the exterior shots and started to edit independent sequences containing a few stories based on the same theme or subject matter. At the end we organized the sequences in longer and longer episodes. After a closer look I began feeling that most of the exterior shots were trivial, as if we were shooting much and showing nothing. And thus the still photos had a chance to bloom in the film. At some point, when you see the last version of your film, you feel that this is how it was meant to be from the very beginning. At the end, all the painful trials and errors are justified.
Personally, I am quite critical of all kinds of dogmas and conceptualist approaches to film making. For example, "keep it simple" can become a barrier if it is imposed in a fundamentalist fashion. A complex and refined aesthetics can be experienced as something very real, true to reality, and paradoxically more realistic and engaging than something simply captured with a shaky camcorder. Just as an example of how far we went in experimenting with different ways of telling the Big Story of El Alto, watch the Billboard experiment. (Clip #2, below)
PA: What were some of your favorite stories that didn't make it into the film?
BO: Mr. Moises Cruz, the man who tells in the beginning that his life is a myth, told us such a story that you get to film only once in a lifetime. We could only use about 5 minutes from his one hour long interview. At first glance Moises looked like an ordinary beggar or a crazy person, but he surprised us with a very detailed and coherent epic story about the eternal battle between good and evil tormenting his restless soul. At times, he uses the third person when he is speaking about himself. Like a real king.
The unedited storytelling session was more than one hour long and worth every intense second! But instead of letting Moises to tell his whole story from the very beginning, we decided to edit his story in a very radical way. Now, paradoxically, only because he leaves space to other storytellers, his own role in the film grows exponentially: he becomes the "illuminated narrator's voice". And thus, the whole film gains from his sacrifice. Our master editor Menno Boerema once said: "I always wonder, how much you can shorten a story and have it still make perfect sense". Although I miss Moises, I'm very happy with the final edit of the film. Menno found the perfect balance between the explicit meanings and implicit deeper issues of the film.
This information is for those who want to know more about Mr. Moises Cruz. Moises had a brain related pathological problem which was operated on when he was nine years old. Before the operation, he couldn't see or hear properly and could not speak. He was treated as if he was lacking in intelligence. After brain surgery, Moises began to see things clearly, he learned how to read and write. His life started changing for the worse when he started drinking. One night Moises came home drunk, behaved violently and got thrown out of the house. Moises became a drug user and violent thief, known as the fearless "Tiger King." Moises was caught after a violent robbery, went to jail and began to repent. When he was released from jail things, got worse. He didn't care about anything and tried to commit suicide. (See Clip #3, the "kill your darlings episode") Another turning point in his story happened, when Moises was hit by a car and was almost killed. He was saved by a religious sect who believed that he was possessed by the devil. At the end of his story, Moises tells how he was thrown into a deep pit. There, in the depths of the pit, Moises became a believer, after a violent exorcism. Moises is now probably wandering the streets of El Alto giving advice to those seeking spiritual counseling, in exchange for a meal.
PA: There are certain themes that run throughout the whole film. As viewers we get a sense that domestic violence, violence against women, and alcoholism are serious issues in El Alto. Can you talk a bit about this and how willing participants were to share such intimate and difficult life stories? Coming into the project, did you already know that these were pressing issues affecting the community?
BO: Every now and then you might gaze at someone in the crowd and wonder, what does she really have in her mind and heart? That's the basic question behind all of our complicated structures, techniques, workflows, and concepts. That was the only thing we really wanted to know. Everything else we might have achieved has to be understood as a gift. Everything was done to create a set and a setting where a storyteller could hear his or her inner voice speaking. Keeping this basic question in mind, what you hear in the film is what the people voluntarily chose to share with us.
Even though I was well informed of the reality that women had to confront in their daily lives, I didn't expect they were almost exclusively willing to talk about that. On the contrary, I thought that most people would like to share an extraordinary adventure, a life shaping experience, or tell a funny anecdote as most people would do in Finland. In El Alto it was not like that. Even though I had written an almost identical flyer to be handed out to bystanders. Besides basic information, the flyer contained a few inspiring questions such as:
Which is the story you would like to share with the rest of the world?
Tell us about the most important or happiest day in your life.
Tell us about the day you will never forget.What happened that day?
What makes you still laugh aloud, cry, angry or rage, regret? What happened? Tell us from the very beginning."
Did you have a pet dog that was hit by a car?
The fact that you give many questions at the same time minimizes the influence of the interviewer. The intended effect was that a storyteller would get an idea about what we were looking for and get inspired. In some cases, people came to the tent the following day after reading our flyer.
We were careful to never mention such words as "poverty," "democracy," or "women's rights," because that would have distorted our project. I can imagine how random storytellers of low income would react if they were asked straightforwardly: "Tell us a story about poverty." I believe that the answers would have been too predictable to be interesting. Most often, narrow theme-based questions lead to a disempowering situation where the subject tries his best to fulfill the director's real or imagined expectations.
Our intention was simply to set up a non-hierarchical system and let people decide what the tent was to become. As you said, there were certain pressing issues that affected almost every single woman in the community. Or, at least, affected those women who decided to speak in front of the camera.
For myself, the Storytent is a documentary art project rather than being a social anthropological study or a recollection of oral traditon. Voices of El Alto is a means unto itself. On the other hand I'm proud and more than happy that the Storytent, as a concept, has the potential of being a powerful tool for promoting other more specific goals. As an example, it has proven its strength in serving as a tool for community work on the African continent.
PA: Besides the interviews, the film has beautiful landscape images of El Alto. The combination of stories and landscapes serves to create a nice portrait of life and an intimate sense of place in El Alto. There are also still images used, portraits of street life, details from streets, murals, etc. What was the decision behind incorporating stills alongside the landscape footage?
BO: From the start, I wanted that Voices of El Alto would have a unique atmosphere and aesthetics. We decided to explore the full potential of still photos because, in a non-intrusive way, they made the perfect companion to the almost static stories told against a black background. At first, I thought that the film would require a lot of stills to replace the green screen throughout the film as we had done in storytent Finland. But in the end, in El Alto we replaced the green screen with a minimalistic slide show of stills only when the children recited a poem. Instead we used stills in a way we hadn't foreseen.
The decision to hire Meeri Koutaniemi, a professional still photographer from Finland, was made at a very early stage. I trusted that she could capture things that I wouldn't perceive. She was fantastic with children. The best stills she took were edited into independent sequences that exposed the fantasy world of childhood. These stills formed a parallel and complementary reality to the harsh stories the children told in the tent.
I wanted to show the murals because they had an important message. In these murals that we see specially at the end of the film, we can find illustrated the same pressing issues the storytellers were talking about. Actually, they didn't need an outsider, someone like me, to somehow deceive them into talking about their problems or propose a solution for them. The consciousness of the community has always been in their own hands.
Film Clips
1. A clip of an unedited storytelling session.
BO: "Observe the unfolding of a coherent narrative structure and the story's totally unexpected turning points. That makes it a very intense viewing experience. Rosa Maria was one of the girls who were attending table football games beside the tent."
2. A clip of a visual experiment that was ultimately not included in the film.
BO: "This Billboard experiment was one of many visual approaches we tried. But later I thought most visual tricks as a bit pretentious in a context where storytellers where just acting themselves."
3. A Kill your Darlings clip, an important through the editing process that didn't make it to the final cut
BO: "Mr. Moises Cruz, the man who tells in the beginning that his life is a myth, told us such a story that you get to film only once in a lifetime. We could only use about 5 minutes from his one hour long interview. The unedited storytelling session was more than one hour long and worth every intense second! But instead of letting Moises to tell his whole story from the very beginning, we decided to edit his story in a very radical way."
Photographs
(All photographs courtesy of Benjamin Oroza)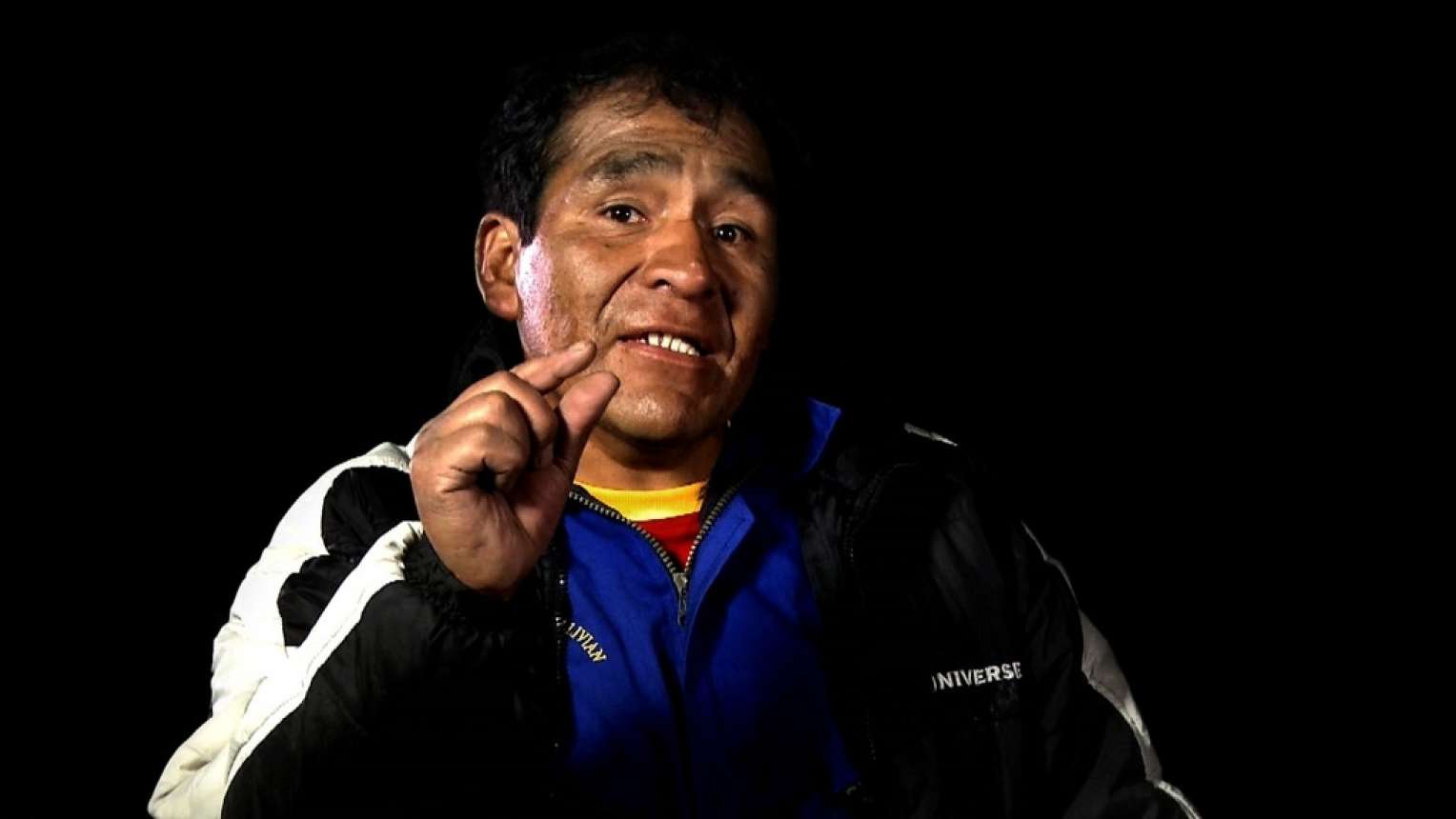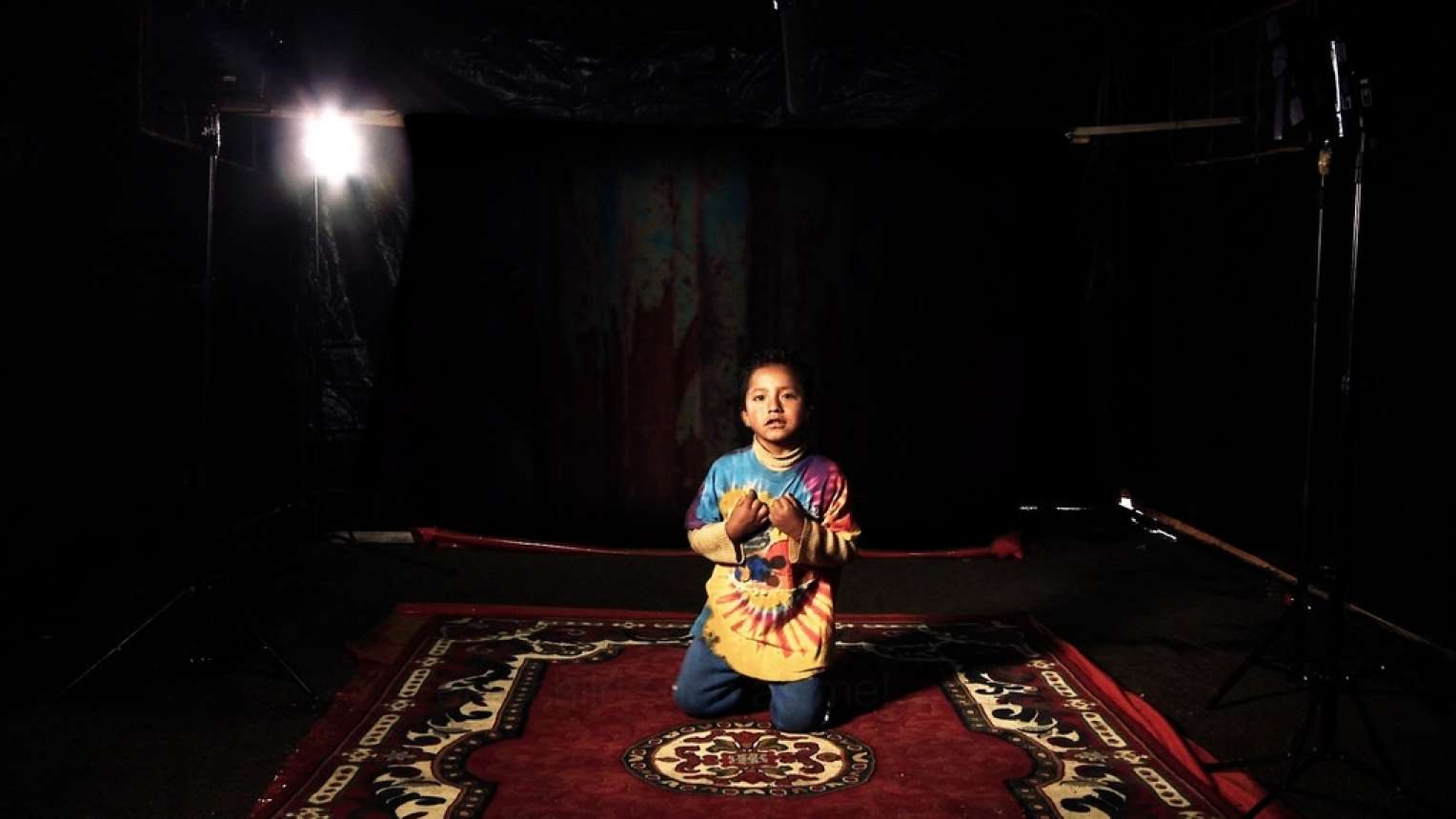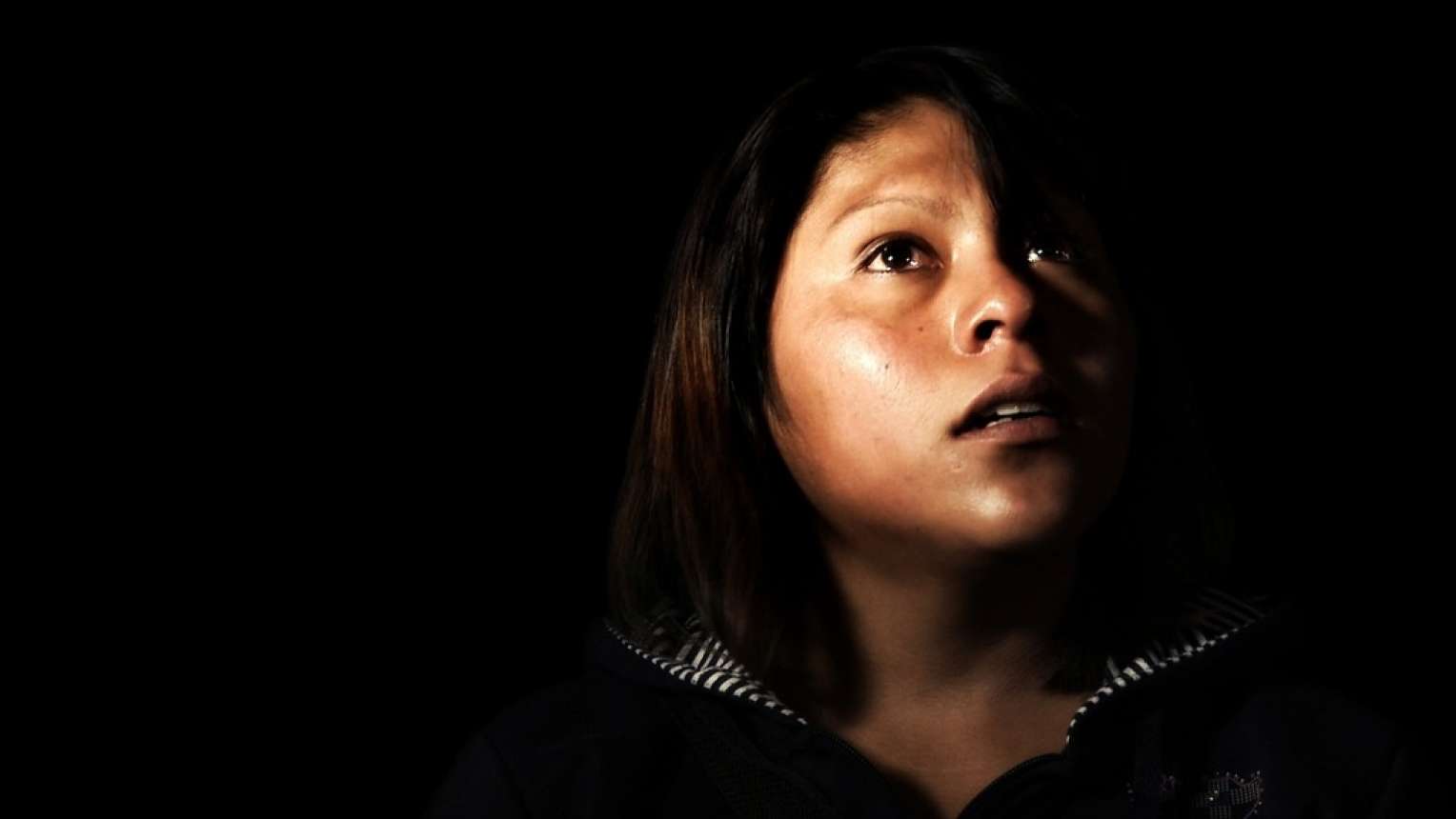 Related reading from Cultural Anthropology
Cultural Anthropology has published numerous articles on urban Latin America, including Elysée Nouvet's "Some Carry On, Some Stay in Bed: (In)convenient Affects and Agency in Neoliberal Nicaragua" (2014); Clara Han's "Symptoms of Another Life: Time, Possibility, and Domestic Relations in Chile's Credit Economy" (2011); and Lesley Gill's "Creating Citizens, Making Men: The Military and Masculinity in Bolivia" (1997).
Cultural Anthropology has a theme list on Cities and Urbanism. See especially, Brad Weiss' "Thug Realism: Inhabiting Fantasy in Urban Tanzania" (2002); Bruce O'Neill's "Cast Aside: Boredom, Downward Mobility, and Homelessess in Post-Communist Bucharest" (2014); and Daniel Hoffman's "The City as Barracks: Freetown, Monrovia, and the Organization of Violence in Postcolonial African Cities" (2007).
Cultural Anthropology has published articles about histories and narratives of violence, including Jean M. Langford's "Gifts Intercepted: Biopolitics and Spirit Debts" (2009); Nancy Rose Hunt's "An Acoustic Register, Tenacious Images, and Congolese Scenes of Rape and Repetition" (2008); Charles Briggs' "Mediating Infanticide: Theorizing Relations between Narrative and Violence" (2007); and Gregory Starret's "Violence and the Rhetoric of Images" (2003).
Related Multimedia
Oral Histories and Interviews