The Double Bind of American Indian Need-Based Sovereignty: Supplemental Material
Multimedia
In 2008, the Seminole Tribe finalized the $965 million purchase of Hard Rock International, which operates Hard Rock Cafes, casinos, and resorts in 45 countries around the world. This was the largest purchase of a multinational corporation by an indigenous nation. Pictured are Bobby Henry (in red) and other Seminole representatives at the press conference in Times Square, New York City.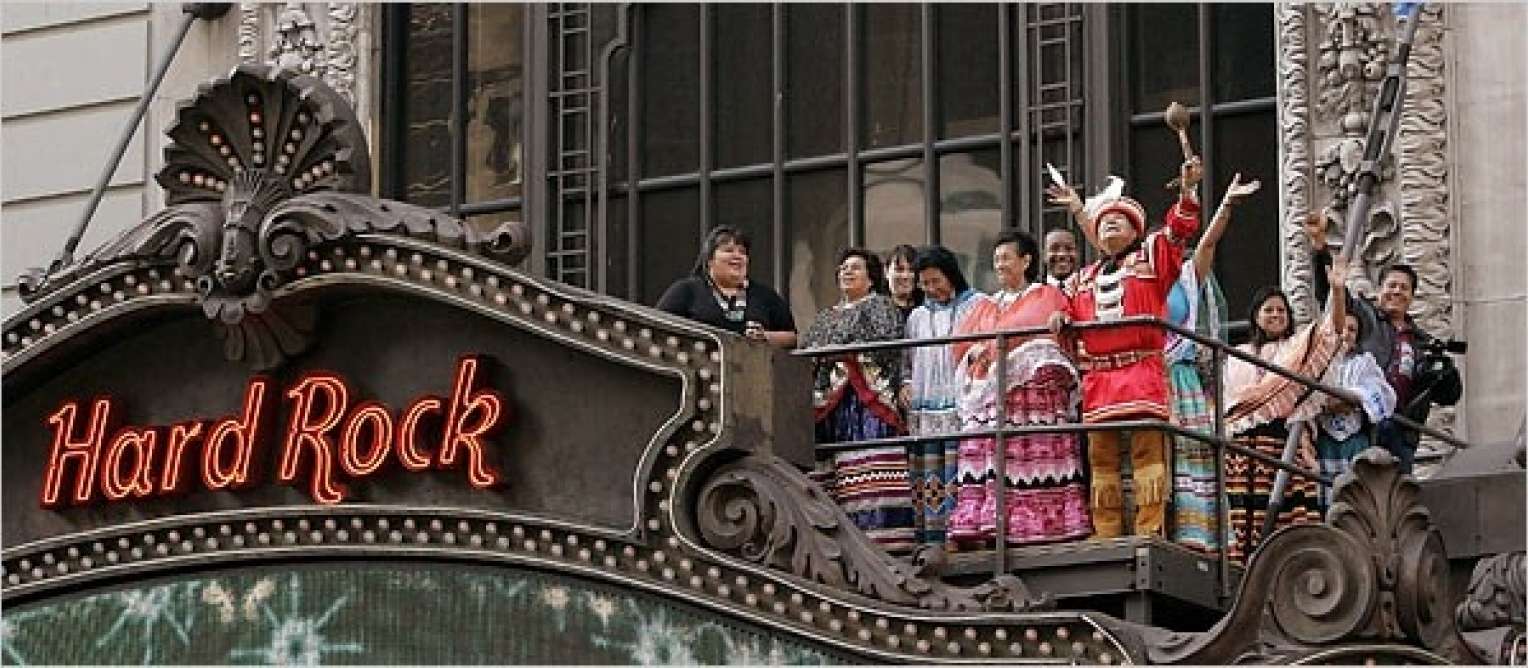 Questions for Classroom Discussion
1. What is the double bind of American Indian need-based sovereignty, as described by Cattelino? How does it operate? Why does Cattelino insist upon the economic component of the double bind?
2. What are the "structures of expectation" to which the Seminoles are subject? How do these expectations shape federal policy and Seminole self-representation? How has gaming wealth affected such expectations?
3. Discuss the 1953 federal termination policy, why the Seminoles were recommended for termination, and the outcome of the controversy. How do threats of termination play out today?
4. Discuss the history and politics of indigenous sovereignty in the United States. How do Seminoles articulate and exercise their sovereignty?
5. Describe the relationship between citizenship and economic productivity that Cattelino argues is part and parcel of US cultural politics.
6. What possibilities and limitations for economic and political power does tribal gaming engender for the Seminole tribe?
7. Discuss Seminole "refusal" in relation to federal government interventions and official and popular expectations for indigenous groups.
8. How does Cattelino imagine an escape from the double bind? Discuss her use of Bateson's "clues" for thinking through this problematic.
Related Readings
Biolsi, Thomas. 2005. "Imagined Geographies: Sovereignty, Indigenous Space, and American Indian Struggle." American Ethnologist 32(2):239-259.
Cowlishaw, Gillian. 2003. "Disappointing Indigenous People: Violence and the Refusal of Help." Public Culture 15(1):103-125.
Cramer, Renee Ann. 2005. Cash, Color, and Colonialism: The Politics of Tribal Acknowledgment. Norman: University of Oklahoma Press.
Deloria, Philip. 2004. Indians in Unexpected Places. Lawrence: University Press of Kansas.
De la Merced, Michael J. 2006. "Florida's Seminole Tribe Buys Hard Rock Cafes and Casinos." http://www.nytimes.com/2006/12/08/business/08rock.html?fta=y?_r=1.
Simpson, Audra. 2007. On Ethnographic Refusal: Indigeneity, 'Voice' and Colonial Citizenship. Junctures 9:67-80.
Editorial Overview
In her article "The Double Bind of American Indian Need-Based Sovereignty," Jessica Cattelino explores a central dilemma faced by the Seminole Tribe of Florida: economic success is simultaneously necessary for the tribe to maintain its sovereign status and yet is the very condition used to challenge that sovereignty. Drawing from the congressional termination debates of 1953 and termination-type discourses of the contemporary gaming era, Cattelino examines the enduring centrality of economic productivity to notions of sovereignty, citizenship, and rights in the United States. Her analysis reveals the complications posed by indigenous wealth to mainstream cultural expectations of American Indians.
Unsettling recent anthropological theorization and popular discourse that might characterize the "wealthy 'gaming tribe'" as an "emergent form of life," Cattelino instead asks, "Why does indigenous wealth so often appear to be emergent in the United States relative to indigenous poverty? With what effects and antecedents? And what might this tell us about structures of expectation—especially economic ones—that face indigenous peoples in settler states?" Cattelino demonstrates through intricate historical and ethnographic analysis how Seminoles have negotiated and "refused" such expectations by asserting that economic prosperity, cultural distinctiveness, and tribal sovereignty are not mutually exclusive but essential to their "collective self-governance."