Contemporary Tibetan arts have emerged in the past decade as a new cultural force asserting Tibetan identity and modernity both inside Tibet and in Tibetan communities internationally. Tibetan artists worldwide are beginning to critically respond to the self-immolations in Tibet but only works made in exile are visible at present; if such art is being created inside Tibet, it cannot safely be circulated or published. Paintings by established and younger exile artists are pioneering depictions of personal and collective emotional, contemplative, and political states of mind at this intense moment in Tibet's modern history.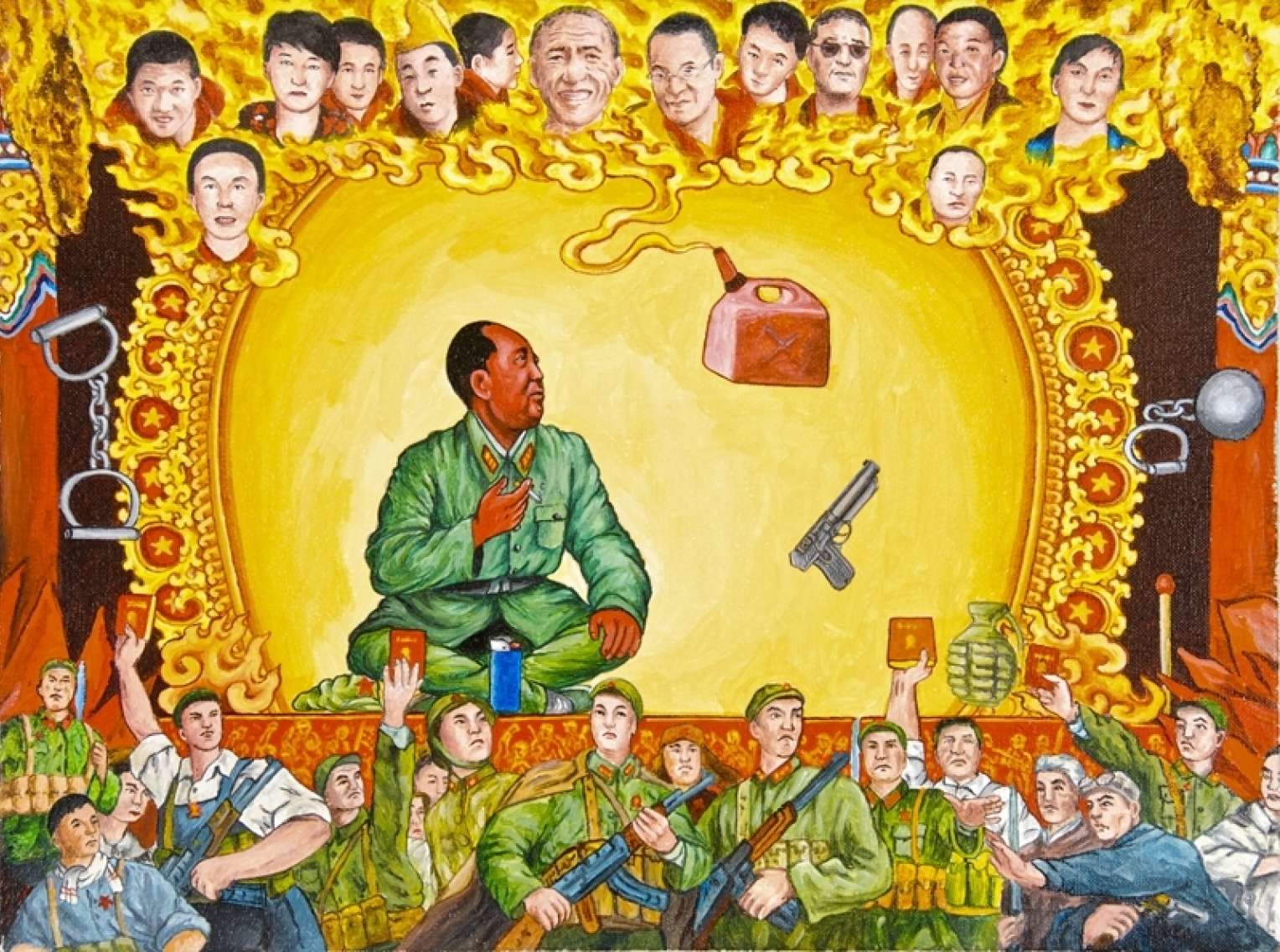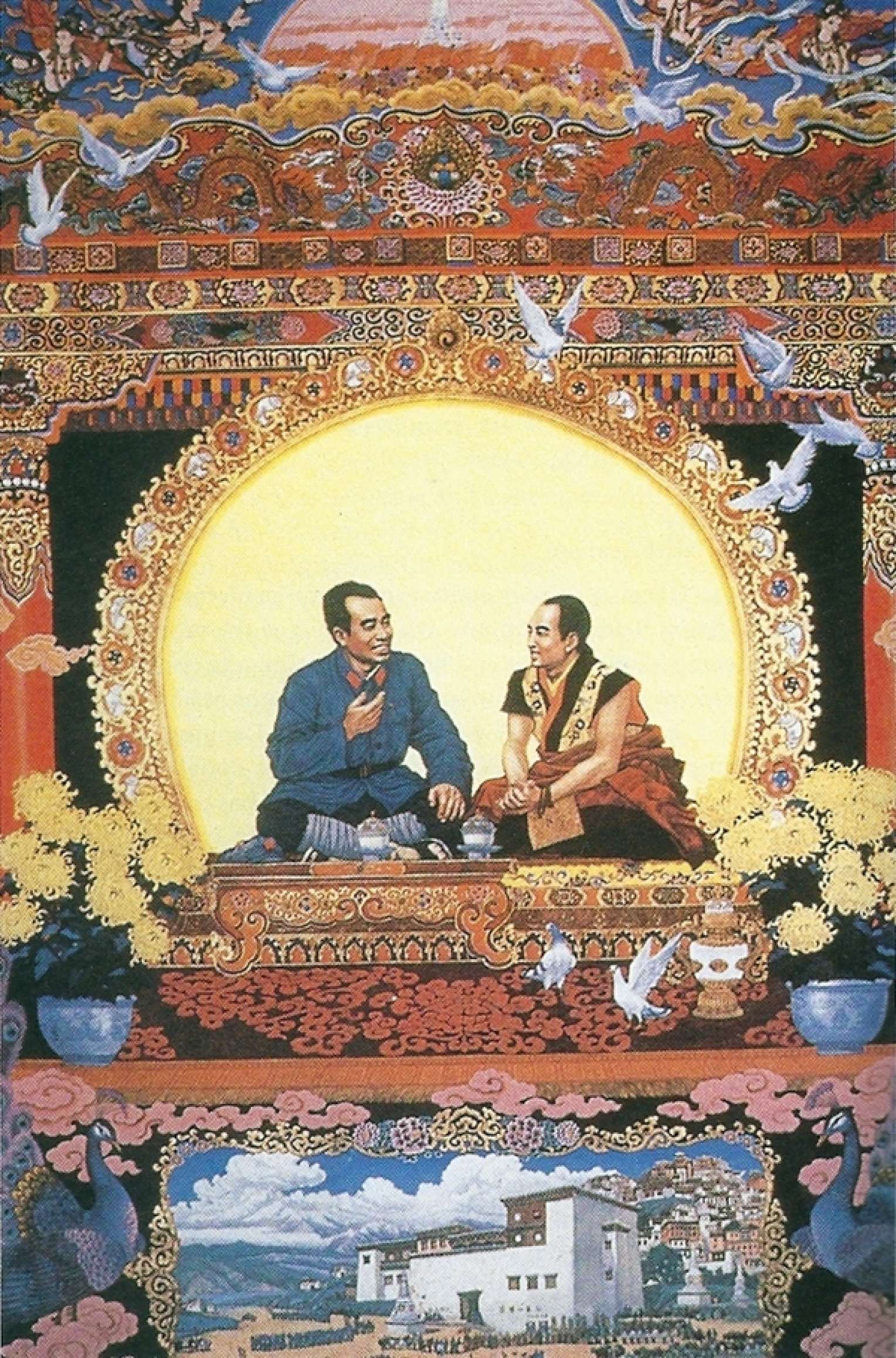 Karma Phuntsok's Self Sacrifice in Tibet (2011) is a scathing critique, through mimicry, of the 1980s painting The Meeting of the General and the Monk in Kandze in 1936.[1] In Karma Phuntsok's version, the Chinese military general pontificates towards a vacated space in which a gasoline container hovers, a match and a lighter nearby. Centered in the top register's flames, a hierarchical space reserved for primordial Buddhas in the Buddhist painting tradition in which Karma was trained, is the smiling face of Thupten Ngodup, the first Tibetan to self immolate (in India on 27 April 1998). He is flanked by the faces of thirteen recent self-immolators and in each corner is a burning standing figure. At the bottom register of the painting is a host of soldiers and workers hoisting guns and Mao's Little Red Book, borrowed from Cultural Revolution-era Socialist Realism propaganda. The self-immolations evidence that the glorified Socialist future promised in decades of propaganda has failed to deliver. Karma Phuntsok claims, "Tibet is still the 1960s for Tibetans,"[2] and he visually links successive generations' sufferings. Karma Phuntsok (b. 1952, Lhasa) lives in Australia.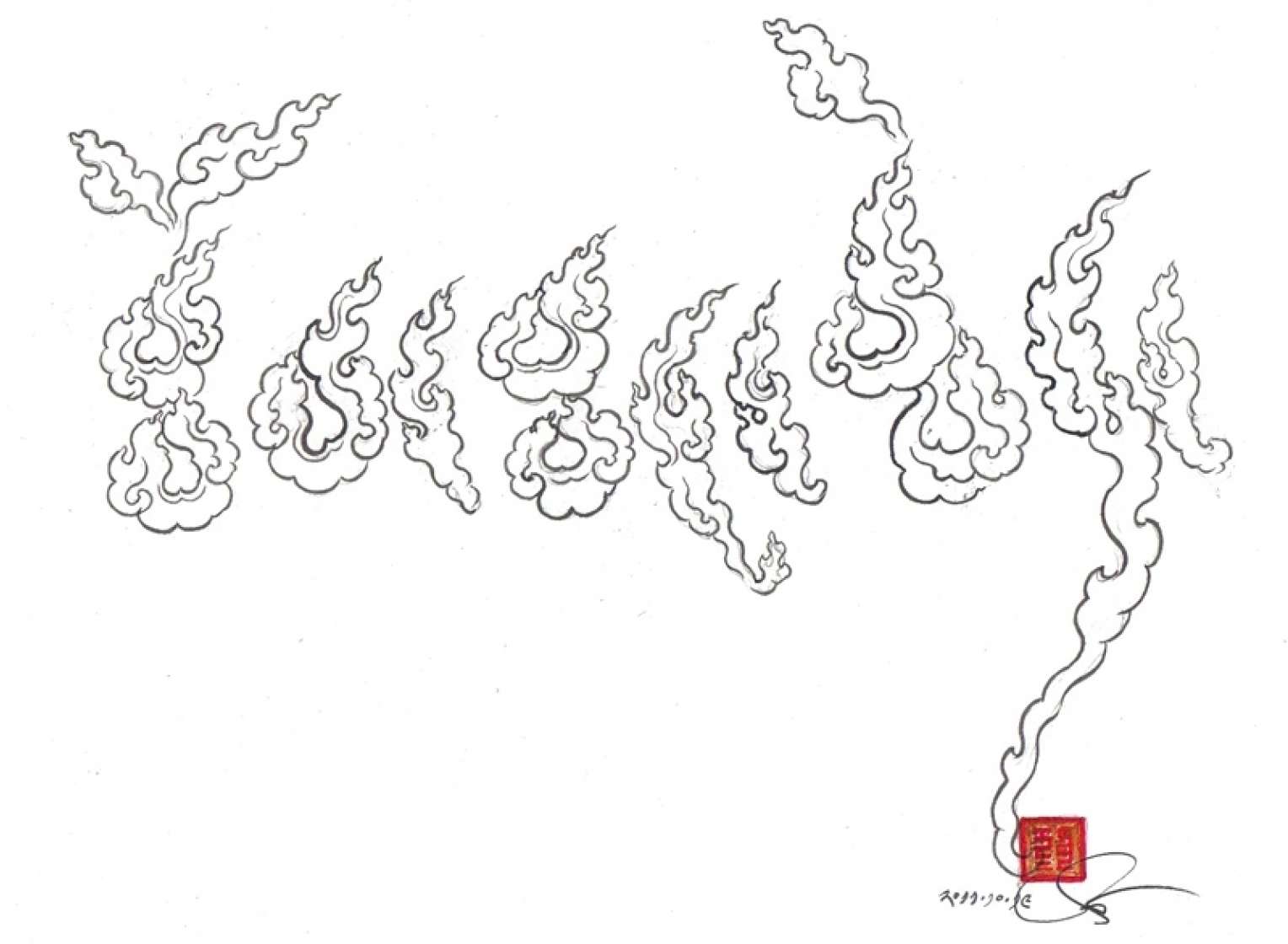 Phuntsok Tsering (b.1976, Tibet), a Tibetan calligrapher living in Germany, penned Righteousness. The Tibetan letters, formed from billowing flame and smoke, read "the cessation of rights" (thob thang chad). Phuntsok used a special traditional script for a red stamp that says "autonomy" (rang dbang). Phuntsok Tsering's dedication poem reads, "Righteousness;/ Dedicated to my fellow Tibetans,/ who have been self immolated,/ for the righteousness of a nation, /its culture, / its religious faith, / 28th October 2011."


Tenzing Rigdol (b.1982, Kathmandu) was "deeply disturbed" by the "desperate events" of the twelve self-immolations in 2011 connected to Kirti monastery, when he conceived the mural-size black and white painting Kirti – From the Ashes of Agony.[3] The burning Buddha/monk in prayer on the left has a halo in the shape of the end of a dorje, or vajra, the ritual implement symbolic of indestructibility. The painting's symbolism, including Gandhi's staff, assigns spiritual and political values of non-violence and determined perseverance to the acts of self-immolation. Tenzin Rigdol currently lives in New York City.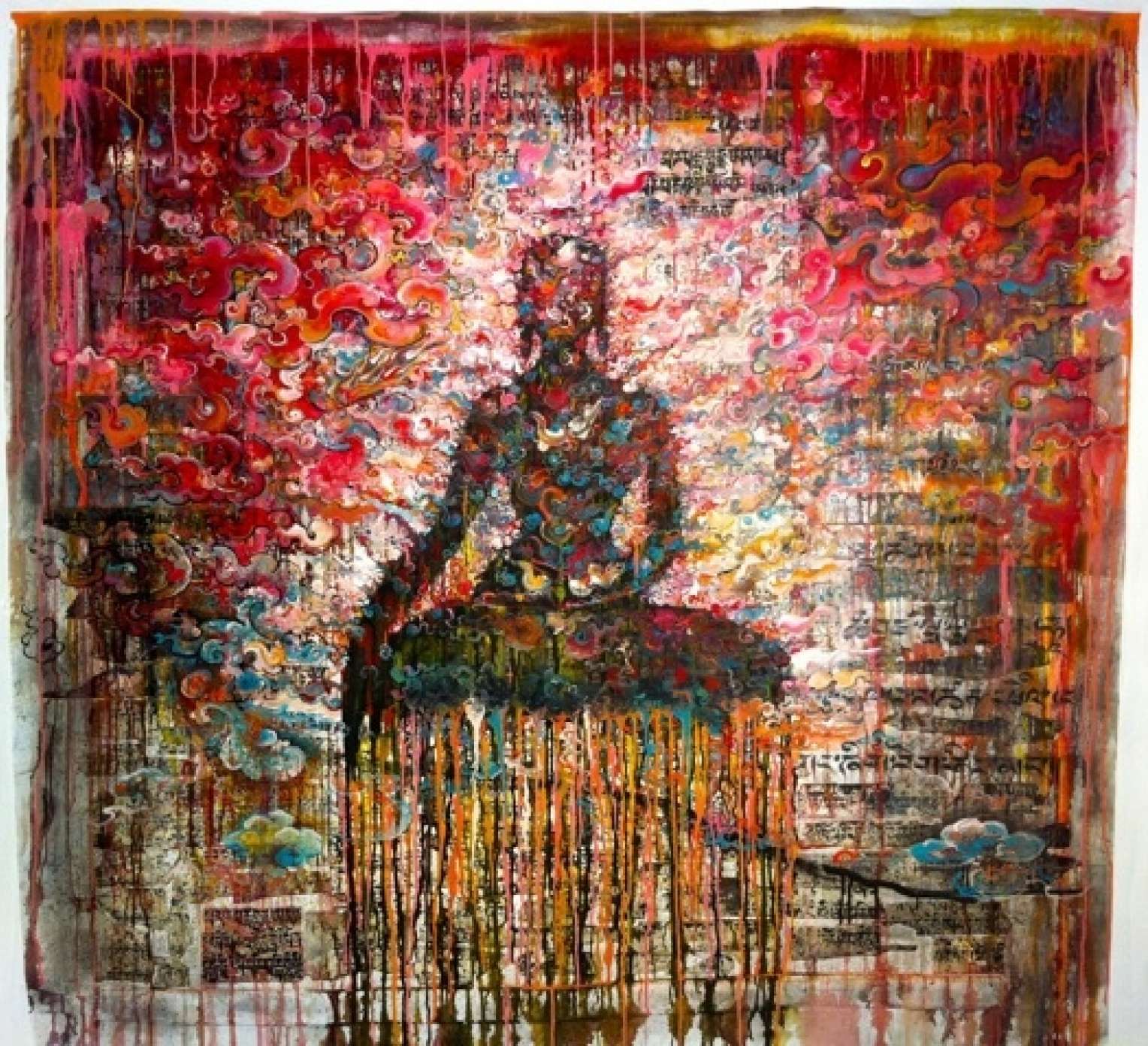 Buddhism is also visible in the traditional use of flames to symbolize "the wisdom contained within [that] can burn away ignorance and error," according to Tashi Norbu (b. 1974, Bhutan). The works' several references to the Buddhist path seems to express the dual hope that the self-immolators' sacrifice will lead to their religious realization of ultimate reality, and also 'burn away' the conventional reality of oppression. Tashi Norbu lives in Netherlands.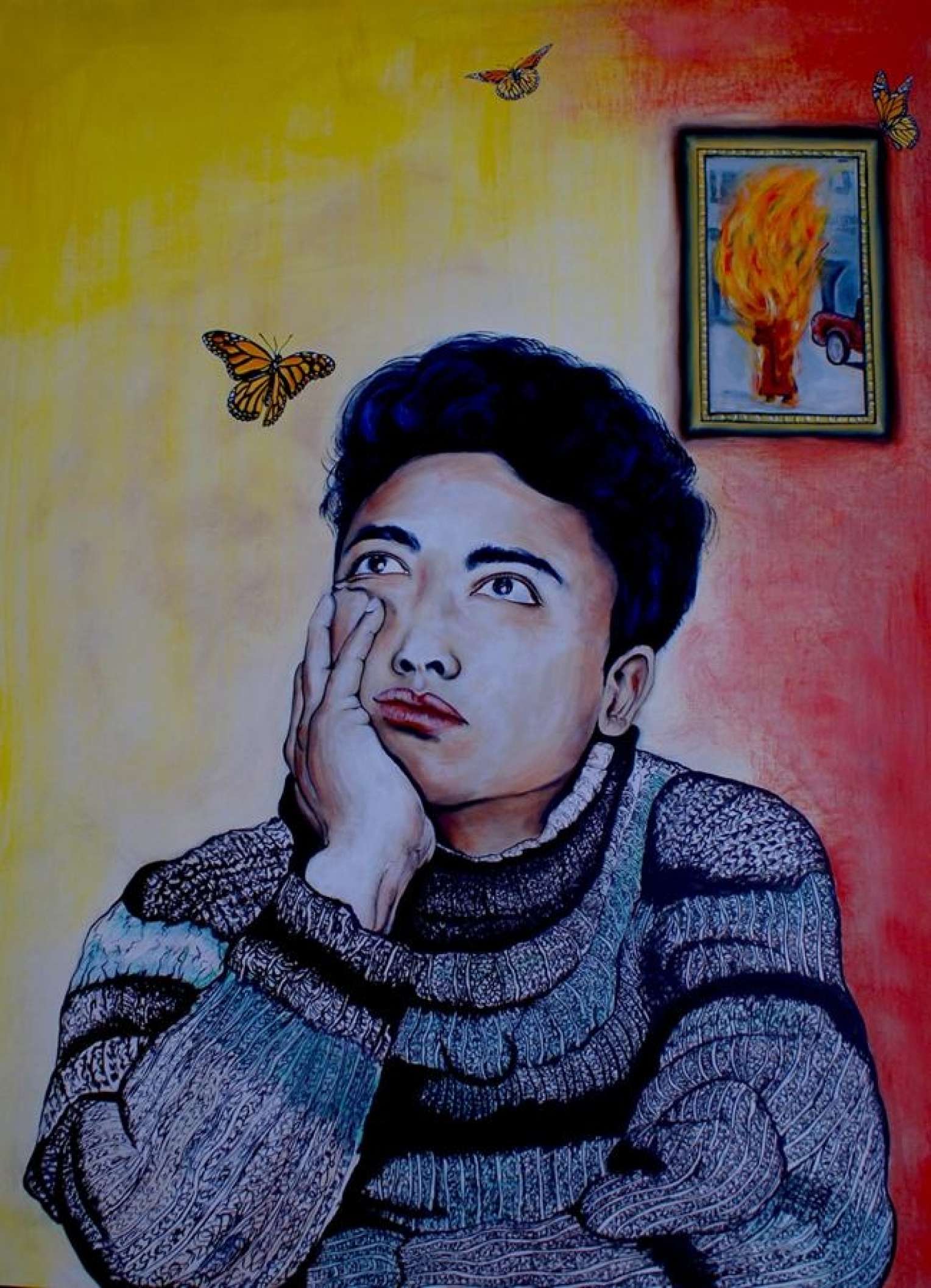 Ngawang Jorden's self-portrait conveys his exile location (Boston) and the simultaneous feelings of being "saddened to the core," and deeply respecting the "courage and determination" of the "selfless sacrifice" made by self-immolators like the one in the picture behind him. He has renewed resolve to "take a stand" for Tibet, but the butterflies convey a delicate state.[4]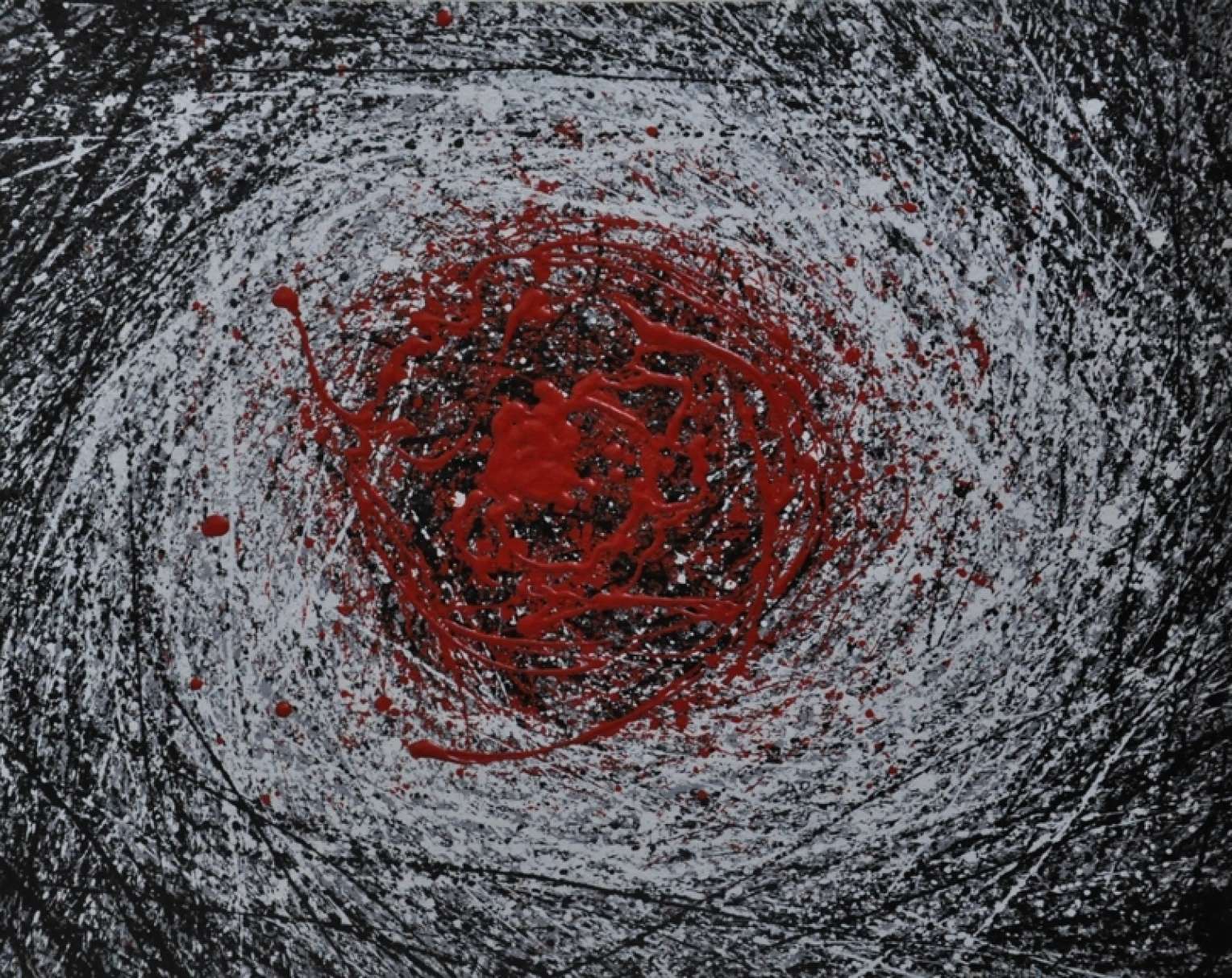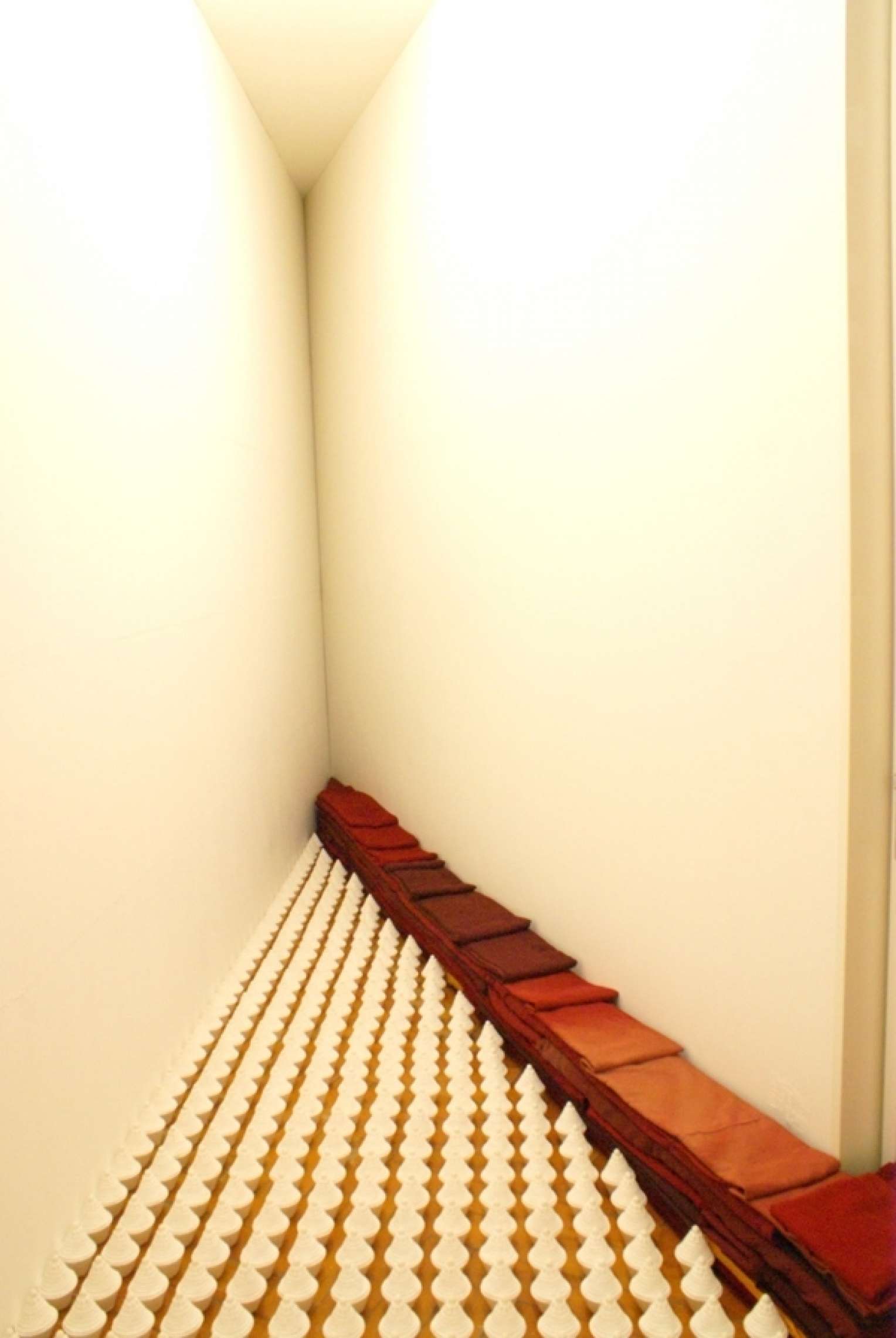 Personal and emotional artistic "response to the terrible recent events in Tibet"[5] includes abstract works as well. Tenzin Jigme's (b. 1988, Lhasa) textured layering of paint in Red and Blood speaks to "the oppressed and the oppressor in a world devoid of justice."[6] Sonam Dolma's (b.1953, Tibet) The Small Wall [7] is an installation of secondhand monastic robes from Lhasa and white plaster tsha tsha she cast from her father's mold, one of the only heirlooms the family carried with them over the Himalayas into exile in 1959.[8] Sonam Dolma lives and works in Switzerland.


We may expect to see the impact of the current situation in Tibet – of the more than two dozen reported cases of self-immolation and the conditions in which they arise – as a continuing influence in the arts, including amongst non-Tibetans. For example, political cartoons by a Chinese artist under the pen name Crazy Crab, whose Hexie Farms series is banned in China, criticize the CCP over the situation in Tibet.[9] Tibetan artists working internationally in visual forms, music,[10] street theater, film, and poetry emphasize cultural pride and unity.[11] Perhaps what we are witnessing today is a vitalizing pan-Tibetan movement through art as a form of critique. And yet, despite, or perhaps because of the circulation of these artistic works on the Internet, this is hardly a moment for the celebration of a global Tibetan art movement. For art as critique and commentary, especially when it addresses the recent wave of self-immolations, is increasingly dangerous inside Tibet, where in recent months authorities have closed an art exhibition,[12] and detained poets and culture advocates.[13] The global future of the work of art in the age of self-immolation is a story that can not yet be fully told.
25 March 2012
References
[1] A collaboration in 1980 between Tibetan painter Rigzin Namgyal and Han painter whose name is Tibetanized as Mis Ting Kha'e in Kvaerne, P. "The Ideological Impact on Tibetan Art," Resistance and Reform in Tibet, ed. R. Barnett and S. Akiner. London: C.Hurst & co., 1994. Also discussed in Harris, C. In the Image of Tibet: Tibetan Painting after 1959. London: Reaktion Books, 1999.
[2] Karma Phuntsok. Personal Communication, February 21, 2012.
[3] Image and artist statement courtesy of Rossi + Rossi, London.
[4] Ngawang Jorden. Personal Communication and "Freedom of Art by Ngawang Jorden" Facebook page, February 22, 2012.
[5] Sonam Dolma. Personal communication, February 23, 2012.
[6] Tenzin Jigme. Personal Communication, March 3, 2013.
[7] "The small wall" was installed by the artist in The City Gallery, Berne, Switzerland, February, 2012.
[8] Corinne Erni. "About Sonam Dolma," 2010. http://www.sonam.net/docs/aboutSonamDolma.pdf
[9] See also Hexie Farms' The Politburo Standing Committee on Fire, Propaganda, Buddha's Tear, Free Tibet, Untitled (Harmonious Tibet) at http://www.cartoonmovement.com/p/6049
[10] Hip hop is an outlet for a defiant cultural pride both inside Tibet and in the diaspora, as in the cool and heartfelt European-Tibetan Shapaley's "Made in Tibet," http://www.youtube.com/watch?v=bDwahj8_hhg&feature=related, and from inside Tibet, "New Generation" by Yudrug. http://highpeakspureearth.com/2010/new-generation-hip-hop-music-video-from-amdo/ The music video by the Tibetan rapper Shapaley, sung in Tibetan and subtitled in English on YouTube has had close to 60,000 views in four months and includes the lyrics, "Brothers and Sisters, we don't know if you can hear us but we hope you'll receive this message…Although we're far away from you, our thoughts are with you. …We haven't forgotten you, you can trust us. We haven't forsaken you, we're at your side…so don't worry, take care of yourselves…"
[11] Protests have included dramatic street theater performance by Tibetans in the USA, India, and Mexico in commemoration of the self-immolators. Films in production appear to be gaining traction, apparently spurred by the self-immolations' heightening of the determination of exiles to act on behalf of their homeland and for peace. Poems by Tsering Woeser, the de facto national poet of Tibet, are published in translation at http://highpeakspureearth.com/category/woeser/
[12] "Jangshing," a solo exhibition by Kalnor at Melong gallery in Lhasa was closed by police within hours of opening, October 16, 2011. http://www.rfa.org/english/news/tibet/closed-11042011135334.html?searchterm=None
[13] The popular writer Gangkye Drubpa Kyab, and traditional culture promoter Dawa Dorje were detained in early 2012, http://www.rfa.org/english/news/tibet/writer-02182012161437.html and dissident author Tsering Woeser has been placed under house arrest.
Leigh Sangster, Maitripa College