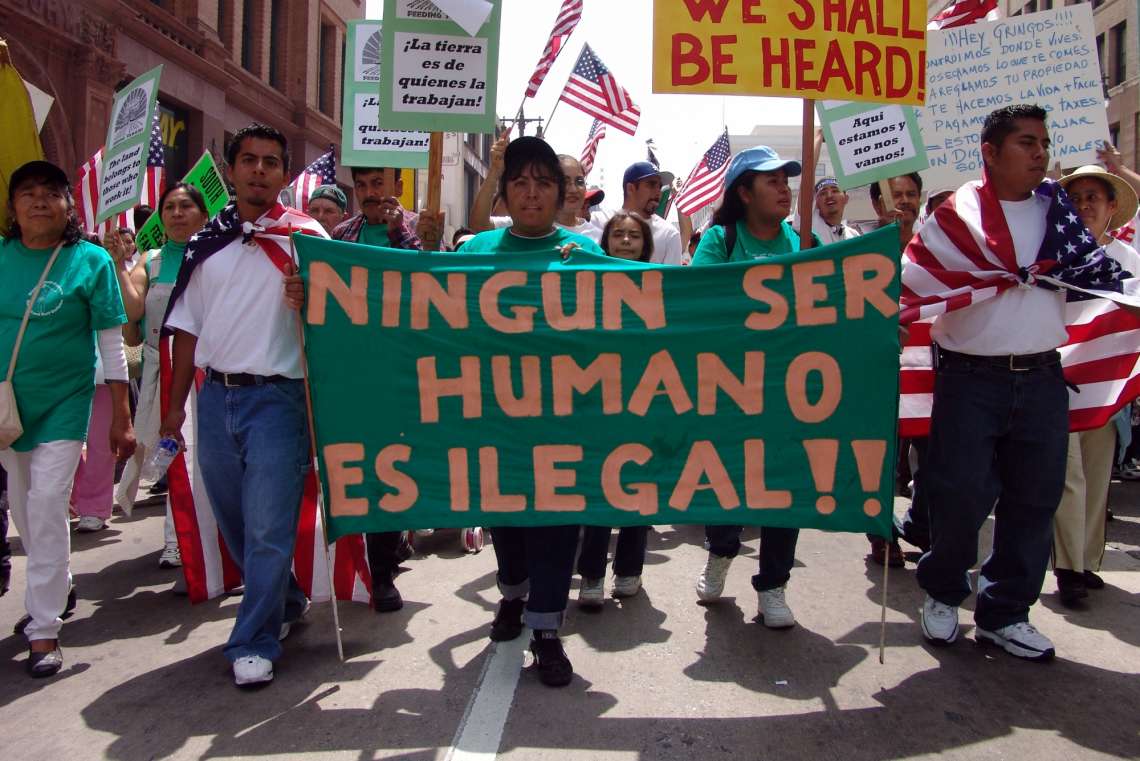 In 2011 Indiana's General Assembly passed Senate Bill (SB) 590, a comprehensive anti-immigration bill modeled on Arizona's infamous SB 1070. While some of the most egregious provisions of SB 590—for example, the racial profiling inherent in allowing law enforcement to arrest people based on probable cause—were deemed unconstitutional in 2013, the bill nevertheless succeeded in banning undocumented students from receiving any state or federal financial assistance. Indiana legislators also passed House Bill 1402, which excludes any person who is unlawfully present from qualifying for in-state tuition, resulting in a threefold increase in tuition payments for undocumented students. These laws, part of an "attrition through enforcement" strategy, not only institutionalize racism but also seek to profit from the disenfranchisement of undocumented people. While such exclusionary policies were intended to further marginalize members of Indiana's Latino population, they have sparked a new generation of activists who have become central to Indiana's resistance movement in the Trump era.
In May 2011, a group of undocumented students held a peaceful sit-in at the Indiana Statehouse to publicly express their opposition to the recently passed legislation. Supporters filled the halls chanting "Education not deportation!" and "We want to go to school, stop 1-4-0-2!" Five undocumented students who were wearing their high-school graduation caps and gowns—including one of us, Guadalupe—approached then-Governor Mitch Daniel's office, asking for a meeting to urge him to veto the legislation. When Daniel's staff refused, the students formed a human chain in the atrium outside his office; police forcibly removed and arrested the students.
Guadalupe reflects:
Many individuals to this day don't agree with our civil disobedience. For me, it was a liberating experience. After years of hiding my identity I finally came out and told the world I was undocumented. Not only did I proclaim that I was undocumented, I was unapologetic about it. The way the media portrays us often makes it hard for us to embrace our identity. By participating in the civil disobedience, I was letting the world know I am not ashamed. I am proud of the sacrifices my parents made for our family to have a better future. When I told my mother I was getting arrested, she cried. She said, "esa debería ser yo [that should be me]." My mother felt that she should be the one getting arrested.
Anti-immigrant rhetoric pushed by politicians and the media seeks to villainize parents and victimize their children. But Guadalupe neither blamed her parents nor saw this fight as their responsibility. On the contrary, it has strengthened her resolve:
I was allowing the police to arrest me on my terms. When ICE [Immigration and Customs Enforcement] placed holds on us, I can't deny that I was fearful of what could happen. So many thoughts raced through my mind. What if I didn't see my family again? But eventually our ICE holds were taken away and we were released. Being released came with a sense of responsibility.
In response to Indiana's openly anti-immigrant political climate, in the summer of 2012 undocumented students and allies formed the Indiana Undocumented Youth Alliance (IUYA). The youth-led grassroots organization began by raising money through yard sales to create a scholarship program. Since then IUYA, now a 501(c)(3) nonprofit organization, has awarded $14,000 in scholarships to undocumented students across the state and has become an active voice in the community.
As with many organizations around the country, IUYA felt a new sense of urgency and responsibility after the 2016 presidential election. While an anti-immigrant apparatus was already well established in Indiana, since the election it has ramped up operations. In Marion County, for example, the rate of ICE detainments has jumped an astonishing 240 percent since President Trump took office. At the same time, lawsuits have been filed against the sheriff's office for violating constitutional rights as many detainer requests have been made without appropriately signed warrants.
As stories of arrests circulated among their friends and family, IUYA members felt compelled to engage in more concrete action to support not only undocumented youth but also the larger undocumented community in Indiana. In addition to organizing several immigrant-rights rallies, IUYA volunteers launched a series of Know Your Rights trainings across the state. The Know Your Rights workshops provide crucial resources around emergency defense plans, power of attorney, sample arrest warrants, and even suicide hotline information. Such resources are particularly crucial in rural areas, where police enforcement is often harsher. Plans are underway to offer additional resources about driver's licenses and mental health services as people grapple with the everyday challenges of being undocumented.
As they began to recognize familiar nativist attacks being waged against refugees and members of the Muslim community at local and national levels, many IUYA members felt the need to expand their efforts even further. Indiana is, of course, the state formerly governed by now–Vice President Mike Pence, who in 2015 tried (and failed) to ban Syrian refugees from resettling in the state. In the wake of the 2017 travel bans, IUYA joined together with the Muslim Alliance of Indiana, American Friends Service Committee, and Jewish Voice for Peace, among others, to organize a "We All Belong" press conference and rally in downtown Indianapolis. The rally marked the beginning of a growing coalition of organizations in Indianapolis that have embraced an intersectional approach to solidarity and resistance. As one organizer stated, "We all know now more than ever we need to work together. This is not the oppression Olympics. We are working together for each other's liberation."
Indeed, it is precisely this type of intersectional and coalitional politics that IUYA has come to embrace and will continue to foster. This was recently reflected in IUYA's scholarship applicant pool, which for the first time included applicants from countries other than Mexico, including El Salvador, Ivory Coast, and Haiti. As politicians continue to pass anti-immigrant legislation and media outlets fuel toxic narratives meant to divide and instill fear, it is crucial that we embrace an intersectional approach that finds strength and solidarity in our collective efforts toward support and resistance.