What is a Classroom For? Teaching the Anthropology of Palestine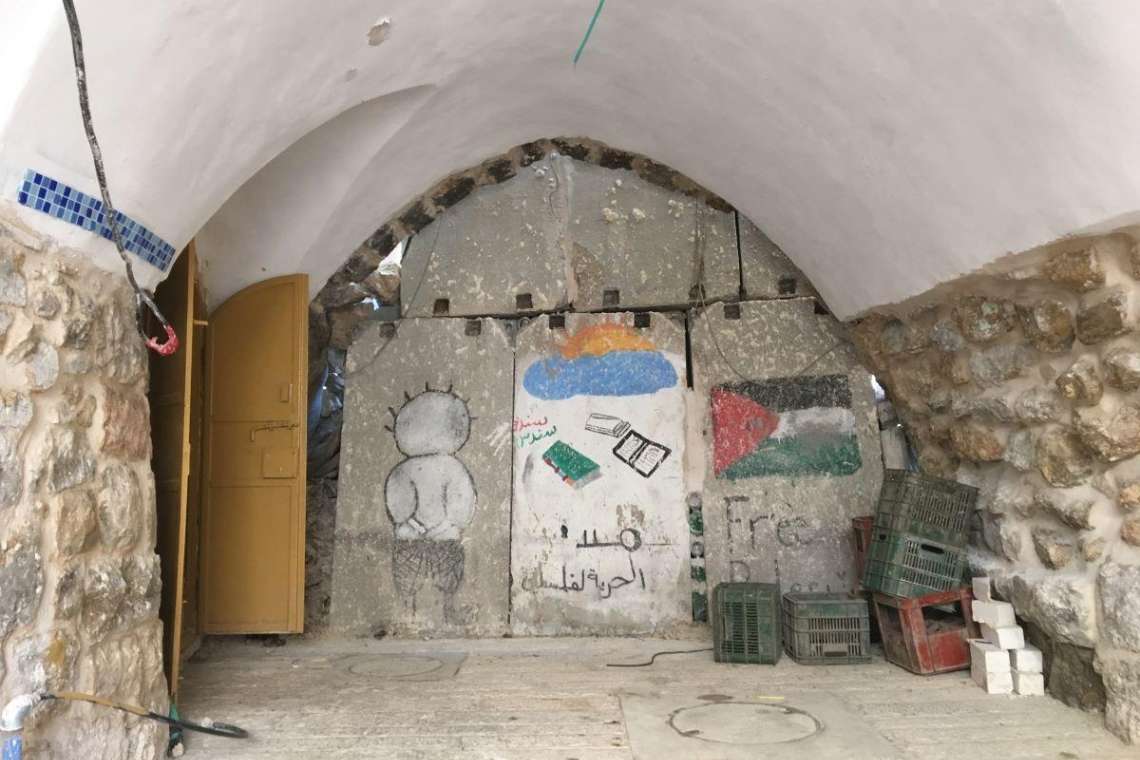 Arrivals
As a college professor, I consider the classroom to be a site of engagement, activism, and learning, not just for my students, but also for myself. Over the past seven years I have taught at two small liberal arts colleges, first as an adjunct and visiting assistant professor and now on the tenure track. Over these seven years I have dedicated myself to creating and recreating my classrooms as a space in which I—alongside my students—teach and learn about what it means to be in the world. I receive this knowledge as much as I give it.
So my pedagogical approach echoes my methodological training as an anthropologist. That is, I favor questions over answers. I prefer curiosity to authority. I develop assignments that privilege process over outcome. In short, I understand the liberal arts as a structure through which students are given the space to think, to reflect, and to challenge their assumptions about the world, asking: What does it mean to think critically? How do we ask questions and relearn how to be curious? How do we begin to challenge our opinions and assumptions with empirical evidence? How do we sit with the discomfort of unbuilding and rebuilding a world we think we know?
I thought I was finally figuring it all out: who I want to be in the classroom.
But this semester I am pushing at the edges of this commitment by teaching a new course called "The Anthropology of Palestine." This course has its origins, first, in a sense of accumulating frustration. I am an anti-Zionist Jewish faculty member teaching at a small liberal arts college that has not escaped the powerful influence of Hillel International.1
Hillel has occupied (pun intended) the conversation on my campus and I have been stunned by the absence of Palestinian narratives and experiences. My campus is a hostile place to any critique of Israel or engagement with Palestinian subjectivity and history. And then second: from a sense of urgency.
I came home with an anger I have never felt before, and I needed a way to make my anger productive.
In the summer of 2018 I participated in a faculty development seminar in Palestine. Spending time in the region changed my life. I was prepared to encounter the occupation firsthand but I was not as prepared for how that encounter would make me feel. I came home with an anger I have never felt before, and I needed a way to make my anger productive. And so this new course I am teaching is driven by two more factors: first, my time spent in East Jerusalem and the West Bank, meeting community members and academics at Palestinian colleges and universities, experiencing the infrastructure of occupation. Second, the desire to teach a syllabus of scholarship composed almost entirely of Palestinian voices and perspectives.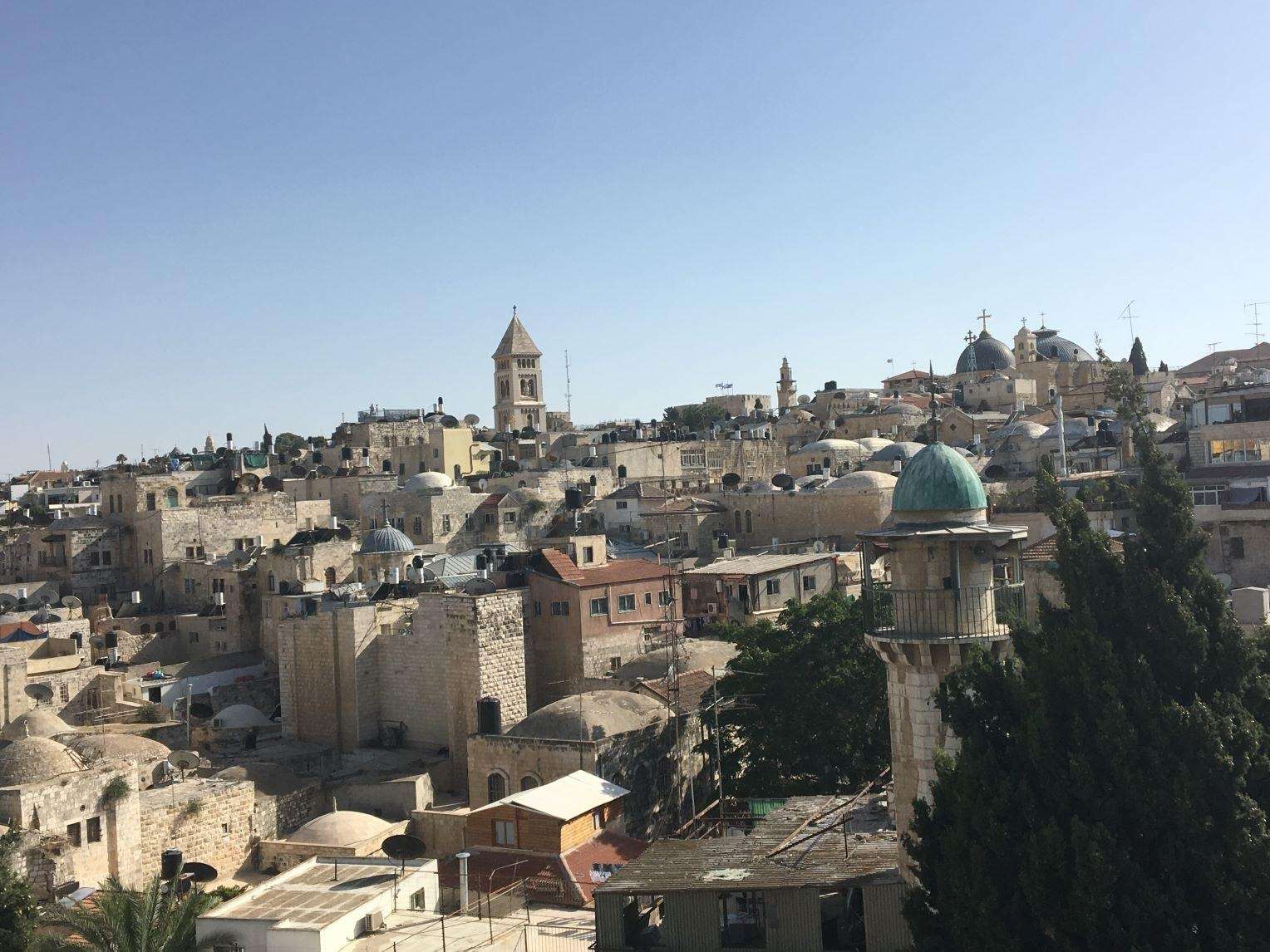 I don't think I could teach this class without the experience of having spent time in Palestine. While I am not a scholar of Palestine and haven't done fieldwork there, over the years I have tried to include material about the region in almost all of my courses. However, I have realized that I didn't really understand what I was talking about. I didn't really understand the material I was teaching. Before this semester, I had never before bought into the idea of anthropology as a discipline of "bearing witness." Yet, standing before my students this semester, asking them to be brave and open to the material we are engaging, I'm reminded of the ethnographic power of "being there." Of bearing witness.
My life on the fringes of American Jewish communities invested in Israel has been infused by a message about the region forged out of chaos and complication: "You will never know enough about this conflict to say anything meaningful." I bought into this for most of my life. It is too complicated, I concluded. It is too fraught. I was overwhelmed by this narrative and I carried it as a form of fear into the classroom. I wondered: Can I defend myself? How do I frame this story for my students? But then I saw the occupation for myself and realized: it's not complicated at all. I have spent my career taking a question and making it more complicated; that's what anthropologists do, or so the joke goes. But all of a sudden I find myself taking something complicated and trying to make it simple.
Departures
My class is small but mighty, with six engaged students who bring their curiosity and diversity of experience to our classroom space. Two are international students, one from China and one Palestinian student from Jordan. Two students are Jewish Americans who have been raised within the discursive landscape of American Zionism. Two students are non-Jewish, white Americans with very little knowledge of the region. We start with borders and occupation. We begin with North American indigenous frameworks of settler colonialism.
We exchange stories of borders. I tell one:
There are six of us on the sherut (minibus) from Jerusalem to Ben Gurion airport, outside of Tel Aviv. Three of us are picked up in Palestinian East Jerusalem: I board first, followed at the next stop by a young Palestinian-American couple. We drive out of East Jerusalem into Israeli-controlled West Jerusalem and the landscape and demographics change.
Colorful hijabs, headscarves worn by many Muslim women in East Jerusalem, and thobes, long-sleeved tunics worn by some Palestinian men in East Jerusalem, are replaced with wigs and patterned tichel, headscarves worn by married Orthodox Jewish women. All around me is a sea of men in black: fedoras, shtreimel (fur hats, most commonly worn by married Haredi or ultra-Orthodox Jewish men) or kippot (small skullcaps worn by Orthodox Jewish men), with payot (literally, "corners"—the long sideburns worn by Hasidic men) hanging from beneath their head coverings and tzitzit, the fringed ends of a Jewish prayer shawl or tallit, hanging out below their jackets.
On the outskirts of the city we stop again, this time to pick up three Jewish travelers. A young Israeli-sounding girl with bright red pigtails, and an older American-sounding woman with a colorful scarf wrapped around her head. Her grandmother? Her great-aunt? They hold hands and speak intimately to each other, and so I assume they are related. They are followed by an older Hasidic man, dressed in black with a big, bushy beard and a black Borsalino fedora. We drive in relative silence toward the airport, the quiet punctured once by a phone call involving the Jewish woman and girl. How will they meet up with the older woman's husband, who I guess might be the young girl's grandfather?
The young Palestinian-American couple speak quietly to each other in American-accented English. Before the three Jewish travelers boarded, the Palestinian-American woman had told me that they are headed to Greece for a holiday. They are friendly and kind and at one point help the driver, an Arabic-speaking Palestinian man, communicate with a tourist who only speaks English.
Then we arrive at the airport. The sherut stops at the first checkpoint and a soldier boards the bus, demanding my passport, as well as those of the Palestinian-American couple. We turn over three blue American passports. The three other Jewish travelers, who by now I assume must be Israeli citizens, are asked no questions, turn over no documents, and barely acknowledge the armed twenty-year-old glaring at the couple in front of me.
The soldier leaves, returns, and demands that the young Palestinian-American man get off, bringing his bag. The man quietly complies; this is obviously not the first time he has been subjected to such profiling. Minutes later he comes back with the soldier: his wife has to come as well. They take their suitcases from the back of the sherut and disappear into a cement building. Another soldier returns with my passport. My Jewish name and white skin result in the soldier smiling at me, returning my documents without hassle. The bus driver pulls over and we wait. For twenty minutes. I don't know if it's normal for the sherut to wait while Palestinian passengers are interrogated. I don't know who to ask.
We sit: me anxiously fidgeting in my seat, looking around for my newly acquired but now lost traveling companions. Worried. The older woman says, in English and to no one in particular: "It must be so humiliating for them: many Arabs are innocent." I bite my tongue and feel it swell around my clenched teeth.
After their interrogation (which likely included a full inspection of their bags) the couple returns, quiet. We continue on to the airport. I think about the things I didn't mail home and now have sitting in my suitcase. Olive-oil soap from Nablus, its package covered in Arabic script. A poster from the Yasser Arafat Museum in Ramallah: a watercolor painting of political prisoners buried at the bottom of my suitcase. Will I be flagged as a security threat? Or will I be passed over? A performance of the roving Passover angel of death, my passport and name marking me like lamb's blood smeared across the threshold of my house.
At the airport we get off the bus and scatter to our respective ticket counters. I pass the young Palestinian-American couple and, out of liberal guilt and horror, get their attention to say that I am sorry. The man shrugs. "She says it's humiliating," he responds, pointing to his wife. "But this is just something we have to deal with." We smile, I wish them well, and we go our separate ways. I continue to wonder about them for the rest of my journey: how many times will they be stopped, separated, interrogated, searched?
While I am waiting in line to check my suitcase, a security guard stops me, asks for my ticket and passport, and sees my name and nationality.
A different kind of interrogation begins:
Is this your first time in Israel? Why did it take you so long to come? What made you finally come? Do you have family here? Who were you visiting? Where did you go? Do you speak Hebrew? How much Hebrew do you know? Can you recite the alphabet? Did you have a bat mitzvah? What was that like? Do you go to temple? Where? How often do you go? What are your favorite holidays? How do you celebrate them? What is your favorite prayer? Recite it.
And so there I stand, in Ben Gurion airport, reciting the shema to an Israeli security guard:
Sh'ma Yisrael Adonai Eloheinu Adonai Ecḥad [Hear, O Israel: the Lord is our God, the Lord is One].
Immersions
I talk about this encounter with my students: while air travel and border crossing may seem exceptional, they reflect the things I witnessed at the level of the everyday. But what is the everyday? There is no life without occupation. There is no culture without checkpoints. And yet Palestinians, like all people, are not defined entirely by their oppression and subjugation: their lives are more than the violence they live with. I struggle with this balance in the classroom.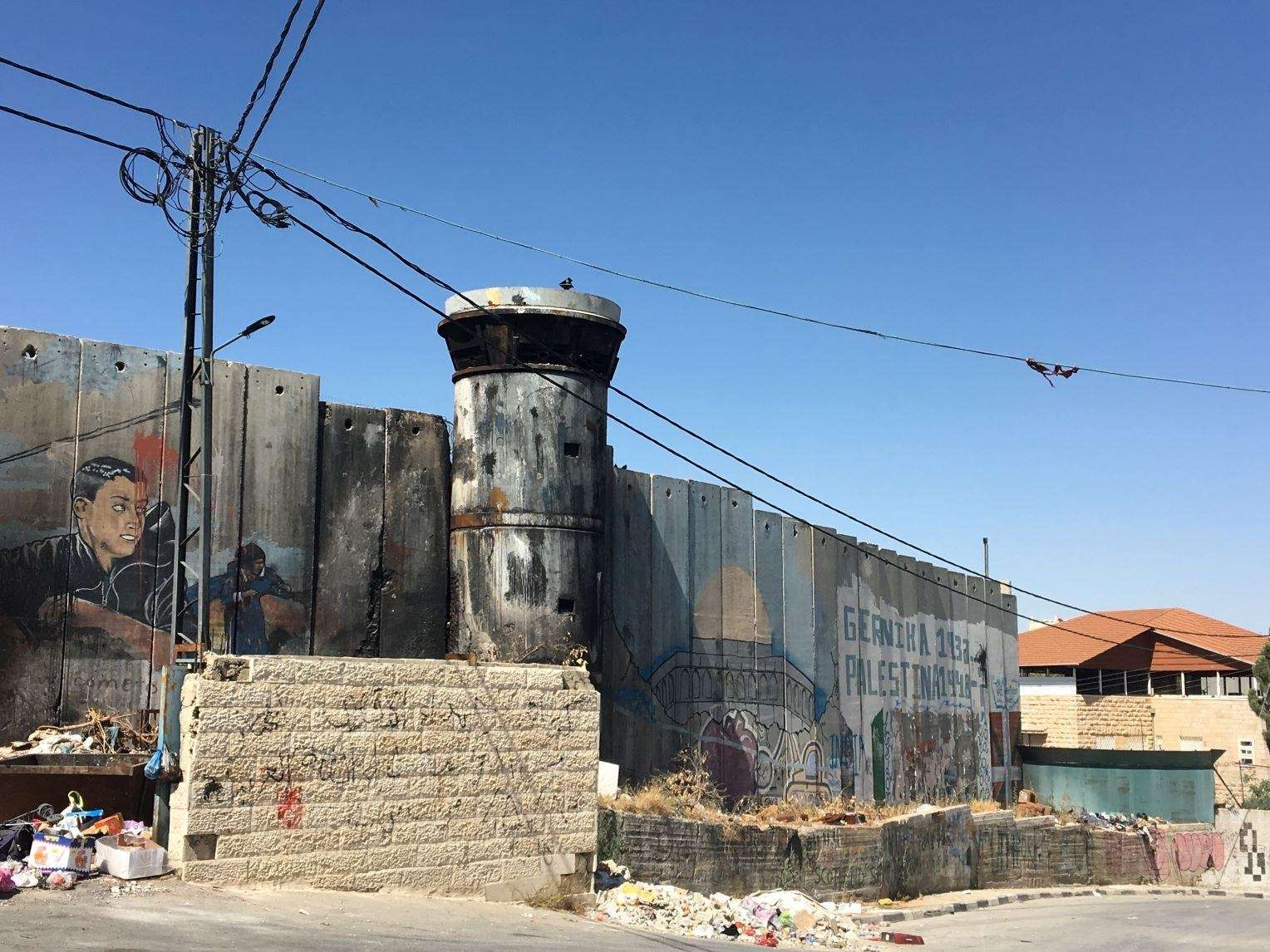 I tell more stories:
While in East Jerusalem, I meet Mahmoud. Technically Mahmoud doesn't exist, even though I spent several days with him. He shows me his Israeli ID card; his nationality is listed as Jordanian. Mahmoud was born in Jerusalem, but his father was born in Chad. He has no citizenship. He spent eight days in Jordan, trying to become the Jordanian his ID says he is. In Amman he was told: "You are not Jordanian, you are not Palestinian, you are not Chad. You do not exist."
Palestinians in East Jerusalem, like Mahmoud, are not citizens but immigrants with permanent resident status, and this status is contingent upon living in Jerusalem. Mahmoud's wife lives in the West Bank: she cannot come to Jerusalem and if Mahmoud leaves to live with her, he will never be able to return to the city in which he grew up, the city where his family lives. Mahmoud and his wife have different identity cards: his allows him to live in East Jerusalem, and hers restricts her to living in the West Bank. According to the Israeli state, Mahmoud is part of a "mixed marriage." He and his wife live fifteen miles from each other. They are not allowed to live together unless he forfeits his Jerusalem residence; according to the city's so-called center of life policy, his permanent residency will expire if he does not remain in the city. And so he is staying in the face of occupation. And the state is literally tearing families like his apart.2
My travel companions and I wander through the old city, noting Israeli flags hanging in the Muslim Quarter, houses with Hebrew bumper stickers stuck to the door. "These houses have been claimed by settlers," Mahmoud tells us. "This family left for a wedding in Amman. They came home and the settlers had broken in, thrown their furniture onto the street, stolen their home. If you leave, your house might be taken. You might become homeless."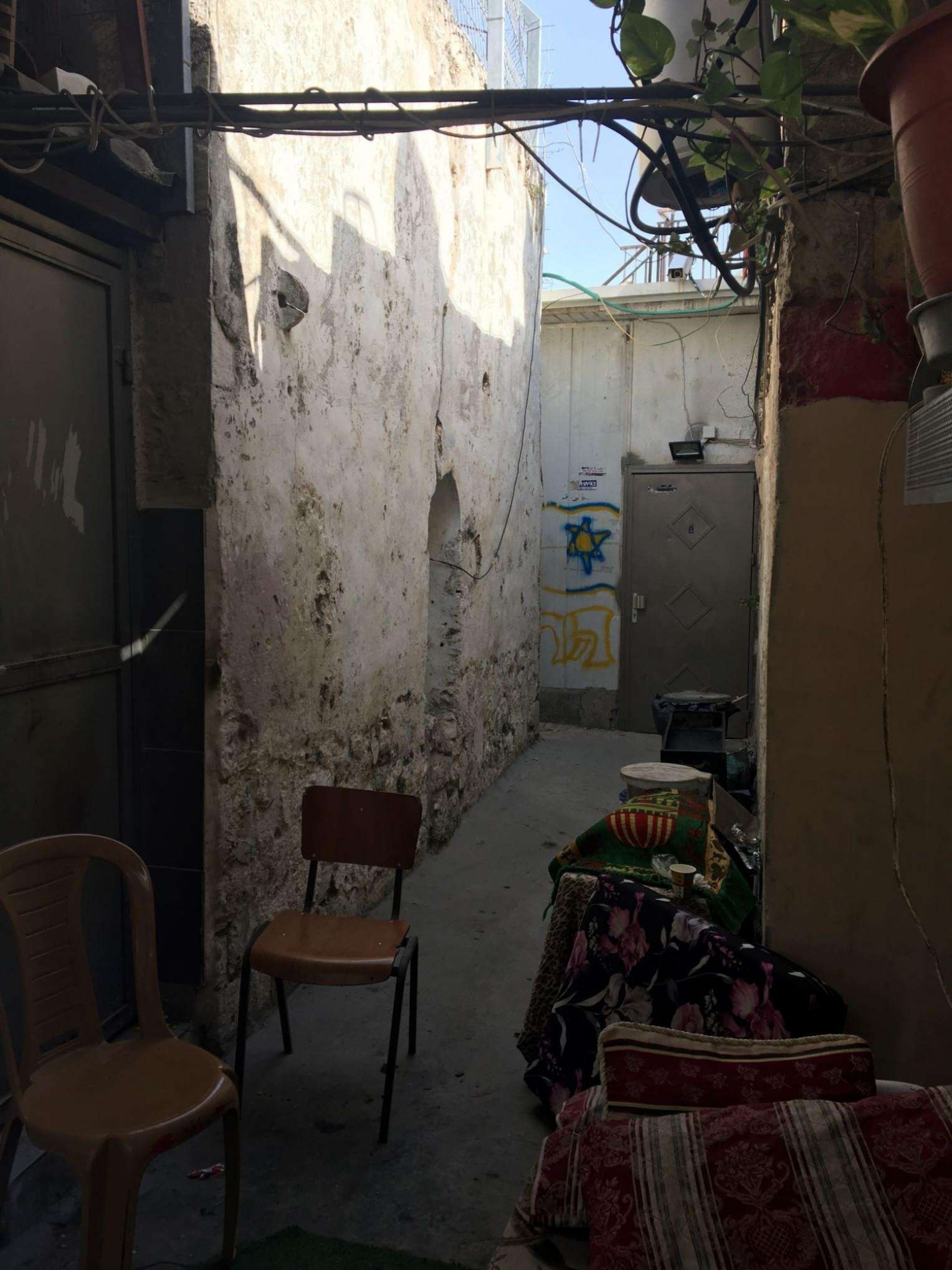 For two weeks, I spend my nights in East Jerusalem while traveling into the West Bank almost every day. Passing through checkpoints is, logistically speaking, relatively easy; we ride in an Israeli tourist bus with yellow license plates. Unlike green Palestinian plates, this allows us to use Israeli highways and pass through checkpoints without getting off the bus and walking through the cattle shute–like cages reserved for Palestinian travelers. When I travel with a friend, a black American woman, on a public bus, we are not harassed. Another travel companion, a black man, is racially profiled when he tries to ride a public bus: he is pulled off and interrogated for ten minutes when he travels to Ramallah alone. Despite his American passport, he is forced to walk through the Palestinian security cages and listen to two soldiers discuss him in a language he can't understand: he doesn't speak Hebrew and cannot follow the conversation of the soldiers who hold his passport along with machine guns, deciding whether or not to let him through. They finally do, and he is shaken.
This happens both on his way into and out of the West Bank.
In the Balata refugee camp in Nablus, we are surrounded by children. The community here was driven out of Jaffa in 1948: now they are refugees living in almost untenable conditions, even as Jaffa has become one of the hippest neighborhoods in Tel Aviv. A young girl named Amal tells us: "Trump occupied America the way the Jews occupied Palestine." Our guide, Naseer, who grew up in the camp, corrects her: "Not the Jews, the Zionists." The community here struggles with nuance, while the mainstream American and Israeli media flattens the world into two sides. Naseer tells us that the Israeli media has conflated the United States with their own military actions: when helicopters hit Palestinian villages, Israeli news reports always say the American helicopters hit them. And it's not untrue: through political, social, and economic support, the United States is the engine behind Israel's colonial war against Palestinians. These American-made, Israeli-operated helicopters that drop bombs on Palestinians are Apaches. It's chilling to think about the multiple ways in which history and reality are being manipulated and distorted within this cloud of colonial occupation and war.
We walk through the narrow lanes: houses built where tents once stood, layers of displacement and dispossession. We meet a young man and his elderly mother. Naseer asks if they have any questions for us. The mother offers: "Why do the Americans hate us?" Her question haunts me. I know the answer and I don't understand it.
At Birzeit University in Ramallah, we meet with an interdisciplinary group of Palestinian academics. We discuss history, liberation, freedom, struggle, and hopes for the future.
We dissect the parallels between American settler colonialism, antiblack racism, Israeli and South African apartheid, and theories of and strategies for liberation, freedom, and decolonization. We debate the power of BDS (boycott, divestment, and sanctions of Israel) and what it really means to fight for one's own liberation. It's thrilling. I want to talk to these new friends and colleagues forever. Listening and learning from them fills me with hope, with fire, with an arsenal of new knowledge. I cannot wait to bring their teachings into my own classroom and to continue our discussions over email.
At Birzeit, I also learn that the university's student union president, Omar Kiswani, was abducted by the Israeli military in March of this year. There are videos circulating online of soldiers pretending to be students, surrounding him, attacking him, beating him, and dragging him off the campus. I'm told that currently over sixty Birzeit students are in Israeli jails. I think about my many students and colleagues of color who have been driven off my own campus due to the inherent structural racism of a predominantly white institution. The contexts are different, but I want my students to think about how white supremacy regulates access to a myriad of resources: knowledge, education, freedom, land.
Visually, it's Hebron that haunts me the most. The city is completely militarized. The central market area is deserted and blocked off in many places and all I think about is Kristallnacht as I walk through the ravaged landscape. A man named Ali, a shopkeeper left economically devastated by the occupation, stops us as we wander along the stone lane of the old city under the protective covering installed to shield street-level residents from the settlers building homes on top of ancient buildings.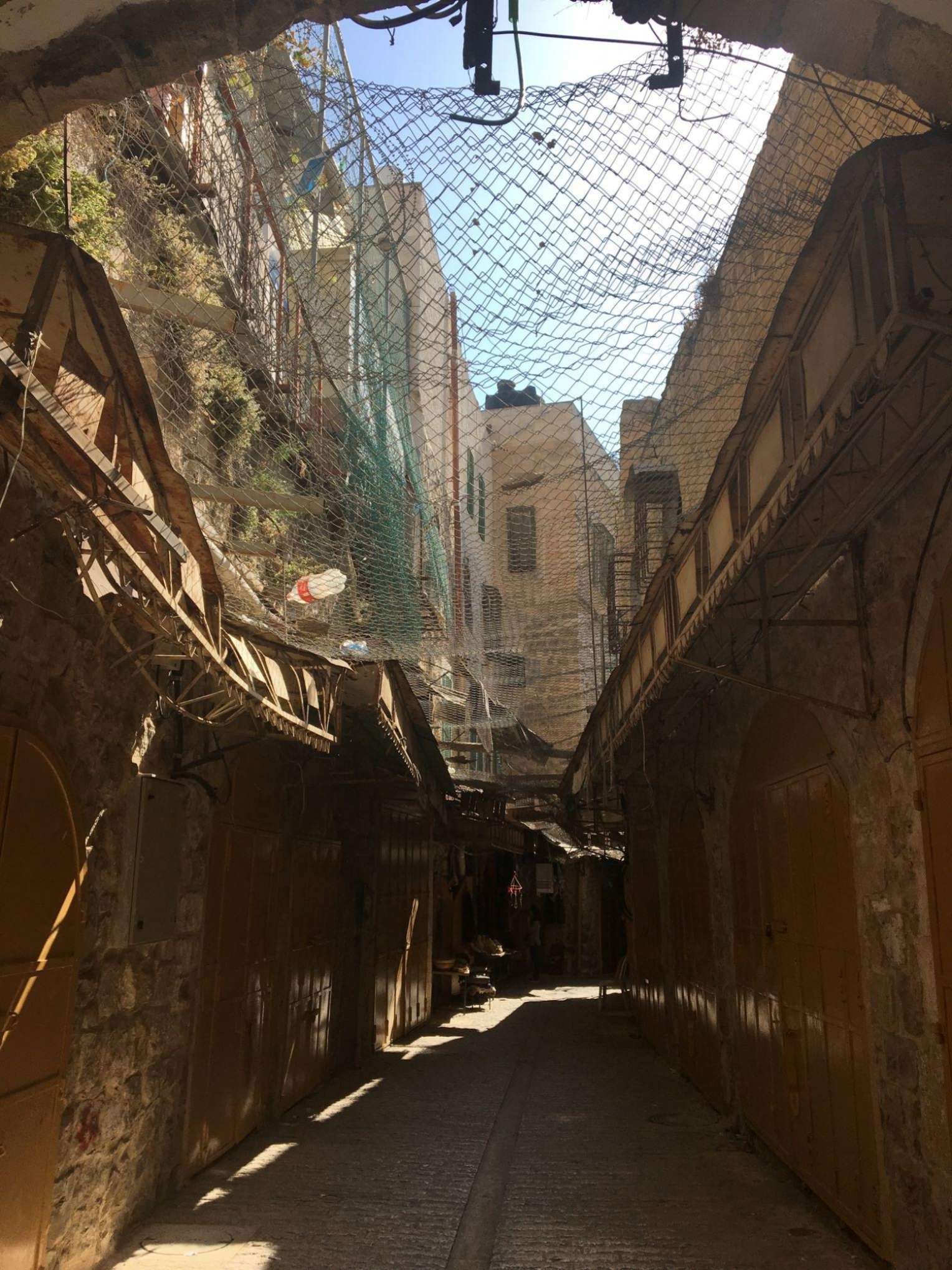 Ali tells us of acid dropped on children, of trash thrown down onto the streets. Of bags of human shit thrown like bombs. And actual bombs, grenades. The Palestinians have had to build barriers over the souk, or market, for protection. He also tells us that, economically, the Palestinians have been decimated; no one comes here to shop anymore. We take dozens of pictures as he narrates the destruction: How could anyone support the occupation after seeing the violence it generates? But then again, who comes here? It's a ghost town.
Here in Hebron, I'm finally really scared of the settlers. I can only imagine how the Palestinian residents feel. Later, as we walk through the settlement, we are followed by Israeli settler children who scream at us. The only Hebrew I recognize is from one boy, maybe twelve years old, who yells at us continuously to shut up as we stand by the entrance to the settlement. The entire time, Israeli soldiers stand by and watch. I wonder what would happen if the screaming children had been Palestinian.
Actually, I don't wonder. I know.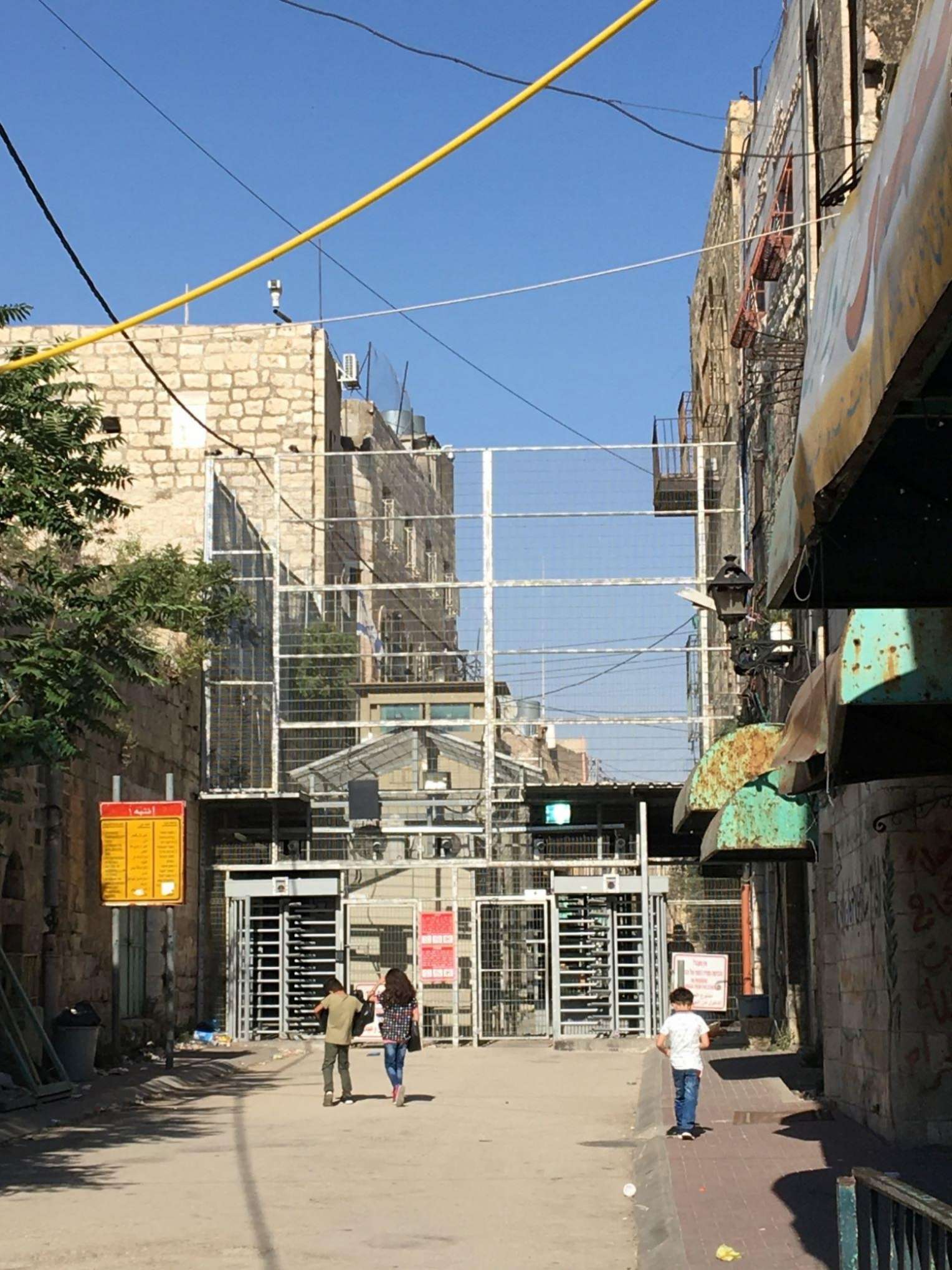 I tell my students these stories because I want them to understand what it feels like to be in a place they have never been allowed to imagine before.
I tell my students these stories because I want them to understand what it feels like to be in a place they have never been allowed to imagine before. I want them to be in the Palestine I saw and not the one represented by most American media outlets.
Returns
I'm trying to take all of this back to the classroom. Several years ago I had a student in my introduction to cultural anthropology course who fought with me daily over Palestine, quoting talking points forged by the Israeli state and circulated among Zionist Americans intent on legitimizing an ethnic nationalism that conflicts with the fantasy of liberal democracy.
Finally, I told him: "I'm happy to have this conversation with you, but it cannot continue until you acknowledge that Palestinians are human." He couldn't do it, and we never talked about Palestine again. I can only hope that my provocation continues to haunt him. Or that it changed him.
And so I find myself incredibly grateful for my six brave students, who show up in my classroom twice a week to talk about Palestine. Who work through the news coverage of attacks on Ilhan Omar, who watch documentaries on the infrastructure of occupation, who struggle to cut through the chatter and look for their own versions of truth. Teaching "The Anthropology of Palestine" has been a humbling experience: my students often ask me questions that I can't answer. I am consistently encountering things I don't know: a decade of history I can't outline, an argument I struggle to carve out beyond pure emotion. Days in which I wish I could revert back to theory, to distanced texts.
But it has also been a radical lesson in pedagogy and expertise. Of thinking about violence in a different way, in a different place. In my previous work on Mumbai's landscape of decay and violence, I thought about what it means for textile mill workers to face displacement and redevelopment even as they were written out of the city's contemporary moment. What stories are made invisible through infrastructural shifts and discourses of modernity? And now, how do I apply those tools of framing and storytelling to an entirely different place, an entirely different political and social reality? An area of the world where my inquiry will result in pushback simply because I utter the word Palestine.
I have been told there was a quiet uproar when my class was first posted. Most students have stayed away and some tried to have it canceled, believing that I would be promoting anti-Semitism. I faced the same backlash last year when I hosted a friend and colleague, a Palestinian scholar of peace and conflict studies, to speak on campus. To put it bluntly, my campus is a hostile place both for Palestinians (students and faculty) and for representations of the region that do not conform to the hegemonic narrative of the Israeli state and American investment in the region.3
While I understand that I am walking across unsettling terrain, I still cannot quite articulate my own sense of lack: is it an ambivalent commitment to area studies? Or a general fear of bringing Palestine in the classroom (a rational fear, considering the backlash experienced by Palestinian scholars and scholars of Palestine in the United States)? After over a decade of fieldwork in India, I became accustomed not only to knowing things (or at least knowing more than my students), but also to seeking out complications, drawing out contradictions. My goal was to encourage my students to take what they thought they knew about the world and make it more complex. Now I find myself doing the opposite. I ask them to think about what they think they know and then make it simple. What do you actually know for sure, and how do you know it? We have in some ways abandoned the unwritten pedagogical handbook that I thought I needed to follow. In my class, we are simply looking for humanity. Perhaps, for the first time in seven years, I'm finally teaching anthropology.
Acknowledgments
My deepest gratitude to my traveling companions and guides in Palestine for your lessons and your friendship. Thank you to Lisa Bhungalia, Chris Roebuck, and Harris Solomon for feedback and encouragement. And awe and appreciation for Ian Adler, Jouman Barakat, Tony Fang, Kalie Jamieson, Rachel Koerwer, and Jason Trebat-Leder: thank you for your curiosity and commitment.
Syllabus: The Anthropology of Palestine
Part One: Introducing Settler Colonialism
Barakat, Rana. 2017. "Writing/Righting Palestine Studies: Settler Colonialism, Indigenous Sovereignty and Resisting the Ghost(s) of History." Settler Colonial Studies 8, no. 3: 349–63.
Jabary-Salmanca, Omar, Mezna Qato, Kareem Rabie, and Sobhi Samour. 2012. "Past is Present: Settler Colonialism in Palestine." Settler Colonial Studies 2, no. 1: 1–8.

Krebs, Mike, and Dana M. Olwan. 2013. "'From Jerusalem to the Grand River, Our Struggles are One': Challenging Canadian and Israeli Settler Colonialism." Settler Colonial Studies 2, no. 2: 138–64.
Nakano-Glenn, Evelyn. 2015. "Settler Colonialism as Structure: A Framework for Comparative Studies of U.S. Race and Gender Formation." Sociology of Race and Ethnicity 1, no. 1: 52–72.
Shalhoub-Kevorkian, Nadera. 2015. "Introduction: Settler Colonialism, the Politics of Fear and Security Theology." In Security Theology, Surveillance and the Politics of Fear. New York: Cambridge University Press.
Whyte, Kyle. 2018. "Settler Colonialism, Ecology, and Environmental Injustice." Environment and Society 9, no. 1: 125–44.

Part Two: Introducing the Idea of Palestine

Abufarha, Nasser. 2009. The Making of a Human Bomb: An Ethnography of Palestinian Resistance. Durham, N.C.: Duke University Press.
Bishara, Amahl A. 2012. Back Stories: U.S. News Production and Palestinian Politics. Stanford, Calif.: Stanford University Press.
Hammami, Rema. 2018. "Destabilizing Mastery and the Machine Palestinian Agency and Gendered Embodiment at Israeli Military Checkpoints." Current Anthropology 60, S19: S87–97.
Jabary-Salamanca, Omar. 2016. "Assembling the Fabric of Life: When Settler Colonialism Becomes Development." Journal of Palestinian Studies 45, no. 4: 64–80.
Said, Edward. 1992. The Question of Palestine. New York: Vintage. Originally published in 1979.

Waters, Roger, dir. 2016. The Occupation of the American Mind.
Weizman, Eyal, dir. 2014. Rebel Architecture: The Architecture of Violence.
Part Three: Locating Palestinian Life
Abdelrazaq, Leila. 2015. Baddawi. Washington, D.C.: Just World Books.
Abu Naleh, Lamis. 2006. "Six Families: Survival and Mobility in Times of Crisis." In Living Palestine: Family, Survival, Resistance, and Mobility under Occupation, edited by Lisa Taraki. Syracuse, N.Y.: Syracuse University Press.
Abu Saif, Atef. 2015. The Drone Eats With Me: Diaries From a City Under Fire. Manchester, U.K.: Comma Press.
Alatar, Mohammed, dir. 2007. Jerusalem, The East Side Story.
Asqalani, Ghareeb. 2014. "A White Flower for David." In The Book of Gaza, edited by Abu Atef Saif. Manchester, U.K.: Comma Press.

Bacha, Julia, and Rebekah Wingert-Jabi, dirs. 2012. My Neighborhood.
Erakat, Noura, and Dia' Azzeh, dirs. 2016. Gaza in Context.
Matar, Dina, and Helga Tawil-Souri, eds. 2016. Gaza as Metaphor. London: Hurst.
Shehadeh, Raja. 2008. Palestinian Walks: Forays into a Vanishing Landscape. New York: Scribner.
Shomali, Amer, dir. 2014. The Wanted Eighteen.
Taraki, Lisa, and Rita Giacaman. 2006. "Modernity Aborted and Reborn: Ways of Being Urban in Palestine." In Living Palestine: Family, Survival, Resistance, and Mobility under Occupation, edited by Lisa Taraki. Syracuse, N.Y.: Syracuse University Press.

Part Four: Global Solidarities/Palestinian Futures
Atshan, Sa'ed, and Darnell L. Moore. 2014. "Reciprocal Solidarity: Where The Black And Palestinian Queer Struggles Meet." Biography 37, no. 2: 680–705.
Bishara, Amahl. 2017. "Sovereignty and Popular Sovereignty for Palestinians and Beyond." Cultural Anthropology 32, no. 3: 349–58.
Dabashi, Hamid. 2016. "Black Lives Matter and Palestine: A Historic Alliance." Al Jazeera, September 6.

Qumsiyeh, Mazin B. 2010. "What We Want: Plurality, Justice, Human Rights." In Popular Resistance in Palestine: A History of Hope and Empowerment. London: Pluto Press.
Notes
1. Hillel International used to be an organization dedicated to Jewish life on college and university campuses. In recent years it has centered political support for Israel over a focus on Jewish religious and cultural life. For more information, please see these articles in the New Republic, Foreign Policy, The Electronic Intifada, Jewish Voice for Peace, and the Morning Call.
2. For more on Israel's practice of family fragmentation, see the Ramallah-based human rights organization Al-Haq's report, "Engineering Community: Family Unification, Entry Restrictions, and Other Israeli Policies of Fragmenting Palestinians."
3. See a recent opinion piece by Muhlenberg student Jouman Barakat, "The Need for Open-Mindedness."