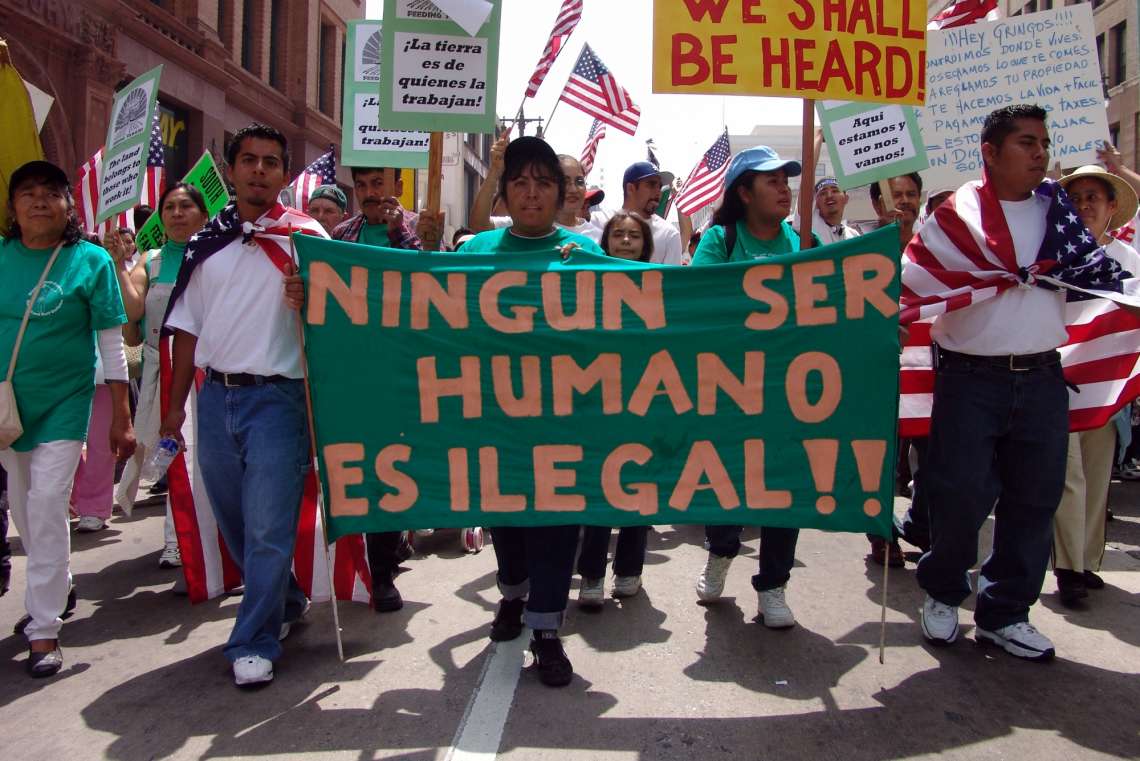 Donald Trump called immigrants rapists. He wanted to build a wall along all two thousand miles of the southern border and have Mexico pay for it. He tried to banimmigrants and refugees from the Middle East.
But my university's administration took a bold stance against his anti-immigrant rhetoric and policies. They even joined with forty-seven other universities to ask the president to "rectify or rescind" his Muslim travel ban.
I was proud to be part of the University of Michigan.
* * *
Then I get a text.
And another.
And another.
Customs and Border Protection (CBP) is on campus.
Right behind the Student Union.
Everyone who is available—everyone who can't be deported—rushes over to check it out.
The CBP car with its ominous green stripe is parked crookedly under the twenty-minute dropoff sign, as if the agent had to hurry to get somewhere.
Or someone.
I walk inside the Union, greeted by the cheerful sign: "Welcome to the Career Fair."
* * *
CBP was not on hand to handcuff and deport.
The agency was here to recruit.
Clad in green, a Border Patrol agent sits at Table 59, black H&K P-2000 handgun holstered in his belt, recruitment paperwork organized into neat piles. He smiles and asks me if I have questions.
I'm frustrated. I'm shaking. And I'm a citizen.
I have never had la migra cuff me or try to deport me. And with my Spanish language skills and the fancy letters after my name, they probably would want to recruit me.
But they probably wouldn't want to recruit Alexa, a sophomore, whose father brought her across the border when she was four, the same age as my son. She tells me that her father tried to scrape off their fingerprints with cactus thorns, so scared was he to be caught and identified by the green uniformed men.
They probably wouldn't want to recruit Alejandra, a freshman, whose father was arrested right in front of her when Immigration and Customs Enforcement raided her house. I once saw Ale speak at a rally outside of the McNamara Federal Building in Detroit, when the removal order of a Honduran father of two was canceled hours before he was supposed to step on a plane. She congratulated his children, telling them that she was thrilled they would never have to experience what she did. "I know what it's like," she said. "I know what it's like to wake up and say, 'today, today is the day they will take my father away.'"
And they probably wouldn't want to recruit Kristina, my coworker, who is serving Chinese food in the restaurant on the floor above us. I can't imagine how she feels right now, looking up between white customers to see la migra parked just yards away. Did she stop scooping rice and vegetables, put down the serving spoon, and explain to her boss that she needed to leave? Perhaps she placed her hand over her stomach, saying that she felt a little sick, and then looked at the floor as she walked out. Or was it sweaty, desperate urgency? A dry mouth, a dropped spoon, a shout that she stifled in her throat as she sprinted out the door to call her parents and tell them she loved them. To tell them that the men who cuffed her father in the desert had finally come for his daughter.
* * *
We are furious, and we clog the administration's voicemail with our fury for days after.
Eventually, they send an email:
I want to apologize for any confusion caused by the presence of Border Patrol personnel on our campus.
We are not confused. They are confused. We know what la migra does. They eat the food cooked by immigrants and then detain and deport them. They send Blackhawk helicopters into quiet Midwestern towns to arrest parents in raids so terrifying that unborn brown infants feel the aftershocks (Novak, Geronimus, and Martinez-Cardoso 2017). We are not confused.
The Border Patrol has been a regular participant in our career fairs for several years. The quality of our students keeps these employers coming back.
I momentarily imagine a Wolverine in a green uniform cuffing a Wolverine with brown skin and no papers.
Career Services must ensure equity of access to students and maintain the integrity of that access.
You don't even realize the irony of your defense.
Border Patrol always wants access. Access to information. Access to homes. Access to families.
I want to assure you there was no enforcement action related to this visit and the representatives were fulfilling a human resources function for staff openings.
Recruitment, not enforcement, they tell me. I need to differentiate.
There are many cogs in the deportation machine. Some cuff, but not before dangling those cuffs in front of Alejandra, threatening to take her dad and her mom if she doesn't shut her mouth. Some deport, unless Alexa's dad manages to scrape off her thumbprints in time. And some recruit.
But only one of those applies to our university's administration. They will never be deported. They will never be handcuffed.
So they differentiate. And tell students to differentiate.
But differentiation can be dangerous. I tell my kids, if you see a snake, don't approach it. Just stay away. It may try to bite you. It may be poisonous.
The administration tells me that the green uniformed men, who apparently need their handguns to recruit, who will return to their offices and enforce the very travel ban that the administration took a stand against, are for some reason OK to approach this time.
Alexa, Alejandra, and Kristina don't have the privilege of differentiation. They already know the snake is poisonous. They already know it will never try to recruit them.
Note
Identifying information has been changed to protect the individuals named in this post.
Cuando la Patrulla Fronteriza se Presenta en el Campus
Donald Trump calificó a inmigrantes como violadores. Quería construir un muro a lo largo de los más de 3,000 kilómetros de la frontera sur, y que México pagara. Intentó prohibir la entrada a Estados Unidos a inmigrantes y refugiados del Oriente Medio.
Pero la administración de mi universidad tomó una postura audaz contra su retórica y política antiinmigrante al unirse a cuarenta y siete universidades para pedirle al presidente que "rectificará o rescindiera" su prohibición de viaje a musulmanes.
Me sentí orgulloso de ser parte de la Universidad de Míchigan.
* * *
Después recibí un mensaje de texto.
Y otro.
Y otro.
Servicio de Aduanas y Protección Fronteriza está en el campus.
Atrás del centro de estudiantes.
Todos los que estén disponibles—los que no puedan ser deportados—corran hacia allá para echarle un vistazo.
La patrulla de CBP con su raya verde ominosa está mal estacionada bajo la señal con límite de veinte minutos para descenso. Parecía que los agentes tenían prisa para llegar a algún lado.
O ir por alguien.
Al entrar al centro estudiantil veo un cartel: "Bienvenidos a la Feria de Trabajo."
* * *
CBP no estaba allí para esposar y deportar.
Estaba allí para reclutar.
Con su vestimenta verde, un agente se encuentra en la mesa 59 con su pistola H&K P-2000 y pilas de documentos de reclutamiento bien organizadas. El agente sonríe y me pregunta si quiero información.
¡Estoy temblando de frustración! Y soy ciudadano.
La migra nunca me ha esposado o intentado deportarme. Por hablar español y las sofisticadas letras que adornan mi nombre, probablemente les gustaría reclutarme.
No reclutarían a Alexa, una estudiante en su segundo año, quien cruzó la frontera con su padre cuando tenía cuatro años, la misma edad de mi hijo. Me cuenta que su padre trató de borrarle sus huellas digitales con espinas de cacto por miedo a que fueran identificados y detenidos por los hombres en uniforme verde.
Tampoco reclutarían a Alejandra, una estudiante en su primer año, cuyo padre fue arrestado en su presencia cuando agentes de inmigración invadieron su hogar. En una ocasión escuche a Ale hablar en una manifestación frente al edificio federal McNamara en Detroit cuando un padre hondureño recibió sobreseimiento de deportación un par de horas antes de subir al avión. Ale felicitó a los hijos, diciéndoles que estaba emocionada que ellos nunca tendrán que sufrir por lo que sufrió. "Yo sé lo que se siente," dijo. "Sé lo que es despertarse y decir 'hoy es el día que se llevaran a mi padre.'"
Y tampoco reclutarían a Kristina, mi colega, que sirve comida china en el restaurante del piso de arriba. No puedo imaginarme cómo se siente, entre clientes blancos trata de ver la migra estacionada justo a metros de distancia. ¿Será que paró de servir arroz y vegetales, soltó la cuchara y le explicó a su patrón que se tenía que ir? O pretendió sentirse enferma mientras salía mirando hacia el piso. ¿O sudorosa por la urgencia apremiante? Boca seca, una cuchara derramada, un grito suprimido en su garganta mientras salía corriendo para llamarle a sus padres y decirles que los ama y que los hombres que esposaron a su padre en el desierto finalmente habían venido por su hija.
* * *
Estamos furiosos, y por días, el correo de voz de la administración está congestionado con nuestra ira.
Eventualmente, mandan un comunicado:
Quiero disculpame por cualquier confusión causada por la presencia de la patrulla fronteriza en nuestro campus.
No estamos confundidos. ¡Ustedes están confundidos! Sabemos lo que hace la migra. Disfrutan de la comida preparada por los inmigrantes y después los arrestan y los deportan. Mandan a helicópteros a pueblos del medio oeste para arrestar a familias en redadas tan aterradoras que hasta los bebés aun no nacidos sienten las secuelas (Novak, Geronimus, and Martinez-Cardoso 2017). ¡No estamos confundidos!
La patrulla fronteriza ha participado en nuestras ferias de trabajo por varios años. La calidad de nuestros estudiantes atrae el regreso continuo de estos empleadores.
Por un momento imagino a un exalumno de la Universidad en uniforme verde esposando a un estudiante con piel morena y sin papeles.
El centro de orientación profesional debe asegurar el acceso equitativo a estudiantes y mantener la integridad del acceso.
No notas la ironía de tu defensa.
La patrulla fronteriza siempre quiere acceso. Acceso a información, a nuestros hogares, y a nuestras familias.
Quiero asegurarte que no hubo acciones relacionadas con el cumplimiento de su trabajo en esta visita y los agentes sólo rendían funciones de reclutamiento.
Reclutamiento, no cumplimiento. Necesito diferenciar.
Hay muchas piezas en la máquina de deportación. Unas esposan, no sin antes presumir sus esposas a Alejandra con amenazas de llevarse a sus padres si no se calla. Unas deportan, a menos que el padre de Alexa logre borrar sus huellas digitales. Y otras reclutan.
Pero sólo una de estas le atañe a la administración de nuestra universidad. Ellos nunca serán deportados o esposados.
Así que notan la diferencia. Y piden que notemos la diferencia.
Pero diferenciar puede ser peligroso. Les digo a mis hijos que si ven una serpiente no se le acerquen. Aléjense. Puede morderte. ¡Puede ser venenosa!
La administración de la universidad me dice que los hombres en uniforme verde, los que aparentemente necesitan su revolver para reclutar, los que regresarán a sus oficinas y harán cumplir la prohibición de viaje, por alguna razón, estamos a salvo de acercarnos a ellos esta vez.
Alexa, Alejandra, y Kristina no tienen el privilegio de diferenciar. Ellas saben que la serpiente es venenosa, que ésta nunca tratará de reclutarlas.
Nota
Información personal ha sido cambiada para proteger a los individuos en esta publicación. Traducido por Raúl Gámez.