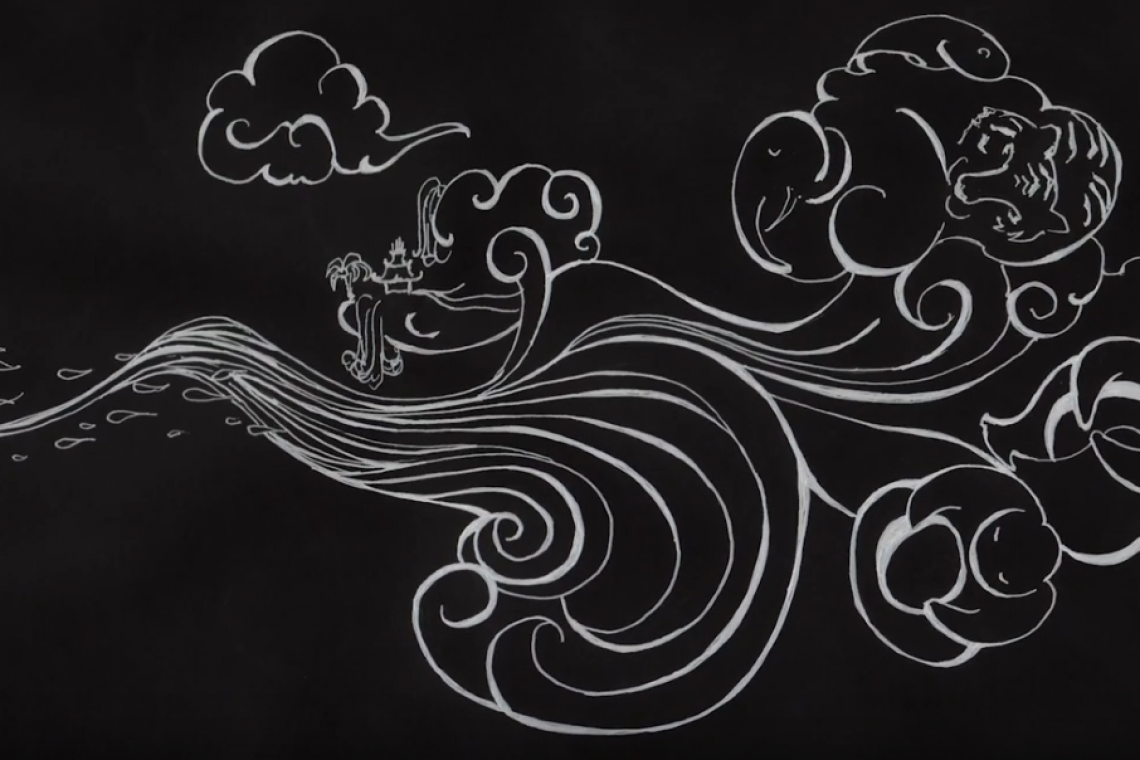 This post offers additional materials to complement the panel, "World Without Clouds: An Anthropological Experiment · Mundo sin nubes: Un experimento antropológico," presented at Distribute2020, the biannual multimodal conference presented by the Society for Cultural Anthropology (SCA) and the Society for Visual Anthropology (SVA) in May of 2020.
Anthropology has been gripped by an interest in nonhumans, whether they be organisms, particles of pollution, or elements of the earth. Spurred by the climate emergency, a reckoning with indigeneity and race, and narratives of dystopia, anthropologists are turning to speculative fiction, ontology, multispecies ethnography, and indigenous experiences to contend with the near future. This short film, World Without Clouds, and accompanying resources, was conceived as an experimental, multimodal piece of speculative fiction that considers anthropological themes for the future. The film/panel explores anthropology's potentials to imagine worlds otherwise—while making critical commentary on the discipline's assumptions and historical legacies.
World Without Clouds engages viewers as both a work of art and experimental scholarship, inviting critique and analysis of its successes, resonances, and failures to explore beyond ethnography. The film complements courses that interrogate the promises and perils of thinking ontologically and speculatively in anthropology. What assumptions about language and signs are being imposed onto radically different communicative structures? What legacies of salvation and classification are inherent in the desire to "save clouds from extinction," the goal driving the film's narrative arc? How are scientific knowledge and technology made and deployed to represent and "speak with" clouds? These questions speak to the analytics, methods, sensibilities, and ethics that phenomena such as pandemics, climate change, biodiversity loss, biotechnology, and supercomputers demand of anthropology. Classes on medical anthropology, environmental anthropology, history of anthropology, linguistic anthropology, anthropology and speculative fiction, and multispecies anthropology might present good fora for these questions. The film can also be taught in methodologically-focused classes on ethnography or public anthropology that engage with non-textual ways of writing and presenting anthropological scholarship.

Reading and Listening with World Without Clouds
The readings we suggest here could be used in an introduction-level course, except those marked with **, which indicates texts more suited to advanced classes.
Anthropology as Speculative Fiction
Readings in this section engage with elements of speculation already present in or furthered by anthropological research. They think through speculative and science fictions as methods for imagining worlds otherwise and creating or representing anthropological scholarship.
Benjamin, Ruha. 2016. "Racial Fictions, Biological Facts: Expanding the Sociological Imagination through Speculative Methods." Catalyst: Feminism, Theory, Technoscience 2, no. 2: 1–28.
Gonzalez Monserrate, Steven. 2020. "Silicon Fox." Anthropology and Humanism 45, no. 1: 130–38.
Haraway, Donna. 2013. "SF: Science Fiction, Speculative Fabulation, String Figures, So Far." Science Fiction Research Association Pilgrim Award Acceptance Speech.

Hunleth, Jean. 2019. "Zambian Children's Imaginal Caring: On Fantasy, Play, and Anticipation in an Epidemic." Cultural Anthropology 34, no. 2: 155–86.
Anderson, Ryan, Emma Louise Backe, Taylor Nelms, Elizabeth Reddy, and Jeremy Trombley. 2018. "Speculative Anthropologies." Theorizing the Contemporary, Fieldsights, December 18.

Language, Ontology, and Being
These sources broadly interrogate the turn to ontology in anthropology and its movement "beyond the human." They bring up questions about representation, agency, and knowledge—and about the utility of the ontological turn itself. Any of these would pair well with the film's uneasy positioning on signs and communication.
**Bessire, Lucas, and David Bond. 2014. "Ontological Anthropology and the Deferral of Critique." American Ethnologist 41, no. 3: 440–56.
Todd, Zoe. 2016. "An Indigenous Feminist's Take on the Ontological Turn: 'Ontology' Is Just Another Word for Colonialism." Journal of Historical Sociology 29, no. 1: 4–22.
**Kohn, Eduardo. 2015. "Anthropology of Ontologies." Annual Review of Anthropology 44, no. 1: 311–27.

Elements of Life: Nonhumans, Weather, and Planetary Forces
There is a long list of foundational texts that elaborate on different agencies—humans and beyond—which shape society. Selected readings below are more specific to the film's major themes, which focus on how lively elements or planetary forces, particularly wind and clouds, manifest in or challenge everyday aspects of human life.
Kopenawa, Davi, and Bruce Albert. 2013. The Falling Sky: Words of a Yanomami Shaman. Translated by Nicholas Elliott and Alison Dundyas. Cambridge: Harvard University Press. Originally published in 2010.
Evans, Meredith. 2020. "Becoming Sensor in the Planthroposcene: An Interview with Natasha Myers." Visual and New Media Review, Fieldsights, July 9.

Zee, Jerry C. 2020. "Machine Sky: Social and Terrestrial Engineering in a Chinese Weather System." American Anthropologist 122, no. 1: 9–20.
The Vinyl Cafe (podcast). 2011. Audiovisual clip (~9 mins) about rendering visible worlds beyond the range of human sensibilities, human participation in nonhuman worlds, and the possibility that nonhumans (e.g., fireflies) can make art, too: https://www.youtube.com/watch?v=DgBqf3pztgk
UMAmontreal. 2009. "Under the Cover of Darkness, The Work of Michael Flomen—La nuit est ma chambre." https://www.youtube.com/watch?v=eYLNNCwF7uE (Accompanying A/V clip of artist Michael Flomen and fireflies at work.)
Chiang, Ted. 2019. "Exhalation." In Exhalation, 37–57. New York: Borzoi. (A short story about a civilization and species that is powered by wind and what happens when the wind stops blowing. Also available as a podcast at: https://escapepod.org/2009/04/10/ep194-exhalation/.)
Games
These table-top role-playing games offer ways to engage with anthropology and speculation through embodied, participatory play. These map-drawing games combine world-building, creative play, improvisation, and letting go of complete control, a theme in the film.
The Deep Forest (a map game of postcolonial, weird fantasy).
Ech0 (a map-drawing game that explores post-war ecologies).
Pairing World Without Clouds with other Distribute2020 panels for Teaching Purposes
"Radical Pedagogies · Pedagogías radicales," Elizabeth Chin's six-minute keynote, makes use of auto-ethnographic snapshots to express the multiple feelings and meanings of living during Covid-19. As a critical reflection on positionality in knowledge production, this video could pair well with World Without Clouds in courses on ethnography and methods. As a starting point for discussions about personal and collective responses to crisis, this video could be used in conjunction with World Without Clouds in environmental anthropology courses, particularly those dealing with climate change and disaster.
"Miyarrka Media: Making Worlds Otherwise" offers a variation on what collaborative anthropology might look like, this time with the Yolŋu community of Gapuwiyak in northern Australia. This panel offers a productive juxtaposition next to World Without Clouds in its use of digital technologies (e.g., camera phones) as a medium for worlding, which could be explored in courses on the anthropology of media. This panel's focus on remixing for worlding can be combined with the turn to SF in World Without Clouds to explore different worlding modalities in courses such as anthropology and speculative fiction.
"Performances of Public Anthropology" explores the possibilities of doing experimental public anthropology through different genres such as stand-up comedy and games. This panel, seen together with World Without Clouds, highlights common themes of ambiguity, improvisation, critical thinking, and fun in anthropological experimentation. Its exploration of different genres for community engagement and anthropological knowledge-making could be paired with World Without Clouds in courses on public anthropology or ethnographic methods.
"Unbounded Obligations: A Multimodal Exploration of Distributed Response-Ability in a Time of Rapid Political Change" examines relationality and obligation in contemporary social, cultural, and environmental worlds. In its exploration of questions about (re)distribution and "response-abilities" (Haraway 2016), this panel could be paired with World Without Clouds in courses on multispecies anthropology and environmental anthropology.