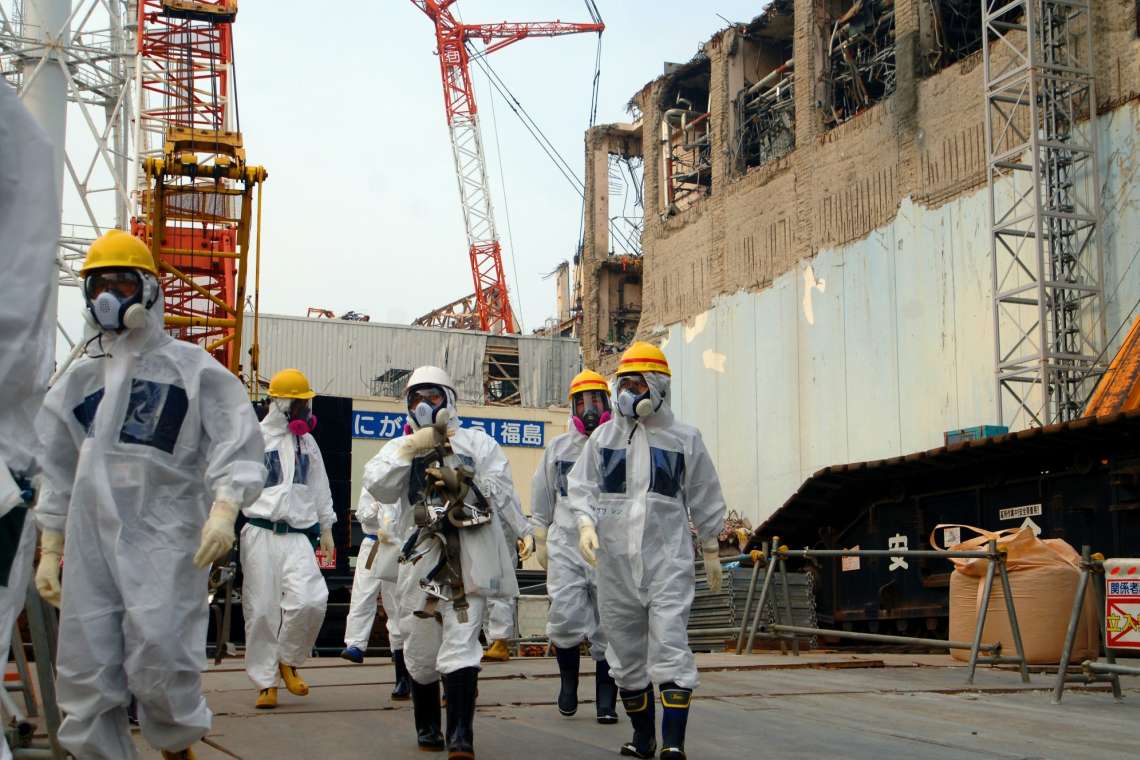 On the afternoon of March 11, the tsunami alarms sounded in Okinawa. However no earthquake shook the coastal towns and villages, no tidal wave swept through the harbors and streets. There were no casualties. The tens of millions of dollars of damage that Okinawans now struggle to repair was caused by a typhoon that lashed the islands in May, not by what took place on March 11 elsewhere in Japan.
And yet the tides of distant events have stirred the rhythms of everyday life here. Phone calls and messages stream into Okinawa from friends and relatives living and working in the mainland: students and businessmen in Tokyo, laborers in Kawasaki, Yokohama and other cities. News reports and documentaries saturate local broadcasts, taxis and buses carry signs proclaiming Let's go, Japan! Volunteers collect donations on street corners and every convenience store and supermarket has cans at the checkout counter. Hundreds of refugees from Eastern Japan arrive at the airport in Naha, given shelter in private homes, holiday cottages and hotels. They are followed by other travelers, those whose anxieties about nuclear catastrophe have driven them to the edge of Japan. On their heels come returning Okinawans, jobs lost in the resurgent recession or simply seeking the solace of life in a familiar place.
There is movement in the other direction as well. Contributions of money, food and clothing are sent North by businesses and by ordinary people. Friends of mine who run a Christian rescue mission for the homeless share their meager resources with families in Fukushima. Ships and planes from the extensive complex of American military bases in Okinawa have also rushed to Tohoku, rescuing survivors, distributing supplies, and reopening the damaged airport at Sendai. An ambivalent moment for many Okinawans, stirring their own memories of kindness and exploitation. They know that these same airmen and Marines, their jobs completed, will return to the bases that have dominated the Okinawan landscape since the end of the World War II.
There is also an anticipation of that which will not come. Restaurants, resorts and hotels wait for tourists who will never arrive. Businessmen muse over the benefits from industrial relocation projects that will never make it as far as Okinawa. Officials consider the likely loss of state subsidies that a weakened central government will surely reallocate to Eastern Japan. Others fear that timid politicians will lose their resolve to deal with American base relocation issues when confronted with the magnitude of mainland reconstruction.
Recently I sat in the audience for a performance by local comedians of their new review: Owarai Beigun Kichi—Jokes about American Bases. In a series of sketches, they took on the fate of the dismissed former US Consul Kevin Maher, the assassination of Osama bin Laden, interracial marriage, and memories of wartime genocide. All this led up to the centerpiece of the performance, a play that abandoned any expected sense of propriety to grapple with the experience of the recent disaster. However it shifted the setting from Tohoku to Okinawa, and replaced the earthquake and its aftermath with a fantastic plot connecting unexploded bombs from World War II to a secret program by the Japanese government to brew an endless supply of energy from deadly toxins at a hidden Okinawan base. In the end, Okinawan villagers found a hilariously vulgar solution to the crisis created by incompetent politicians and corrupt businessmen. However, in victory, they extended a hand to the disgraced authorities. "All we can do is laugh, and get on with things," concluded one character, an elderly woman who had survived the Battle of Okinawa. I was left to wonder if they laughed with pleasure, cynicism, or simply with abandon.
Links