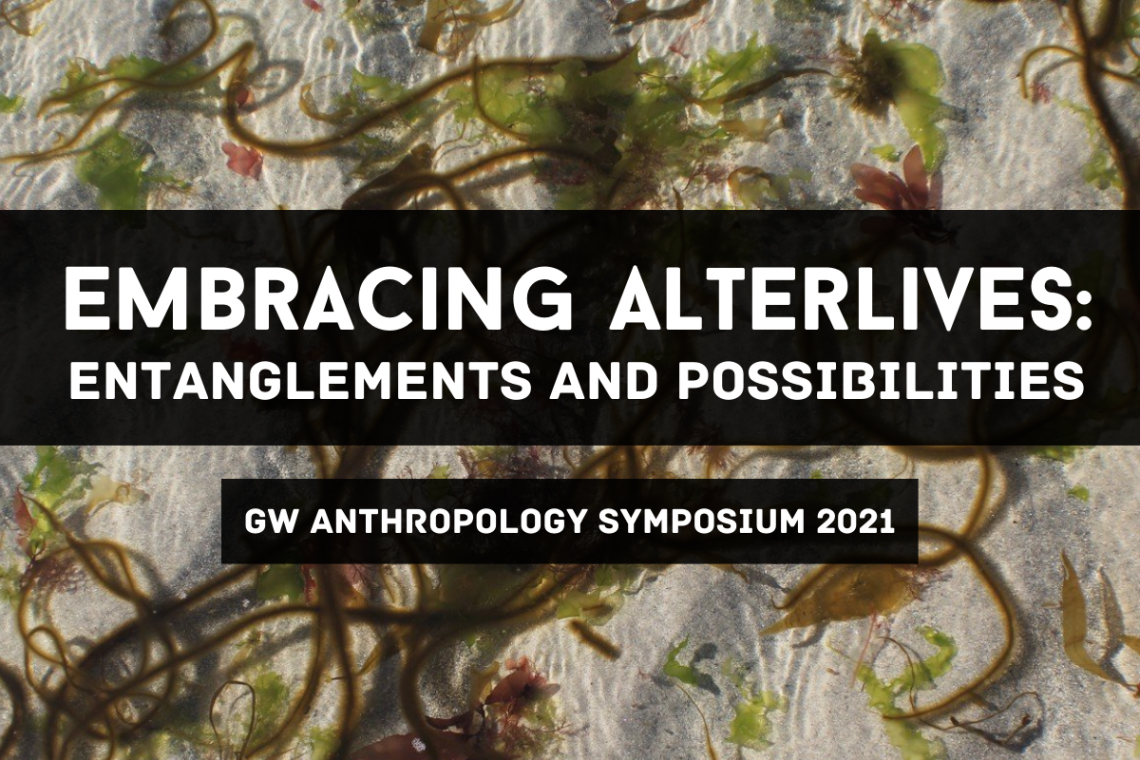 We are three PhD students who write this piece from our position as organizers of a small-scale academic conference during the pandemic. Every year, our home department of anthropology at The George Washington University (GWU) organizes a symposium for graduate students to share their work with members of the department. When the 2020 symposium was canceled due to the pandemic, we assumed it was only a temporary hiatus. Yet, by 2021, academic life was still virtual and far from what it looked like "normally." The symposium, if it were to happen, would require immense rethinking to meet new constraints and responsibilities. Acutely aware of the uneven effects of the pandemic and the far-from-seamless transition to remote work, we deliberated on how to create an intellectually rigorous space without setting a tone of productivity as usual. We aimed instead to create a space of care and conviviality. However, achieving a "low-key" virtual symposium involved a lot of reflexivity, intention, and work. Below we frame our reflections as a set of questions that others in similar positions may find useful.

1. Have you checked in with your community and inquired about their capacity to participate in an event?
The first decision we had to make as organizers was whether to host the event at all. In the before-times, the symposium was a day-long affair that culminated in an invited keynote address. It offered a collegial environment for graduate students to share ongoing research and in turn receive feedback and support from their peers and faculty. While the department community was at the core of the event, students from other institutions also participated. When the formal proceedings of the day ended, graduate students would typically gather to socialize and decompress.
The pandemic posed challenges to this arrangement. Even more than the preparations needed to transition this event online, we were concerned about the fatigue—Zoom and otherwise—that had settled in after a year of navigating uncertainty, disconnection, and loss. Participating online also entailed a different set of capacities than engaging in person. Mindful of this, we did not want to create another source of fatigue, including for us organizers.
We sent out a survey to gauge interest in participating in the symposium. From the results, it was clear that despite busy schedules, members of the department were excited about the possibility of coming together, particularly as last year's symposium had been canceled. In its previous iterations, the event had held a positive valence for many and was an important occasion for community-building. Thus, we decided to go ahead with the symposium. However, from the start, we as the organizers collectively decided to scale back the event. Specifically, this meant we reduced the scope of participation to the department only and chose to forgo inviting a keynote speaker. This reduced potential scheduling complications and lowered the stakes of the event. Looking back, we're glad we made this choice because small was still deceptively complex to execute.
2. How does your event respond critically to the current moment?
The next step in the planning process involved getting into the weeds with logistics. Knowing that we could not simply transplant the in-person format to a digital space, we had to consider which aspects to keep and which to modify. We luckily had access to the institutional memory of the symposium via conversations with faculty and students and a document offering guidance that was put together by PhD students. Yet, this information was only helpful to a certain extent because of the digital nature of our event. We asked ourselves: How could we approach the digital not merely as limiting but rather as an opportunity to build a different kind of space that carried different expectations? At the same time, looking for "opportunity" in the current moment also felt uncomfortable. In the context of a global pandemic and the ongoing racial reckoning worldwide, setting up scholarly conversations was an uneasy privilege and responsibility. And thus, the pandemic, while looming large over the logistics of the symposium, also became a part of how we conceptualized the event.
Covid-19 had shifted how we carried on with our lives. However, it could not change—and actually amplified—inadequacies in societal infrastructures that continued to fail the most marginalized. We wanted to find ways to engage the current mood with sensitivity and hope, without reducing the trenchant critique of the times to a mere trend. This search brought us to Michelle Murphy's concept of "alterlife" (2017), which asks us to acknowledge the realities of our times but not remain beholden to them. Alterlife, Murphy (2017, 500) writes,
"acknowledges that one cannot simply get out, that this hurtful and deadly entanglement forms part of contemporary existence at this moment, in the ongoing aftermath. And yet the openness to alteration may also describe the potential to become something else, to defend and persist…"
Resonating with these words, we channeled them into how we planned to host the symposium. They were also central to the theme of our conference, which we titled "Embracing Alterlives: Entanglements and Possibilities."

"We wanted to find ways to engage the current mood with sensitivity and hope, without reducing the trenchant critique of the times to a mere trend."
Indeed, alterlife as a lens also helped us frame digital platforms as located along a continuum of compromised spaces, each with its own set of affordances. As we experimented with digital sociality, we sought precedents from conferences that had been organized virtually or had made that shift in the past year because of the pandemic. The websites for the conferences Distribute 2020 and DOPE 2021 were particularly generative. Ultimately, a day-long symposium among a select group of people does not do much by way of materially addressing structural inequities. However, it felt important for us to acknowledge what was going on around us.
3. Does your event allow for and encourage different modes of presence and engagement?
With the theme in hand, we deliberated how to accommodate different capacities for engagement. We made alternate presentation formats available so that participants who could not manage a traditional synchronic paper presentation could pick from other options. These included delivering a PechaKucha, a shorter and faster version of an academic talk, or submitting a pre-recorded presentation to alleviate potential internet connectivity issues. We circulated sample PechaKuchas for reference, provided explicit instructions ahead of time on how to pre-record and upload presentations, and made them available to view on our website. Nearly every panel had at least one PechaKucha or a pre-recorded talk. We even had one group PechaKucha, where three colleagues fabulously shared the allotted 6.6 minutes! Another pre-recorded submission featured snippets of the presenter's podcast. This mixed format style accounted for people at different stages of research and writing. It also helped break the monotony of the conference. To round out the panels, we also invited faculty discussants whose commentary drew out connections and common themes across papers and helped stimulate conversation.

We were also attentive to unfamiliarity with conference-style presentations as a potential barrier to participation. Therefore, we worked with the Peer Advocates, a student-initiated and student-led resource in our department, to host a workshop in which more seasoned conference attendees shared advice in a peer-to-peer format. We also arranged with faculty to drop in on courses with high MA student enrollments to introduce the symposium and address any questions and concerns.
Aware that symposia offer opportunities to socialize, we also experimented with various ways for attendees to connect. This required attention to the technical aspects of thoughtfully sharing virtual space. To that end, we developed conference protocols and circulated them ahead of time to ensure we all entered on the same footing. For instance, we recommended switching between "speaker view" and "gallery view" during sessions.
We kept the common Zoom space open between sessions to serve as virtual hallways for continued conversations. We collaborated with the team behind Anthropocinema, a series of ethnographic film screenings hosted in our department. Together, we invited our colleagues to take photographs in response to prompts shared throughout the day and curated them on their existing Field Guides website. From morning beverages and scenes from their windows to people's workspaces and their multispecies companions, these photos showed mundane moments of digital conferencing and became a conversation starter during the post-event get-together. Learning about our colleagues through their quirky mug choices or cluttered desks was a fun and affirming way to connect and share our day beyond the Zoom screen.
Instead of a keynote address, we decided to end the symposium by watching short films together. We chose the platform Gather for this event because it felt less contrived, and thus better approximated informal in-person gatherings at the department. Gather allowed attendees to assume an avatar and "run into each other" and to "stumble into" conversations mid-way. We kicked off with a scavenger hunt and later viewed films we had embedded in the virtual world. The films were selected from the Mother Tongue Film Festival, the Society for Cultural Anthropology's multimedia collection, and other online archives.
We conducted multiple rehearsals and test runs on Zoom, as well as Gather, to anticipate potential glitches and devise corresponding solutions. However, frenzied texts shared on our WhatsApp group during the event were a testament to the fact that you can only plan so much. Regardless, we viewed these efforts as ways to extend courtesy and hospitality to our attendees.
4. How does your event center the bodily needs of your attendees?
Sitting in front of a screen for hours on end can be taxing. To be mindful of the bodily needs of our attendees, and to avoid physical and mental pains that accompany such an event, we made sure to schedule intentional breaks throughout the day. We chose not to record the event so that attendees did not have to be conscious of constantly "being on." We also incorporated a fifteen-minute breathing and embodiment exercise into the program, led by a member of our community. Those fifteen minutes gave us a space to breathe deeply, stretch our bodies and minds, and feel present in ourselves in our shared space. Participating in this activity was optional, as was turning on our cameras to allow for privacy. More than twenty-five black Zoom screens shared the space with our guide, who kept her camera on as she walked us through the exercise. At the end of the fifteen minutes, our microphones were still muted and the silence was palpable. Messages of thanks and appreciation started to trickle into the chat as we slowly put our cameras back on, ready to resume the panels. We found such attentiveness to people's visibility and privacy to be a crucial component of being mindful, thereby reducing the strains associated with virtual conferencing. These suggestions constitute the bare minimum but are often discounted because of the fantasies of immediacy and access associated with teleworking. We cannot mitigate tiredness completely: we were also exhausted and hungry by the end of the symposium. However, if virtual meetings become normative, organizers need to think critically and thoughtfully about how they incorporate rest in their programs.
Conclusion
This piece reflects on the considerations taken to organize a small-scale academic conference under changed circumstances. In discussions during the lead-up to the event, we deliberated on three major considerations: how to scale back with intention, develop alternate modes of connection amidst Zoom weariness, and create protocols to ensure a smooth event. We also incessantly asked ourselves how we could operationalize care in our planning. Some of the ways we tried to do this were by selecting a theme that was pertinent to our times, being mindful of people's varying capacities for participation, rehearsing and preparing solutions in advance, and teaming up with members of our community to create opportunities for meaningful connection. Moreover, as we strove to create possibilities for conviviality, we realized that conviviality does not just happen but requires work and intention to seed and sustain. Conviviality required thoughtfulness and creativity in how we leveraged the technologies that mediated our encounters with each other. Conviviality was also interspersed with moments of feeling harried and tired—both over many hours of planning and during the symposium itself. We quickly learned that a one-day event could not do it all, that there was only so much we could ask of ourselves and our community to deliver during such trying times. Our largest lesson, therefore, harked back to one main question: how to be ambitious in small ways? We hope that these reflections can inspire others to approach online connectivity as an opportunity rather than as a constraint to thoughtfully build community.