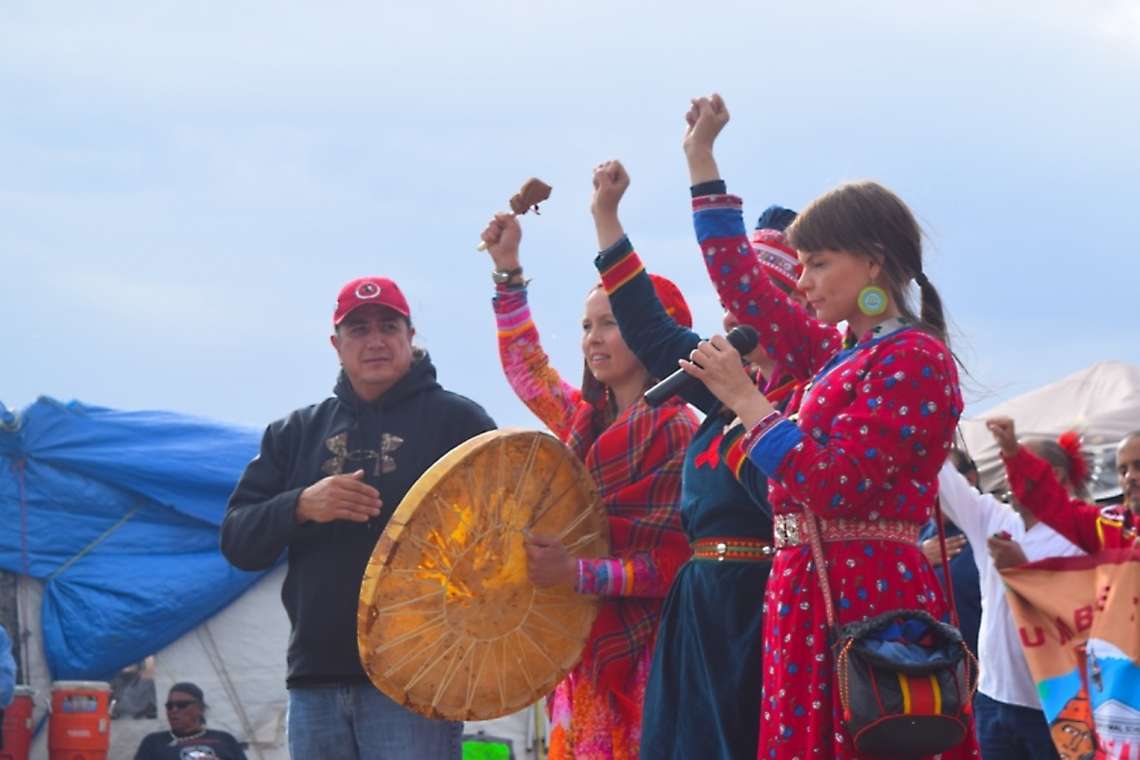 Women of the Oceti Sakowin, or the Seven Council Fires, are at the center of the movement at Standing Rock, widely dubbed #NoDAPL. Also known as Dakota, Lakota, and Nakota, the Oceti Sakowin, with allies around the world, work to protect the water and land from the Dakota Access Pipeline (DAPL). Rerouted from a path near to North Dakota's capitol city of Bismarck, the DAPL cuts through Oceti Sakowin treaty lands at the edge of the Standing Rock Sioux Tribe Reservation, with plans for it to go beneath Mni Sose, the Missouri River. The Oceti Sakowin Camp, a "unified encampment of Water Protectors," aims to not only protect "land and water against the Dakota Access Pipeline," but to assure "the welfare of all people by honoring human rights, treaties, agreements, and cultures" and "to peacefully and prayerfully defend our rights, and rise up as one to sustain Mother Earth and her inhabitants." #NoDAPL thereby links the protection of Indigenous peoples and treaty rights to the protection of the earth and our other-than-human relatives.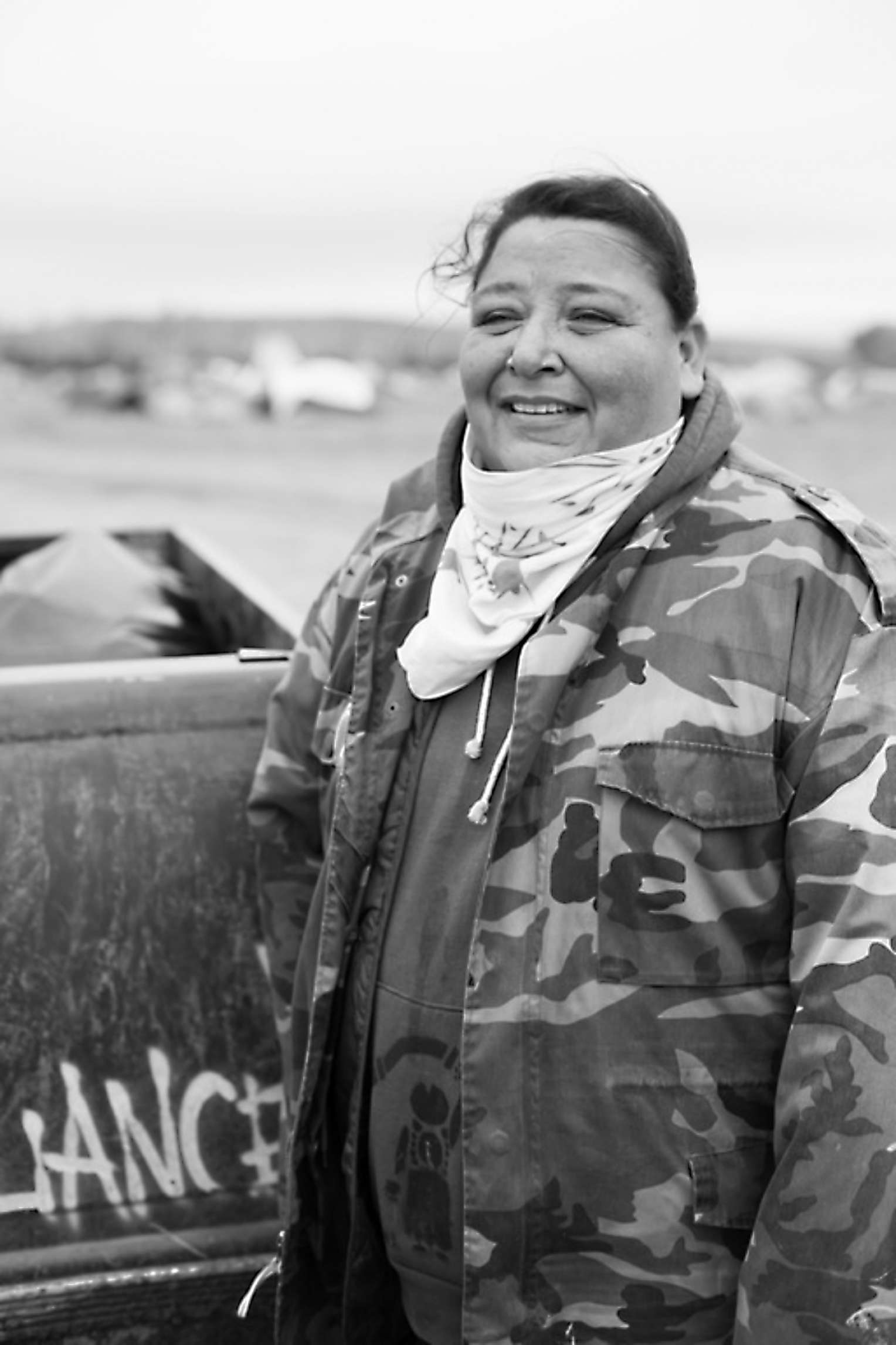 The Standing Rock movement continues the momentum of Indigenous and other women-led social and environmental movements. As a Dakota, one way I interpret these movements is as caretaking kin, but I must clarify this designation. First, I use kin in ways that contradict patriarchal White settler ideas of it. Second, although I see women-led movements as caretaking, I do not view caretaking as the sole domain of cisgendered, biologically-reproductive women. Nor do I view women as being the only members of our communities who caretake. Men and gender-nonconforming people, and brave youth (who deserve particular recognition) also help caretake our peoples, make relations, and add to our collective strength. But nevertheless, the women-led condition of these movements is striking (see Wilson 2015).

* * *
Idle No More (INM) was founded in 2012 in Saskatoon, Canada by four women—three Indigenous (Jessica Gordon, Sylvia McAdam, Nina Wilson) and one non-Indigenous ally (Sheelah McLean). INM connected Bill C-45—which was introduced by Stephen Harper's Conservative government and attacked environmental protections—to violations of Indigenous land and treaty rights. In a 2013 press release, INM stated that "Indigenous ways of knowing are rooted in Indigenous sovereignty to protect water, air, land, and all creation for future generations." It organized round dances in public spaces as well as blockades of rail lines and highways in order to call attention to fossil-fuel and other industry infringements on Indigenous land rights. As such, the fact that Indigenous lives and treaty rights are dependent upon the well-being of our other-than-human relatives sparked both INM and #NoDAPL into being.
Ladonna Bravebull Allard, Standing Rock Sioux, has written about the DAPL in the context of histories of settler colonialism and Indigenous genocide. While Indigenous people have been killed outright, another eliminatory tactic has been to sever our sustaining relations with other-than-human relatives. Bravebull Allard writes about continued police violence against nonviolent, prayerful Water Protectors while the all-White, heavily armed militia led by Cliven Bundy was acquitted after its armed takeover of federal land. She ties our fate as Indigenous peoples to nonhuman fates: "The land they claimed to take back was cleared of our relatives and the buffalo nation so that white ranchers like the Bundys could graze their cattle there." Today, as in earlier centuries, the colonial U.S. state and its White supremacist citizens, whether armed ranchers or oil industry executives and their private security henchmen, work to eliminate Indigenous peoples from these lands and they work to eliminate our relations with these lands, ensuring White occupation and profit in the process. The tied oppressions and fates of Indigenous peoples and our other-than-human relations is a key ethic undergirding both #NoDAPL and Idle No More's actions.
Faith Spotted Eagle, Ihanktonwan Dakota elder, offers her own explanation of the entangled lives of Indigenous people and the land upon which our peoplehoods depend:
I think it's the rebirth of a Nation, and I think that all of these young people dreamed that one day they would live in a camp like this because they heard the old people tell the stories of living along the river. They heard them talking about the campfires and the Horse Nation.
Here, Nation and people are translations for the Lakota word Oyate. I hear Spotted Eagle refer not to the rebirth of a better U.S. state, but to the resurgence of nations—human and other-than-human—living in good relation. Her English name "Faith" reminds me that it is not U.S. exceptionalist hope or a desire to redeem a state founded on White supremacy that spurs us to action. Rather, Indigenous women-led movements provide alternative visions for being better relatives with each other and the planet. Their work will go beyond these camps. I have faith in these women-led movements.
Two Spirit leadership is also key. Alex Wilson—Idle No More activist, University of Saskatchewan professor, and Two Spirit scholar—explains that Two Spirit people "can encourage political and personal transformation" (Zahody 2014, 289). Wilson and Melody McKiver—a Two Spirit videographer with Idle No More—agree that "although Two Spirit people have different roles depending on the particular indigenous community they belong to, a general understanding is that they encourage open-mindedness . . . [and] are necessary for a community to be balanced" (Zahody 2014, 288). A Two Spirit camp was established at Standing Rock. Oglala Lakota trans and queer healthcare specialist Candi Brings Plenty is a visible Two Spirit advocate in the #NoDAPL movement.

* * *
Black Lives Matter (BLM) was founded by three Black women—Alicia Garza, Patrisse Cullors, and Opal Tometi. BLM emerged in 2013 after the acquittal of George Zimmerman, killer of seventeen-year-old Trayvon Martin. BLM responded to multiple acts of police brutality against Black people nationwide. In November 2015, Yvonne S. Marquez published a blog post entitled "Badass Black Queer Women Paved the Way for the Mizzou Movement," which inspired the title of this essay. Marquez explained that students demonstrating against structural racism at University of Missouri, including black male athletes who brought the university to its knees by refusing to play ball, were "inspired by . . . Black Lives Matter. . . . And just like the Black Lives Matter movement, the #ConcernedStudent1950 group was led and organized by queer black women." BLM activists also work for criminal justice reform, the rights of trans and gender non-conforming people, domestic workers, immigrant justice, and human rights. Their organizing demonstrates powerful (queer) women-led governance. As a Dakota feminist and supporter of BLM, I see women who lead the movement as sharing ground with women from #NoDAPL and Idle No More. I see them caretaking their peoples and others as they defend bodies marginalized in a brutal anti-Black, antitrans, anti-immigrant, and antiworker world.
About the Author
Kim TallBear is Associate Professor and Canada Research Chair in Indigenous Peoples, Technoscience, and Environment at the University of Alberta. She is a citizen of the Sisseton-Wahpeton Oyate, and the author of Native American DNA: Tribal Belonging and the False Promise of Genetic Science.
References
Wilson, Alex. 2015. "Afterword: A Steadily Beating Heart: Persistence, Resistance, and Resurgence." In More Will Sing Their Way to Freedom: Indigenous Resistance and Resurgence, edited by Elaine Coburn, 255–64. Halifax, NS: Fernwood Press.
Zahody, Laura. 2014. "Idle No More Organizers Reach Out to Queer Community." In The Winter We Danced: Voices from the Past, Future, and the Idle No More Movement, edited by The Kino-nda-niimi Collective, 287–88. Winnipeg, MB: Arp Books.