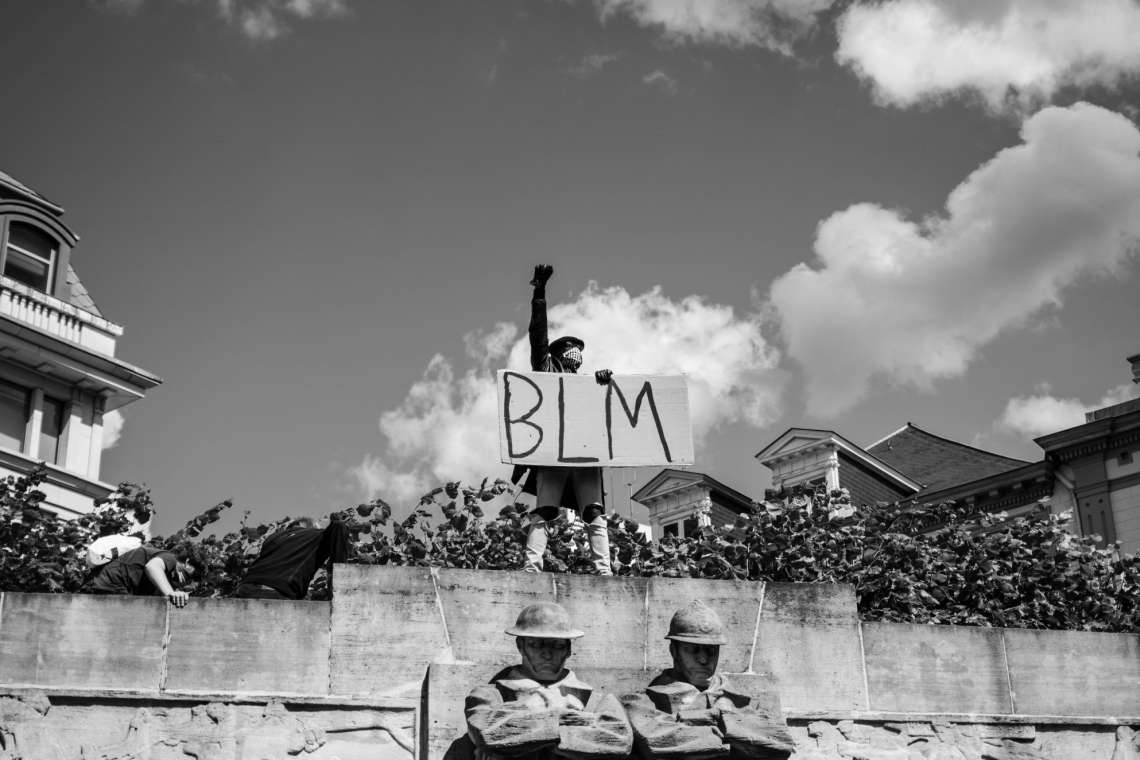 It has long been a challenge for Belgium to examine its colonial past. One reason for this difficulty is that a variety of interest groups have been vehemently opposed to such a review of the historical record, for fear of opening a Pandora's box of the colonial period: of its propaganda, crimes, and violence. But this loaded and complex colonial past has resurfaced in the wake of the Black Lives Matter protests that took place after the highly mediatized murder of George Floyd in 2020. Following the decision taken on June 17, 2020, by the Conférence des Présidents of current majority parties in the Belgian government, Belgium has finally resolved to create a special "colonization" commission, whose mission is to examine the country's colonial past in the Congo, Rwanda, and Burundi, with a focus on both colonialization itself (including the Leopold II period) and its contemporary incarnations and consequences, such as the racism and discrimination suffered by Afro-descendant populations in Belgium. Will the commission succeed in resolving the problems related to Belgium's colonial past?
Colonialism and slavery have left deep traces in Western and African societies alike. Even if these periods appear to belong to history, their impact continues to be felt, especially in the stereotypes and discrimination suffered by Black populations, as highlighted, among many others, by French historian Pap Ndiaye (2009). Indeed, a report written by the National Consultative Commission on Human Rights in France highlights "the pervasiveness of racist biases stemming from the colonial period that are rooted in references to exploitative racism, and which persist in a society that openly condemns racism." This report echoes those published about Belgium, which name the systemic racism and discrimination inflicted on Afro-descendants through institutions, practices, discourses, and representations, and establish colonial regimes as the foundation of this discrimination.
A number of measures have been put in place to address racism and discrimination in Belgium at the regional, national, and European levels. The Moureaux law of 30/07/1981, the first piece of legislation in the fight against discrimination and racism in Belgium, was aimed at punishing racist and xenophobic acts. The law's most important impact was the creation of the Centre pour l'égalité des chances et de lutte contre le racisme (UNIA) [Center for Equal Opportunities and the Fight against Racism] in 1993, an entity entrusted with conducting research and issuing opinions and recommendations to public authorities, private individuals, and institutions.[1] It also has the capacity to deal with individual cases, and to support victims of racist abuse by providing counseling, mediation, or, if necessary, legal services. Despite the adoption of the Moureaux law and the creation of UNIA, the fight against racism and discrimination in Belgium remains difficult. Racism has metastasized in the social body and manifests in more insidious forms: UNIA reports that the number of reports of discrimination related to racial characteristics increased by 49.5% to 3,684 in 2020.
With regard to addressing the colonial past, the Lumumba Commission is a notable precursor to the current commission on colonization. Its mitigated results raise concerns about the new commission on the colonial past. Members of the Congolese community in Belgium still remember the political and media uproar over the creation of this parliamentary commission in 2000. Patrice Lumumba, the first Prime Minister of the independent Congo, was assassinated on January 17, 1961, a political assassination in which both Belgium and the United States were implicated. For the Congolese community, the Commission presaged the much-awaited revelation of truths on numerous other assassinations and disappearances of the colonial era. Instead, it "gave birth to a mouse," as the French expression goes: all that came from it was a reluctant acknowledgement by the authorities of Belgium's moral responsibility in Lumumba's death. Congolese people's concerns were not addressed in the commission's report, which despite the headlines, proved to be totally vacuous. No reparations, no changes to school books or curricula, no monuments were erected to Lumumba or to Joseph Okito or Maurice Mpolo, who were assassinated along with him.
Among the elements that doomed the Lumumba Commission to failure were its timing, which was set, in a vacuum, by the Belgian political class; the lack of diversity among the selected contributing experts—Belgian historians and assembly members only; as well as the fact that the parliamentary commission's inquiry focused on "the HOW of Lumumba's death, but carefully dismissed the question of WHY, which would have undoubtedly been insisted upon by Afro-descendants, had they been included in the process" (Mbeka Phoba 2020, 12–15).
The experience of the Lumumba Commission raises a number of questions for this most recent commission on Belgium's colonial past, which may similarly find itself emptied of meaning and purpose for Afro-descendant populations. In this respect, it is important to avoid pitfalls such as the politicization of the commission and its subordination to various Belgian political interests; an allotted timeframe insufficient for meeting the commission's objectives; poorly justified criteria for the selection of experts and members of the commission; the exclusion of Afro-descended grassroots actors from the process; and lack of transparency in the commission's agenda and working methodology. The repeated delays in the establishment of the commission are also cause for concern and demand extreme vigilance on our part.
The fight against racism in Belgium is a long-term battle. Let us hope that the errors of the past are not repeated in the present commission. The efforts undertaken by authorities, though commendable, remain insufficient in view of the extent of racist and discriminatory actions targeting Afro-descendants in Belgian society. The requisite change in mentalities will not happen overnight. Afro-descendants must continue to remain vigilant and develop their own networks of expertise as well as an arsenal of solutions and proposals.
Notes
[1] The original structure was split into two parts in 2013: the Centre for Equal Opportunities and the Fight against Racism (UNIA) and the Federal Migration Center (MYRIA).


Du passé colonial au racisme anti-Noir.e.s actuel en Belgique : modalités du changement
La Belgique a toujours eu du mal à se pencher sur son passé colonial. Divers groupes d'intérêts s'y opposent farouchement, craignant d'ouvrir la boîte de pandore que constitue pour eux la période coloniale avec sa propagande, ses crimes et violences à répétition. Dans la foulée des protestations « Black Lives Matter », survenues après le meurtre médiatisé de George Floyd en 2020, ce lourd et complexe passé colonial a refait surface. Suite à la décision prise le 17 juin 2020 par la Conférence des Présidents des partis de la majorité actuelle, la Belgique s'est finalement résolue à créer une commission spéciale dont la mission consiste à examiner le passé colonial belge au Congo, Rwanda et Burundi. Son mandat couvre tant la colonisation en tant que telle (période léopoldienne comprise) que ses incarnations contemporaines, telles que le racisme et les discriminations que subissent les populations afrodescendantes. On peut légitimement se demander si cette commission arrivera à résoudre les problèmes liés à ce passé colonial.
L'histoire coloniale et esclavagiste a laissé des traces très profondes dans les sociétés occidentales et africaines. Même si ces périodes semblent faire partie d'une histoire, considérée comme révolue, leurs incidences se ressentent encore aujourd'hui, notamment à travers les stéréotypes et discriminations subies par les populations noires, comme l'explique l'historien français Pap Ndiaye (2009). Un rapport écrit par la Commission Nationale Consultative des Droits de l'Homme en France met en évidence « la prégnance de biais racistes issus de la période coloniale qui s'ancrent dans les références à un racisme d'exploitation, perdurant dans une société qui condamne ouvertement le racisme ». Ce rapport fait écho à tous ceux publiés en Belgique sur le racisme et les discriminations infligés aux Afro-descendant-e-s et qui établissent qu'il existe un racisme systémique à travers des institutions, des pratiques, des discours et des représentations, construits dans le cadre des régimes coloniaux.
Plusieurs dispositifs législatifs ont été mis en place en Belgique, aux niveaux régional et national, et dans l'Union européenne pour lutter contre le racisme. La loi dite Moureaux du 30/07/1981 est la première loi de lutte contre les discriminations, en ce compris raciales, à voir le jour en Belgique. Elle vise à réprimer des actes à caractère raciste et xénophobe. Sa mesure la plus emblématique reste la création du Centre pour l'égalité des chances et de lutte contre le racisme en 1993, lequel est aujourd'hui scindé en deux parties : Centre pour l'égalité des Chances et de lutte contre le racisme (UNIA) et le Centre Fédéral Migration (MYRIA).[1] Ce service public a pour mission de mener des recherches et émettre des avis et recommandations aux pouvoirs publics et aux personnes et institutions privées. Il peut également traiter des dossiers individuels, en accompagnant des victimes de comportements racistes en leur prodiguant conseils, médiation ou, si nécessaire, un accompagnement juridique, le cas échéant devant les tribunaux.
Au niveau européen et des entités fédérées belges, d'autres mesures et lois se sont ajoutées à la loi Moureaux et à la création d'UNIA. Mais la lutte contre le racisme et les discriminations est une tâche ardue. UNIA rapporte que le nombre de signalements liés à des caractéristiques raciales a augmenté de 49,5 % pour atteindre 3.684 en 2020. Si certaines des mesures prises sont sans doute arrivées à atténuer l'ampleur des phénomènes racistes, ceux-ci se métastasent dans le corps social et resurgissent sous des formes plus difficiles à appréhender, ruinant les maigres progrès engrangés. Dans les faits, il demeure que cet arsenal de mesures et de lois n'a pas vraiment abouti à des résultats concluants.
S'agissant de la gestion du passé colonial, la Commission Lumumba est un exemple notable qui a précédé la Commission actuelle sur le passé colonial de la Belgique au Congo, Burundi et Rwanda. Les Congolais de Belgique se souviennent encore de la ferveur politico-médiatique lors de la création en 2000 de cette commission chargée d'examiner les circonstances de l'assassinat du tout Premier Ministre du Congo indépendant, tué le 17 janvier 1961 avec la complicité alléguée de la Belgique et des États-Unis. Alors que pour les congolais, cette commission présageait la révélation d'autres vérités sur de nombreux assassinats et disparitions de l'époque coloniale, elle a accouché d'une souris, à savoir la reconnaissance du bout des lèvres par les autorités publiques d'une responsabilité morale de la Belgique dans la mort de Lumumba. A l'évidence, les Afro-descendant-e-s congolais-e-s n'ont pas trouvé leurs comptes dans cette commission qui, malgré les gros titres de presse, s'est avérée d'une totale vacuité et n'a donné lieu à aucun résultat tangible : pas de réparations, pas d'inscription dans les livres scolaires, pas de monument à Lumumba ni à Okito et Mpolo, assassinés avec lui.
Parmi les éléments ayant conduit cette commission à un tel échec, l'on peut citer les modalités de son fonctionnement décidées en vase clos par la classe politique belge ou encore le choix non diversifié des expertises mises à contribution (uniquement des historiens et députés belges), ainsi que le fait que la commission d'enquête parlementaire se soit "acharnée à investiguer sur le COMMENT de la mort de Lumumba, mais qu'elle ait écarté avec soin la question du POURQUOI, que sans doute une expertise afrodescendante aurait demandée."
L'expérience de la Commission Lumumba invite à la prudence à l'égard vis-à-vis de la Commission sur la colonisation, qui pourrait se trouver pareillement vidée de son sens et de ses finalités aux yeux des Afro-descendant-e-s. Il convient donc d'éviter des pièges comme la politisation de la commission et sa subordination à des logiques partisanes , de la politique interne belge, à une durée insuffisante pour répondre aux objectifs, des critères mal justifiés de sélection des experts et des membres de la commission ; l'exclusion des acteurs de terrain Afro-descendant-e-s du processus ainsi que le manque de transparence sur l'agenda et la méthodologie de travail de la commission.
La lutte engagée contre le racisme en Belgique est un combat de longue haleine. Les efforts entrepris par les autorités, quoique louables, demeurent insuffisants au regard de l'ampleur, dans la société, des actes racistes et la discrimination aux multiples formes visant les Afro-descendant-e-s. Le changement des mentalités n'interviendra pas du jour au lendemain. Les Afro-descendant-e-s doivent continuer à rester vigilants et à développer leurs propres réseaux d'expertise et arsenal de solutions et propositions.
Notes
[1] La première entité a été divisée en deux en 2013, devenant le Centre pour l'égalité des chances et la lutte contre le racisme et le Centre fédéral de Migration.
References
Mbeka Phoba, Monique. 2020. "Analyse et leçons à tirer des expériences précédentes de négociations paritaires dans la relation pré et post-coloniales entre Belges et Africains anciennement colonisés par la Belgique hier et Afro-descendants de Belgique, aujourd'hui." In Rapport de la société civile afrodescendante en préparation de la Commission Vérité du Parlement fédéral, 12-15. Bruxelles: CACOBURWA.
Ndiaye, Pap. 2009. La condition noire: Essai sur une minorité française. Paris: Gallimard.