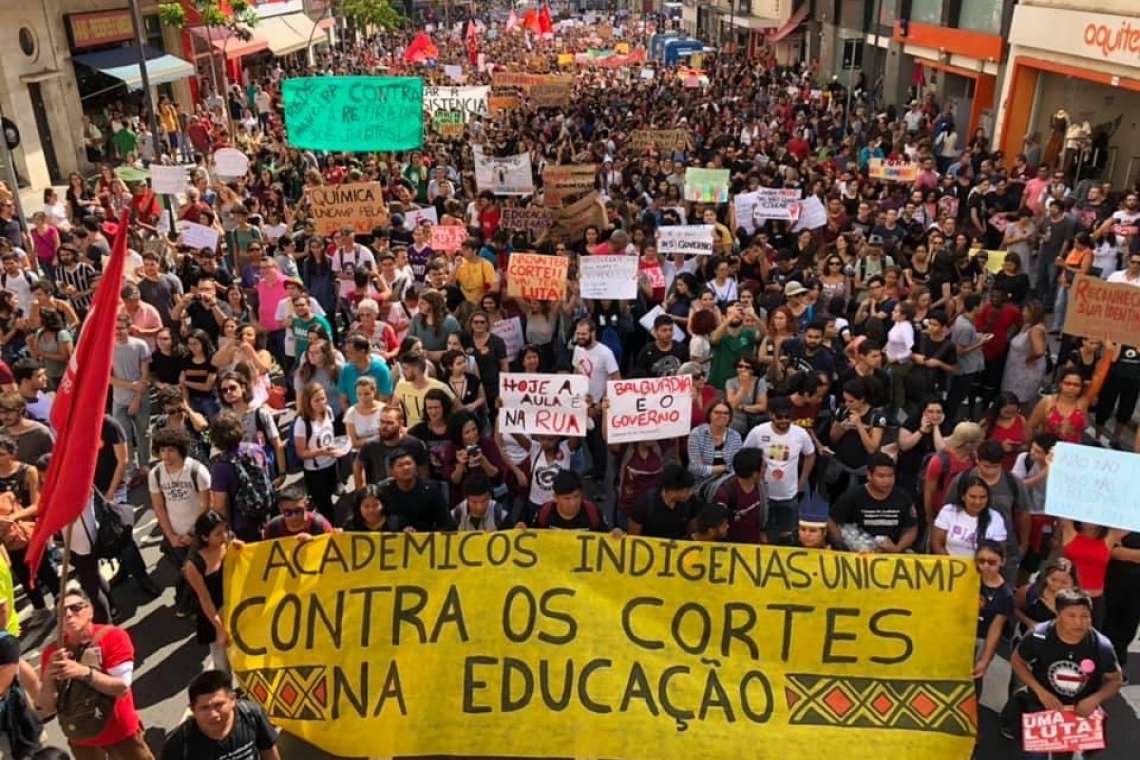 "Marielle, present!" We shouted in unison. It was June 2018 and I was a guest attending the XV National LGBT Seminar, promoted by the National Congress in Brasilia, invited to present my research on elderly LGBTI people in Brazil. Over the course of the event, coordinated by then-Congressman Jean Wyllys, we shared our shock over the recent execution of Marielle Franco, the left-wing, black, bisexual PSOL councilwoman—at the time married to a woman—who had gained prominence for her feminist, anti-racist, pro-LGBTI social activism and her defense of Rio de Janeiro's poor population.
We also spoke on that day about the Brazilian far-right, growing steadily since before the coup that removed Dilma Rousseff from her presidency in 2016, and on the resulting resistance to this conservative force. At the same time, former President Luis Inacio Lula da Silva had just been arrested and prevented from running for president. Despite all this, it still seemed unlikely that the then far-right-wing candidate Jair Bolsonaro would actually win the election. Nor did we imagine that in less than a year, Wyllys, one of Bolsonaro's greatest critics, would have to relinquish his political mandate and exile himself from Brazil. This path was also followed by intellectuals like anthropologist Debora Diniz and philosopher Marcia Tiburi, both feminists, threatened with death by radical extreme right-wing groups.
In addition, these and other progressive politicians and intellectuals were bombarded by a tsunami of fake news that associated them with the most infamous of crimes and practices. Some of these stories even influenced the outcome of the presidential election. One of the most infamous was the "gay kit," educational material that was supposedly aimed at encouraging homosexuality among children. A narrative circulated that Fernando Haddad, a presidential candidate from the Workers' Party (PT), had authorized the distribution of this "kit" during his time as Minister of Education. Although there has never been such a "kit," this misinformation—originally produced in 2011 to block the educational debate on sexual and gender diversity—was once again blasted on the Internet to create a "moral panic" of the sort typical of conservative political and electoral strategy in 2018.
Despite the growth of conservative groups, the city of São Paulo is currently promoting one of the largest LGBTI pride parades in the world, bringing together over three million participants. The Brazilian LGBTI movement began in the late 1970s during the final period of the Military Dictatorship (1964–1985). The parades appeared two decades later, spreading throughout the country in the 2000s. Regardless of massive turnout for the parades, Brazil is considered to have one of the highest murder rates of LGBTI people in the world, especially for travestis, transsexuals, and transgender people, who have a life expectancy of thirty-five years.
The 2018 election of Bolsonaro—a politician with a history of giving notoriously racist speeches and supporting torture and violence against LGBTI people—has generated a wave of fear and despair for many political minority activists. In the weeks leading up to the election, there were numerous reports of Bolsonaro supporters threatening physical and verbal aggression aimed at exterminating LGBTI people. The prediction of his victory prompted the number of marriages of LGBTI people in 2018 to increase by 340 percent, amid fears of losing hard won rights.
In its first year in office, Bolsonaro's government has established new mandates for the Brazilian Foreign Ministry in protest of what they call "gender ideology." To this end, they have banned the word gender in multilateral diplomatic documents and affairs, re-essentializing it as "biological sex." In addition, Brazil abstained from voting in the UN on issues of sexual and reproductive health for populations affected by humanitarian crises. By joining the agenda of other countries against women and LGBTIQ's rights, Brazil's geopolitical alignment has been radically altered.
Although the National Congress has not yet created laws to protect and guarantee the equal rights of this population, in recent years the Brazilian LGBTI movement has achieved important legal victories. The Brazilian Supreme Court, although often seen as co-responsible for Brazil's political situation, guaranteed the right to same-sex marriage in 2011; the right of trans people to rectify their name and gender on civil documents without the need for psychiatric reports or gender reassignment surgery in 2018; and the criminalization of homophobia and transphobia throughout Brazil in June 2019. These were crucial victories in an adverse climate for human rights.
During the first year of the current government, the pride parades remained as giant and vigorous as ever in most Brazilian metropolises. Many had as their motto: the commemoration of the fiftieth anniversary of the Stonewall uprising in New York; the fight against conservative setbacks; the defense of democracy, individual freedoms and acquired rights; and the need to strengthen the resistance.
Furthermore, the last few years have produced in Brazil a historic and impressive effervescence of new LGBTI and non-binary "artivists." This "rainbow wave" features many popular singers and performance artists such as Pabllo Vittar, Ludmilla, Liniker, Gloria Groove, As Bahias e a Cozinha Mineira, and Linn da Quebrada. Such artists have produced compelling and courageous works that interweave art and progressive forms of political activism—particularly in terms of gender and sexuality—which stand directly and boldly in opposition to the current conservative establishment.
Keeping in mind the desperation that many young activists demonstrated in the shadow of the current government, my older LGBTI interlocutors in the field, who are currently fighting for their rights as "LGBTI elders" in Brazil, and also lived through the years of the last military dictatorship, reassured us and gave us hope. They continually affirmed that we would overcome these new struggles, just as they had won and survived their own "battles" in the past in order to tell their story and live their lives as they wished.