Love and Collaboration in Practice: Perspectives on Co-teaching a Graduate Seminar during a Pandemic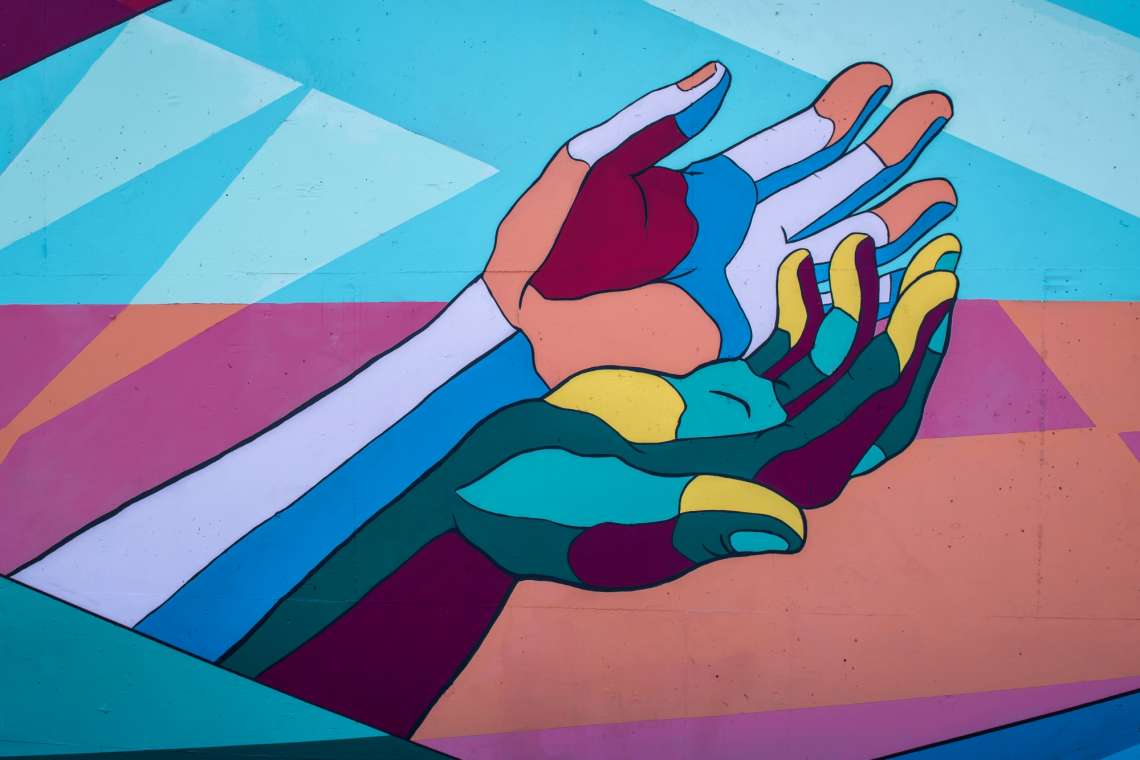 In this turbulent yet potentially transformative time marked by a global pandemic and urgent calls for racial justice and equity in society, we find it imperative to rethink the role of the university. We write as a group of women who participated in an experimental graduate anthropology course at the University of California, Riverside, with the explicit intention of breaking down traditional hierarchical structures of academia and knowledge production. In acknowledging that anthropology was founded on colonialism and still largely adheres to the pervasive image of the "the lone (male, white) ethnographer," we find it necessary to reimagine graduate education as spaces of co-learning and feminist collaboration to decolonize our discipline (El Kotni et al. 2020). In this essay, we reflect on the co-creation of a graduate seminar in which we all—a professor and students of varying positions in their graduate education—took turns developing and teaching the course content. In offering our reflections, we also hope to ignite a broader conversation about collaborative teaching and that others will take up this task.
As the instructor of record, Syvertsen wanted to create a course that acknowledged our shared moment of precarity while taking seriously the demands of students to address the institutional racism and social inequalities that plague academia. The students in the course varied in backgrounds, graduate training, and research interests, but all are currently pursuing doctorates in anthropology as first-generation graduate students and women of color. The overall goals of the course were to rethink "the canon," question what is considered conventional reading in anthropology, and look beyond the discipline to see how anthropology could enter into more expansive and productive conversations about the big questions of our time. The "big questions" to explore were purposely left open to allow students to tailor the course to their own research interests.
Despite the potential benefits of collaborative teaching-learning, graduate students are rarely invited into spaces that actively facilitate their involvement. Students often ask themselves why "this" particular reading versus "that" one. Rarely does a syllabus genuinely act as a living document, despite the "subject to change" disclaimer. Rather, the syllabus is best understood as a contract between instructors and the students, further cementing the hierarchical nature of learning and academia.
Student autonomy and control in their education have health benefits and ethical implications by centering individual learner perspectives (Hess 2008). Far beyond solely teaching subject matter, the design of a course has the potential to spark or hinder students' creativity, self-motivation, and leadership skills. In this course, students were able to control when and what they presented, how much reading they assigned, how much commitment the course required, and which authors were engaged. Gerald F. Hess (2008) also demonstrates that learner-centered teaching encourages students to pursue their individual interests and make connections among their own and others' interests, which can lead to better performance. In this course with anthropologists from different subfields and with different dissertation projects, a standardized syllabus would not allow for the freedom and range of scholarly exploration that is necessary to accommodate diverse interests.
The Process
Our course adopted a flexible approach that organically evolved over the quarter and culminated in the idea to write this reflective piece. Individual classes followed a loose blueprint that while focusing on critical thinking and discussion, also allowed for creativity in how we spent our time. For example, nearly every class started off with a guided meditation to promote focus and to ground ourselves. Given that our class took place during socially significant events, including the riot on the U.S. capitol and the inauguration of a new president, allowing ourselves ten minutes of quiet, focused time was a shared act of self-care, a topic we further explored in our readings over the quarter. We also devoted time to discuss the authors we read as a way to think about knowledge production, inclusion, and citation practices. This raised critical questions, including: who were the "authoritative" voices in the field? Who produced co-authored scholarship and who were these co-authors? What are the benefits of collaborative approaches?
The syllabus was structured so that the first three weeks of the quarter were instructor-led to model the format of seminar discussions and allow class time for constructive feedback of student ideas for their weekly presentations and reading lists. We started the term by reading Paulo Freire's (1968) Pedagogy of the Oppressed to set the tone of our collaboration and begin rethinking the roles of the teacher-student to raise critical consciousness about our own practice. Syvertsen selected the book for its humanistic approach to generating knowledge for liberation from structures of oppression, including the university system. The book also articulates with a broader theme of love and its revolutionary potential for social change, a theme that carried across the course. The next two weeks examined the various ways that anthropologists have studied love in a cross-cultural perspective and argued about its utility in political projects, followed by an exploration of how Black and Chicana feminists have long centralized love's place in reimagining a more just society (see syllabus at the start of this post for more information on our readings).
In the remaining weeks, students first team-taught the class to have the opportunity to collaborate with another student on the material selection prior to creating an individually led class later in the quarter. The weeks were formulated around specific themes, including health and structural inequalities, expressions in health, radical care, archaeology as therapy, necropolitics, and western influences on global health practice. Class discussion questions were formulated in a broad context so students could incorporate their own background, interests, and knowledge into the discussion. Although each week was centered around a different topic, students were able to connect each reading with concepts from previous weeks. Recurrent themes such as morality, inequality, love, and care were discussed across the quarter. Below, we offer student reflections upon the course, including key takeaways from this experimental format.
Personal Reflections
Johanna
Although many anthropology departments in the United States claim to implement four-field approaches, graduate courses and syllabi are often structured to exclusively focus on a predetermined subfield with the notion that students can take other courses with similar subfield parameters. The sharing of ideas and themes across fields is often informal in graduate students' social settings, like the Teaching Assistant (TA) office; however, closing the campus stripped away these social aspects of graduate experience. The collaborative structure of the course allowed three relatively new students to share our research interests and draw connections. As an archaeologist, this collaborative course enriched my approach and scope of archaeological research by engaging with recent ethnographic research and contemporary debates. For example, I am now incorporating the concept of social belonging into my archaeological research on households after reading about this concept in Vietnamese communities (Gammeltoft 2014).
When I initially enrolled in this cultural-listed course, I assumed it would follow a traditional format with predetermined readings by the instructor, and I would have to explore my interests on the well-being of archaeologists, members of archaeological projects, and local descendant communities in my final paper. By having a collaborative structure, I felt more in control of what I would gain from the course. In the task of constructing reading lists, I explored various journal websites and articles that exposed me to current topics in the discipline as a whole. Not only did I enjoy having the opportunity to devote an entire seminar to health in archaeology, I also gained new perspectives from hearing my cultural anthropology colleagues engage with materiality.
My unique contributions to the course included theorizing time and materiality. During my individual-led seminar about health in archaeology, I asked my colleagues to present on an heirloom, as defined by David M. Schaepe et al. (2017) as a valuable object that has belonged to a family for many years. The resulting discussion about time, artifacts, cultural stewardship, and healing was rich. Since care and love were overarching topics of the course, I felt compelled to center decolonizing archaeology (Atalay 2006) and Black feminist archaeology (Franklin 2001) in the reading list. If archaeology courses considered these broader cultural topics, the courses would allow for enriching kinds of archaeological research outside of the canon.

Gabriela
As a second-year PhD student with a focus in medical anthropology, I came into the class happily expecting to engage in a broad range of readings that focus on health, healing, and anti-oppressive methodologies. While this was certainly the case, the unique environment of co-learning and collaboration took us on a journey where we drew connections across communities practicing care in response to failing or nonexistent structures of care across disciplinary fields. I would like to think that we co-constructed the class through similar responses to what we find missing in our disciplines, such as the application of theory to our lived experiences and timely events. The space allowed for a degree of creative freedom and autonomy without betraying the intentions we set in the beginning.
My approach to collaboration is to share in accomplishments, but also in rejections. Graduate school can be an isolating experience, where competition can diminish any chances of forming lasting professional or personal relationships. The upside to collaboration, however, is that we are not alone. As emerging scholars of color seeking grants and publishing opportunities, when we collaborate, we face rejection together and continue to learn from each other. Community building and becoming collaborators in the hostility of academia is an act of decolonization and resistance, and given the dynamics of our class, a feminist endeavor. While collaborating, we are building a learning community—the antithesis of what has been normalized in academia (El Kotni et al. 2020).
Considering the overarching theme of love and the themes we agreed on at the beginning of our course, I selected Angela Garcia's (2010) ethnography The Pastoral Clinic and Andrea M. López's (2020) article "Necropolitics in the 'Compassionate' City: Care/Brutality in San Francisco." Embedded within these readings is an examination of how morality, ethics, and violence are linked and may even complicate our understanding of love and what it means to care. This is particularly true in a health context. Medical systems exist to provide care, but when access to healthcare is a privilege, those same systems charged with caring instead enact harm. The themes invoked in these readings inform my larger research interests of health services, neoliberalism, and structural violence that I will explore in my dissertation research with local communities.
Shani
I came into this course as a first-year graduate student, and I had only taken two graduate-level courses beforehand. I thought the structure of a typical graduate course was geared toward assigned readings, discussions, and papers. This type of course design was unknown to me, especially coming straight from an undergraduate program. The type of structure that I was accustomed to was to either come and discuss the assigned readings or listen passively as an undergraduate student. I did not know what to expect, considering that I have never had the experience of developing a lesson plan, thinking about what materials to gather for discussions, and connecting these readings with previous weeks.
For my individually led discussion, I chose Tine Gammeltoft's (2014) Haunting Images: A Cultural Account of Selective Reproduction in Vietnam and Margaret Lock's (2001) article "The Tempering of Medical Anthropology: Troubling Natural Categories." These readings reflected my research interest in Vietnam, and I chose these to discuss the effects of medicalization, biomedicine, biopolitics, and Western influence on healthcare systems. The reasons I made these selections stemmed from furthering the dialogue between inequality, health, and the social environment. I wanted to continue the discussion from our week with Garcia's (2010) book and López's (2020) article and our engagement with the concept of necropolitics to explore its interplay with the topic of biopolitics in Gammeltoft's ethnography.
The free range over the topics to be explored allowed for our specific interests to be heard. Our questions were organized to not only reflect the main topics in the readings but to critique and relate the work to our own research. The number of people in the class and their diverse backgrounds made for a nonjudgmental and freeing space for discussion. Not only did the small number of people facilitate active participation, it also allowed for a deeper dive into critical points of discussion. Unintentionally or intentionally, I found that each week's reading became connected and were well built off of each other. While there was a major interest in medical anthropology within our class, as two out of the three students were specializing in this discipline, there was also a shift in our discussions toward social justice. Overall, the readings made me think about the future of anthropology, while self-reflecting about the type of anthropologist I want to be and how I can direct my research as a step toward social change.
Collaborative Teaching: The Way Forward
In conclusion, we emerged from this collaborative teaching experience with several recommendations moving forward. This course format can be adapted for other classroom contexts. While this collaborative approach may be best suited for a small number of students, we would advocate for increased application of this course format in graduate-level practicum courses (both masters and doctoral levels). To accommodate a larger number (six to eight) of students, partner-led seminars would be well suited for discussion. For graduate students, this course format allows for broad discussions about interests across anthropology and fosters the capacity for academic autonomy. We recommend this course format for first-year graduate students as an introduction to TA positions, as it trains students to think through the selection of materials and actively make connections through the readings, which is helpful as a TA and required as an instructor. This course could also be translated for advanced undergraduates as an independent reading course or capstone experience. This format could increase undergraduate interest in applying for graduate research programs, simulate graduate-level courses, and facilitate a space to allow undergraduates to form connections with professors.
In response to the global pandemic and need for physical distancing, technology and communications companies quickly responded and new platforms have emerged, changing the way we engage with and share information. One beneficial aspect that contributed to our discussion was the chat function on Zoom, which we filled with further reading suggestions and links to media. One recommendation for future courses is to incorporate a similar concept from the Zoom chat to physical in-person classes through the use of a living Google document where all students can share materials during class.
Finally, through this active and collaborative workspace, we reflected on contemporary social and political topics as well as the future of anthropology. For current students and future professionals, the space for rethinking graduate education starts at the ground level of graduate seminars. This graduate course demonstrated the needed evolution from traditionally led seminars to more collaborative spaces for new perspectives and techniques to be heard. In this moment, this course provided a glimpse into a future anthropology that we envision as a movement for health equity, social justice, and transformative graduate education.
References
Atalay, Sonya. 2006. "Indigenous Archaeology as Decolonizing Practice." American Indian Quarterly 30, no. 3: 280–310.
El Kotni, Mounia, Lydia Z. Dixon, and Veronica Miranda. 2020. "Introduction: Co-authorship as Feminist Writing and Practice." Member Voices, Fieldsights, February 6.

Franklin, Maria. 2001. "A Black Feminist-Inspired Archaeology?" Journal of Social Archaeology 1, no. 1: 108–25.
Freire, Paulo. 1968. Pedagogy of the Oppressed. New York: Bloomsbury.
Gammeltoft, Tine M. 2014. Haunting Images: A Cultural Account of Selective Reproduction in Vietnam. Berkeley: University of California Press.
Garcia, Angela. 2010. The Pastoral Clinic: Addiction and Dispossession along the Rio Grande. Berkeley: University of California Press.
Hess, Gerald F. 2008. "Collaborative Course Design: Not My Course, Not Their Course, but Our Course." Washburn Law Journal 47, no. 2: 367–88.
Lock, Margaret. 2001. "The Tempering of Medical Anthropology: Troubling Natural Categories." Medical Anthropology Quarterly 15: 478–92.
López, Andrea M. 2020. "Necropolitics in the 'Compassionate' City: Care/Brutality in San Francisco." Medical Anthropology 39, no. 8, 751–64.
Schaepe, David M., Bill Angelbeck, David Snook, and John R. Welch. 2017. "Archaeology as Therapy: Connecting Belongings, Knowledge, Time, Place, and Well-being." Current Anthropology 58, no. 4: 502–33.